Walk This Way: Decorative Walkways Say "Welcome Home"
Once an afterthought for most homeowners and contractors, the path to the front door has increasingly turned into something to be admired as well as trod upon. From the suburbs to downtown in the Roanoke Valley, the familiar narrow ribbons of gray or white concrete are giving way to multi-colored paving stones, bricks and interlocking tiles that welcome approaching visitors to a home. The emphasis has gone from mere foot traffic to curb appeal.
According to Brent Gleason of Boxley, Inc., one of the local pioneers in what has come to be called "hardscaping," area builders and homeowners are waking up to the possibilities inherent in decorating not only walkways, but driveways and patios. In some cases, those three elements share the same design and actually flow together.

"We're doing them [decorative walkways] more and more," says Ronnie Mitchell of Ronnie Mitchell and Son Landscaping in Rocky Mount. "The hardscape industry has been taking off for the past few years."
The trend began in Europe, Gleason says, and the U.S. is catching up. The trend is driven by word of mouth as well as the vast amount of information and media images available to inspired homeowners looking to add flair to their outdoor spaces.
"People see it done with somebody else's home," Gleason says, "and they get interested themselves. It might not have occurred to them before."

Like home decorating customers armed with paint samples and fabric swatches, these newly sophisticated sidewalk shoppers now greet their local landscaper with their own ideas of color and style. "They have all kinds of choices now in colors and patterns," says Mitchell.
The colors in stamped concrete and concrete pavers come from dry pigments spread across the concrete and incorporated into it while it is still setting. Thus, the various hues are virtually fade resistant.
A sidewalk could feature large individual flagstones set against a backdrop of aggregate gravel. Or inlaid brick. Or slate. Or paving stones presented in a chevron or herringbone pattern. Or, perhaps, a parquet look. Such patterns, Gleason says, "soften up the landscape."

Some homeowners like the look of a walkway that curves as it approaches the house, an effect that can be difficult to achieve with a single uninterrupted sheet of concrete. Others prefer a wider surface than the standard 3 1/2 feet, allowing two people to walk up the sidewalk side-by-side.
Stamped concrete, offering unique designs embossed into the surface, has come a long way in the past decade, and it is now possible to use concrete pavers that almost perfectly mimic brick or slate, but are less expensive.
Installing such a walkway is not beyond the realm of possibility for do-it-yourselfers, but Mitchell advises caution. "It's a lot harder than putting in a sidewalk the old way," he says. "There's a lot to learn."
Unlike the tile on a kitchen or floor, sidewalks have to be laid over ground that is never precisely level. The "fill" beneath the hard surface must be deep enough and even enough to keep the walkway from, as Mitchell puts it, "failing down the road."
"We use what's known as 'pugmill' aggregate underneath," he explains. "We get it from the Rockydale Quarry [in Roanoke], and it's a system of adding moisture to a ground-up mixture of crushed stone. The moisture makes it harder and keeps it from settling."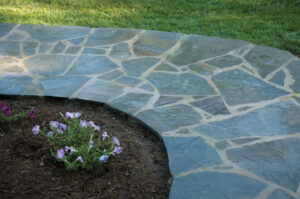 Moreover, since paving stones obviously can't be glued to the ground, they must be held in place by more subtle means, like paving sand in the joints and a taut edging that keeps the walkway firm by exerting opposing centrifugal force. Standard concrete, by contrast, remains in place simply by virtue of its own weight.
All of these factors conspire to push up the cost of choosing a decorative sidewalk. From a labor standpoint alone, it is much more time consuming to match and carefully insert pieces than to simply pump out the appropriate amount of concrete and level it. Yet for those who might see a "designer sidewalk" as a frivolous expense, professionals like Gleason and Mitchell offer some compelling utilitarian arguments.
"These types of walkways are a lot more durable," says Gleason. "A typical concrete sidewalk might have a 3,000-4,000 psi (pounds per square inch) rating. Some types of stone can be as high as 8,000 psi."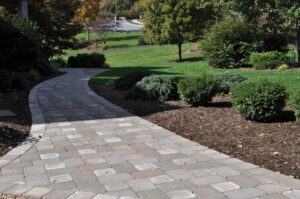 Mitchell points out that with some of these more decorative options, "You get the rigidity of concrete, and the flexibility of asphalt."
Many hardscaping companies now offer anywhere from a 50-year to a lifetime warranty on walkways made of stone or concrete pavers.
"The new ones are definitely more durable," says Mitchell, "and they're easier to repair. When you make a repair in concrete or asphalt, you can see the place where it was fixed. Now, you can just replace a couple of pavers, and you could never tell."
The cost currently varies from $8-$10 per square foot for basic concrete pavers to $12-$18 for more elaborate designs. Brick, slate and flagstones are more expensive, with prices going up to $30 per square foot and beyond.
But what if you have grown tired of your old walkway and would like to get fancy, but cringe at the thought of jackhammers in the front yard
? Most of these same designs are available in concrete overlays that can be put down over the old surface.
With all these options, homeowners no longer have to settle for that boring gray perpendicular walk to the front door. The way has been paved for better, brighter paths.
Boxley Inc., Concrete Pavers, Flagstones, hardscapes, Multi-Colored Paving, Pugmill Agregate, Ronnie Mitchell and Son Landscaping, Stamped Concrete