Sheer Genius: Updated Drapery Panels Complement Any Decor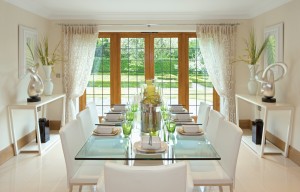 When many of us hear "sheers" in reference to window treatments, our first thought is often a memory: those shimmery polyester curtains that hung under draperies in Grandmother's living room. These billowy white sheers functioned as a petticoat of sorts, layered under a veritable coronation gown of brocade, with heavy full-length panels, swoopy swags, and billowy jabots spilling over the sides. Dressed like this, windows looked…impressive. And very, very formal. As kids, something about all that ethereal fabric was irresistible. We were repeatedly shooed away from draping those sheers over our faces like veils, pretending to be brides. The sheers let light into the otherwise dark and formal room, but also afforded some degree of privacy from the street. In the 1970s that window represented the height of style in formal window treatments, and for better or for worse, it's what many of us think of when we think of "sheers:" "always the bridesmaid, never the bride", the petticoat to the dress, the accompaniment but never the main show.
Oh, but times have changed! Sheers are still prized for their ability to filter light and provide a modicum of privacy when compared to a bare window, but newer, smarter fabrics have given these old standbys much more of a starring role in today's windows. Kristin Kopcial, interior designer and owner of Roanoke's Decorating Den, descri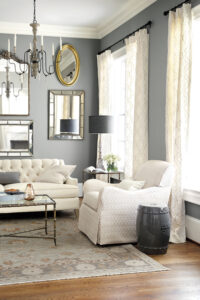 bes the new look in window sheers as "modern romantic," meaning a look that incorporates more pattern, layering and beautiful embellishments. People nowadays tend to shy away from heavily draped and decorated windows, preferring instead, cleaner lines and a lighter, airier feel in their homes. In addition to making most interiors look brighter, larger and less cluttered than their heavier drapery cousins, sheers help with thermal energy conservation, and screen furniture and flooring from damaging UV rays.
Sheers don't just have to be a petticoat layer. Sheers are ideal for many homeowners who love the finished look of window treatments, but don't want to sacrifice a view, or have the window treatment compete with carefully planned architectural elements or other décor. Kathy Spark, a designer at Accents on Windows, a design firm that specializes in window treatments in Salem, says, "You do not have to have a dated look with sheers. Today, I see sheers used alone." Though she says there are still clients who prefer a little more layering, most often she sees sheers being used as stand-alone window treatments. "Sheers are beautiful in one layer on a decorative rod," suggests Spark. The slippery polyester of decades ago has been updated to beautiful gauzy or linen-type materials for a more natural, neutral look, whether as a layered piece of a window treatment or simply hung alone.
These new sheer fabrics come in an amazing array of colors, patterns, and textures. There are even brightly colored sheers. Kopcial describes her new favorite sheer window treatment as brightly colored floral that creates a beautiful watercolor effect in the room when light filters through it. "Used as a single layer window treatment, it's amazing how a sheer can become the focal point of your room," she says.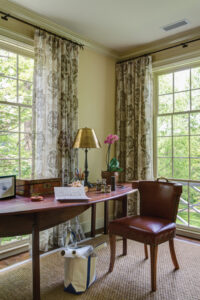 At Accent on Windows, Spark has used sheers in a number of different ways. "They can be hung from rods, but I have also used them in Roman shades and they are beautiful." She adds, "There are also many subtle textures or designs—even embroidery for that extra touch." She explains that newer sheers also have all sorts of exciting features. These fabrics tend to come on the bolt in much wider widths (up to 118 inches, versus the standard 54 inches of most designer fabrics). So for clients ordering custom window treatments, creating a more generous, voluminous panel is easier without having to piece widths together—minimizing unsightly seams that would be more obvious in this delicate fabric. There are even vendors who use a sheer material over shades with cloth tilt vanes inside, giving clients the function of a tilting blind combined with the softness and light-filtering capability of sheers. Alternatively, many sheers can be lined for more privacy.
Creative types rejoice! There are unlimited ways to dress a window with sheers, many so simple that you can do them yourself. Sheers are also widely available off the shelf in panels of varying lengths and widths. These versatile fabrics can be layered, with like, or contrasting patterns or hues. Two or three colors or patterns could be twisted, or draped, scarf-style along the top of a window, or sweeping gracefully across it. For a more traditional look, they can be placed under a valance or cornice. Sheers that will remain stationary (always open, or always closed) can utilize tab-top, rod-pocket, or the more flirty, feminine tie-top treatments. These are not generally recommended for sheers that will be opened and closed frequently. If functionality is a requirement, then consider attractive rings (which can be sewn on or clipped on) or, for a more modern look, metal grommets embedded in the curtain, which will smoothly slide along the rod. You can further customize the look of your sheer window treatments by adding trim (think bands of alternating color, stripes, ribbon or tassels) and other accessories such as rings, rods, and tie-backs.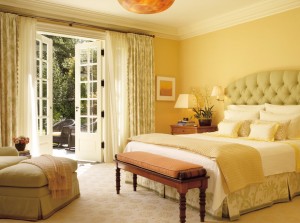 Because of their comparatively lower price point compared to drapery fabrics, and their ready-to-go availability off the shelf, sheers are an easy decorating tool for those who want to try their own hand at updating their window coverings. However, professional window treatment designers can help you determine the best way to use sheers to complement your home's décor, update tired window treatments, or screen or enhance certain aspects of your home. Certain design challenges often require expert guidance, even with sheers. These include: extremely low ceilings or extremely high ceilings, baseboard heaters, radiators or forced air vents located in close proximity to the window, and asymmetrical or unusually shaped windows or doors (a half-moon shaped window, for example, or a door with an oval cutout). Using a window treatment specialist will often save money in the long run by helping you avoid costly mistakes.
As we move into the lighter days of spring, it's a popular time to think about ways to make our homes feel lighter and brighter. Now's the time to rediscover sheers, for their remarkable versatility and great looks. With the abundance of fabric choices to suit any style, there's no reason not to give them a starring role in your windows, and enjoy the—dare we say it—"bridal" beauty of windows dressed in sheers.
Accents on Windows, Curtain Fabric, Decorating Den, Dress Window, Hanging Drapes, Sheers, Window Treatments