Home Reimagined: Fresh and Fun Updates for One Sporty Family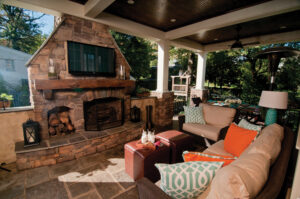 "Mark, fore, strike" …This may be a sporty expression for some, but it is a lifestyle for Jenny and Chris John and their three children. Both Jenny and Chris were swimmers at the University of North Carolina, where they first met. Still avid Tar Heel fans, the Johns and their children carry their sports enthusiasm even further. Their lives revolve around family, sports and competition of every kind, and their home is evidence of this zest for life.
After graduating from UNC, and prior to moving to South Roanoke, the young couple travelled the first few years in conjunction with Chris's medical education. While in Mississippi working on a fellowship, Chris and Jenny visited their best friends in Roanoke, and looked at property. They found their present house and bought it. "It was the yard that drew us to the property," Jenny says. "It was huge and flat—perfect to play sports." However, with only three bedrooms, the home was not big enough for a family of five. While still living in Mississippi, the Johns gutted their South Roanoke house. "We love to redo," says Jenny. So it did not faze them to renovate from afar.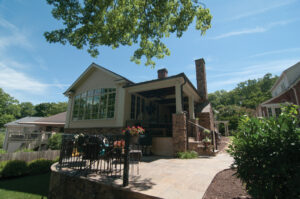 "When we renovated," says Jenny, "we designed the home so that people of every age would come. I can have three children in different parts of the house doing their own thing." One of Jenny's goals was to provide a place for her children to be with their friends or work on projects, while still under her supervision.
The shuttered Georgian colonial sits amid a neighborhood of older homes. The community conveys an air of simple elegance, while emitting hospitality. When Jenny recalls one of her first visits to the house, she says it took no time at all for the neighborhood children to befriend Chris and Jenny's youngsters, noting that they all ran off to play right away.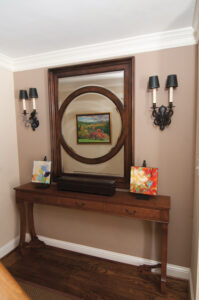 The front garden is designed for low maintenance, with a neat, uncluttered appearance. Landscape designer Chris Barlow of Roanoke's Garden Arts created a formal entrance with pavers along the walk and driveway, and installed beds of evergreen shrubs and easy-care perennials.
A pergola at the side of the home creates an inviting entrance leading to a mudroom that is more like the family locker and equipment room. Chris, Jenny and their children have a convenient spot to unload the sports paraphernalia accumulated after a day of swimming, lacrosse, soccer, skiing, basketball, tennis or whatever other activity the day has offered. Built-in cubbies keep basketballs, lacrosse sticks and athletic shoes organized. "We even store our bathing suits and towels here," Jenny points out. "The mudroom is my favorite room."
Jenny says she thinks of a dining room as wasted space, so they abandoned the idea of such a formal room and now use the area for this mudroom. According to Jenny, "Cameron Harris is my decorator and she has designed the whole house. This was her vision." Harris understands how the Johns live and recognized how impractical a dining room would be for the family, so she transformed it into this hardworking space.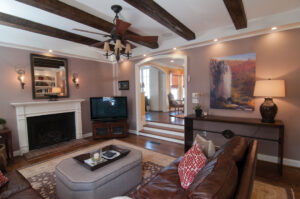 Another room that gets a lot of mileage in the Johns' home is their den— a mix of comfortable seating and other special pieces. Jenny says it's where they go to relax after dropping the gear from the day in the mudroom. Tom Dorothy of Ghent Hill in Roanoke, which specializes in the design and construction of custom furniture and antique restoration, built several pieces for the John family, including a unique table for this room. Harris describes Dorothy as her "go-to person for all things wood." She explains, "Tom and I designed a clean-line wood console with slab-leg sides." To add interest and provide more stability to the piece, he added a custom metal support piece between the legs. Dorothy and Harris worked with artist Dave Wertz on this piece, and his contribution was to incorporate an old elevator pulley-wheel into the support area of the table. The result is an eye-catching and useful side table perfect for this room.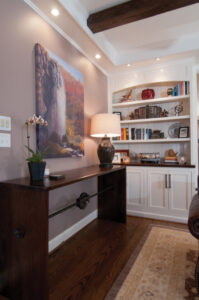 A selection of significant artwork decorates the walls, including a special piece commissioned by the Johns that depicts a magical spot near Falling Spring in Alleghany County. The couple asked Roanoke artist Nan Mahone Wellborn to create the landscape for this room. "The den is our happy place," notes Jenny. And this painting carries the theme one step further. The den is another comfortable gathering space with an inviting brown leather L-shaped sectional, hefty ottoman and large-screen television.
In their first renovation, while they were still in Mississippi, the Johns redid the kitchen, added the extra bedroom, and then stopped. In their rush to make the home habitable for their family, Chris and Jenny did a few things they wish they had done differently. They felt like their renovated kitchen was not large enough, that the family simply needed more space than they realized. So a few years after settling into their home, the couple called in their dear friend Robert Kulp of Black Dog Salvage and Blue Ridge Residential for his assistance to correct these issues. Kulp understood exactly how Chris and Jenny wanted to enhance their home. "His vision is like ours, open and rustic," says Jenny. The result of their collaboration is an enormous great room that extends from the back of the kitchen.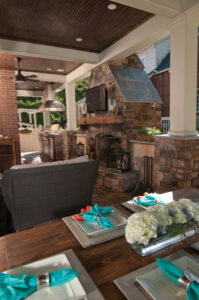 Kulp has created a family-friendly space including a huge sunroom and outdoor entertainment zone. The John home is the neighborhood gathering place. As Harris says, "It is all about 'come in, sit down and be comfortable'."
Thanks to Kulp and his vision, an expansive 500-square-foot sunroom extends into their back yard. With three walls of windows, hewn beams and a high ceiling, the room is dramatic and perfect for an active family. With Kulp's contacts in the salvage world, he was able to reclaim beams from an old barn and resurrect the floors from a Birmingham tobacco barn. The outer brick wall of the original home is now an inside wall. Oriental rugs cover portions of the floor to add warmth and style. A large table stretches across a portion of the room and is ideal for projects, homework or a holiday dinner. Jenny describes this as "the best room of the house." It is a family room, a party room, an everything room.
Kulp recognized the importance of entertainment space, and used this great room as the anchor. An area closest to the kitchen serves as a wet bar, complete with wine refrigerators, a sink and a small bar. An outer door leads to a side porch and an outdoor kitchen with a large grill, smoker, cooking area and fireplace. Nearby outdoor seating and a generous-sized patio doubling as a dance floor are ideal extensions of this new addition.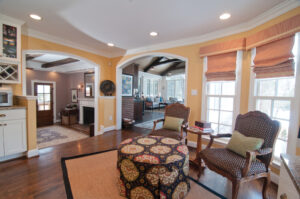 The John home is the neighborhood's first choice as a party spot. According to Jenny, whenever there is a big snow, their home is the central meeting place for children and their parents, since nearby Stanley Road is often closed to traffic and open for sledding. While the local children gather on the road with their sleds, parents monitor their children's sledding at the Johns' home. The snow falling, a roaring fire, and friends sipping wine as their children sled nearby… "Nothing is more beautiful!"
says Jenny.
Although the kitchen is quite functional, it is long and narrow, and Jenny says it's not roomy enough for a group to gather in what is often the busiest room of the house. Future plans include making this kitchen bigger and more commodious for family and friends. "I want people in the kitchen with me and I love to cook!" she says.
Though the Johns wa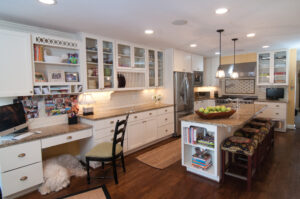 nt more space, the current kitchen features plentiful cabinets and counters for cooking and serving. A corner area offers a cozy sitting spot, and has evolved into a favorite place for the children to do homework. With a computer and small built-in desk, this area also serves as Jenny's office.
Jenny describes her basement as another go-to area for all the children in the neighborhood. There is room to hang out and watch sports on television. A basketball net on the wall reinforces the kid-friendly atmosphere. Since their daughter is an artist, one room is devoted to crafts. Paints, brushes and papers are everywhere, announcing "artist at work." According to Jenny, "We have non-stop kids here all of the time." Each of her children has his or her own space to be with their friends, and this is exactly what Jenny wants. "My mom did the same thing," explains Jenny. "Our house was the house that all of the kids could come to. And I have probably blown it up a bit!"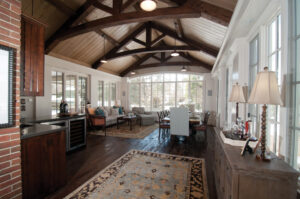 A set of doors opens into a large under-house patio area adjoining the backyard play area. "I can't believe how much we use this," says Jenny. "And I can only see us using it even more as the children get older." With its protection from the elements in the spring and fall and cover during the heat of the summer, the area is in use three out of the four seasons.
The back yard is indeed sprawling, a constant reminder of what drew the Johns to the home in the first place. A corn hole set, lacrosse net and other gaming gear are always at the ready for use. A picturesque back alley, so typical in many Roanoke neighborhoods, serves as a shortcut to reach friends in the neighborhood.
Another portion of the basement area includes a guest bedroom suite and a large laundry room with plenty of shelves and drawers. This area doubles as Jenny's personal project room. An adjoining expansive storage area is perfect for fishing poles, golf clubs, bikes, scooters and assorted seasonal sports equipment.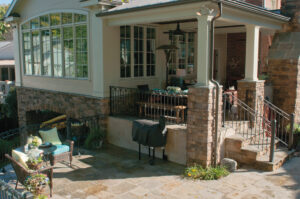 With so much space, the family can spread out. Back upstairs, the living room offers one of the more traditional areas in the home. Here much of the furniture can be traced back to family, including many pieces from Chris's grandparents. Of special note is an almost-life-sized bronze of a hunting dog, reminiscent of a dog Chris and Jenny once owned. According to Jenny, this room serves as a quiet spot to read as well as the traditional room where the family hangs their Christmas stockings. Harris helped develop the home's personality and described her approach as "combining and layering new pieces with family heirlooms, great original art and unique custom pieces."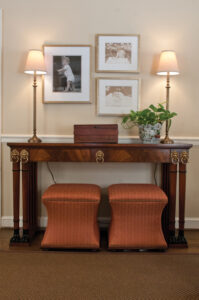 Originally the second floor had space for three bedrooms. The addition of the great room on the first floor enabled the Johns to build up and create a master bedroom suite on the second level, resulting in enough bedrooms for each child to have his or her own.
Jenny describes each of her children's rooms as "all child," designed to reflect their personalities. Each room has a multitude of shelves for them to store their treasures. Jenny's daughter is forever redesigning her room. In contrast, the boys are content as long as they can hang their sports posters and Tar Heel banners. But Jenny points out, "They don't hang out in their rooms as much as they hang out everywhere else. This whole house is theirs!" In the John home, there are no "off limits" areas.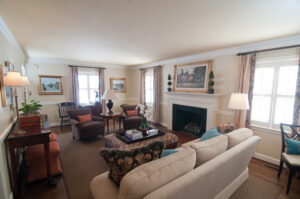 The master bedroom suite offers a peaceful respite in an otherwise busy home. Easy chairs at the foot of the bed face a large-screen television, creating a private lounging spot. The walls are decorated with a variety of art pieces sent to the family through Chris's father. As an art dealer, he collected work as he travelled throughout the world.
Jenny describes her family's life in Roanoke in terms of being here forever. "We don't see ourselves moving from here anytime soon," she says. And if the house ever becomes too big and the Johns decide to downsize, their eldest son has already announced that he wants to buy it. "He loves this house," says Jenny. And she proudly notes that all of her children prefer to be at home, which is exactly what Chris and Jenny had hoped for. "This is why we bought this house!"
Black Dog Salvage, Georgian Colonial, Ghent Hill, Hewn Beams, mudroom, Roanoke's Garden Arts, Sports Posters, SunRoom