The More, The Merrier! A Team of Professionals and Friends Collaborates to Create a Home Fit for a Crowd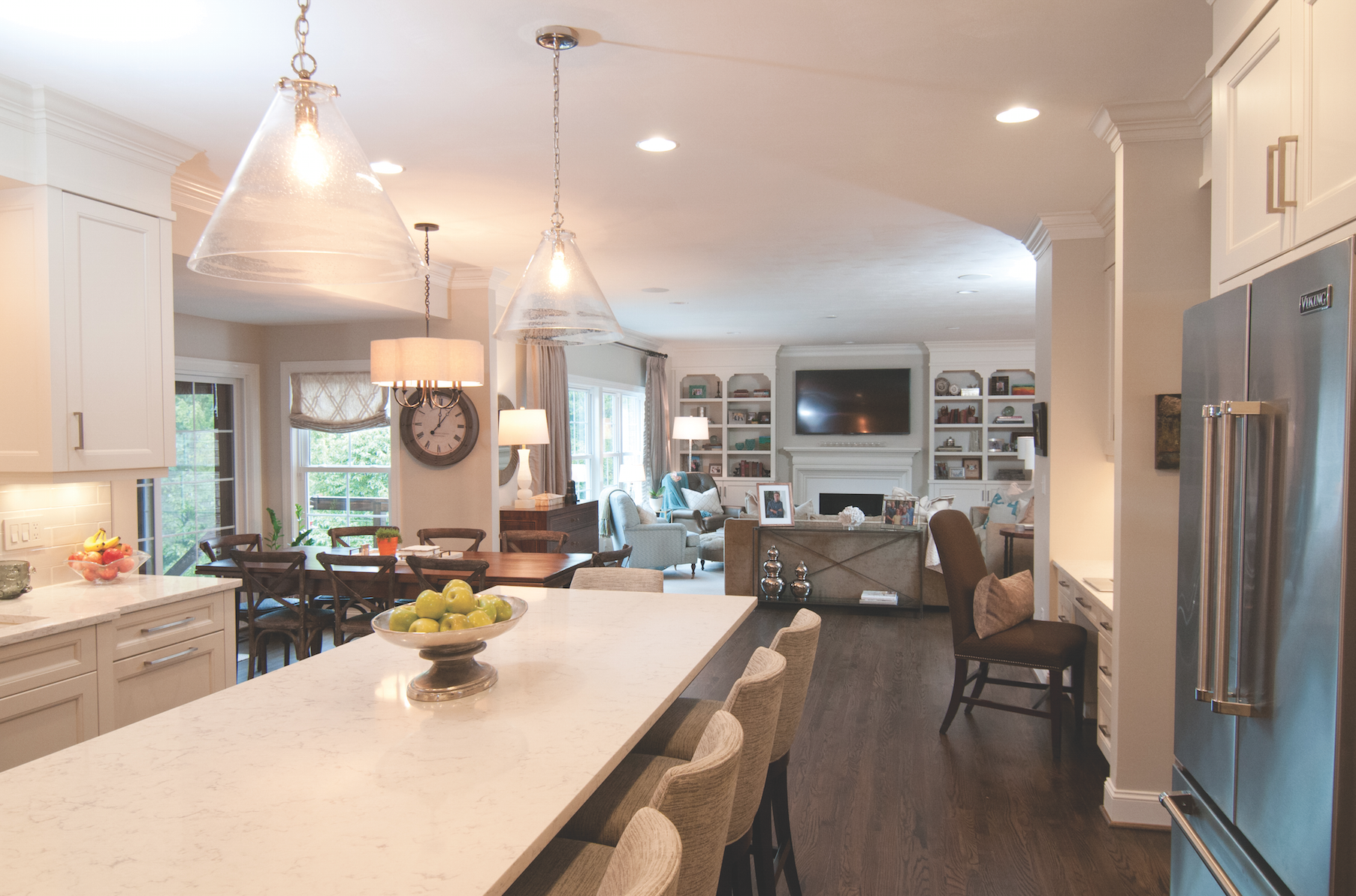 When Steve and Juli Murden were looking for a new home in Roanoke County, they found a place they thought had great potential. While the home was attractive and move-in ready, it was essentially a blank canvas, with mostly builder-grade materials, an unfinished basement, and a narrow driveway sandwiched between the garage and a hillside. Plus, it lacked some functionality and features that the Murdens wanted for their busy family of five. With over an acre of land, they had room to expand, but how?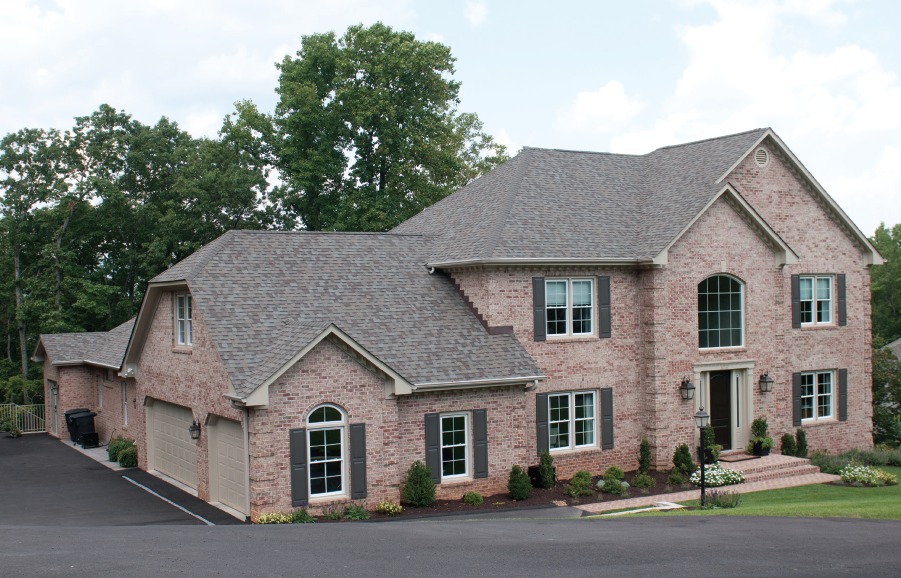 Before they purchased the house, they had to know if some changes could be made. Says Juli, "We were looking for a house that we could add a first floor master to, and it's hard to find a lot where you can make that happen." Also, they needed a wider driveway, but a retaining wall was holding up the slope to a neighboring property, and they didn't know if it could be moved. "The lot, and the size of the house, and what we could do to it—it looked like a house that would work for our family," says Steve, but they weren't sure who would be able to handle the substantial renovation they had in mind. And because they needed to include the renovation plans in their financing, they had to work fast to come up with a solution. Enter George Baron of Baron Enterprises. The Murdens knew Baron through their social circles but thought he only did new construction. When they found out he also did renovations, they talked to him about their ideas.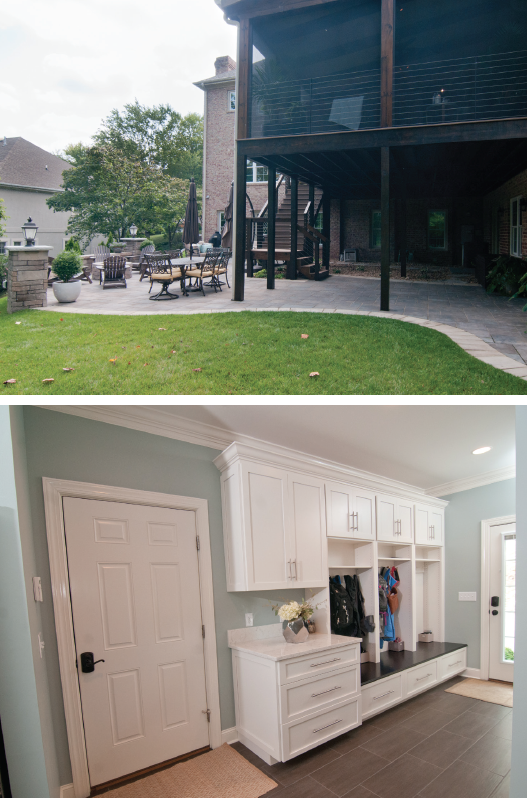 Baron knew he could handle the driveway expansion and the master suite, and also realized that he could improve the functionality of that side of the house to create a layout that would be ideal for their lifestyle. "He drew the plans and came up with all the conceptual ideas that matched what we wanted to achieve," says Steve, adding, "We bought the house because we got confirmation from George that he could move the existing wall by the driveway to give us more turnaround space. I don't know that anyone else would have been able to do what he did."
With the winning plans in place, a team of people were brought in to make the dream a reality. Steve Morris of Classical Design, Inc, was instrumental in the process, designing the kitchen layout, and the cabinetry and hardware in key locations throughout the house. Roanoke Landscaping handled the paver areas, sod, and landscaping. And Jessica Durham, of Magnolia Furnishings, oversaw the interior design. "We wouldn't have moved if we couldn't have Jessica on board!" says Juli, who had developed a friendship with Durham through their children's lacrosse team, and from working with her on their previous home.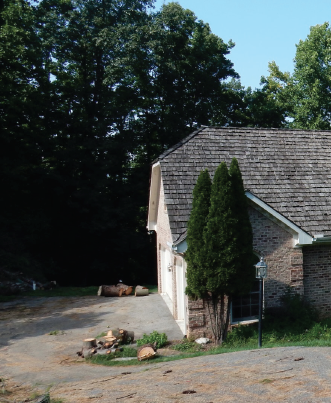 The renovation—which included the driveway expansion, the addition of a utilitarian wing (the hard-working mudroom, pantry, laundry and more), master suite, large screened-in porch, and lower patio, as well as finishing the basement and modifying the kitchen, foyer, and living areas—was completed in an astounding five months, as opposed to the more common 12 to 18 months. With the scale and pace of the renovation, it easily could have been an extremely challenging experience, if not for a couple of key factors. One was the teamwork between the professionals. Baron, Morris and Durham had worked together before, and were able to collaborate for a seamless finish. The other secret to success was the fact that Baron is a hands-on builder who could get a lot of the work done without subcontracting. "He was actually in the Bobcat out there on the driveway," says Juli. "We didn't have to hire a lot of different companies."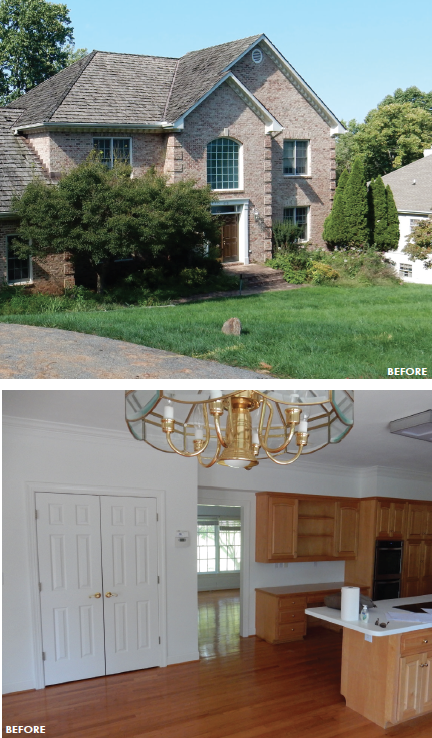 After five whirlwind months, the result is stunning. The enlarged driveway the Murdens envisioned now boasts several family-friendly features, such as a basketball hoop by the new terraced retaining wall, and a custom "driveway closet" that Baron placed at the end of the drive, which comes in especially handy during the family's multiple lacrosse tournaments. "They needed storage near the garage, so I added an outside closet for things like coolers and chairs for tailgating," says Baron. "You back up your car, you throw it in, and you go."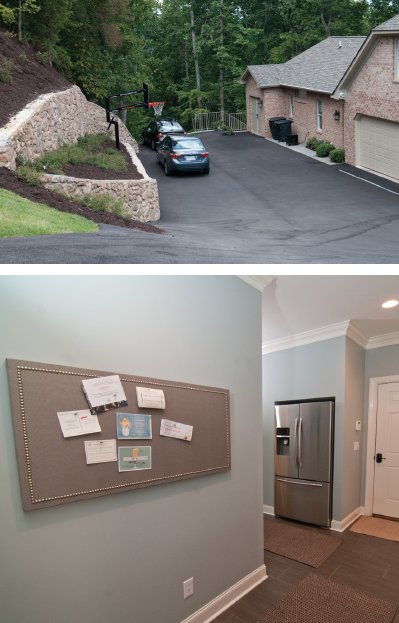 Baron's focus on building for the way his clients live extends to the addition he built on this side of the house. Off the driveway, a "friends' door," as Baron calls it, leads to the workhorse section of the home. The entryway is framed by a mudroom with shoe lockers and storage space for kid gear on one side, and two closets for winter things and cleaning supplies on the other. Liberty Cabinets in Rocky Mount built the cabinetry for much of this area, which includes a spacious laundry room, a walk-in pantry with adjustable shelves and a wine fridge, and a built-in second fridge which is just around the corner from the kitchen. A bulletin board keeps track of the family's activities, and the flooring is easy-to-clean tile from ProSource. As Juli says, "George is not only wonderful with the design, but every part of this house functions perfectly. Our day-to-day life is really easy."
In keeping with that theme, the master suite is situated near the laundry room, in the rear of the home. A bank of three windows provides plenty of light, along with a vista of trees and mountains. "We love to just sit in here and enjoy the views," says Steve. Putting in a wall of windows was not only an aesthetic decision, but a practical one too, according to Baron. "We didn't put any windows on this side," he says, gesturing to the wall where the bed rests, "which gave us that big wall for the new screened-in porch."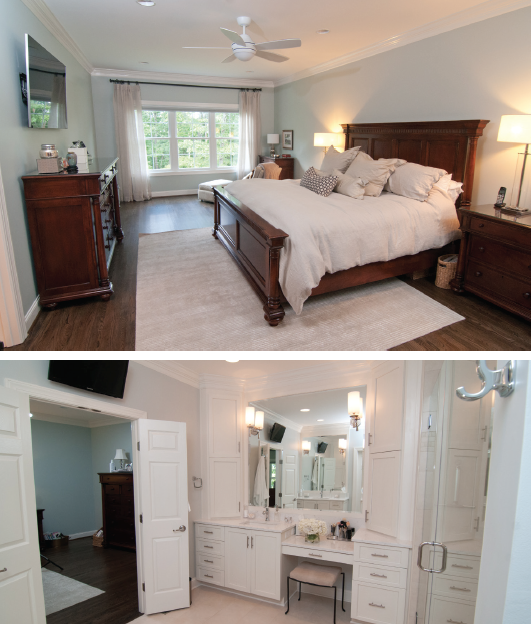 In the adjacent master bath, Baron used "obscure glass" in the exterior windows to bring light into the room without compromising privacy. He designed the space with a roomy shower and his-and-hers sinks, with plenty of storage by Liberty Cabinets. Durham chose a rectangular, cream-colored tile for the room, which leads to a walk-in closet outfitted by Closet Storage Organizers in Salem. Again, Baron's concern for natural light led him to craft a custom peninsula in the center of the room. The raised peninsula created sufficient storage to allow for some of the wall space to be spared for an exterior window.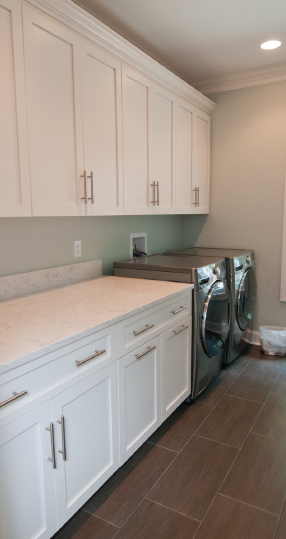 The new addition leads into the open concept kitchen designed by Morris, who outfitted the space with white cabinetry, a hand-built range hood, soft gray subway tile backsplash, under-cabinet lighting, and a custom island. The island's quartz countertop matches the other kitchen counters, but its base is painted a charcoal gray, and at 8 ½ feet long, it's large enough to seat family and guests.
The bubble glass pendants above the island are by Visual Comfort, and Juli
and Durham share a chuckle over its selection process. "Jessica would send me options in the first batch and I didn't bite off on them. So she'd send me a few more and she'd stick that one back in, until I chose it!"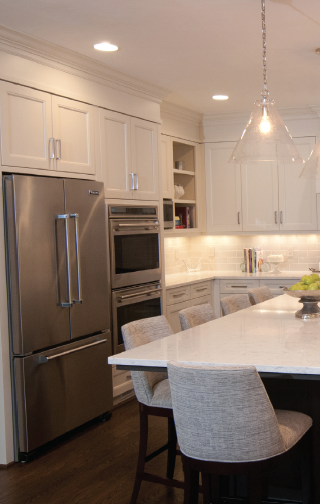 What was formerly the old pantry is now Juli's desk, and the whole rear of the home, which was once a long, empty rectangle, has been divided into zones. The previous bay window breakfast nook has been bumped out into a more spacious alcove that leads to the screened-in porch. An expandable farmhouse table and gray-washed bistro chairs sit beneath a chandelier with a quatrefoil design, by Arteriors Lighting, all sourced from Magnolia Furnishings. A farm scene canvas by Roanoke artist Diane Patton provides a splash of color, and the space between the nook and the family room is bridged by an inlaid wood chest by Lillian August.
Pops of color continue in the family room, where doors leading out to the old deck were replaced with a bank of windows. "It doesn't seem like a big deal," says Steve, "But it got rid of the need for walking space, which made the room bigger." Morris installed cabinetry around the fireplace, which is flanked by a pair of dark turquoise leather benches, by CR Laine, that provide color as well as extra seating. A large abstract oil on canvas by Sherri Barrett hangs above a Cisco Brothers sofa accented with fretwork-patterned Ryan Studio pillows. A creamy CR Laine ottoman sits atop two layered rugs—a cream loop-pile from ProSource, topped with muted oriental from Currey and Company. The effect is at once airy and welcoming, and Durham says she deliberately mixed fabrics, wood, iron, glass, and leather in the room, because she likes that look in her own decor, where she tries to avoid a "matchy-matchy" effect.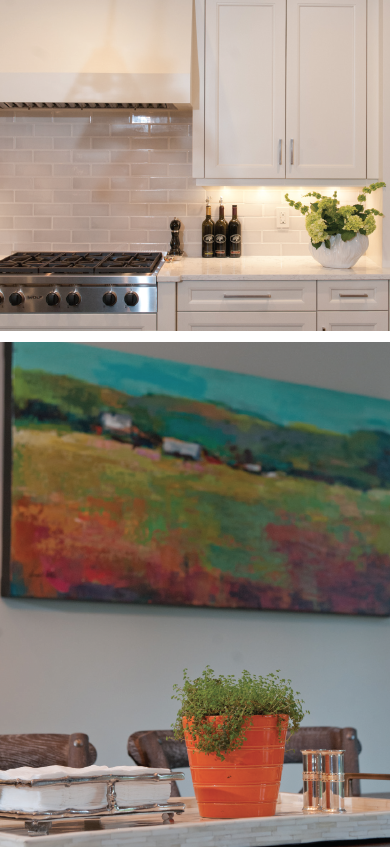 The front portion of the home offers additional, more-formal living space. The dining room is furnished with a mix of traditional pieces from the Murdens' previous residence, and contemporary items from Magnolia, including Lillian August chairs and lights by Currey and Company. Classic portraits of the Murdens' children, by Natalie White, hang not far from a large abstract from Katrina Bell. The walls are Benjamin Moore's Edgecomb Gray—the predominant color used throughout the main floor of the home—and the area rug is a Jaipur oriental in "greige", a blend of gray and beige. "She had a lot of the beigey tones," says Durham, "So we've evolved more into greige."
The dining room leads into the foyer, which was updated with a new 8-foot front door and stair banister. The original natural, hardwood floors are now a custom-finished white oak in an espresso tone that complements the staircase treads and railing. Opposite the dining room, the living room is also a blend of traditional and contemporary elements, decorated in grays and golds, and painted in Benjamin Moore's Night Mist. A gold tray coffee table from Bungalow 5 rests atop another Jaipur rug, and works by local artists such as Greg Osterhaus and Diane Patton grace the walls.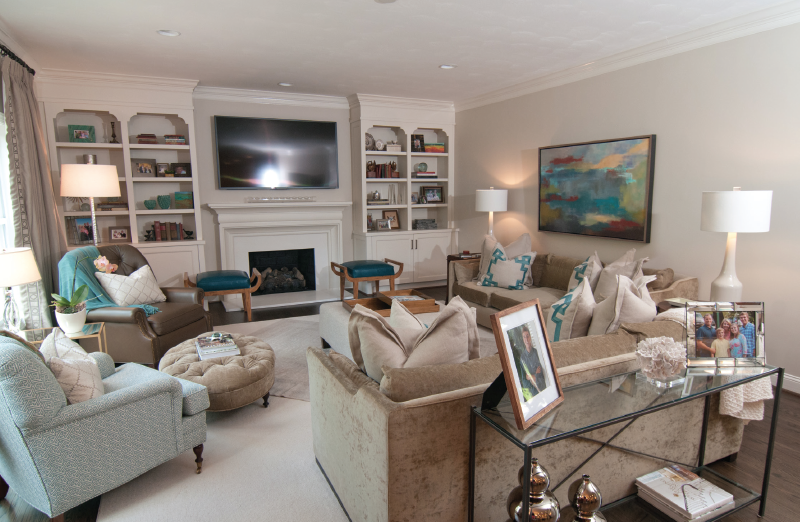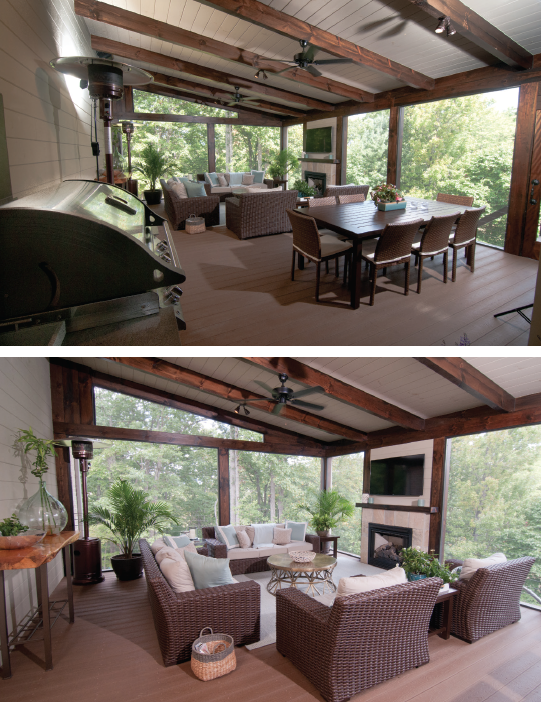 There is plenty of indoor space for family and friends, and even more with the addition of the 28 foot-by-18-foot screened-in porch. And for the Murdens, that's a good thing. "Last summer, I wish I'd had one of those clickers you use for counting people," says Juli, "Because within a week's time, I said to Steve, there are like 65 people who've had meals here!" She adds that every decision they made on the home was with family in mind, but also because they all love having friends over. Steve agrees, saying, "It's become a house where we do a lot of entertaining, and the kids do a lot of entertaining! I'll have 30 kids just here on the screened porch."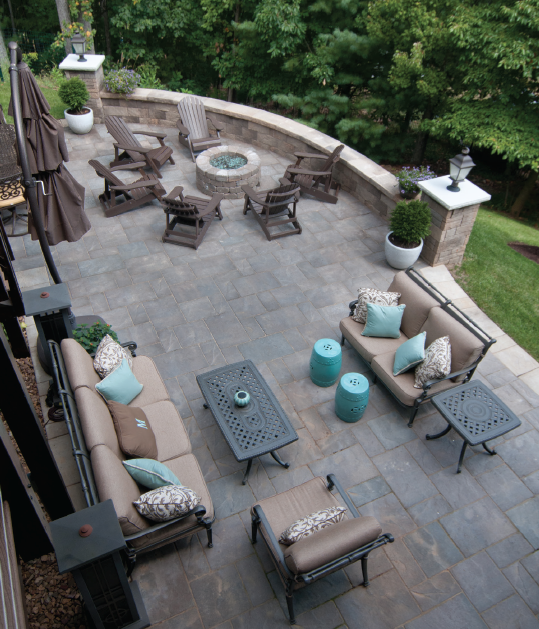 Luckily, this porch is up to the task. Doors off the kitchen and breakfast nook lead to the expansive space, which features sweeping outdoor views thanks to Baron's design. Huge screen sections—almost 9 feet long—are uninterrupted by posts because of a unique screen and tracks system that he uses. A cable railing system unobtrusively reinforces the screens and also provides a clean aesthetic on the stairs leading down to the patio. The structure was built with custom timber frames that Durham stained in a dark shade. "It breaks my heart a little," Baron says, laughing.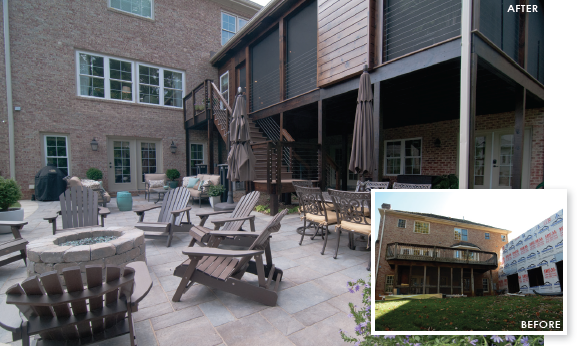 The porch has an outdoor dining set and a grilling station, which Steve says Juli and Baron talked him into. "We use it ALL the time," Steve admits. It also has an outdoor seating group arranged before a vent-free gas fireplace and flat-screen TV. The outdoor furniture and hammered brass drum table are from Magnolia Furnishings, and a diamond pattern outdoor rug from Dash & Albert completes the tableau. The porch stairs lead down to the patio, by Roanoke Landscapes, which features another outdoor seating arrangement, gas firepit, and curved seating wall. The patio, in turn, leads right into the finished basement, a stylish hangout for their children—a middle schooler, high schooler, and college student. Built-in bookshelves by Liberty Cabinets, leather sofas from Reid's Fine Furnishings, and a fireplace topped with an Xbox-equipped TV provide a popular gathering space. The other side of the room has a ping pong table, basketball net, and bean bags for lounging. "It just flows out into the patio space, which was the idea for kids," says Steve. An adjacent wet bar includes a microwave, fridge, and cupboards for easy access to drinks and snacks, with a banded iron table and swivel barstools from Magnolia Furnishings adding a fun industrial touch.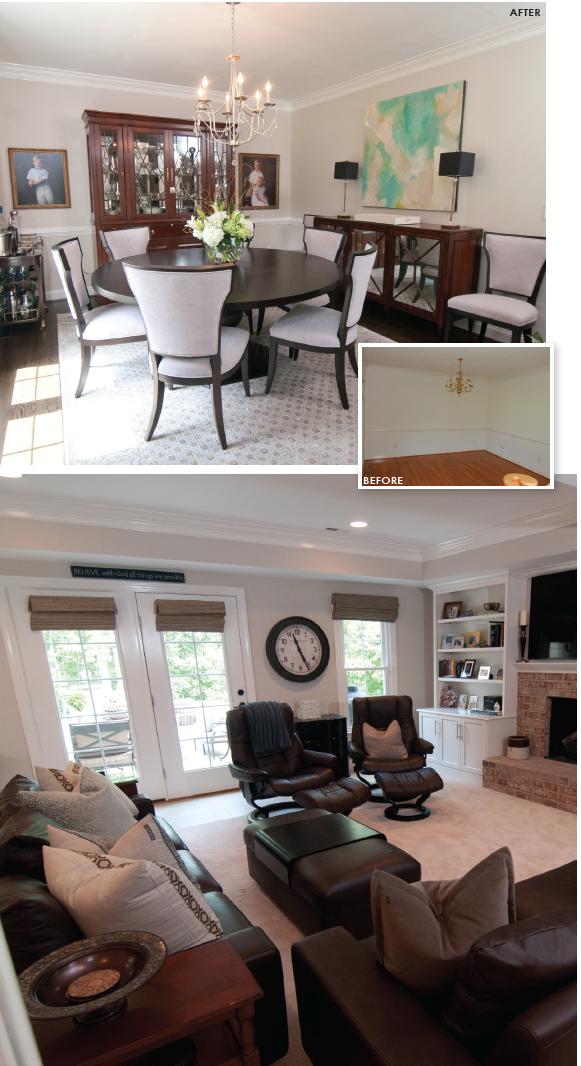 The Murdens' home has the space, seating, and amenities to host a crowd in effortless style, and they do just that, holding lacrosse gatherings and events which both Baron and Durham regularly attend. Baron prides himself on doing work that turns clients into friends, and Durham notes that with Juli, a design consult might be 30 minutes, but their friendship talks will take hours. Steve and Juli stress that not only are they grateful for the fine job their friends have done on the house, but also for what it has meant for them. As Juli says, "One of the great things that George has given us, and Jessica too, is we've had a lot of great family time in the house, because everything is comfy. And those are the things that are invaluable. It's not all the stuff. Life's about relationships, and we just really enjoy it."
bathroom design, bedroom design, firepit, kitchen design, living room decor, master bath, outdoor decor, Outdoor Living, patio, renovate, Renovation, Roanoke Landscapes