Change Up Your Chairs: Create an Exciting New Look for Your Dining Space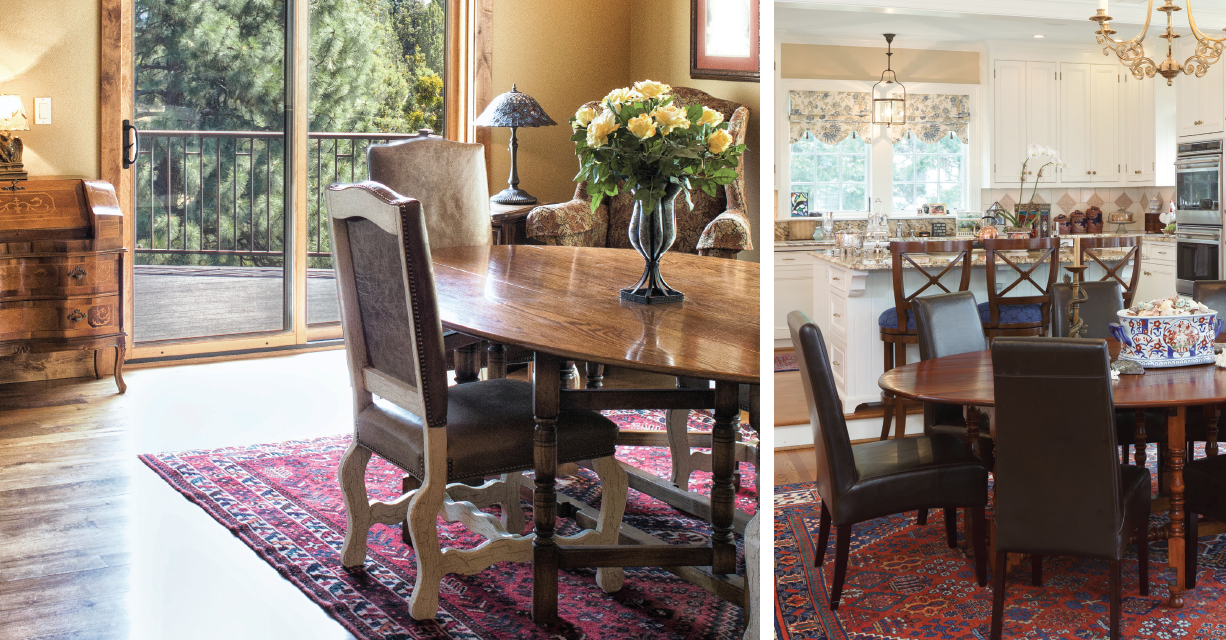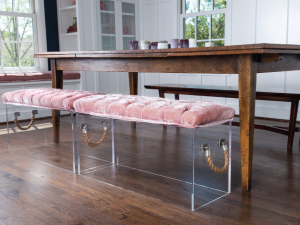 A great group of chairs can define the style of your dining space and even your whole home. With great opportunity comes great responsibility, however: your dining chairs have to perform in the areas of durability, comfort, and ease of care while they're hanging around looking good in one of the most-used areas of your home. So when your chairs start to show their age, or if your dining space could use a style reboot, seize the opportunity to upgrade form, function and aesthetic in one fell swoop by bringing in a new—or new-to-you—set. Done well, the result can liven up your dining space and kick off a new style note for your home along the way.
Before You Buy: Consider Space and Function
Before you head out to hunt down new chairs, ask yourself some key questions. How many do you plan to seat—just your family, or will you need extras for guests? Will the dining chairs live around the table 24/7 or will they moonlight as desk chairs in the home office or at the homework table? Do you plan to keep arm chairs around the table or pulled aside when not in use?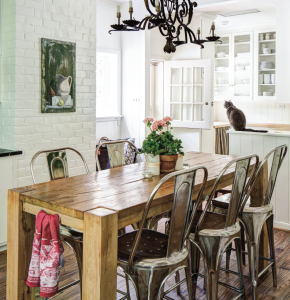 Consider who will be using the chairs most regularly. Upholstered host and hostess chairs look elegant but can be harder to grip and heavier to move for young children and older adults than chairs with open backs. Measure your table, as well, to determine the space between its legs on each side so you can determine how many of your new chairs can fit around it (a good rule of thumb is to allow 24 inches of width along your dining table per chair). Also measure the table's clearance from the floor to the bottom of its apron so that any arm chairs you choose can slide fully under the table. Also allow about 10 to 12 inches between the chair seat and bottom of the table apron for comfortable leg space. Lastly, measure the size of your dining area and consider traffic patterns, so that you can allow for maneuvering room around the chairs when pulled out from the table, and for chair placement in the dining space if you are placing seldom-used or supplemental chairs.
Let the Fun Begin: Mix and Match with Intent
Now comes the fun part: chair shopping. One way to create interest with chairs is to mix things up. Matchy-matchy furniture-buying mandates are a thing of the past; today's design landscape allows for endless creativity and for creating a collected-over-time look that can spark conversation ("where'd you find that?") over your dining chair lineup.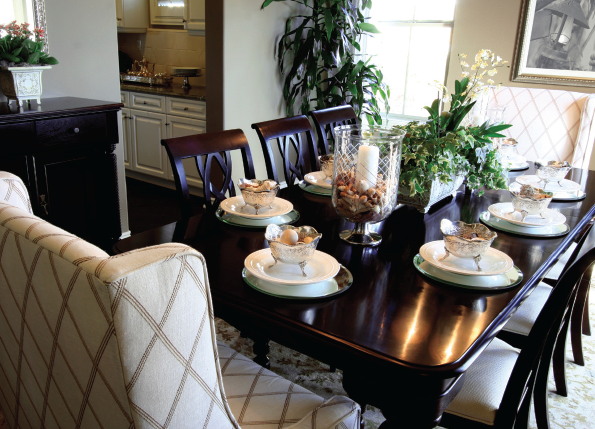 A simple starting point is to find one unifying element to tie a set of chairs together. One effortless way is to purchase the same chair in different colors within a range (keep the color range tight). Another option is to unify random chair styles with a single color—great for thrift-store finds. Another way to achieve an eclectic look, without committing to too much color, is to pull a set together with neutrals: use a metal finish, or white, black or the same tone in different woods as the unifier. A common leg style (curved, straight, turned) can also bring together a collection of otherwise disparate chairs.
If you're considering fabric-covered seats, use them to pull together unrelated chairs with a single fabric or add personality to a matched set with a different, coordinating fabric on each chair seat. Fabric choosing tip: Avoid fabrics with heavy naps such as chenille and velvet—they'll show wear quickly.
Yet another option is to add a pop of color. Team matching side chairs with a pair of end chairs in a contrasting color, or switch up both color and style at the ends (a modern end pair with traditional side chairs, or vice versa). Slipcovers in these same grouping patterns can also be a great way to experiment with color and texture; opt for easy-care and consider purchasing spare covers.
Approach the Bench
Another seating option to consider is a bench on one or two sides of your table. Benches optimize horizontal space (no chair arms means more sitting room) and visually eliminate the bulk in a dining space. When properly sized, they easily slide underneath the table when not in use. Benches actually take up less vertical space as well—you won't bump arms or catch items while walking around chair backs which can be a boon in smaller spaces. Plus, the pulled-together look of chairs and a bench around a table creates effortless style and can lend an eclectic vibe to your dining space. Consider a single bench on either the long side or short side of a rectangular table with a suite of chairs. Benches also provide an opportunity to infuse color—and even durability—with fabric. Consider an upholstered bench seat covered in laminated fabric for the ultimate in easy-care seating.
Build a Banquette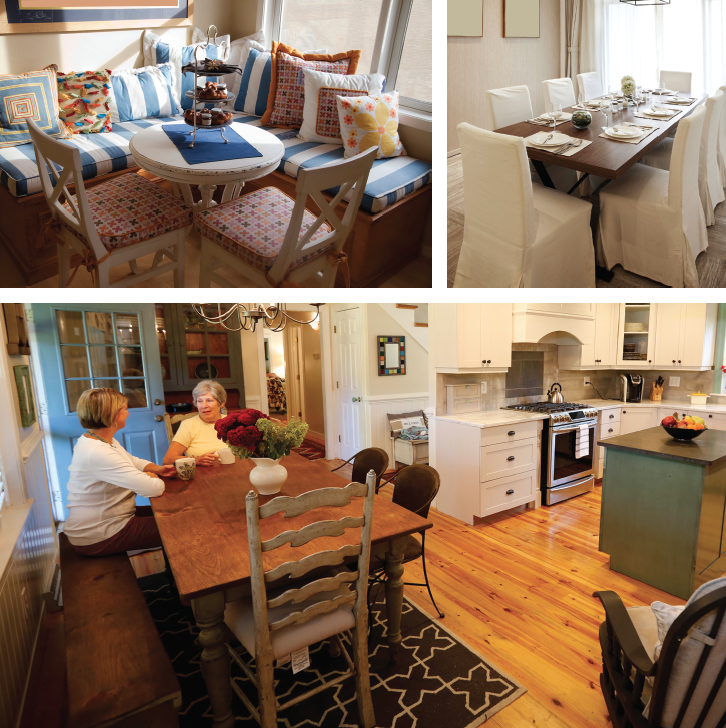 While banquettes represent a potentially bigger investment than a set of chairs, what they bring to the table in the way of intimacy, floor space economy, versatility and visual interest may make building one in your home worth considering. Whether U-shaped, semi-circle, straight or L-shaped (or a hybrid of any of these), banquettes can be placed against a recessed or standard flush wall space or under a window. Standard banquette bench seats should measure 18 inches high to work with a 29 to 30-inch table height, and can pair with a wide variety of table shapes—one legroom-friendly option is to pair with a pedestal table. Banquettes can be installed permanently or created with free-standing furniture. Style-wise, they can go casual in a breakfast nook or all-out elegant in a formal dining room, depending on accompanying chair and table styles, fabrics and finishes.
Your dining space works hard in your home. With a little planning, you can unleash your creativity to enliven your dining space and create a more beautiful and functional place in which to break bread and make memories with family
and friends.
banquette, breakfast nook, casual dining, chair design, chairs, custom tables, dining decor, tables