Take Stock of Fall Flavors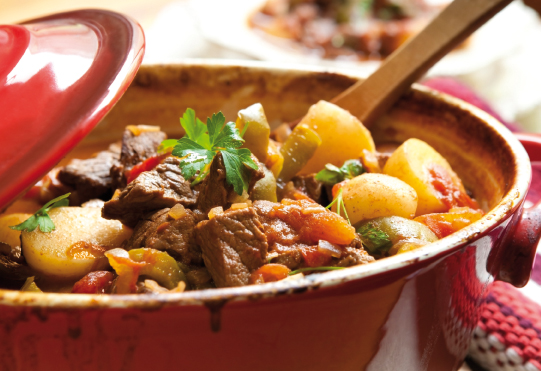 Making and storing stock can be the secret to a bountiful season
Fall is by far my favorite time of year. I love the cooler temperatures, the lower humidity and the color changes so many of our native leaves bring. Most of all, I cherish the return to hearty dishes best enjoyed when the air turns brisk. I think about dishes like braised short ribs and lamb stew. I consider new ways to prepare winter squash and anticipate roasting beets. That said, I know there will be days I get home late, perhaps in the dark, tired and craving an easy dinner from an empty refrigerator. If you are familiar with these feelings, don't despair my friends. Instead, take stock—chicken stock that is!
A hearty chicken stock is so important, yet often ignored by the home cook. It is, after all, the starting point for so much culinary joy. First, it imparts a fabulous scent while simmering that fills your home with warmth. Second, reducing the stock thickens and intensifies the liquid so you can then jazz it up with butter, wine and/or cream to create tasty sauces. And, of course, it is the perfect building block for a number of fall soups.
Admittedly, the emphasis on stocks in the culinary world used to baffle me, but as I've matured, my love for a good stock has surpassed just about everything else. Great stock sets the foundation on which to build depth of flavor—something you can't always achieve from a can, box or little cube. And yes, it takes a little more effort, but a good stock is really just flavored water that gets its mojo from the connective tissue and cartilage of bones. Connective tissue contains collagen, which converts to gelatin, which in turn thickens and enriches the liquid. But you don't have to tell your family or guests that.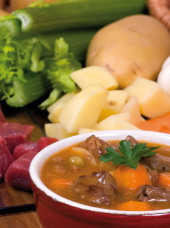 Weighing Stock Options
Making homemade stock is easier than you may think. You just need a few simple ingredients and some time at home. To make stock, combine leftover bones and skin from a cooked chicken (or use raw bone-in chicken) with some coarsely chopped celery, onions, carrots and parsley in a large stockpot, and cover with cold water. Bring to a boil and immediately reduce the heat to bring the stock to barely a simmer. Simmer uncovered at least 4 hours. Then remove the bones and strain the stock, discarding the solids. There's your homemade chicken stock! If making stock for future use, you may want to reduce it by simmering a few hours longer, to make it more concentrated and easier to store.
A note about fat: I've seen a lot of newer cookbooks advocate skimming the fat from the stock. I prefer the traditional method of letting the fat settle in a layer on top of the stock as it cools. This way, the fat acts as a protective layer against bacteria. Just lift up the layer of fat and remove the stock when you want to use it. Every few days, bring the stock to a simmer for 10 minutes and let it cool, again with the fat forming a protective layer. Your stock can be stored in the refrigerator and used for up to a couple of weeks this way.


Stock Tips
• Reducing a stock will intensify the flavor. So, not to worry if you feel something is lacking. Crank up the heat and bring that baby down to a demi glace.
• A leek bouquet garni is a nice touch. Using a length of leek as a sheath, stuff and tie it with a bay leaf, thyme and parsley. It's easy to remove this when finished cooking the stock.
• Ice cube trays can be lifesavers. Pour stock liquid into trays in order to "cube up" stocks in the freezer for a rainy day—to add to rice, veggies, soups and stews.
• When making stock, always start with cold water. If you use hot water, you stand a chance of sealing the collagen rather than promoting its extraction.
• No salt. Season later. If you need to reduce, you could easily end up with a too-salty result.
• Do not boil. A boiled stock is a cloudy one.

Fabulous Fall Stew (Serves 4)
Nothing says fall like a good hearty stew. This is one of my favorites.
2 teaspoons olive oil
3/4 pound lean, boned leg of lamb or lean, boned chuck roast, cut into 1-inch cubes
1 cup chopped Vidalia or other sweet onion
1 cup chopped celery
3/4 cup chopped carrot
3 garlic cloves, minced
1/2 cup dry red wine
1 1/2 cups cubed baking potato
1 cup peeled, chopped rutabaga
1 cup peeled, chopped turnip
1/2 teaspoon salt
8 cups homemade chicken stock
2 bay leaves
1/2 cup chopped plum tomato
1/2 cup chopped zucchini
1/4 cup chopped fresh cilantro
1 teaspoon dried oregano
1 teaspoon ground cumin
1/4 teaspoon ground red pepper
1/4 teaspoon black pepper
Heat oil in a large Dutch oven; add lamb or beef, browning on all sides. Add onion, celery, carrot and garlic; sauté 5 minutes. Add the wine, and cook 3 minutes, stirring frequently.
Add potato and next 5 ingredients (potato through bay leaves); bring to a boil. Reduce heat to medium; cook 1 hour and 20 minutes or until vegetables are tender. Add tomato and remaining ingredients; cook an additional 10 minutes. Discard bay leaves, serve and enjoy.