Precious Collections: What's Your Story?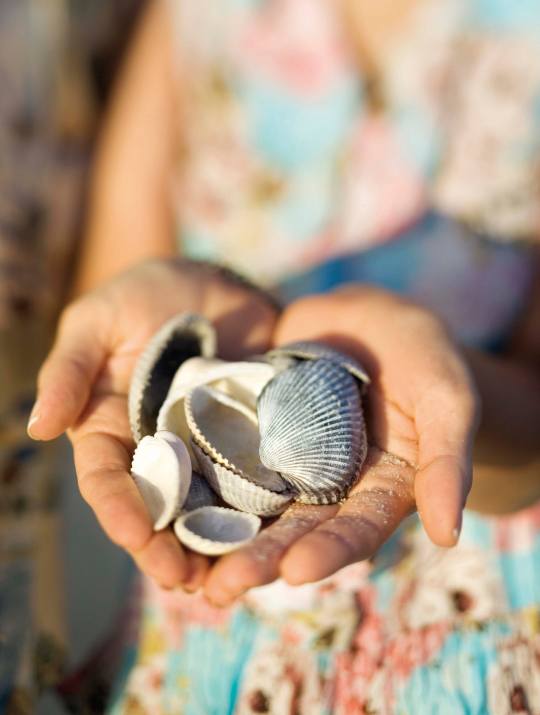 From pottery to porcelain, from silver to stamps…you name it, it's been collected. But what should we do with all these collectibles? Put them in a box and forget about them? Absolutely not! Collections tell stories of our lives, and should punctuate that story as accents around our homes. Here, three consummate collectors of varying interests weigh in with thoughts and tips on how to make the most of the treasured collections in your home.

Collect What You Love
By Lucy Tkachenko
As far back as I can remember, I've been collecting. I started young, with dolls, jewelry and seashells; when I became a teenager I started collecting for my room. I loved to scour junk shops, and my favorite was run by an older man named Lura Roland. Visits to his shop were an adventure, to say the least. Dark and dusty with only a tiny pathway through this crowded store, this man took collecting to another level; nowadays we call it hoarding. Being only 16, I recall wishing he would let me organize and decorate his store. I never got the nerve to ask him, but I think he prospered because people like me loved the thrill of the hunt!
I've continued my search for "hidden treasures" my whole life. Through the years I've collected books by Khalil Gibran, beads and baubles from all over the world, and oil paintings and artwork from local artists found at yard sales, thrift stores and flea markets. I even turned my passion for hunting treasures into a business. I've combed markets around the world, buying pieces that still evoke strong memories when they are unearthed while cleaning out my closet or dusting my pieces scattered throughout my home.
Lately I've taken to collecting pieces of white pottery, in various shades of white in assorted shapes and sizes. There's something soothing about a collection of pieces of the same color—whether glazed in shiny or matte finishes—that have been made with someone's hand. At one time I spent years collecting dogs, mostly chaulkware, some pottery, one even made out of salt. I displayed those little dogs in all sorts of places for many years. They were dusted, admired and talked about. They told a story. Some even became physically challenged as one of the grandkids knocked them to the floor. I never got mad; I just loved the pieces more because they reminded me of the vast collection of people living on this earth. Like artwork, all of us are flawed.
To other people, your collectibles might not mean a thing. But ultimately, collecting is all about the memories. Collections stir emotions, and cause us to remember special times in our lives. Our lives shape our collections, then our collections shape our lives. Wouldn't Mr. Roland agree?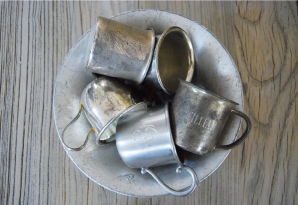 Mixing Children's Treasures with Traditional Decor
by Meridith Ingram
Sometimes the best collections are those that are brought to you. While I do have a distinct fondness for ironstone pottery and porcelain rabbits, I have many other collections around my home that have come to me through my children. Though I strive to maintain an organized, stylish interior, I have found ways to incorporate kids' stuff with designer goods, in ways that bring joy to my heart and home.
• Silver baby rattles, teething rings, spoons….all make great collections, decorations and memories. In our family room, I have a wooden root bowl full of silver baby cups—those that belonged to my children and other family members. I love the tumbled look of the cup arrangement, and the juxtaposition of the wood against the silver, and the old against the new. Get those baby things out of storage!
• Rather than keep every bit of art that comes home from preschool, make a shadow box or two for children's rooms. Love the tiger in the center of the giant painting? Cut him out, and make him the star of the shadow box. Include a picture of your child at school, and you've created art and a memory.
• Create vignettes of kids' pottery on your bookshelves, among your newer accessories. Put a grouping of glazed clay sculptures on some books stacked horizontally, right next to a gilded picture frame. Again, the juxtaposition of old and new, refined and rustic, purchased and handmade with love, will be striking and will help tell the story of your family.
• Children love to collect shells. Rather than toss the plastic bag when they are not looking, put those shells in a hurricane with a candle, and think with fondness of your children and a great trip to the beach when you light that candle.
• You know those super bouncy balls that seem to come in every goody bag from every birthday party? They make a great visual in a decorative glass container in a boys' bedroom or bathroom.
• Put those little tiny vessels to good use—you know the ones that come home from school, made from decorated terra cotta or hand-molded from clay. For many years in a row, I received miniature flower pots painted with caterpillars and ladybugs made from my children's fingerprints. I lined them up on the windowsill in my laundry room—one for buttons, one for loose change, one for safety pins, and one just for show. They make me happy every time I see them, which, in the laundry room, is every day. I also have been given many rustic clay bowls over the years that I keep in my walk-in closet, to hold those same types of loose items. Love meets function? Does it get better than that?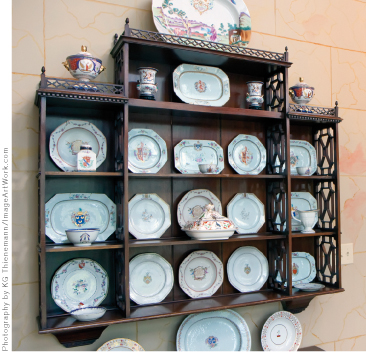 Create Intriguing Displays with Your Collections
By Lamar Cecil
For almost 50 years, I've been in the process of forming a collection of Chinese export armorial porcelain. This type of porcelain dates back centuries. Around 1715, prominent families and dignitaries of British, French, Dutch, Portuguese and Swedish descent as well as Indian and Persian grandees (and still later, wealthy Americans such as George Washington), began to trade with Chinese porcelain manufacturers. The client would specify the form and design of the wares desired, and Chinese workers would fulfill the orders. Armorial porcelain bore the coats of arms of these clients. After about 1790, a lively trade in so-called pseudo-armorial porcelain emerged, especially for the American market where there were few "armigerous," or arms-bearing, families. Pseudo-armorial china, like armorial, has a shield, but instead of containing arms, the shield surrounds the initials of the person placing the order.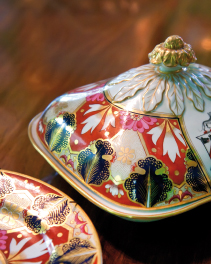 My collection began with a platter, a gift from a friend, and shortly thereafter I began to acquire additional pieces. There was no problem displaying this small number of items, but as my collection grew, I had to decide how to display it. I was determined not to rotate things in and out of closets. The first decision I made was that what I possessed should be largely (but not completely) presented together. Doing so, it seemed to me, would declare that it was, in fact, a collection. This would enable me to clarify (in case anyone shared my interest in armorial porcelain) the subtle differences in various pieces that could be explained by reference to date of manufacture, origin, gender or noble rank of the person placing the order, and other factors. But I also deliberately kept a few pieces elsewhere, which suggested that there was something special that elevated them beyond the other objects in the collection. My favorite piece of armorial china—a small platter bearing the arms of an English earl—reigns over the mantelpiece in the dining room. My most valuable piece—a tureen made for an English colonist who lived in America and was associated with Benjamin Franklin—is on the center of a large sideboard located in another room. The rest is gathered in the entrance hall.
Nowadays, the bulk of my collection rests on two Chinese Chippendale hanging shelves that my wife and I bought in Paris some years ago. But for many years before that, I had placed my porcelain in plate hangers and hung them on two walls, painted a shade of aubergine, facing one another in our entrance hall. It made for an arresting entrance, for an expenditure of about $40 for 30 or so hangers.
If you collect something—Herend animals, paperweights, corkscrews, pill boxes, whatever—my recommendation would be to keep most, but not all, of it in one location. Guests will realize that you are a collector, and will want to know why you have chosen this or that piece. Once they discover that elsewhere in your house there are yet other similar objects, they will want to find out why those pieces are not with the rest. If something takes up a lot of room, hang it on the wall or find a sconce it can rest on. If what you collect comes in multiples (suppose you have a dozen VMI or UVa commemorative plates), don't put them up in rows, but rather in swags, or in triangles over a door frame, or in some other architectural arrangement.
The important thing is to collect something—anything! Collecting provides you an intellectual adventure. You will learn all sorts of things about the people who made the items, and those who owned these objects before you. Collecting will put you in contact with dealers and other collectors, too. Whatever you collect need not cost a fortune—and might even prove to be a good investment.