SUMMER THROUGH THE EYES OF A CHILD
Rediscover the Simple Joys of Life and Nature
One of the keys to happiness is finding wonder and awe, even in the everyday, according to recent research. A Journal for the Association for Psychological Science article states the feeling of awe engages five processes — including a heightened sense of meaning — that benefit our overall well-being.
This reminds me of my youngest children, ages 4 and 6, who still get so excited when they stumble across the small scenes in nature that adults often overlook. A fuzzy caterpillar crossing our sidewalk or a slimy worm emerging from the dirt bring these two so much joy. Far too often, I'm too busy heading inside to do another load of laundry to stop and appreciate these moments with them.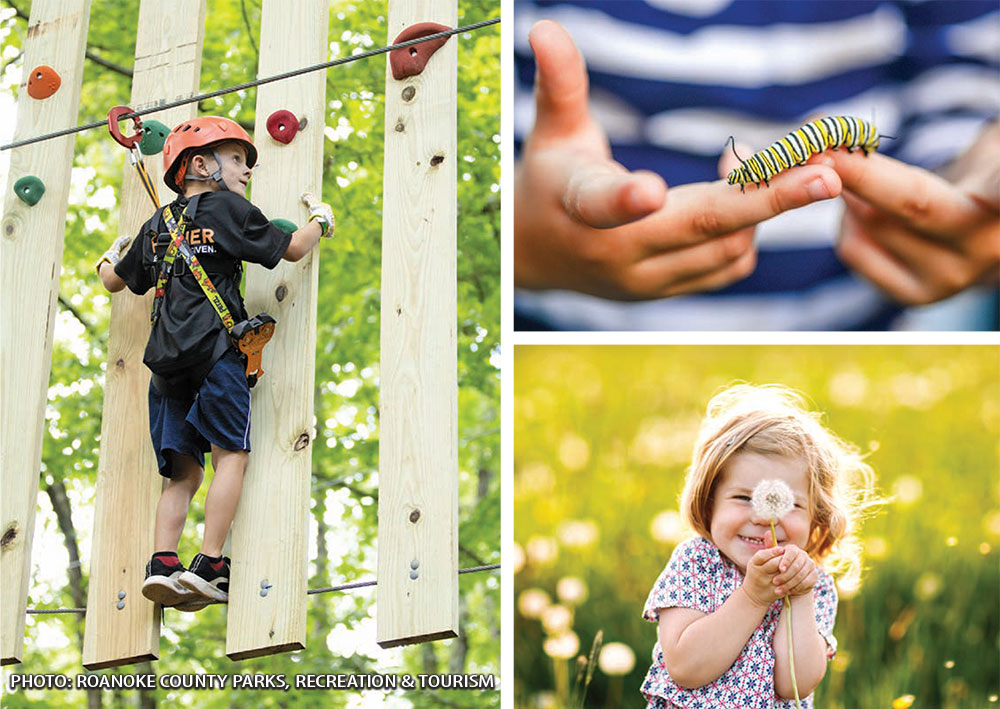 This summer, I hope you will join me in committing to a renewed focus on the world around us and finding new or unique ways to spend time with your family outside.
Here are a few ideas to get you started in the Roanoke region:

Explore nature from the treetops.
RECOMMENDED LOCATION: Treetop Quest at Explore Park | 50 Roanoke River Parkway, Roanoke
There is no better way to reconnect with the tree-climbing days of your youth than at Treetop Quest, located at Explore Park in Roanoke County. The zip lines, obstacle course and 1,500-square-foot trampoline net are not just for kids of all ages — adults are encouraged to join in the fun, too!
Anyone over the age of 4 can participate in Treetop Quest, as the course has progressively challenging aerial obstacles. There are five courses ranging from easy to challenging.
Visitors to Treetop Quest can try out the Tarzan swings, see if they can make it across the tricky cargo nets, balance on tightropes and fly across ziplines. At the end of the day, you'll have that same feeling of success as you did growing up when you finally made it to the top of that backyard tree.
Learn more about Treetop Quest on their website: www.roanokecountyparks.com/505/Treetop-Quest.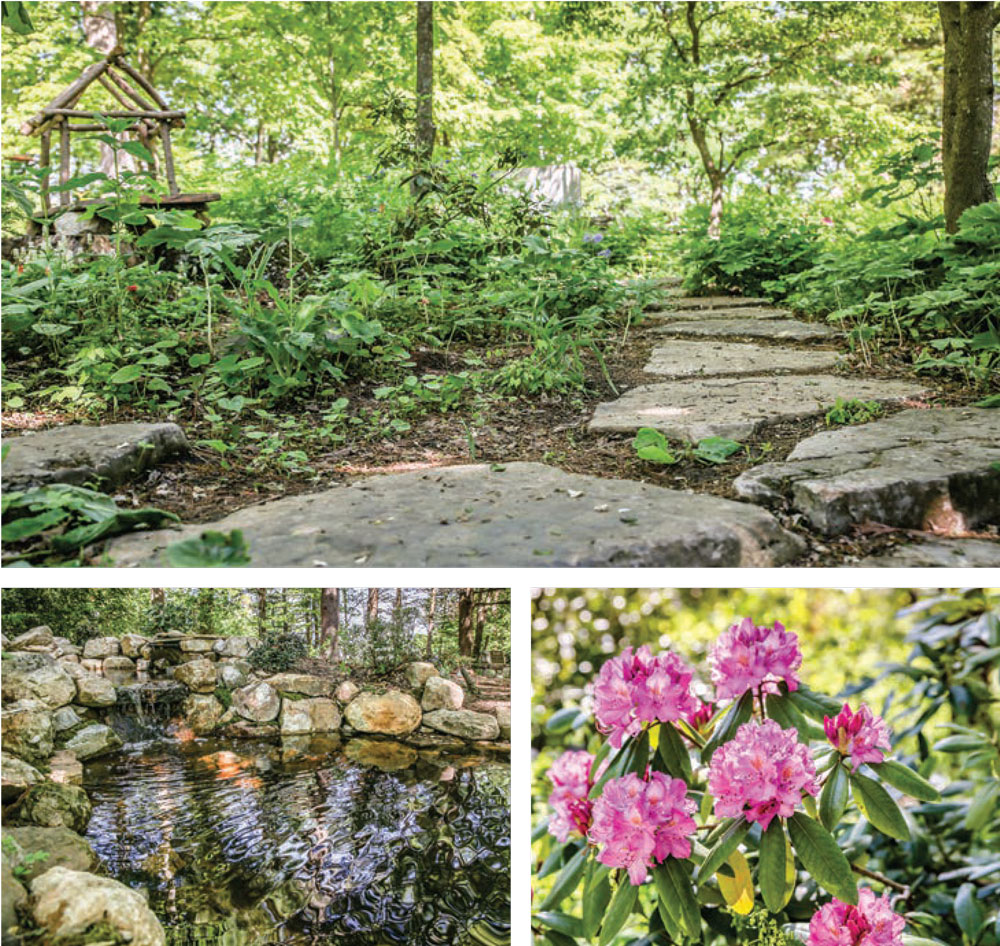 PHOTOS: KATHRYN FELDMANN
Explore a secret garden.
RECOMMENDED LOCATION: Mill Mountain Wildflower Garden 2000 Fishburn Parkway, Roanoke
Connected to the highly popular Mill Mountain Zoo and Mill Mountain Park is the recently revived 2.5-acre Mill Mountain Wildflower Garden, a project of the Mill Mountain Garden Club for close to 50 years. According to their website, the club estimates that its members have put in about 80,000 hours nurturing, cultivating and expanding this beautiful garden atop Mill Mountain.
From 2018 to 2021, the Mill Mountain Garden Club raised about $200,000 to restore the property. Visitors will notice major upgrades, including replacing the aged pond at the center of the garden with a cascading tiered pond and rerouting some of the walkways. The club also added new stone benches — so you can stop and take it all in — as well as a fairy garden and new educational signage.
Learn more about the Mill Mountain Wildflower Garden on their website: millmountaingc.org/portfolio/mmwg/.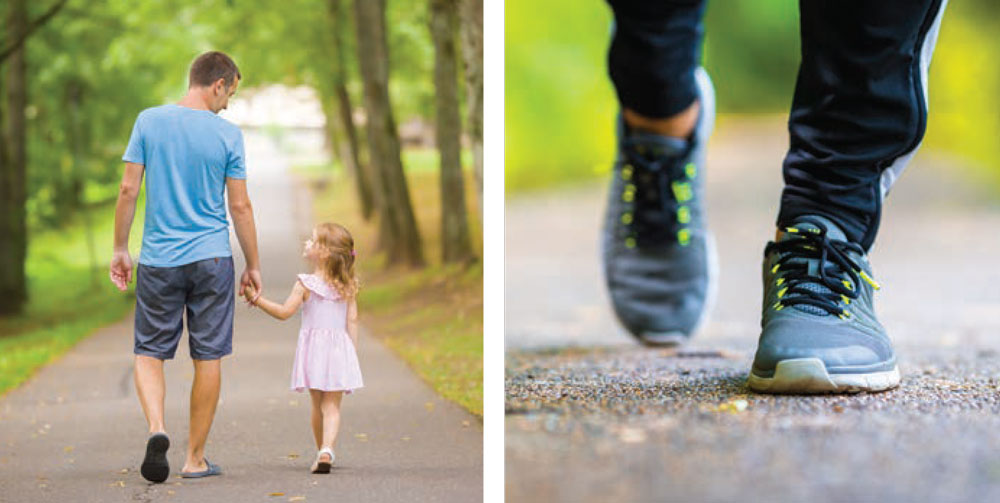 Find a new walking path.
RECOMMENDED LOCATION: Greenfield Trail System Off Preston Parkway, Troutville
Take advantage of the longest days of the year by finding a new location for your evening or weekend walk. We recommend trading a few laps around the neighborhood for a spot with a little more to offer — such as the Greenfield Trail System in Botetourt County.
The Bowyer Holiday Trail and Cherry Blossom Trail are located within a 600-acre business park near Troutville. Greenfield Recreation Trail in Greenfield Recreation Park backs up to the business park. There is also a disc golf course and a large pond that attracts many species of birds.
The Cherry Blossom Trail is cinder surfaced and about 8-feet wide, making it the best for a brisk walk or bicycle ride with friends or family. The other two trails are grass and open to cross country runners and equestrians.
Learn more at www.botetourtva.gov/621/Trails.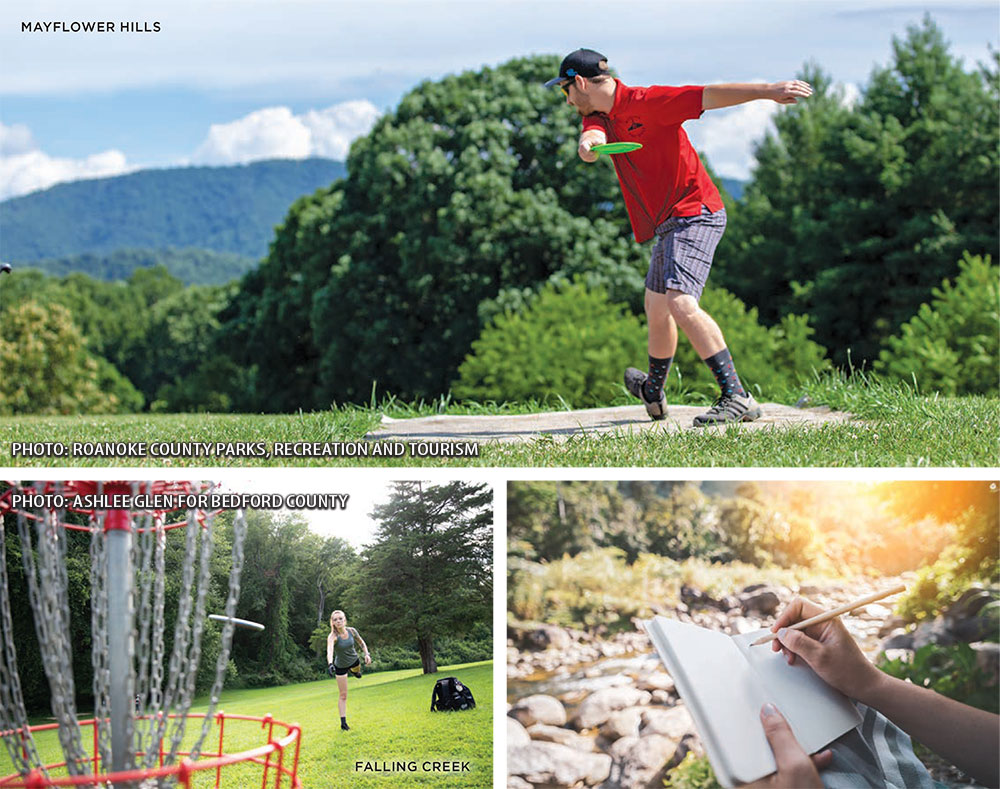 Try out a new nature-inspired sport.
RECOMMENDED LOCATIONS:
Mayflower Hills Disc Golf Course 3319 Rutrough Road, Roanoke
Falling Creek Disc Golf Course 1257 County Farm Road, Bedford
Disc golf is steadily growing in popularity across the world — and as luck would have it, you are living in an area with some of the state's top courses. What we love about the sport is where it's played. Our region's disc golf courses weave players across beautiful rolling fields and through majestic forests.
One of the most popular (and family-friendly) courses in the Roanoke region is the Mayflower Hills course at Explore Park. UDisc — an app for disc golfers — ranks Mayflower Hills as number four in the state. The course has 18 holes and the first nine are best for beginners or families.
If you want to explore disc golf a little further, Bedford County is one of the top spots for disc golf in the state — and beyond. (Proof of this: the Professional Disc Golf Association is bringing its 2024 world championships to Bedford County's professional course in New London.)
Start a nature-inspired journal.
LOCATION: Your home backyard
Adults and kids alike can benefit from the practice of journaling, which is proven to improve your overall mental health. During the summer months, consider starting a journal that focuses specifically on the natural wonders around your home.
For some of you, this may look like stepping outside on your back patio and writing down what you observe. For others, it may include taking your journal a step further by describing how the scenes in nature make you feel or even crafting a short poem.
Then, there are some of you who may completely be turned off by the idea of flowery language. For this group, simply observe something in nature in which you aren't familiar, do a little research on the topic and write down your new findings. At the end of the season, your nature journal can serve as a self-created encyclopedia of your neighborhood habitat.
Children can easily join you on this exercise. Fill an inexpensive composition book with their drawings about nature and even include a few treasures such as leaves and sticks.
Long summer days provide plentiful opportunities for awe. Enjoy the wonders all around us in the Roanoke Valley! ✦
aerial obstacles, bicycle ride, disc golf, Falling Creek Disc Golf Course, Greenfield Trail System Off Preston Parkway, home backyard, Mayflower Hills Disc Golf Course, mill mountain wildflower garden, Secret Garden, tightropes, tree-climbing, Treetop Quest at Explore Park, walking path, ziplines