ENVISION THE FUTURE
HIGH-TECH TOOLS HELP HOMEOWNERS IMAGINE REAL WORLD POSSIBILITIES
Pen on paper. It wasn't that long ago when this was the only method designers used to help customers achieve their home improvement dreams. They would certainly do their best to produce realistic renderings, but the idiom "what you see is what you get" often fell short. Computer programs like CAD (computer-aided design) would eventually change the industry. And now, the future has truly arrived with technology like AR (augmented reality) and 3D modeling, allowing homeowners to picture their space in a virtual yet lifelike world.
Home design is an artform, so it doesn't come natural to all of us. We may know how we want our home to function, but in the end, most of us have no other option than to turn to a design professional to literally sketch out the plans for us.
---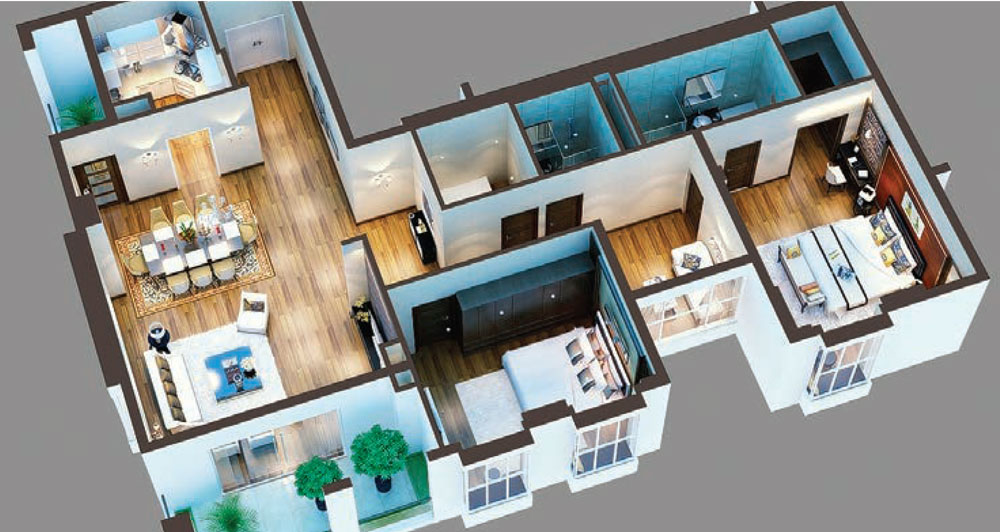 Photo: Courtesy of Prescott Construction
---
New dimensions in construction
Matt Prescott, owner of Prescott Construction, a full-service construction company in Roanoke since 1995, says it's often difficult for customers to picture the final product.
"A lot of people have a hard time visualizing space, so using advanced 3D modeling software allows them to see it, rotate it, zoom in, and get a really good view of the structure. It's much more effective to really view the space in 3D."
Prescott's team uses SketchUp 3D construction modeling software, developed for design professionals, to plan everything from a kitchen remodel to a full-home renovation. Customers can view the concepts on a computer in his office or can use a SketchUP Viewer on their smartphone or tablet to review the plans from the convenience of their own home.
According to the company's website, SketchUP can "prevent costly revisions by experiencing projects in mixed reality before you start construction." It also claims to "detect clashes, help owners evaluate design options and get sign-off before materials are ordered."
Prescott says the combination of traditional design (they still provide customers 2D layouts) and 3D modeling can help streamline the process. His company also employs the technology of Google mapping to obtain large-scope views of home sites, and it uses drones to take aerial pictures. Even with these newer tools, he says we can expect more; AI (artificial intelligence) is sure to become more widely used soon.
"I can see AI, with these kinds of tools we already have … where you could ask a customer what (type of home) do they want — colonial/ranch/modern — and say, 'show me floor plans, choose an entryway, how many stories in a house.' You would give a query tool all the criteria and it would pump out designs. It will shortcut the process."
---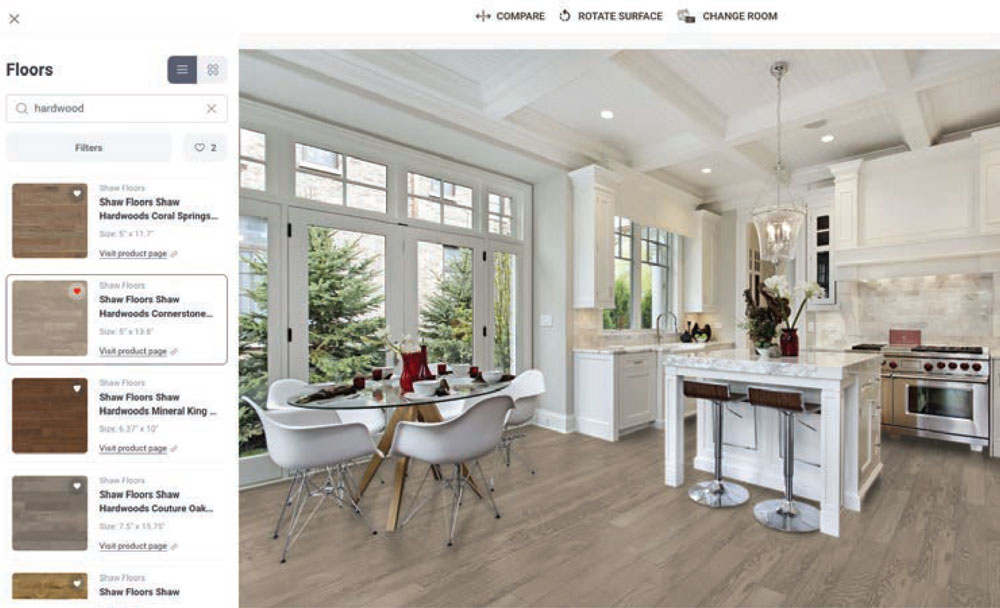 Roomvo Photo: Courtesy of Piedmont Floor Show
---
Some AI programs are already on the market for people to use at leisure for interior design, like RoomGPT. It's all about focusing on what it means to "try before you buy." You can swap out furniture, choose paint, flooring and other options. Many large home improvement retailers are taking advantage of AR. You can stand in your bathroom, for example, choose a product like a tub or sink from the company's website and instantly see how it would look in your space.
Companies are also using Roomvo, marketed as the "ultimate visualizer" for flooring, paint, carpet, countertops and more. From the website, you can upload a picture of your room and chose from multiple options. (See more helpful programs and apps in the box on page 38). It seems we're bound to be exposed to even more programs like this. According to data from Shopify, products that feature AR capabilities saw a 94 percent higher conversion rate than the products without it.
Some retailers, like Lowe's, have jumped into what they call "spatial commerce," with the ability to scan rooms, generate rich 3D models, get cost estimates and, ultimately, click "add to cart."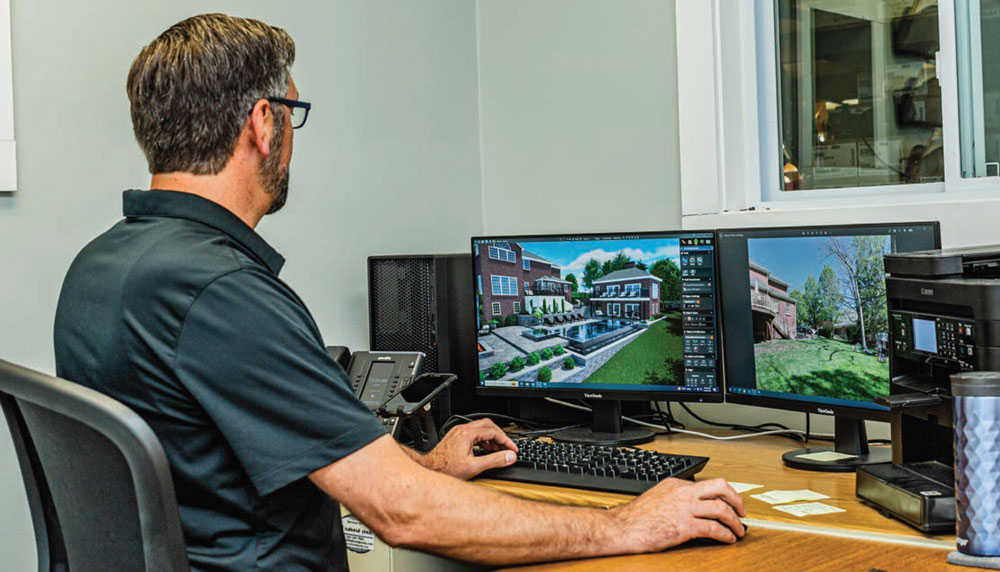 Photo: Kathryn Feldmann for National Pools of Roanoke
3D pool design
David Howe, who works in design/sales at National Pools of Roanoke, has a background as an artist but fully embraces the latest digital technology that he says is changing the entire preconstruction process.
"When we're buying a car, we can do a test drive, push all the buttons, see all the features, and you can't do that when you're looking at a (paper) concept," he says.
Howe uses Structure Studios' pool design software with 3D imaging and virtual tours that he can send directly to homeowners. (Structure Studios also has a special landscape design tool.) Resembling the interface of a video game, the software can show all angles of the project with surprising accuracy, not to mention flowing water and blazing fire features. For every project, he will use the software to create at least 30 design images, from dawn to nighttime, as well as a virtual tour, where you can "fly around" the project and even "dive" under the water and swim through the pool.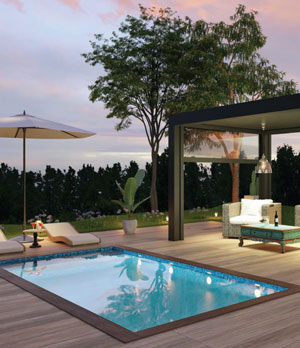 "What makes design fun and intriguing for artists are the limitations for our canvas: architecture property lines, easements, grade changes, features in your yard. When you add all of that together in this technology, you can tie all of that in, and it allows you to see potentially what you're going to get before construction commences."
He agrees that 3D imaging technology is giving homeowners a more realistic "picture" than ever before. 
"Some clients can't visualize at all; all they can see are black-and-white lines on paper (from the hand-drawn perspective). In follow-up meetings, we can interact in Structure Studios while sitting with a client. It's beneficial because we can remove features and put others in their place, and we can do this with a click of a button. This technology really lets us collaborate with the client on design development."
Often, customers may ask for a different tile or a different color because he stresses that materials can change the aesthetics of a pool — a highlight of our backyards that, if we're being honest, is only used a small percentage of the time. 
"Most of the time we're not swimming in them; we're looking at them," Howe says. "So the aesthetic impact is incredibly important. We're trying to create a resort in their backyard, so we can elevate their day-to-day lives, and 3D modeling can show them firsthand what it's going to look like."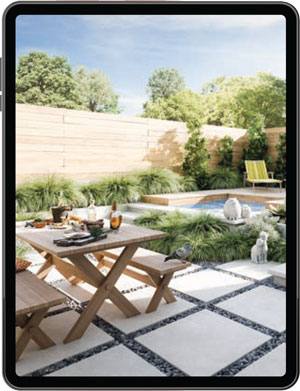 While the latest software may cut out some tedious drawing time, Howe says he still spends a lot of time surveying the site and considering things like traffic flow, lines of sight from windows and doors, sun and shade and how that impacts design and even down to how the drainage is going to work in the yard. He'll triangulate trees and other yard features, measure the home and existing hardscapes and take photographs of elevations and grades so he can better contour the land in the program. He takes 50-100 photographs of the yard before starting the design — from all angles to "really represent the architecture and yard as close as I can." 
"We're trying to experience it without being there," he added. "We want as close of an experience as we can get, interacting in that space, understanding that space." 
Howe isn't ready to give up traditional design entirely. He says no matter what new technology breaks onto the stage, "it still comes down to good design" and that means form and function. 
"We want to improve someone's property, not detract from it with what we're doing," he says. 
Customers are embracing the digital concepts, too. 
"You hear customers say, 'Wow, that can be our house.' That really blows them away when they see what they're getting and how they will be able to interact with that space and move around that space." ✦ 
AR/AI programs & applications
• Live Home 3D
• Room Decorator
• Houzz
• Roomvo
• Build.com
• PLNAR AR
• Measure app
• Homestyler app
• RoomSketcher app
3D modeling, augmented reality, high-tech tools, lighting, room visualizer, spatial commerce, virtual landscape model