Summer Spreads: Special Ingredients for Light Summer Meals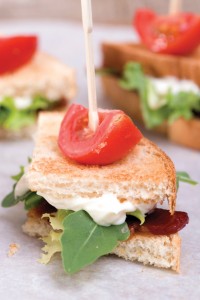 Summer in the south is a state of mind. We grow our own vegetables (or get stellar choices at the farmers market). We move a little slower, and drink mind-boggling amounts of iced tea. We continue to gather around the table and share food, but the style of food changes to match the weather. We hesitate to heat up the kitchen after a warm day, and tend to eat lighter and savor the fresh flavors of the season. Meals shared on the porch seem to be more casual, and more about grazing than a formal meal.
Summertime meals are often centered around the bounty of the garden: fresh tomatoes, corn, green beans, okra and other vegetables. The centerpiece of a meal consumed outdoors may be all about the abundance of available heirloom tomatoes, with some mozzarella, fresh herbs and olive oil. Sometimes, we'll add a biscuit or some fried chicken from the store down the road to round things out. On the hottest days, meat becomes more of a flavoring—like a little bacon on a tomato sandwich instead of a big slab of pork as the center of the meal.
I've included some of my favorite recipes for summer—a few simple recipes that, if served together, can make a great casual summer "grazing" meal. Or, on another night, the recipes could be great appetizers for a casual summer get-together. For a no-fuss cocktail hour, I use a collection of different sized jars that I fill with different pickled vegetables, pimento cheese, hummus, roasted nuts and other nibbles. For a summer party, I group them on a cutting board with fresh bread and crackers for spreading.
The recipe for homemade mayonnaise will add a little something to every recipe in which you use it—from the pimento cheese recipe here to your own homemade potato salad. Or make some delightful cucumber sandwiches: add a little chopped dill to the mayo, slather it on thin white bread and top with sliced cucumber. Cut off the crusts and enjoy a perfect appetizer, or part of a lovely "grazing meal"! Happy Cooking!
Homemade Mayonnaise (makes about 1 ½ cups)
Making mayonnaise at home might never have crossed your mind, but you probably didn't know that it takes less than five minutes! Homemade mayonnaise will change you—especially when you start adding flavors to make it personal. Try it at least once, just to see what you're missing!
2 egg yolks
1 tablespoon fresh lemon juice
1 tablespoon wine vinegar (I like Virginia Vinegar Works)
½ teaspoon Dijon or dry mustard
1 teaspoon salt
1 ½ cup oil (light-flavor olive oil, or canola oil, or a combination of the two)
Combine egg yolks, lemon juice, vinegar and mustard in a food processor and pulse to combine. Add the oil a drop at a time (I'm not joking; this is crucial!) until the mixture starts to thicken. Then, continue to add the oil slowly in a steady stream, and blend until the mixture is thick. Taste for salt and add more if necessary. Store in an airtight container for up to a week in the refrigerator.
To add flavors: add minced garlic, smoked paprika, any herb or Parmesan cheese to make some of my favorites to serve as a dip with veggies or protein.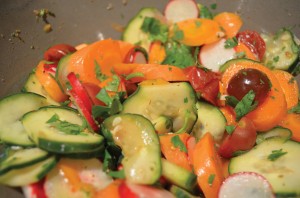 Pickled Garden Vegetables (makes about six jars)
Pickled vegetables seem to be a hot item in restaurants. They're great with drinks, go well with cheese, and don't spoil your appetite! These are best after a few days of pickling. I skip the sterilizing and canning procedure and store them in the fridge, but there are lots of instructions on safe canning available online if you want to preserve some for the colder months. I serve these straight out of the jar!
1 pound vegetables, like carrot sticks, cauliflower florets, green beans (trimmed), okra or cucumber sticks (Blanch carrots and cauliflower for 3 minutes
in boiling salted water, then immerse in ice water to stop the cooking. All other vegetables can be pickled raw.)
6 cloves of garlic, peeled
3 cups cider vinegar
1 cup water
½ teaspoon red pepper flakes
1 tablespoon dill seeds
1 tablespoon mustard seeds
1 ½ tablespoons kosher salt
1 tablespoon sugar
Divide the vegetables between the jars, packing tightly. Add a garlic clove to each jar.
In a non-reactive saucepan, bring remaining ingredients to a boil, stirring until the sugar and salt are dissolved. Carefully ladle hot liquid over the vegetables. Cover tightly and let cool for a few hours, then refrigerate for two days, up to one month.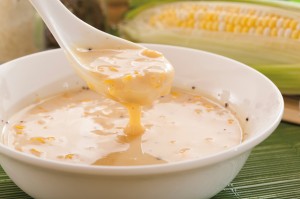 Corn Soup (makes about 8 cups)
There is a time in the summer when the corn is just perfect and needs very little to improve. This soup makes the best use of the freshest, just-from-the-market seasonal corn—so don't bother if your corn is more
than a few days old. This is a terrific summer soup, served chilled. It would be a great party starter in small cups.
One dozen ears of fresh corn
6 cups water
1 tablespoon kosher salt
Chopped chives, for garnish
With a sharp knife, cut the kernels off the cobs, scraping the cobs to get all the juice.
Combine the corn, water and salt in a stock pot bring to a simmer.
Cook for 15-20 minutes until quite tender.
Puree in a blender, food processor or with an immersion blender.
Strain into another large bowl and chill for a smooth soup.
Taste for seasonings and add salt and pepper if needed.
Serve garnished with chopped chives.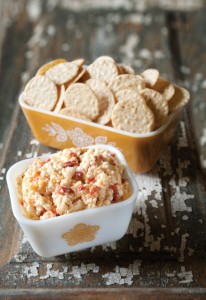 Pimento Cheese (makes about 2 ½ cups)
There's a long argument about whether its "pimento" or "pimiento"—but who cares? Pimento cheese has long been a staple in the South, but it is popping up everywhere—and for a good reason! One of our new favorite ways with it is as a burger topping—YUM! Make this classic, or jazz it up with the options listed at the end.
¾ cup mayonnaise, homemade or commercial (see recipe for Homemade Mayonnaise)
4 ounces cream cheese
2 tablespoons grated yellow onion
½ teaspoon salt
½ teaspoon fresh pepper
¼ teaspoon cayenne
1 teaspoon Dijon mustard
16 ounces cheddar cheese, shredded (I like sharp, but you can use a combination of white and yellow, sharp, extra-sharp or mild, depending on your taste. Freshly shredded is best, but pre-shredded will do in a pinch!)
¼ cup chopped, roasted red pepper (I prefer to roast my own, but jarred pimento is the classic.)
In a mixer, combine the mayo, cream cheese, onion, salt, pepper, cayenne and Dijon mustard. Mix on low until smooth and combined. Add cheese and peppers and mix just until blended. Refrigerate for at least an hour, then serve with butter crackers.
Optional, updated add-ins: ½ cup drained and chopped martini olives, ½ cup roasted and chopped pecans, or 3 slices crisp bacon, crumbled.
Corn Soup, Dijon Mustard, Homemade Mayonnaise, Light Summer Meals, Mustard Seed, Pickled Garden Vegetables, Pimento Cheese