The Thrill of the Hunt: Shopping Second-Hand Stores Brings First-Rate Looks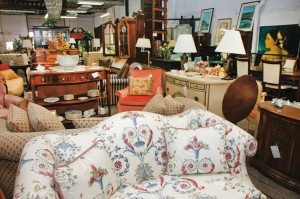 You might be one of those crazy-talented folks who knows exactly how you want your home to look and how to tie it all together. Or you may have only the vaguest idea that something in a room just feels off.
Regardless of your design skills, when find yourself in a home-goods resale or consignment shop and you spot a piece that you love—whether it's a huge piece of furniture to anchor your entire room or a perfectly proportioned accessory—there is probably a physical reaction. Your heart beats a little faster, you might even get a little light-headed. And then you check the price. The elation when the numbers on the tag are actually below what you were hoping to spend sends another spike of adrenaline, and you can't help it—you are hooked.
More and more often, discerning shoppers and designers are scouring local resale, consignment and estate-sale home-goods stores to find those types of deals. Such stores are enjoying a renaissance—as an affordable (and environmentally friendly!) option for homeowners looking for unique pieces that fit their specific needs and their style.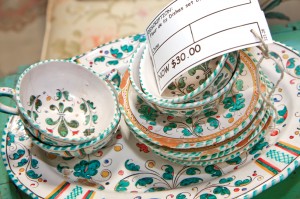 With fall on the way and the prospect of more and more time spent indoors (not to mention the upcoming holidays), the nesting urges will kick in. It's about time to start making a list of things you might like to update your home—whether you're making it more comfortable, more functional, or simply more of a reflection of your current tastes. You may need to address a problem spot—needing more storage near the kitchen door, for example—or feeling like it's time to replace the sofa you never thought was as cushy as you'd like it to be. Maybe it's something as simple as adding a new centerpiece in your dining room, or adding a few seasonal pillows in your family room to zhush things up. If any of these home-dilemmas sound familiar, then get yourself set for an adventure, and plan to visit these locally-owned, ever-changing stores that specialize in reselling quality items for your home.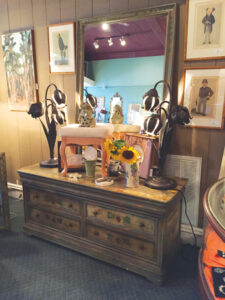 Going on the Hunt
Both the beauty and the beast of consignment shops is that their inventory may never be the same twice. Because it's so different than flipping through furniture catalogs or walking the aisles to find something to order, owners of such stores suggest two things: keep an open mind, and be prepared to purchase.
Jenny Prickitt, who owns New To Me Consignment Boutique on Grandin Road, says her store, which has been in business for 12 years, is never the same place twice. "Our inventory changes daily and we are always moving things. On any given day a sofa may leave and a new one arrives," says Prickitt. The styles are as varied as the people who originally bought them.
Shoppers, too, are unique, including everyone from those looking to furnish their first apartment to seniors who are opting away from their antique dining room table for 12 to a more practical six-top. Some have an eye for fixer-upper pieces, while others prefer the "purchase it to place it" method.
There is no one way to shop, and these stores have such a vast array of furniture and accessories that it can be intimidating for the uninitiated.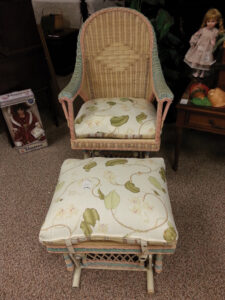 "When shopping consignment, keep an open mind," suggests Prickitt. "You may be searching for a new dresser and miss out on finding that one-of-a-kind item."
While different people employ varying techniques when shopping—some come in with a mission, some walk the aisles and make three or four passes, others plant themselves and do quadrant looking—there aren't really any tricks.
For shoppers who are looking for a very specific item or for a specific space, it's best to have your exact dimensions handy. No matter how much you are drawn to a particular piece, if it won't fit in the space you have available, it's better to pass, unless you love it so much you're willing to change other spaces in your home.
Over at Crowning Touch Consignment Shop on Williamson Road, Consignment Manager Dawn Shaw says, "You should always buy what you love at first sight. I have a great shopping method that I use myself: Choose three colors from your home and two neutrals. Carry paint chips in those colors. If an item works with your colors, you will be able to interchange items in your rooms and you will feel confident when you shop." Shaw also says store personnel will help any way they can—to measure or offer a second opinion."
Some stores have pieces grouped according to size or style; others set up mini-rooms, complete with rugs, drapes and accessories. Often a mid-century sofa will sit next to a chest of drawers from the 1920s. The many different styles will appeal to different people. Vignettes like this often inspire shoppers to feel more comfortable mixing styles or decorating periods in their own homes; they may notice an older piece that's been updated and think, "Oh, I could do something like that for my own space."
Realizing the Value
Shaw says that without a doubt the biggest draw to shopping in resale shops is the bang for the buck.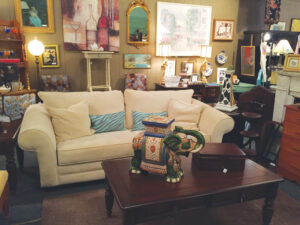 "Our customers are educated about what they are buying and have a budget in mind. If you have $500 to spend, it will go further for gently used furnishings in a consignment shop. Vintage furnishings are generally better quality than the imported furniture you pay more for from a box store."
Because the price-points are lower, there can also be less intimidation in picking the wrong item. Like the piece but not sure it will work in your current color scheme? No problem: Paint it. Too drab? Get some funky new knobs. Super comfy but the color wouldn't go well in your family room? Slipcover it or reupholster.
These stores report seeing more eclectic decorating, with homeowners being more adventurous in mixing furniture styles, finishes and colors, along with blending accessories—much less matchy-matchy than in previous years.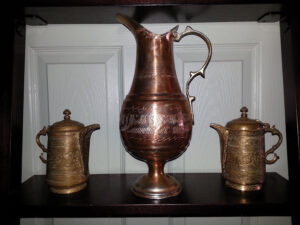 Accessorize
Consignment shops aren't limited to carrying larger pieces of furniture; they often have great accessories as well. For those who are less inclined to change entire rooms, consignment shopping is a perfect way to add some umph. Think lamps or even just new shades, curio cabinets, or a new-to-you side table.
For those who are adventurous and enjoy a DIY project, designers suggest buying artwork for the value of the frames, then painting the frames all in one color to make a cohesive display. Or use empty, antiqued frames to decorate a mantel. Store owners say they have had customers come in and purchase candlesticks—in different shapes and sizes—and group them together as a bigger focal item. Decorating choices are limited only by imagination.
Unique and colorful antique and vintage glass or even a tea set can add character to a room without breaking the bank. Pillows, too, can be an easy seasonal change to add pops of color and or texture.
"Finding new homes for our treasures is always fun,"says Prickitt.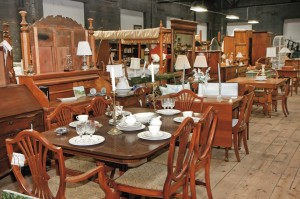 The Devilish Details
In these traditional consignment stores, items are brought to the shop by their owners, and there is an agreement between the owners and the shop as to how the pieces will be priced. At some consignment shops, the longer the item stays in the store, the less expensive it will become. When goods are purchased, the money is split according to the contract between the store and the owner. While you might pay less the longer you wait, you may risk losing out to another buyer.
If you haven't ever consigned an item or been a consignment shopper, Prickitt says it might be surprising; while some have a perception that buying "used" is less desirable, she suggests shoppers look at the value. Her shop typically sells items for a fraction of what the original owners paid for it. But, she says, the key to being successful in finding those crazy-amazing deals is to check in often.
Shaw also says that stopping by frequently is one key to success. "To be a consignment pro, you should shop often and be decisive," says Shaw. "New merchandise arrives daily, but often sells quickly. If you go to lunch to think about it, it may not be there when you come back."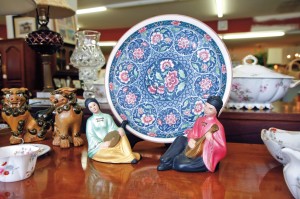 Understanding that might not always be easy, both stores have begun to post photos on Facebook several times a week of items that come into the store. Employees also are quick to respond to questions about dimensions and prices.
Shaw says the store has even addeda wish list, so if searching for a particular piece or manufacturer, the store cannotify you.
So don't be afraid to shop without knowing exactly what you might be looking for. These reselling shops are interested in generating happy customers. If you're up for waiting until you find a piece—a unique, well-made item at a reasonable price—that hits you just the right way, browsing these reselling shops might just be the perfect way to fill up a day or two. Just don't forget your vision, or your wallet.
Consignment Shops Roanoke VA, Crowning Touch Consignment Shop, Local Resale, Next To Me Consignment Boutique, Unique Antiques, Vintage Furnishings