Sofa Shopping: One Size Does Not Fit All | Things to Consider When Choosing a Sofa
Sofas are much more than a place to sit. It's where we find comfort after a long, hard day. It's where we connect and have meaningful, life-changing conversations. For some, it can even be where meals are eaten or work is done. Your sofa can make or break the comfort level of your home, affect the ability to create a conversation space and set the vibe of your lifestyle. Purchasing a sofa is an investment in more ways than one, so there are some important items to consider when choosing the perfect one for your space.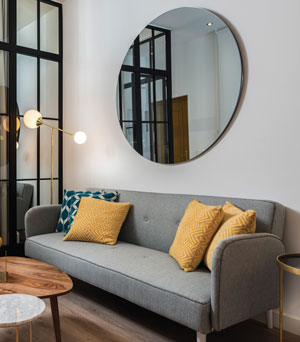 What atmosphere are you trying to achieve?
Do you want something calming and neutral or bolder and more colorful? What style is the rest of the furniture and décor? Is there a particular painting from your grandmother that you want to pull a color from and tie into your sofa? If you base your purchase strictly on comfort, you could wind up with something that looks quite out of place.
Colby Rorer at Better Sofas in Roanoke says furniture is a representation of your style and who you are.
"What would you like to convey to the people who come into your home? Picking out a sofa is really no different than picking out your own clothing," Rorer says.
Once you know the general style of sofa you are looking for, it's time to think about how you will use it as well as who will use it. Do you love entertaining and want to create a space for people to sit and have drinks while conversing with each other? If so, a more structured sofa with chairs combo would be suitable. Or do you want something for lounging and cozying up with your significant other or children while watching movies? A plush sectional with abundant seating and reclining options could be your best bet.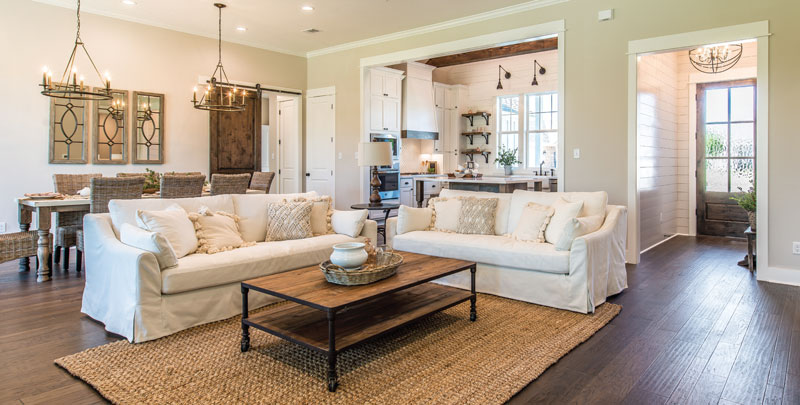 What size sofa do you need?
Furniture is not typically one-size-fits-all. A 6'5″ man and a petite 5′ woman most likely aren't going to find comfort in the same size sofa. That's where trying out a sofa in person is vital. You might browse sofa styles and colors online, but when it comes down to buying, you'll want to take a seat.
Rorer says buying a sofa should be a very personal experience. That is why furniture stores often ask buyers a series of questions pertaining to your lifestyle: Are pets or kids in the picture? Do you or your spouse prefer to lie down most of the time? Are you a red wine lover?
"With buying in-store versus online, you have the huge advantage of getting the expertise of people who serve a broad spectrum of buyers. You are not just an average consumer. You are YOU. You need your sofa to provide what you need for your own, personal lifestyle," Rorer says.
There are dozens of different styles of sofas. Talk to furniture experts to get advice on getting the best quality for your budget. Many stores will allow you to customize fabrics, colors and even leg styles.
Another important, and probably obvious, aspect to consider is sizing for your space. What other furniture do you have in the room that you need to work around? If your living room is on the smaller side and not very open, you may want to stick to the more traditional sofa and loveseat or chairs combo that can be easily moved around. If you have a larger space with a more open floorplan, a sectional could be your best option.
The biggest pro of owning a sectional is maximized seating. You can get the same amount of seating in one sectional that is found in a sofa, loveseat and chair — without as much room needed. Sectionals can also be great for breaking up a large, multipurposed space. For example, if you work from home out of your living room, a sectional can help create a partition between your home office area and living area.
Be sure to measure your space and take inventory of other furniture before heading out to sofa shop. Knowing your maximum length is key. And don't forget to measure doorways, too. If the sofa won't fit through your living room entryway, you may have an issue and need to pivot!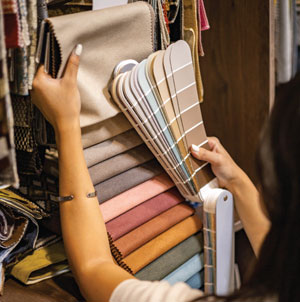 What color, fabric and style matches your home?
There is a cavern of options available these days as far as materials and colors go. Again, it's important to consider your lifestyle, and even your future lifestyle, when investing. The best pet-friendly material is microfiber as it is easy to clean and difficult to scratch or rip. Microfiber or leather are great options in terms of cleanability and durability if you have children around and are worried about spills and stains.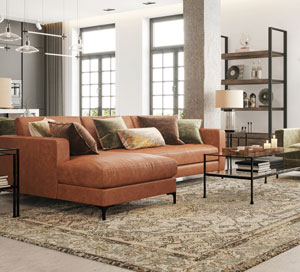 Choosing a sofa isn't just about the sofa itself – it is far more than that. Think big picture. Mull over your five-year or 10-year plan. It may sound silly, but it really does help. Happy sofa shopping!
---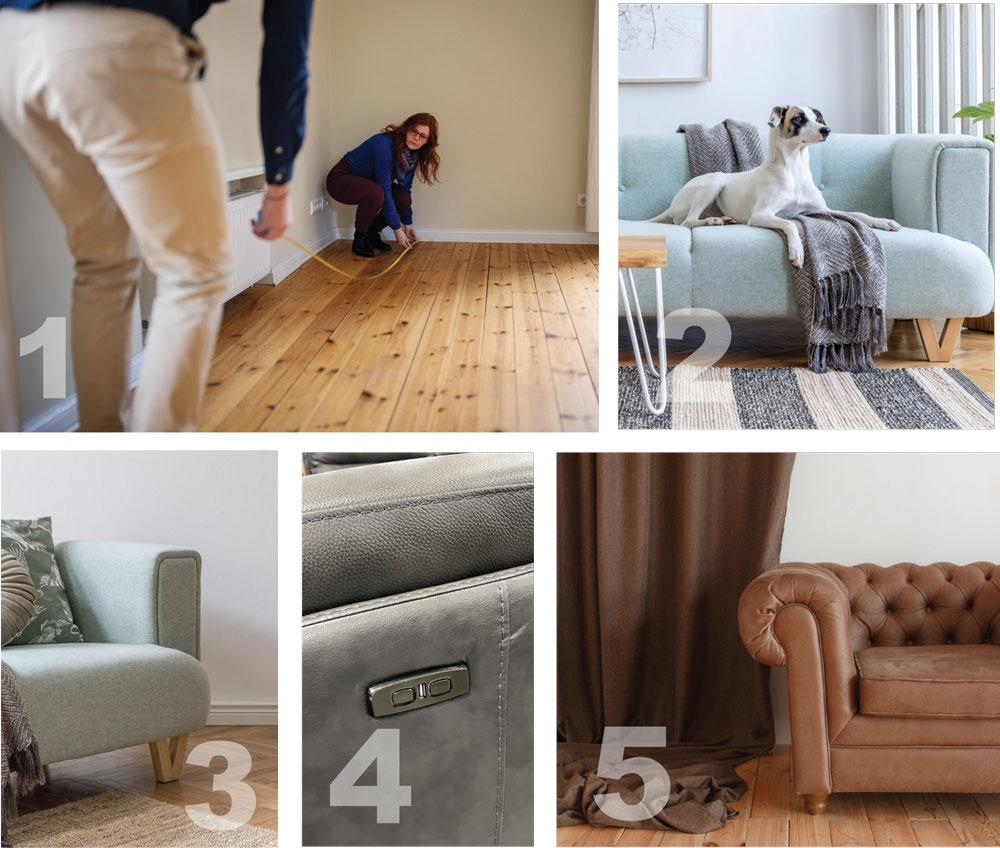 5 THINGS TO CONSIDER WHEN BUYING A SOFA
1. Measure first — your space and doorways to get there.
2. Choose a fabric to fit your lifestyle — look for pet and kid-friendly options if needed.
3. Consider the frame — you can restuff and reupholster down the line, but if the frame is made of poor quality materials, the sofa won't last.
4. Look at the features — if you want a reclining sofa, be sure to include the width while reclining in your measurements.
5. Decide if you want to be on trend or traditional — rounded edges are back in. See our story on curves here. ✦
Cleanability, Couches, Durability, investment, leather, lifestyle, Maximized Seating, microfiber, Sectionals, Sofas