Sizing Down to Live It Up | Is Downsizing Right for You?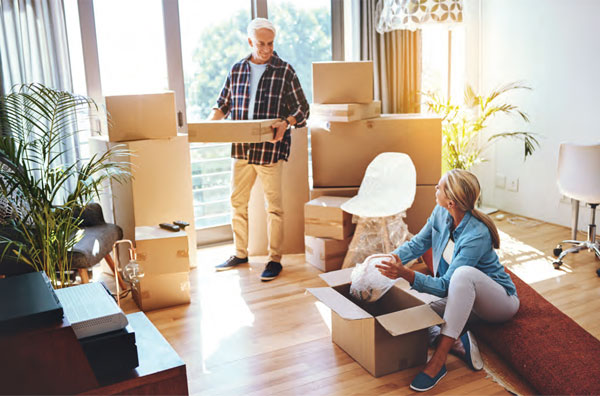 Most of us would love to be able to downsize our laundry piles, dress sizes, or credit card balances. We know that we can achieve the goal of 'less is more' with hard work, determination, and dedication, but how do you go about downsizing your home? What makes someone choose to live with less in a smaller space, and is this something you should consider?
Mercedes Mosby asked herself the same questions and ultimately chose to downsize. "Although we had a beautiful home, it was too large for our needs, and we were at the stage in life where we needed to simplify our living arrangements." She also wanted to have fewer expenses and less interior and exterior maintenance. With that in mind, Mosby began looking for a home with substantially less square footage and a floor plan that featured main-level living.
People downsize for various reasons. Kylee de Pineda of Virginia Varsity Movers in Roanoke says that she works with "customers that are looking to get a bit more active in the downtown scene and want to move into a smaller apartment," adding that she also serves many elderly customers who are preparing to move to a retirement facility. Downsizing isn't just for empty nesters or hipsters: you might choose to downsize in order to live closer to your family or to live in a dream location.
In a culture that equates square footage with success, downsizing might sound like a step backward, but for many, it's a step forward. Certain benefits come with downsizing, many of which are financial. Downsizing is typically synonymous with a lower mortgage payment (along with smaller heating and electric bills). With less money going out, you can keep more money in. Through downsizing, you can—in theory—take the money you were previously spending on maintaining, heating, cooling, and living in a larger home and put it towards retirement, debt, or savings.
There are other highlights, too. Mosby has discovered that downsizing has provided more comfortable living (and she achieved her goal of having less upkeep with the new, smaller home). "We also discovered that our neighbors are similarly situated, and we share the convenience of downsized living," she adds.
Of course, with anything in life, you should expect some challenges and hurdles. Mosby found that the disposal of excess furniture and furnishing (along with what she calls 'accumulated and unnecessary belongings') has been challenging.
She's not alone; in fact, this seems to be the single biggest overall challenge. de Pineda adds "the biggest setback we see is a customer who has furniture that's been in the family, passed down from generation to generation—and it's really hard to get rid of some of those pieces, especially if you have children or nieces and nephews who want the family heirlooms."
Beyond the dreaded tasks of cleaning kitchens and bathrooms and coordinating moving times, everything from selecting new furniture to family relationships can present challenges. To facilitate a trouble-free move, you might want to consider the services of a move manager.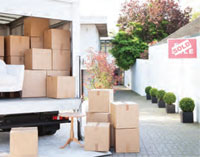 Unlike a mover (who may simply come to your home, pack, and physically transport and move items), a move manager is responsible for the entire course of the move, working closely with customers to ensure convenience and to troubleshoot and handle problems that may arise. To become certified, move managers have to take an exam to obtain initial certification and complete continuing education to keep credentials current. Some may have the title CRTS (Certified Relocation and Transition Specialist), and others might be members of the National Association of Senior Move Managers (NASMM).
Linda Balentine, the certified move manager at Crowning Touch in Roanoke says her business is a "one stop shop for any senior that is downsizing. We do things for our clients that no one else in the community does." Crowning Touch focuses on helping seniors (and downsizers) find new homes for their discarded belongings. In fact, Crowning Touch is the nation's only moving company with a consignment shop, an auction house, and a real estate division. Crowning Touch even goes so far as to find homes for pets or houseplants that the senior can no longer care for. Additional services provided include—but are not limited to—hanging pictures and mirrors, connecting electronics, even moving the food in the refrigerator to the new residence! In fact, Linda goes on to point out, "we not only put the bed together, we make up the bed, and after a tiring day of moving, that is really helpful to our senior clients."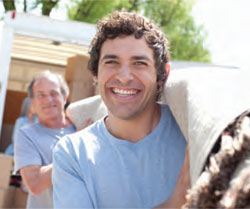 Carole Cole, a move manager with Smooth Transitions in Blue Ridge, says a move manager removes "the barriers related to the relocation process for seniors and others—we do the work so you can start living in your new home rested and with a renewed outlook." A move manager coordinates and oversees the preparation of the new space, working closely with family members and the client (if this is a senior move). The move manager will also schedule the movers, stage the new place to feel like home on moving day, and help the client decide what items they will take with them to their new home, as well as placement of furnishings and objects in the new place.
Ms. de Pineda's group offers similar services and also helps coordinate furniture donations. "We have some customers who have family throughout the country, so we'll hold pieces and ship them out when we have another shipment going in that direction," she adds.
Mosby didn't employ the use of a moving manager or specialist since she has had plenty of experience with moving and setting up homes herself. "As an interior designer, I have assisted clients with renovations, staging, and other design projects," she explains, adding that she and her husband have moved and built houses of their own in the past. However, many people have never undertaken a project like this before, and as Cole has said, the process of moving can be overwhelming to someone who must plan for a smaller space and release treasures of a lifetime.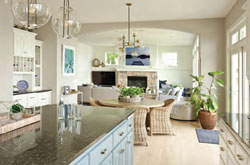 To determine if downsizing is the right move for you and your family, you'll need to ask yourself some tough questions. In addition to considering how much you will have saved towards retirement, think about your current home: do you have enough space to care for an aging loved one, and could staircases pose a problem down the road? You might be able to stay right where you are, or you might need to consider a housing option that will be more conducive to a happy and enjoyable future.
Choosing to downsize doesn't mean that you're suddenly moving from a home akin to Kensington Palace and rushing head-first into the tiny house movement; it merely means that you're choosing to step into the next part of your life in a new way that's right for you. ✦
Certified Relocation and Transition Specialist, CRTS, Downsizing, Features, main-level living, move manager, NASMM, National Association of Senior Move Managers