Shhh! It's a Secret | Rooms Hiding In Plain Sight
Have you ever watched a movie set in a grand old Victorian home where the lead actress bumped into a bookcase and revealed hidden rooms or mysterious passageways? Of course, you have — we all have! But did you know that secret rooms aren't just a convenient device for a Hollywood storyline? You read that correctly: you, too, can have a hidden space, in your home that only you and your family know about.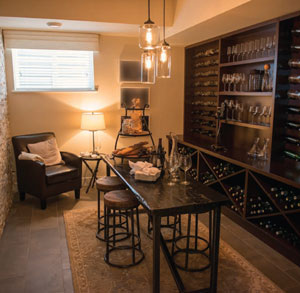 From hidden wine cellars to panic rooms and pantries, a secret room is more than an old bookcase trick. In fact, any room within your home that isn't purely visible can qualify as a "secret room." A hidden room not only infuses your home with personality and character, but it can make more efficient use of any wasted space in your home.
If you find this notion appealing and want to find a way to have a hidden space in your home, then consider your floorplan. What rooms are otherwise empty or underused? Could the back of a closet transform into a hidden entryway? Can the space behind your built-in bookcases turn into a secret room? Alternatively, an unfinished basement can take on new life as a secret space.
Whether you're the kind to DIY this type of project, hire a contractor, or you've already uncovered a secret room in an older home, you might be asking yourself what can I really do with a secret room? Here are a few of our favorite ideas along with what you'll need to design these spaces.
---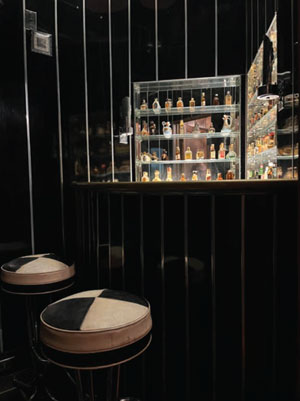 HOME writer Noelle Milam owns a prohibition-era home, built into a hillside with many hidden spaces and a probable bootlegging past. She found what appears to be a speakeasy bar —about the size of a closet — hidden away!
---
Create a hidden wine cellar. Isn't this the dream of every oenophile, truly? Although you may harbor dreams of having your very own Tuscan-style cellar to store your vintage vinos, you can create a secret wine cellar in the meantime. In fact, this is one instance where the "hidden bookcase" idea can come in handy. You can take any doorway, really, and convert it into a storage solution for your collection with a hidden flush wine rack door.
Cover your pantry. Keep your perishables stored away fashionably (and with a bit of whimsy!) by installing paneled doors that resemble your kitchen cabinets. This might read simply as "hidden storage," but if you have a walk-in pantry you actually have a hidden room with a clever disguise.
Keep the valuables under wraps. A single hidden bookcase door could easily hide jewels, a rare first edition, or a priceless baseball card collection. You might easily achieve this by sectioning off and hiding a closet, or you might need a smaller section of a larger room — it all depends on the scope and size of the valuables that need to be hidden.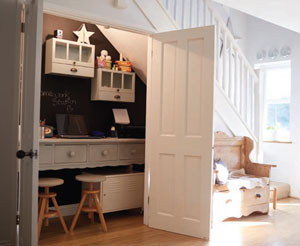 Stairway rooms. Most older homes have nothing but dead space beneath their staircases. Take advantage of this opportunity to design an enchanting little play space for small children. The location of this nook already will feel "hidden" for a child, but you could add a curtain or easy-to-open door to enhance that magical feeling of having escaped to an enchanted secret world. If you don't have little ones around but still like the idea of putting your under-the-stairs space to work for you, then why not use it as a place to stash away seasonal decor?
---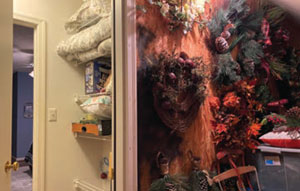 HOME publisher Trish Roth was excited to find hidden storage rooms in two of her walk-in closets!
---
Panic room. A high-security hidden room offers your family a safe shelter should — heaven forbid — an intruder find their way into your home. These rooms are frequently outfitted with technology that allows you to call for help during the crisis. It's crucial that these rooms look nonexistent. Keep the entrance hidden behind a hutch, beneath the staircase, or behind a paneled door that looks like part ofthe wall.
Disguise your library. Personally, I love being surrounded by my treasured books and keep them out on display, but I understand the appeal of having a quiet, secluded space for escaping into a novel. And what better place to use the hidden bookcase idea? A two-piece sliding bookcase would be just the thing for this secret room.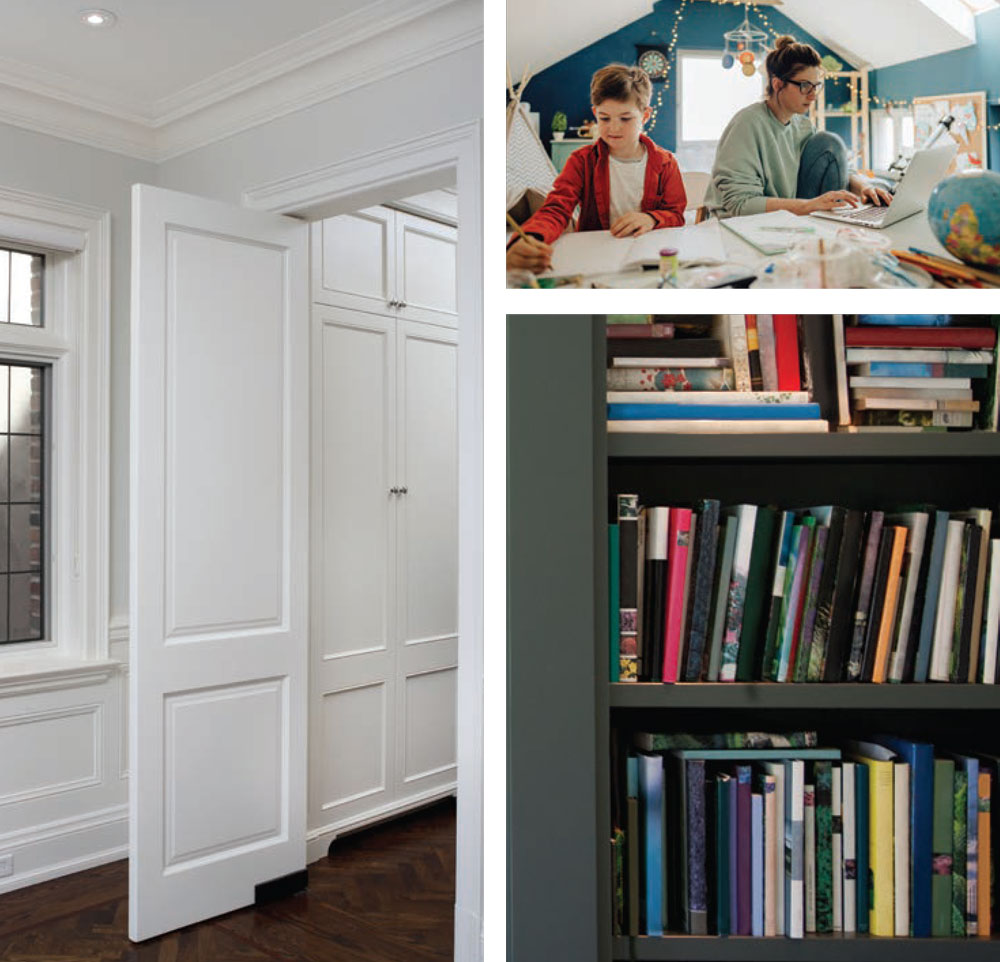 How to hide your secret room
Some spaces lend themselves more easily to secret rooms than others. Take the FROG, for example. A finished room over the garage (FROG) lets you have your space and hide it easily. If you're planning to convert the space over your garage into a more functional area such as a guest room, office, or rec room, then your garage exterior is really doing the work for you.
Likewise, you might consider concealing the entrance to a room you'd rather keep off-limits to guests (or even kids!), such as your home office space. It's easy to disguise the doorway. Simply use a door latch to secure an oversized framed print or high-end poster to the door (just make sure the frame is large enough to cover up the door's hinges). You could also cover the door with this clever idea: flank the entrance with bookshelves and paint the door so that it looks like another bookshelf. Of course, this would require molding that matched the bookcases along with the talents of an artistic friend, but it's an affordable, manageable way to mask the entry.
If you have a room at the end of a hallway, you can hide the door to make it feel like a "secret room." Install a swing door and finish the trim work for a seamless finish. Hang a piece of lightweight artwork on the panel and none will be the wiser. A riff on this approach involves using a door-sized mirror, so that it looks like a mirror is hanging on the wall.
You might also look at installing false walls as an option for closing off a space. The same type of false walls you might use to conceal plumbing pipes or electrical wiring can be used to partition off a space — or a room — that you intend to keep private.
It's even easier to keep a small secret space hidden, especially one that's meant to stow away supplies. One way you can obscure vertical storage is by hanging a gorgeous tapestry. By doing this, you not only hide your stuff, but you also createa focal point and bring a splash of color into the room — talk about hiding in plain sight!
Creating a secret room not only maximizes your space, but it brings to light a new chapter in your home's story — trick bookcases, and all. ✦
Hidden Bookcase Door, Hidden Entryway, Hidden Rooms, Home Office Space, Panic Rooms, Pantries, Stairway Rooms, Wine Cellars