Lighten Up | Lightening and Brightening Your Home for Summer
Summer is finally here and the sunshine brings with it the desire for lighter and brighter home interiors. With temperatures rising, your home should feel like a cool, calm oasis that provides a sense of casual ease. Stash your heavier fabrics and textures for the season and invest in colorful prints and lightweight bedding and other textiles. Whether you're up for a complete interior design overhaul or simply want to make a few simple adjustments that brighten up your space, your home is about to walk on sunshine.
Open for the season
If your windows and sliding doors don't already have screens installed, invest in screens that will allow the warm breeze to ruffle through your home. And when our southern temperatures rise a bit past comfortable, crank up the ceiling fans inside your home. Exterior ceiling fans, particularly those installed on patios and porches, will allow you to more comfortably enjoy the outdoors. Consider an upgrade; overhead fans have come a long way in the looks department.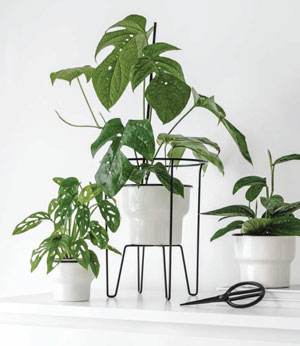 Celebrate natural elements
Celebrate the abundance of the season by bringing the outside in. Natural materials— seagrass, bamboo, wood, stone, shell, greenery—will not only create visual interest from an array of textures, but they will allow you to get creative with your decor. An heirloom piece that's crafted in natural wood can truly shine. The oversized conch you found on vacation can have its shining moment. The vintage rug you love so much can be highlighted even further when layered over a natural-fiber rug. And let's not forget the plants! While you're working away in your garden all summer, don't neglect the greenery inside your home. Sweeping elephant ears, tall snake plants, and abundant pothos vines all thrive in an indoor environment and are relatively easy to maintain.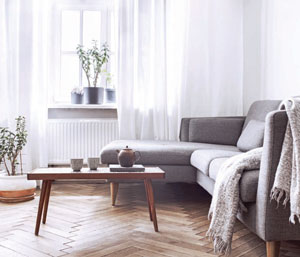 Indulge in new linens
You may have spent the colder months cuddled up under heavy throws and down blankets. The cozy fabrics and rich color tones have had their moment, and it's time for lighter and brighter materials to enter the scene—think printed cotton, muslin, seersucker and more. Invest in accent pillows for your living and sleeping spaces that continue the feeling of airiness throughout the home. For your personal style, that could mean accent pillows that feature bold floral or botanical patterns. Or, it could mean more neutral tones that are just a bit lighter than what usually adorn your rooms.
Your heavier bedding can be carefully stored for the season and lightweight duvets and blankets can be brought out. The season change is the perfect time to experiment with color changes in your bedrooms as well. If you typically lean more toward neutral color palettes, try introducing blue or green tones that give your space a summery feel.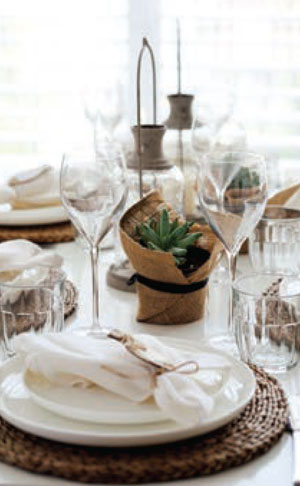 Serve up summer
It's a cinch to transition your kitchen and dining spaces for the summer. Even a simple shift like adding a bowl of lemons to your kitchen island will make the room feel endlessly cheerful. To really lean into the season, look for other ways that your dining spaces can be brightened. Swap your heavier dinnerware for melamine plates in whimsical colors or even lighter neutrals. Incorporate placemats made of more natural materials like cotton, bamboo, grass or wicker. Freshen up your tea towels that decorate your stove and sink areas with lighter patterns or whimsical summer scenes.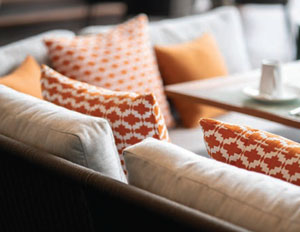 Bring the inside out
Bring the outside in by incorporating natural elements, but prep your space for summer by also bringing the inside out. You'll want to bask in the warmer, longer days of summer, which means ample seating and lounging space. Invest in all-weather patio furniture, if you haven't already, that can withstand the seasonal elements while still elevating your outdoor space.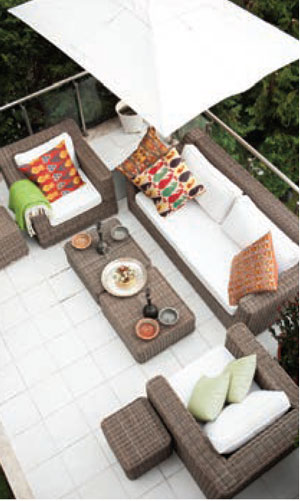 Even if you already have outdoor furniture, the summer season is the perfect time to refresh the cushions, pillows and rugs. Opt for fade-resistant and weather-resistant cushion and pillow fabrics in bold tones or patterns. For your outdoor rugs, choose tones and patterns that tie the rest of the furniture together into one cohesive look. Your outdoor spaces are your opportunity to experiment with bolder choices than you would indoors; it's easier for bold colors and patterns to hold their own when up against a backdrop of nature's blues and greens.
Here comes the sun
The summer season is your perfect opportunity to inject statementmaking hues into your home and create a space that's light and comfortable. Summer is all about having fun; you should have fun with your interior design, too. ✦
bamboo, exterior ceiling fans, greenery, Interior Design, linens, natural elements, screens, seagrass, seating and lounging space, shell, stone, summer interiors, Wood