Historic Garden Day: April 25, 2015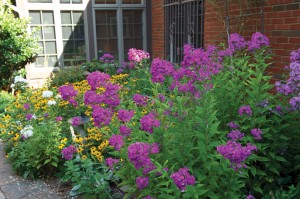 Each spring visitors are welcomed to over 250 of Virginia's most beautiful gardens, homes and historic landmarks during Historic Garden Week, which has come to be known as "America's Largest Open House." A beloved Virginia tradition, this 8-day statewide event provides visitors a unique opportunity to see unforgettable gardens at the peak of Virginia's springtime color, as well as beautiful houses sparkling with over 2,000 flower arrangements created by Garden Club of Virginia members.
Locally, Roanoke's Garden Day will be held Saturday, April 25, hosted by the Roanoke Valley Garden Club and the Mill Mountain Garden Club. This year's tour through the charming neighborhood of South Roanoke features homes with lovely gardens, serene water features and complete outdoor living spaces. Interior highlights include wonderful antiques and signature artwork. Nearby are Fincastle Presbyterian Church and the Beale Memorial Garden at Hollins University, both restoration projects of the Garden Club of Virginia using funds from past Historic Garden Week tours. Another special feature of this year's tour is a "wildflower walk" at 8:30 a.m., during which a member of the Blue Ridge Wildflower Society will lead a mountain walk through the Mill Mountain Wildflower Garden.
Advance tickets are available locally at various locations as well as online; tickets may also be purchased on-site on the day of the tour. Tour headquarters are at the Ronald McDonald House where visitors are encouraged to catch a free continuous-loop trolley to visit the tour; limited parking is also available at each site. Boxed lunches are available for advance purchase; light refreshments are included in the tour ticket, to be served at one of the featured properties (2731 Carolina Avenue) from 2 to 4 p.m., weather permitting. For more information, visit vagardenweek.org, or find "Historic Garden Week in Roanoke" on Facebook.
Here, HOME offers a sneak peek at what this year's tour has to offer.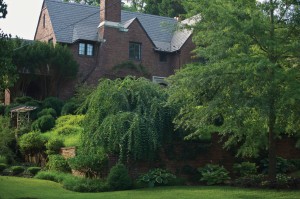 2802 Carolina Avenue (Garden Only)
This English Tudor house, built in 1926-27, and the gardens are bordered on two sides by brick retaining walls. The wall along 28th Street supports espaliered euonymus, which provides the backdrop for mixed shrub and perennial borders. The wall along Carolina Avenue supports espaliered hollies; climbing hydrangeas drape over the far end of the wall. Below the wall are perennial beds shaded by two willow oaks. Once inside the gates, visitors will be treated to a flagstone terrace, two covered porches, a fountain, a fish pond, an herb garden, and a varied collection of garden art and artifacts. Above the detached garage is an apartment that serves as the art studio of Nan Mahone Wellborn, a plein air painter of landscapes. The homeowner is a Master Gardener and Virginia certified horticulturist, and her passion is reflected in the extensive plantings, one of which is perhaps the only pagoda dogwood in Roanoke.
The Leitch family, owners.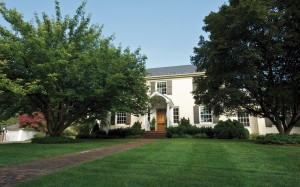 2731 Carolina Avenue
Situated on a spacious corner lot, this 1936 painted Colonial with clapboard addition, is surrounded by boxwoods, yews, hollies, azaleas, cherry laurels, hydrangea, viburnum, peonies, daylilies, tulips, Japanese maples, Chinese fringe, weeping cherry, dogwoods, Kwanzan cherry and crape myrtles. During the 20 years the homeowners have lived in the home, there have been several updates with the most recent being an expanded family room, updated and enlarged kitchen, and a brick terraced patio featuring a wood fire pizza oven in 2013. Family antique pieces found in the home include a mid-19th-century corner cupboard, a mahogany dining table from the same period, and a walnut secretary from the latter part of the 19th century. Works by local artists Eric Fitzpatrick, Gari Stephenson, Mary Boxley Bullington, Tommy Lawson, Bonnie Burt, Mark Watts, Vera Dickerson and Diane Patton can be found hanging throughout the home along with works by regional artists including James Brewer from Charlottesville, Baxter Perkinson from Richmond and Ethel Ferrell from Lynchburg.
The Irons family, owners.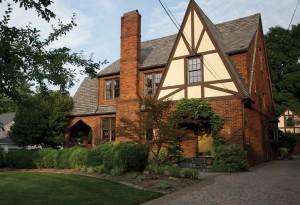 2626 Crystal Spring Avenue (Garden Only)
Built in 1935, this red brick Tudor home sits surrounded by gardens. Flanked to the right by the home known fondly by neighbors as the "Dr. Pepper house," the driveway features a shade border and a kitchen garden. The rear garden is a small courtyard-style garden with a central fountain. Shade-loving plants and bulbs grown among narrow garden paths invite garden guests to enjoy the small space. An original farm gate still stands and beckons to a hidden garden chair. The left flanking garden is a casual border garden which includes rhododendron, wild geraniums and fruit trees. The front garden is filled with old English boxwoods that share the space with peonies, lilies and iris. Two grape vines flourish, as well as two plum trees, and an apple and a peach tree. This yard is home to the family's beloved St. Bernard, Fern, and in a twist of garden irony, ferns flourish in all of the gardens of this home. The Carter family, owners.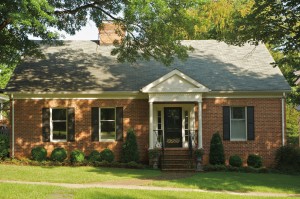 2525 Crystal Spring Avenue
This Federal-style bungalow is a relatively recent addition to the neighborhood. Built in 1984, the one-story home blends in seamlessly with the older houses around it. Described by the homeowners as "efficient living," this home exemplifies smaller-scale living at its best. For instance, the see-through fireplace can be enjoyed by the homeowners in two rooms. Using the interior design skills of the homeowner, the eclectic interior combines old and new, and neutral tones with vibrant punches of color. On display is a collection of large-scale international art and artifacts as well as an almost-life-sized bronze lion. Informal, low maintenance but structured gardens surround this red brick home. Exterior highlights include a large laurel hedge, a fern garden and a vegetable garden. A studio apartment sits above the garage.
The Doherty family, owners.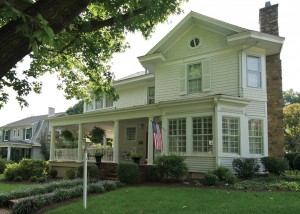 2530 Crystal Spring Avenue
Affectionately called the "White House," this 1910 classic features Queen Anne elements, but does not represent any one style. The evocative white-washed house is a corner landmark with a quintessential wraparound porch of almost 600 square feet encased by large, white columns. Azaleas surround the porch, which is also highlighted with a fall-blooming rhododendron. This home features some of the oldest and most matured Japanese maples in South Roanoke. The exterior flowerbed includes a perennial garden, and boxwoods and a row of dianthus can be found along the side of the house. The interior of the home features transitional décor by Richmond designer Tripp Longest. Ikat rugs are by London rug designer Luke Irwin. Original, local artwork hangs throughout the home with a display of the Roanoke Star in the home's entryway. The remodeled chef's kitchen features custom cabinetry which highlights the homeowners' decorative plate and vase collection purchased on their travels. Additional noteworthy interior features include original heart pine flooring and coffered ceilings. The original carriage house has been converted into a livable workspace, and the back flowerbed marks the circle of the old carriage house turnaround. The Morris/Lee family, owners.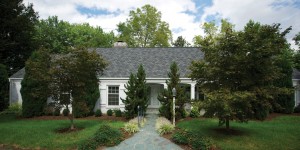 2812 Rosalind Avenue
Mature evergreens surround this white brick, Cape Cod-style home that was built in 1961. Among the mostly French and English furniture pieces, a vintage book collection from the homeowner's great grandfather can be found in the den, and an antique harp played by the homeowner's great-great grandmother sits in the living room. Other interior highlights include a childhood portrait of the homeowner, a framed antique map of Paris hanging in the living room and a unique kitchen table crafted by a local artisan. Adding to the exterior charm of the home are the serpentine wall, the trellis on the garage where wisteria grows, and the large magnolia tree in the back of the home that shades the stone patio. Ferns and rhododendron can be found in the yard as well as perennial plants that were moved from the homeowners' prior residence. The Jaeger family, owners.

2951 Hemlock Lane
This two-story white brick home with a charming screened front porch sits on an elevated lot. Simple, shaded gardens featuring hostas, azaleas, ferns, Japanese maples and herbs surround the slate patio and walkways around the house. The back patio and driveway are part of the exterior renovation the home has recently undergone. Likewise, the homeowner has updated the interior of this 1940s home by renovating the kitchen, adding on to the back of the home and screening in the front porch. The homeowner purchased the home from The Carter Burgess Estate. Mr. Burgess served as an ambassador to Argentina and worked closely with General Eisenhower. Remaining behind when the Burgesses left was a very old gilt mirror rescued from the garage where the previous owner had stored it. The homeowner had it repaired and it now hangs in the dining room. Artwork from the homeowner's travels to Russia and France is on display throughout the home as well as works by local artists Eric Fitzpatrick, Miki Ballengee, Jeannie O'Neill and Greg Osterhaus. The front porch includes wicker furniture acquired long ago during a renovation sale at The Homestead.
The Coleman family, owners.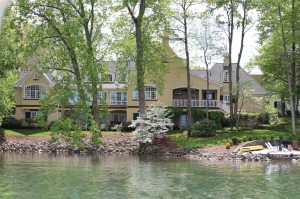 Chatham Garden Club Hosts Historic Garden Day At Smith Mountain Lake
Chatham Garden Club Hosts Historic Garden Day At Smith Mountain Lake
For the first time since the early 1990s, Smith Mountain Lake will have homes and gardens on tour during Virginia's Historic Garden Week. The Chatham Garden Club is hosting tours of three homes and gardens located in The Water's Edge community in Penhook on Friday, April 24. House styles include an Old World farmhouse, a French Country house, and a river plantation house, each with magnificent lake and garden views. Here is a brief preview of what you can look forward to seeing on the tour.
The Davenport House, 240 Island View Drive
This "Old World farmhouse" has a feeling of age and charm. The great room is warm, with light from lakeside floor-to-ceiling windows and heart pine floors. Artwork and artifacts collected from around the world contribute to the home's Old World ambiance.
The lower level houses a bar, European wine cellar and movie theater. Garden areas fill the waterfront, from dock to natural beach, and add to the stunning view of the lake from the home's covered porches and French Country railings.
The Ferguson house, 5 Lands End Road
This large white brick house, where magnolias and white crape myrtles line the approach, resembles a James River plantation home. English boxwood surround the gardens filled with peonies, hydrangeas, astilbe, hosta, sweetspire and daffodils.
A stairwell in the foyer rises to a large loft consisting of four bedrooms that circle an intimate den overlooking the living room. Antiques with family stories combine with artwork and beloved toys to reinforce the feel of permanence at this gracious home.
The Lee house, 15 Lands End Road
This French Country-style house offers beautiful lake views from the windows, covered porches, verandas and dock. Artwork—including French antiques, oil paintings, mosaic tiles, Limoges boxes, family portraits, and
a Chagall lithograph—graces the home throughout.
A moss-topped stone wall and walkway leads to the dock and features gardens with Solomon's seal, hellebore, hosta, jonquils, pachysandra and liriope. Beside the dock is a children's mini-beach with fire pits for s'mores, small Adirondack chairs with beach umbrellas, and stone steps leading to the water.
For more information or to purchase tickets, visit
vagardenweek.org.
Also happening during Historic Garden Day weekend…
Open Studios of Roanoke presents
SPRINGTIME IN SOUTH ROANOKE
15th Annual Tour of Artists'
Homes and Studios
Saturday, April 25 – 10AM to 5PM
Sunday, April 26 – Noon to 5PM
This self-guided tour of artists' homes and studios features eleven stops, including ten working studios and 29 artists. The route covers Raleigh Court, Southwest, South Roanoke, and Southeast studios located in Roanoke Industrial Park. The tour is FREE and children are welcome! An easy to print tour map and information about each participating artist is available at www.openstudiosofroanoke.com.