SENSATIONAL SUMMER SIPS
Photos: James River Media
Stir Up Some Fun Beverages from Popular Local Restaurants
James Bond preferred his martini shaken, not stirred, Don Draper liked his bourbon in an Old Fashioned and Ernest Hemingway enjoyed rum mixed into a Mojito. Initially inspired by British punches, which contained spirits, fruit juices and spices in big bowls, cocktails have been an indelible part of American culture since the 1800s. 
The first definition of the drink has been attributed to New York editor Harry Croswell, who penned this colorful description in 1806: "Cocktail is a stimulating liquor, composed of spirits of any kind, sugar, water and bitters — it is vulgarly called bittered sling, and is supposed to be an excellent election-eering potion, in as much as it renders the heart stout and bold, at the same time that it fuddles the head." 
Cocktails rose in popularity with the availability of ice in the mid-19th century. Imagine a room-temperature margarita! Ice made spirits more palatable, and by the end of the century, most bar-keeps had ice at their disposal. Prohibition put a damper on the ability to imbibe, but a post-war interest in Tiki culture started to rise in the 1930s when a man named Don Beach opened the first Tiki Bar in Hollywood. He was inspired by the Polynesian culture that he had experienced while traveling in the South Pacific, and shortly thereafter drinks with umbrellas were in vogue.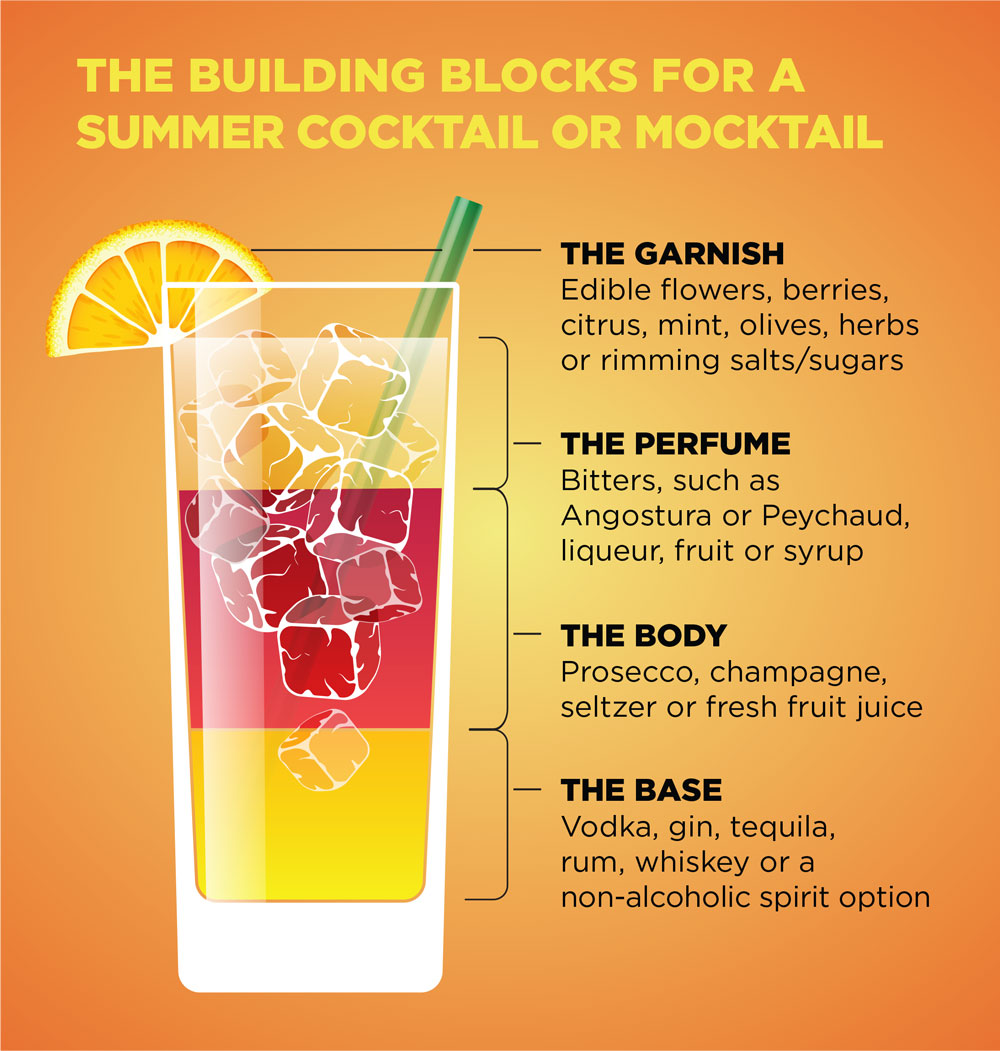 The craft cocktail movement spanning the aughts was characterized by a revival of traditional recipes and methods in the bar industry. Made with premium spirits, fresh juices, botanicals and bitters, the craft cocktail offered the "mixologist" an invitation to innovate. Today's bartenders continue to elevate the art of mixing a cocktail. 
In its simplest form, a cocktail is a drink that mixes several ingredients, at least one of which is alcoholic, into one complete drink. The simplest cocktails contain just a few ingredients, while more complicated ones can have upwards of six or seven ingredients. 
Low-alcohol and no-alcohol (mocktails) drinks grew in popularity in 2022 and are projected to continue gaining market share in 2023 and beyond. They currently make up nearly $10 billion of value in top global markets. Today's mocktails are more sophisticated than the pink sugary offerings of the past. During the past few years, there has been a proliferation of companies and online stores such as Curious Elixirs and Seedlip that make botanical non-alcoholic spirits with no sugar. Mingle Mocktails has garnered a lot of press lately with its sparkling, fruity and low-calorie mixed beverages available in cans or bottles. Here are some unique summer cocktails and mocktails being served locally by talented bartenders.
---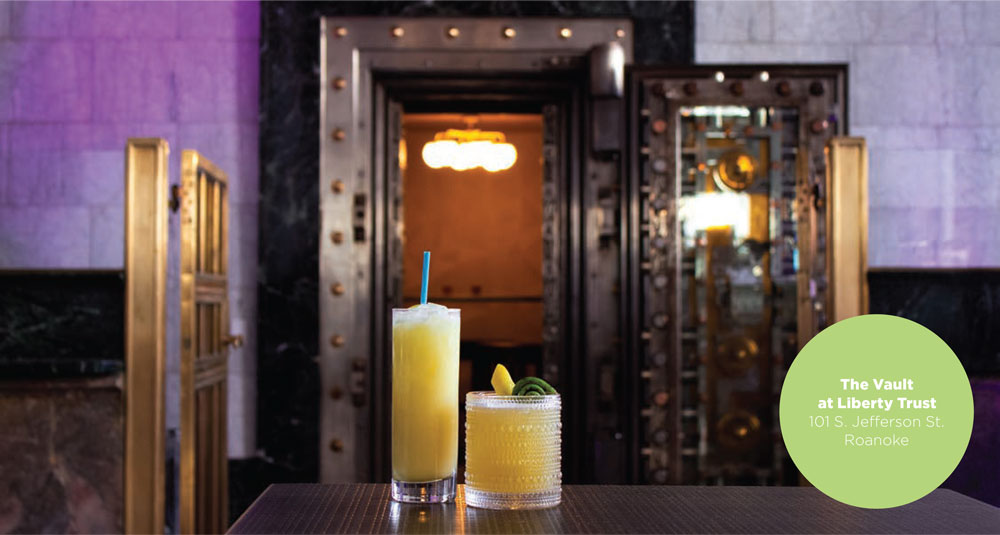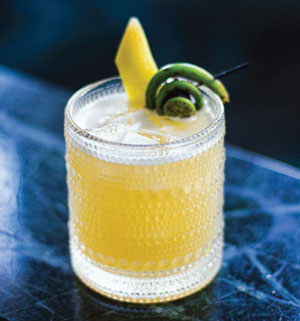 Valley Rhum Runner
1 ½ ounces pear and green cardamom syrup*

½ ounce pineapple juice

1 ounce lime juice

1 ½ ounces Rhum Barbancourt

½ ounce Genepy

Fiddlehead fern and lemon peel for garnish
Combine ingredients, and do a short shake with ice. Strain to rocks glass with a lemon twist and Fiddlehead fern to garnish.
*PEAR AND GREEN CARDAMOM SYRUP
30 ounces Bartlett pears, chopped

⅗ ounce crushed green cardamom pods

20 ounces white sugar

30 ounces water
Bring pears, cardamom pods, sugar and water to a boil and soften. Simmer for 10 minutes. Strain out pears and sediment through a fine mesh strainer. Chill and reserve.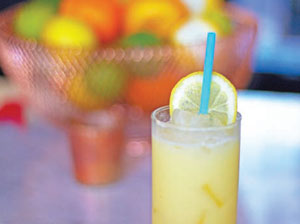 Faux Sunshine Mocktail
3 ounces lemon juice

3 ounces orange vanilla syrup*

¼ ounce heavy cream

¼ ounce soda water

Lemon slice for garnish
Combine ingredients, and do a short shake. Pour in a Collins glass over ice. Top with soda water and a lemon wheel.
*ORANGE VANILLA SYRUP
10 ounces orange juice, fresh squeezed

5 ounces white sugar

2 ounces pure vanilla syrup
Bring orange juice, sugar and vanilla syrup to a boil. Chill and reserve.
---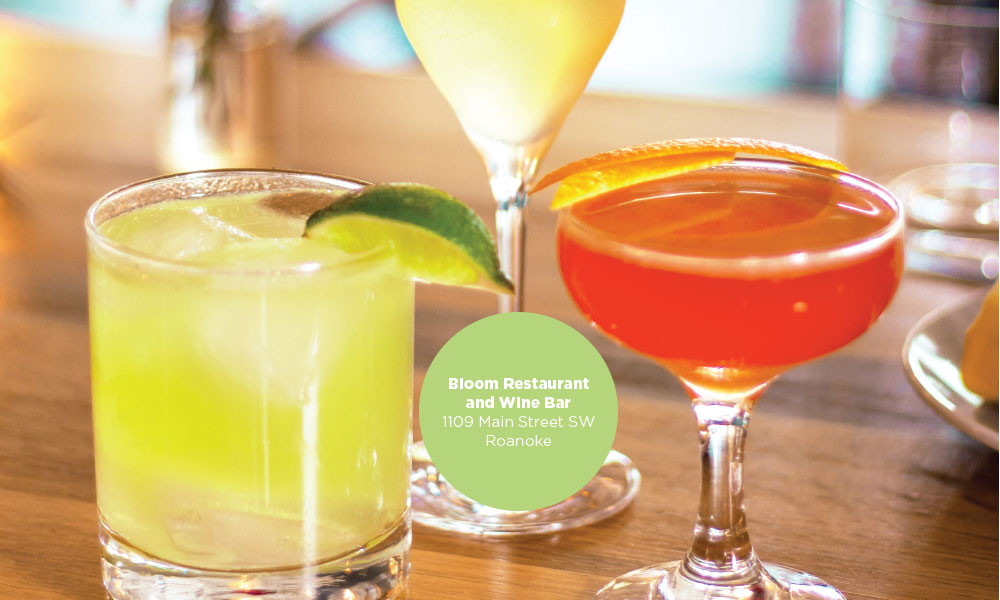 2 ounces Seedlip Spice 94

¾ ounce triple syrup*

1 ounce lemon juice

Soda water
*TRIPLE SYRUP
1 cup water

⅓ cup sugar

⅓ cup agave

⅓ cup honey
Combine ingredients and bring to a boil until sugar dissolves. Remove from heat and cool.
FOOL'S GOLD MOCKTAIL
Combine ingredients and shake. Double strain and pour into a flute. Top with soda water.
Headed to Trenton
This cocktail features George Washington's favorite brandy and nods to "Crossing The Delaware."
¾ ounce Laird's Applejack Brandy

¾ ounce Amaro Montenegro Italian Liqueur

¾ ounce Cappelletti (liquor)

¾ ounce lemon juice
Combine ingredients and shake. Double strain and pour into a glass.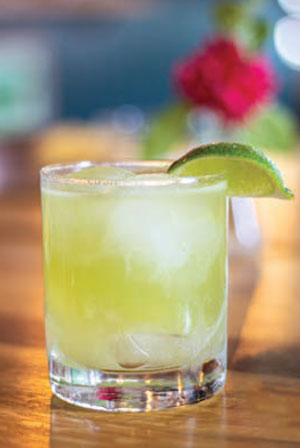 Main Street Plaza
1 ½ ounces cilantro infused Lunazul Blanco

¾ ounce falernum

¾ ounce lime

Ginger beer

Salt
Combine ingredients and shake. Double strain and pour into a glass with ice. Top with ginger beer and sprinkle with salt.
---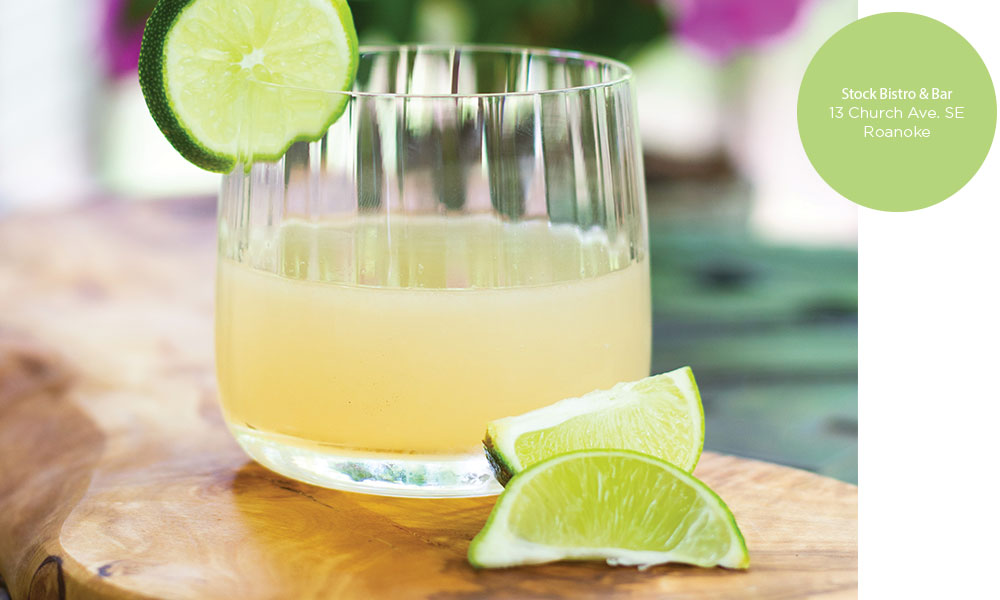 Tequila High Five
1 ½ ounces Blanco tequila

½ ounce simple syrup*

1 ½ ounces lime juice

1 ounce grapefruit juice

Lime for garnish
Combine ingredients, shake and double strain into a glass.
*SIMPLE SYRUP
Combine equal parts sugar and water in a saucepan over medium heat. Bring to a boil, stirring until sugar has dissolved. Allow to cool.
This cocktail could easily be turned into a punch by increasing the measurements and adding sparkling water. It could also be the makings of a mocktail by substituting the tequila with a sparkling water.
---
Summer is the perfect time to create your own specialty cocktail or mocktail to serve guests at outdoor gatherings, dinner parties or wedding brunches. While you can probably get away with serving one singularly spectacular signature cocktail at your event, a well-stocked bar has the ingredients for options to abound. Just make sure you have plenty of ice! ✦
Cocktails, craft cocktail, faux sunshine mocktail, fool's gold mocktail, orange vanilla syrup, pear and green cardamom syrup, tequila high five, valley rhum runner