Roll Out the Green Carpet | Lawn Care Basics
With cool, crisp days arriving, a lush area of grass creates an inviting spot for sports, relaxing, and cookouts. Healthy grass also sets the tone for your garden's surrounding plants and shrubs. Thankfully, fall offers an ideal time to build a beautiful lawn.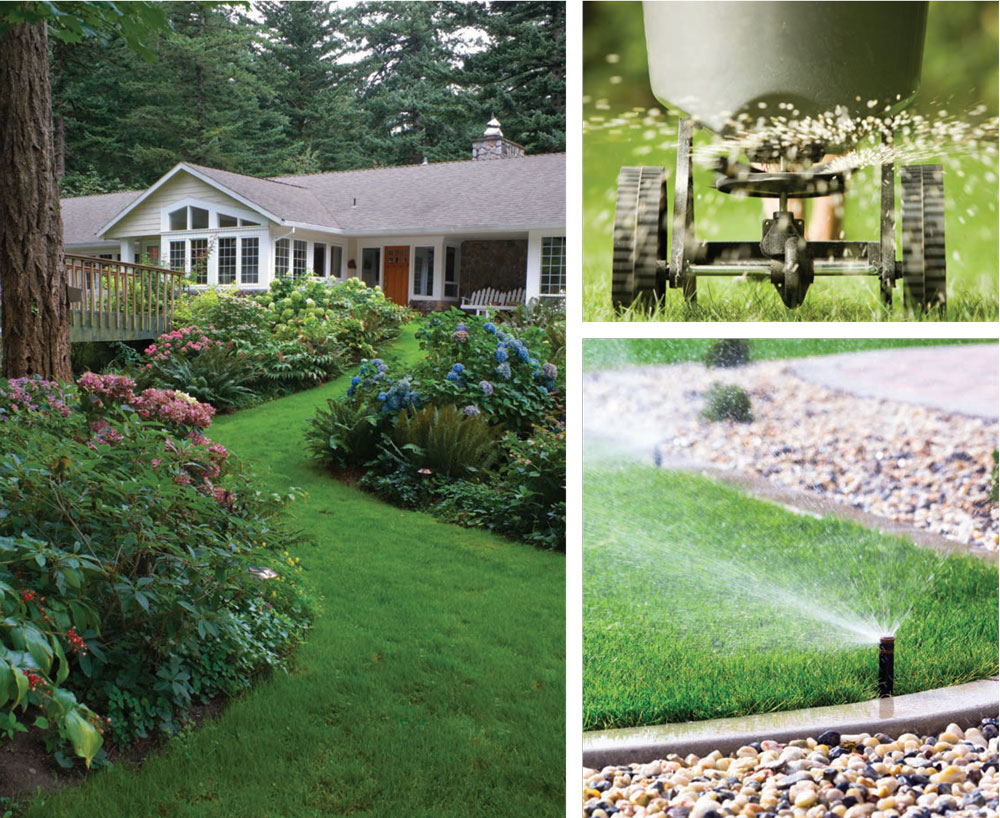 Where to start
To begin, consider your options to make your lawn greener and stronger.
Aerate the soil then over-seed the established grass with the same type of grass seed.

Make a fresh start: till the yard, rake it smooth, then put down seed to germinate. Cover it with straw so it won't blow away, wash away in a torrent of rain, or feed the birds. Growing grass from seed takes time and patience. Then there are the weeds to tackle — they come up among the grass shoots, courtesy of the birds.

Try an easier method: sod. Sod arrives weed-free and hassle- free. All you add is water. It is like rolling out a green carpet.
How sod works
Sod is an alternative that is gaining popularity due to its durability and simplicity. Offering instant gratification, sod looks beautiful right away and doesn't require weeks of daily yard work.
Sod arrives stacked on wooden pallets. Thick squares of healthy grass, free of weeds and cut in sections that are ready to put down over the bare soil. All sod needs for the first year is water and some sunshine to thrive.
As W.B. Bass of Bass Sod Farm in Gladys says, "putting down sod in the yard takes all the waiting and hard work out of it. Sod won't erode with the first rainfall whereas seed and straw may wash away."
Katie Lavery of Lavery's Sod Farm agrees, "with sod, it is easier — just maintain the yard. Within a few weeks of watering, roots take hold and it makes a nice yard over time. Lavery's done the hard part."
Lavery and her husband moved home to SW Virginia and took over the family business 20 years ago when her parents needed help running it. Their motto is "we roll quality grass at Lavery's Sod Farm."
Bass learned sod in a family business as well. The Bass farm transitioned from raising cattle and growing tobacco and soybeans to cultivating premium turfgrass for residential and commercial use. In 2005, W.B. and Allen Bass started growing sod with 40 acres. Today they grow over 250 acres of Bermuda, fescue, and zeon zoysia. Their mission is "to make grass greener on your side of the fence." And they do.
With adequate water to keep the grass thick and full and proper mowing height, so it does not experience stress, it does not offer as much opportunity for weeds to grow in it. W.B. Bass says, "With sod, you've taken the first year of weed worry away." After that, with annual applications of preemergent such as crabgrass controls and appropriate water during dry spells, sod will continue to look good for years.
Grass varieties
Certain varieties of sod can be put down in different seasons. Fall is the time for installing fescue, which many local homeowners prefer. Bass recommends putting down fescue sod October through March for best results. During these months there is less chance of disease affecting the grass and the roots have time to develop so they will not require as much water during the hot months.
Lavery's offers two types of sod: a fescue blend and a Kentucky bluegrass. Most homeowners lean toward their tall fescue blend while the Kentucky bluegrass works well on athletic fields.
"Bluegrass can take the wear and tear of active surface use. It can handle the damage," Lavery says.
Many homeowners think of restoring the lawn when spring arrives, but the best time for root growth is over the winter. Bass advises if you "don't have an irrigation system, you don't want to install sod in the summer. You can't water it enough." Fescue roots need cool weather to grow deep. Grass with short roots cannot take the heat and will expire more quickly.
Sod can be professionally installed or as a DIY weekend project. Either way, the homeowners need to prepare the soil for sod. Most experts agree that established grass should be eliminated, or cut very short, two inches of topsoil added over the ground and the soil raked smooth.
While a pro can be hired, installing sod is hard physical work that some gardeners like to do. For those who do plan to install it themselves, Lavery advises that homeowners "call before they come." Lavery's Sod Farm "cuts everything to order. We try to sell fresh sod, so it is harvested each morning for our orders."
Once the sod arrives, it is rolled out like carpet or placed in square sections that can be cut to fit angles and curves. Sod takes root within two weeks but needs frequent watering if there is no precipitation.
Aeration and seeding
Another option for greener grass is to aerate your lawn with a rented machine or a lawn service. This process helps to establish a healthier lawn by allowing water, air and nutrients to get into compacted soil. Over time soil gets compressed from lack of rain and weight on it. When soil is packed in tight, the grass roots cannot get the necessary elements they need to thrive. That is why grass loses its bright green color as the summer heat wears on it.
Once you've aerated, you can overseed, which is basically adding new grass to the existing yard. This process works well on lawns that are otherwise relatively weed free and require little soil leveling.
Starting a lawn from the ground up can also be done with seed and straw. Eliminating old grass and weeds is recommended as well as tilling the ground to loosen the soil. Finish by adding several inches of fresh topsoil or compost and leveling any uneven areas.
Once the seed is sown and straw scattered over top, the lawn requires fertilizer, water, and patience. New grass will emerge in 10 to 14 days with proper hydration. The fertilizer step is important so that the grass grows quickly and thickly and doesn't allow as many weeds to get into the lawn. Once the foliage sprouts, be on the lookout for weeds. At this point, pulling a few weeds by hand keeps them to a minimum. The following season the grass will be ready for preventive weed products and another round of fertilizer.
Now's the perfect time for a lawn refresh. Cool weather after a summer of heat beckons work and play outdoors before winter weather arrives. Whether sod or seed is applied, new grass improves the lawn and adds value to a home. Once a lawn is established it is easier to maintain. There is no reason not to roll out the green carpet. ✦
aeration, Bermuda, compost, Fescue, lawn care, lawn service, Overseed, Reseeding, seeding, Sod, Topsoil