Protecting Pollinators | "Bee" the Solution in Your Back Yard
English ivy cascading over old tree stumps and wisteria climbing trellises are both charming, hardy plants that seem to define the South in photographs and literature. But are they good for our landscapes? A recent decline in pollinators has scientists advocating for plants that encourage healthy habitats, and we are learning that some of our favorites are on the naughty list—invasive plants (like ivy and wisteria) that choke out native plants, aiding in this decline. Pollinators such as birds, bees, butterflies, moths and other small creatures are vital to our ecosystems. These small creatures need native flowers and shrubs to survive and thrive.
Protecting pollinators is important. We need pollinators to grow our food and save the tree canopies. Many fruits and vegetables we eat require these insects to grow. It is not hard work; it is something everyone can do. In summer 2020, Mill Mountain and Roanoke Valley Garden Clubs, both member clubs of the Garden Club of Virginia, formed the Pollinator Protectors to educate the Roanoke community. Pollinator Protectors launched their campaign in spring 2021 with signs, handouts and bookmarks showing what you can do to protect pollinators in your backyard. Denise Revercomb, co-chair of the group, says, "We want to make this a civic effort and encourage others to join the cause." Anyone can make a difference whether you are planting a community garden, flowers in your backyard or landscaping an office building.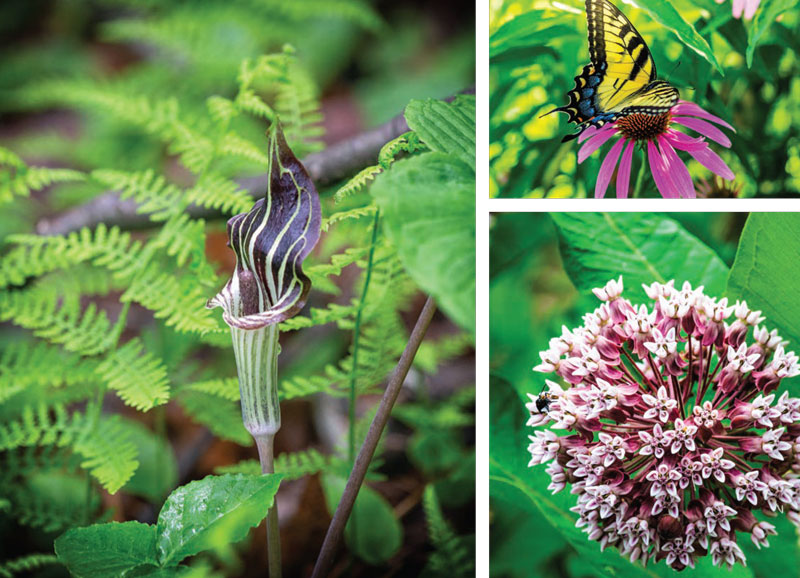 It is important to note that efforts to protect our pollinators extend worldwide, beyond the Roanoke area. An international organization, the Xerces Society, operates on a global level to educate about the importance of these insects and promote pollinator restoration. Across Virginia, local garden clubs, the Garden Club of Virginia, and other civic organizations like The Tree Stewards (trained volunteers who care for rural and urban forests) are working with cities to plant more native trees and flowers. These organizations promote similar principals that increase pollinator populations, so we protect our food supply and our environment.
---
TIPS TO ENCOURAGE POLLINATORS
Grow native flowers, trees, and shrubs.

Protect bee nests and caterpillar host plants.

Provide a water source.

Remove invasive plants that overtake the landscape.

Avoid chemicals, especially insecticides.
---
Everyone can support the following simple practices that encourage pollinators in your yard and community.
Go native
Choose native plants whenever possible; every little bit helps. Now more than ever, getting outside gives us fun, healthy opportunities to enjoy our gardens; gardening is an activity for all ages and a good family hobby. Planting a variety of native plants attracts different species of pollinators and makes gardens more interesting. "Planting natives restores pollinator habitat," Revercomb says. Bees, butterflies and humans are drawn to colorful, showy flowers in a garden. Consider planting two flowering natives each season so that there is always something blooming for the pollinators to eat.
Accommodate them
Pollinators like things more natural and a bit messy. In a hidden spot or over near a compost bin, leave small piles of sticks and brush so bees and caterpillars have a place to build their nests. Chrysalis and cocoons like to attach to fallen sticks left in grasses; bees prefer to nest in bramble thickets, hedge bottoms or old rodent burrows. Many suburban lawns have eradicated old hedges. This causes habitat loss. Skip the perfectly tended garden; leave plants like milkweed and let things go just a bit wild.
Provide water
Bees and caterpillars need a few amenities to stay in your garden and build nests. Provide a small saucer of water for them or install a birdbath or fountain in the yard. A water feature enhances any area; even a small patio can hold a fountain.
Remove invasives
Although it is best to pull out invasive plants and vines, it is not necessary to get rid of them all at once. Protecting pollinators can happen over time in our gardens. As we replace old, overgrown plants or worn-out areas of our yard, choose native varieties of flowers, shrubs and trees that attract pollinators. Revercomb suggests planting several of the same kind of flower in one area. Bees find one they like and return to it to gather the same nectar, so a patch of bee balm gets their attention more quickly than just one plant.
Avoid chemicals
It is important to change our habits and discontinue using harsh chemicals in the yard. Use organic fertilizers and natural pest solutions rather than pesticides; these kill good insects. Look at local garden centers for safe products and ask your lawn service company to switch to natural ones. They are available and they are better for your family and your pets.
Advocate & educate
Talk to friends, family and neighbors about the importance of pollinators. Ask them to take on these habits and spread the word about protecting pollinators. Sit still for a while in the garden or look for pollinators on a hike. You notice different varieties of moths, caterpillars and bees due to the plant selections in various habitats. Get close to observe but give bees space. Bees avoid stinging; they do it in self-defense when they feel threatened. Take pictures to identify them. Encourage children and grandchildren to learn about these vital insects.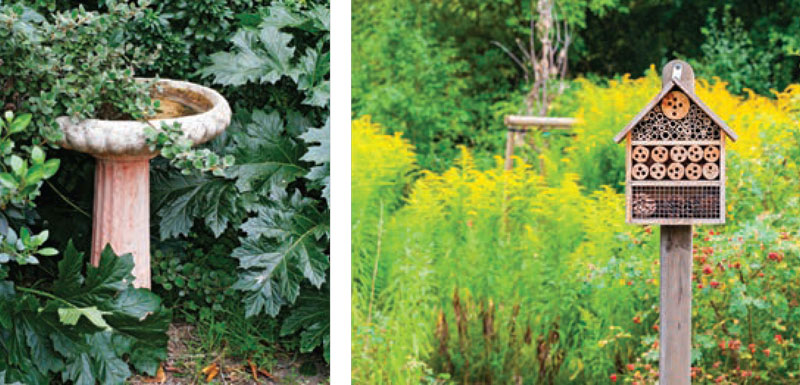 Local communities in Virginia are rallying to support pollinators too. The Pollinator Protectors eventually want to achieve "Bee City Designation," for Roanoke, meaning it is a Bee Friendly City that safeguards its pollinators. This certification means pledging to uphold the practices that support pollinators as well as reestablishing their habitats. Part of this process is educating citizens about what we need to maintain a healthy environment. Garden clubs around the state as well as the Garden Club of Virginia are championing the cause and encouraging the conservation of our smallest creatures. Our ecosystem can be restored, and it is not too late to save these little bugs. We can do this! ✦
bees, biodiversity, Birds, butterflies, ecosystems, healthy habitats, Moths, native flowers, native shrubs, natural pest solutions, natural world, organic fertilizers, pollinator restoration, pollinators, sustainability, water