Fireplace Fixes | Merge Form and Function With a Fireplace Update
The fireplace has always been a symbol of home and family in America, not only serving as a source of heat, but also a place to prepare food, read, play games and engage in lively conversation. If your fireplace lacks the charm and character to give you those warm, fuzzy feelings, there are numerous ways to turn your outdated hearth into a modern gem for hours of enjoyment.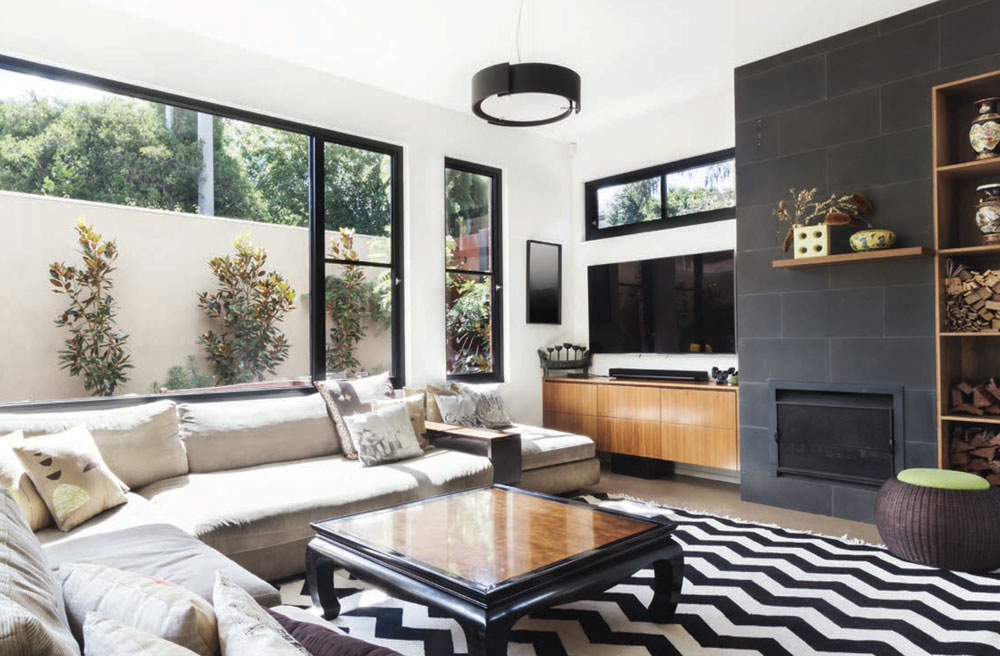 Mantel masterpiece
Perhaps the first thing you notice when you look at your fireplace is the mantel—or lack of one. Altering the existing mantel can drastically change the look and feel of your room. If you have a stained wooden mantel, give it a fresh coat of paint. White is an instinctive choice because it will immediately brighten up the room. However, black is a dramatic choice that makes a statement. Blues and grays are increasingly on trend, and will add to the calm and cozy feeling you get from the fireplace itself. Adding decorative wooden corbels or metal brackets is another way to change your mantel. If you wish to replace the entire mantel, choose one that fits with the other design elements in your room. Use a thick reclaimed wooden beam for a rustic feel, or an antique architectural mantel from a local salvage shop if your style is vintage. A sleek, floating mantel inspires a modern aesthetic, while mixing wood and metal complements the everpopular modern farmhouse look.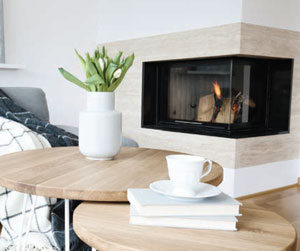 Paint + primer = perfection
A brick fireplace can be a beautiful focal point in a room; however, many homes have dark red or brown brick that is outdated and dreary. While replacing the mantel is a start, the brick behind it may need some attention too. Luckily, painting a brick fireplace is relatively inexpensive and easy. Use a wire bush to remove any dirt or loose mortar, and vacuum the area to clear away debris. Fill any holes or cracks in the mortar or bricks with fireplace mortar. Use a degreaser to clean the bricks. Leftover residue from previous fires won't allow the paint or primer to bind properly. Make sure the entire surface is completely dry before you begin to paint. Use a good quality synthetic brush that can stand up to the rough surface of the brick. If you need to use a roller, use one with a high nap, at least one-half inch or more, for optimal coverage. Primer specific for brick or masonry is a must; it's thinner than ordinary primer and will soak into the brick, allowing the paint to stick better. Either latex or oil-based paint is fine for fireplace brick, but make sure that your primer matches your paint. If you use latex paint, you must use latex primer, and if you use oil-based paint, you must use an oil-based primer.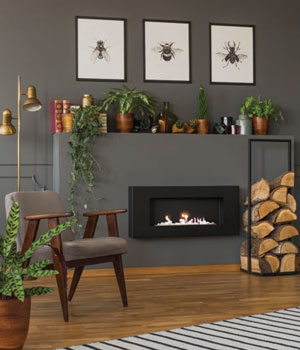 Nothing detracts more from a fireplace than a dirty, sooty firebox. While you have the paint brushes out, go ahead and paint that too. You may need to remove any creosote, or tar, given off from burning wood that may have built up inside the firebox, and you must use paint that is heat resistant up to 1200 degrees. Ample ventilation is also needed; wear a mask and be sure to open windows or doors for good airflow in the room while painting. Plan on applying two coats of paint and allow plenty of time for drying. Black is an obvious choice for a firebox, especially if your fireplace is wood burning, but don't be afraid to try dark grey, blueish black or off black. Just a hint of a different color can add an elegance to the room. And if your fireplace is simply decorative, the possibilities are endless when it comes to color choice for the firebox.
---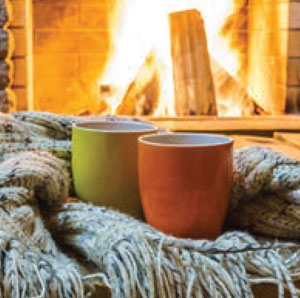 IF YOUR FIREPLACE LACKS THE CHARM AND CHARACTER TO GIVE YOU WARM, FUZZY FEELINGS, THERE ARE NUMEROUS WAYS TO TURN YOUR OUTDATED HEARTH INTO A MODERN GEM FOR HOURS OF ENJOYMENT.
---
Fireplace focal point
The fireplace surround, the area framing your firebox, is another area where updates can make a big impact. Tile or stone is a natural choice due to its durability and heat resistance. There are many different styles of tile to choose from, including handmade artisanal tile, architectural tile that adds dimension and texture, or rustic tile resembling wood. Experts also recommend using this area to add a splash of color, which then can be used throughout the entire room to tie all of your design elements together.

Get cozy with the flip of a switch
If building a fire feels like a chore, it may be time to convert your fireplace to gas. There are two main options: vented logs or a fireplace insert. Both require inspection of the fireplace and chimney to make sure they are in good working order. A certified technician must install the gas line, and an experienced professional is recommended for installation of the insert. Vented gas logs create exhaust similar to burning real wood, thus the damper must be open when in use. Although heat escapes through the damper, vented logs look realistic, have a large flame, and do not produce odor during use. A fireplace insert is a box with glass doors that houses gas logs and fits into the fireplace. It is a sealed unit that draws air from and vents to the outside, pushing exhaust and moisture up the flue. There is no loss of heat, which makes an insert more efficient than vented logs; however they can give off an odor of natural gas. Both are excellent choices and provide ample heat with little effort after installation.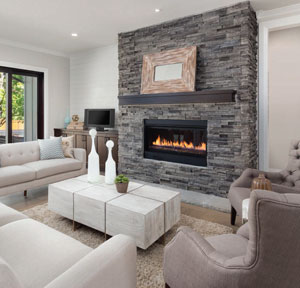 If you aren't ready to give up your wood-burning fireplace, a third option is to install a fireplace log lighter. Also called a gas-assist fireplace, it's a small pipe that emits natural gas through tiny holes, which then is lit and gets the fire going. Once the fire is to your liking, you simply turn it off. It's an easy way to keep your real wood fireplace without all the hassle that comes with starting a fire yourself.
Updating your fireplace can be a large project with lots of demolition, or an easy project involving a little bit of paint. Either direction can take an antiquated, outof- style hearth to a newly minted area of your home where time is well spent and memories made for years to come. ✦
brick fireplace, creosote, firebox, fireplace, fireplace insert, gas, gas-assist fireplace, heat resistance, Mantel, stone, tile, vented logs