Specialty Doors | Open the Door to New Possibilities
"Love is an open door," Anna sings in Disney's Frozen. Imagine looking out into the world and seeing not limitations, but possibilities; everywhere you look, an open door and a chance for wonder. More than swinging objects that mark entrances and exits, doors should be inviting and intentional, and they might as well be pretty too. If you're bored with traditional doors, or just bored in general, consider some new alternatives to spice things up this spring.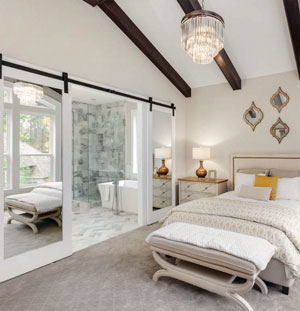 Pocket doors
Now you see them, now you don't! As the Houdini of doors, pocket doors pull a disappearing act by sliding on a track into the wall. Although they can be as cute as the name implies, pocket doors are more about function than aesthetics. Saving space is the primary goal, especially when the forward swing of a door could potentially interfere with other objects in the room. They work super well in closets, laundry rooms, half baths or small full baths. They can also open up the space in a playroom, narrow hallway, tight storage room or pinched pantry.
Special installment considerations: Before you even begin, verify whether the wall is load bearing. Make sure the frame can support the door weight. Take inventory of any internal pipes or fixtures in the wall. Measure the wall width to make sure you have enough space for the door to fit completely internally. Remember, a door on the heavier side necessitates a longer header. These doors are typically sold with frame kits and instructions, so read carefully.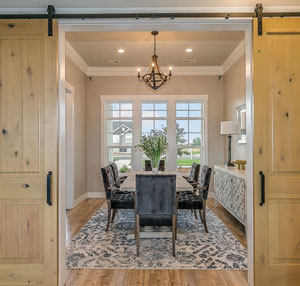 Sliding barn doors
Sliding barn doors are the perfect way to add charm and can complement a variety of styles. Similar to pocket doors, they run on a track and work well in small spaces. Sliding barn doors can be sleek and modern, rustic, or just plain cool! These doors add a stylish and current flair while also creating privacy and adding dimension. Add a barn door to a bedroom closet when you want a neat and tidy separation between your room and your clothing and storage items. Barn doors also come in handy when closing off the water closet from the rest of the bathroom. They can be painted any color and adorned with either funky or more traditional hardware to pair with the rest of the room.
Special installment considerations: How will you hang your barn door? You'll need a header and track to accommodate a hefty weight and thickness. Make sure the weight of the door you have in mind can be supported by your wall. Think about width and height and make sure you can fully cover the opening of the doorway with no light shining through. Be aware of any wires, outlets and other electrical considerations.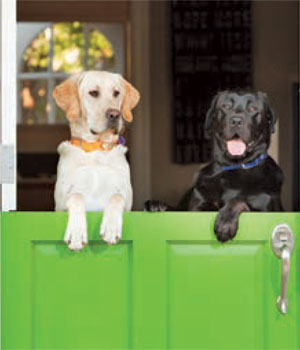 Dutch doors
If you value quaint charm, natural light and flexible functionality, do as the Dutch do. Dutch doors include a horizontal split, allowing for the top half to be opened like a window. You can let in light and fresh air while containing pets and kiddos, making Dutch doors ideal for patios, nurseries and small playrooms.
Special installment considerations: You can buy a premade Dutch door at most home improvement retailers and hardware stores. However, if you're going to DIY a non-traditional door, a Dutch door would be the one to take on. You probably already have a door in your home that could work for this. Make sure it's a standard solid core door. Remove the hinges. Remove hardware and decide where you want that dividing line. Leave space for a shelf or any other accoutrement you plan to add. Mark and cut the door accordingly. Be aware that you may need to alter existing hinges or add a new hinge when you attach the door back in separate parts.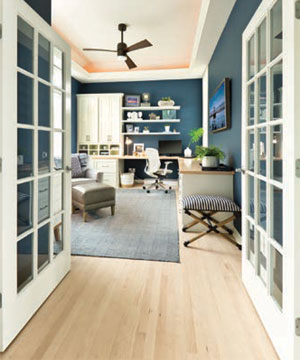 French doors
If your wish is to bring a lot of light into a large space or make a smaller space feel like a larger space with a touch of luxury, French doors could be right up your alley. These traditionally glasspaned double doors often lead to outdoor areas like gardens or patios. They may also lead from a living room to a sunroom. The doors, composed mainly of glass, can provide separation and at the same time, fill a room with the sun's natural rays. Don't be afraid to play around with some unconventional uses. French doors are customizable and can be made narrower to fit into a kitchen door or pantry, or small-sized office, den or library.
Special installment considerations: Before you install your beautiful French doors, measure the radius of the door's swing to be sure you have enough space and that no furniture is in the way. Select a door that will fit inside your jamb depth. If your home is older, you may need to replace the jamb to fit your chosen door. However, most newer homes are more accommodating to standard sizes.
Switch up the status quo, and before you know it, you'll be opening the door to all kinds of new possibilities you never even considered. ✦
Dutch doors, entrances, exits, frame kits, French Doors, glasspaned double doors, header, horizontal split, jamb depth, Pocket doors, Sliding barn doors, Specialty Doors, track, wall width