Pretty Passementerie | Embellish Your Interiors with Trim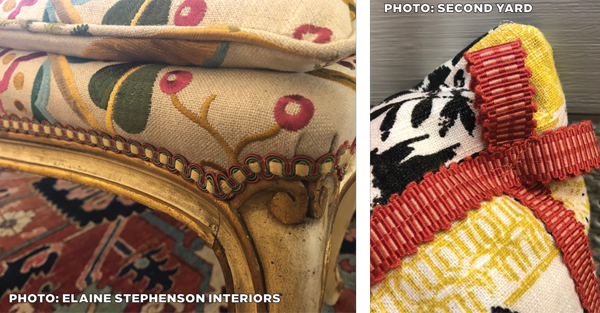 It was surely the fringe on the surrey that helped Curley win Laurey in Rodgers and Hammerstein's musical Oklahoma!. Fortunately, you don't have to live on a midwestern plain with whipping wind to make fringe work its magic in your home. Such trim is the icing on the cake when it comes to interior design, and fringe is just one example that can change the look of your furnishings.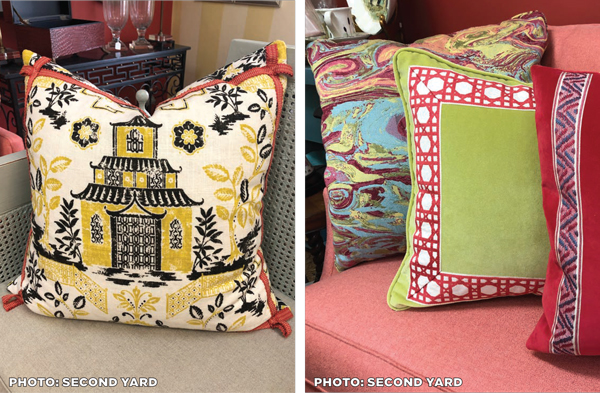 MODERN RENDITIONS OF PASSEMENTERIE ARE FRINGES, TASSELS, TAPE, GIMP, POMPONS AND CORD. MOST DESIGNERS NOW REFER TO THESE EMBELLISHMENTS SIMPLY AS TRIM.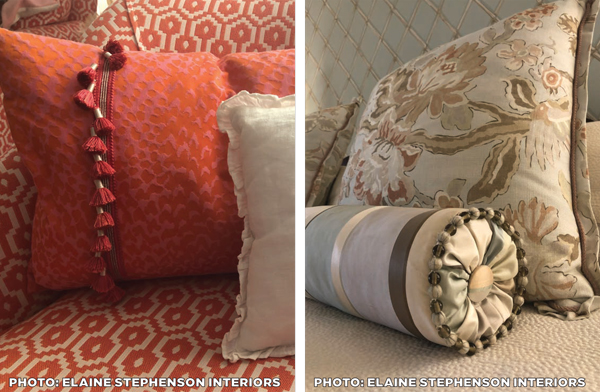 Trim reigned supreme in 16th-century France; textile embellishments fit with the opulent tastes of the day, and decorative interior trimmings, collectively known as passementerie, were de rigueur among the wealthy. The first Guild of Passementiers was established at this time and was responsible for training young designers in embellishments such as tassels, fringes, ornamental cords, pompons and rosettes. It took seven years of apprenticeship with the guild to become a master in the art of passementerie.


Passementerie is either sewn or looped onto furnishings such as curtains, rugs, cushions and upholstery. Modern renditions are fringes, tassels, tape, gimp, pompons and cord. Most designers now refer to these embellishments simply as trim rather than passementerie.
While trim was once associated with traditional interiors, designers are increasingly using them in contemporary decor. The trim found in Old World interiors and Victorian parlors is now used with more restraint. Trim is available in clean-lined options, though intricate styles with beads and glass are still in demand.
Such adornments are most commonly attached by sewing or glue. Here is a breakdown of different types of trim and how they can be used to embellish your home.
FRINGE: Fringe originated as a way of preventing a cut piece of fabric from unraveling when a hem was not used. Now it graces lampshades, pillows, ottomans and sofas. It can add a playful touch to decor or make a bolder statement when it is used in high-contrast colors with cleanly designed pieces. Bullion fringe is less feathery than brushed fringe, and is made from twisted yarn which often contains threads of silver or gold. It works well on heavier pieces of furniture such as chairs and sofas. Too much fringe can be too much of a good thing, so use it wisely.
TASSELS: Tassels have popped up everywhere, from jewelry, shoes and purses to decorative trim for the home. Tassels can range from the simple to the ornate. Tassels might grace a lampshade or add interest to an otherwise ordinary pillow. They can elevate a table runner or band the bottom of a chair. Key tassels are small tassels attached to a thin looped cord traditionally used to add a touch of elegance to case goods. Tassels don't hold up well on scatter rugs or carpets.


TAPE: Tape adds a modern touch to fabrics and blinds. With its flat, smooth weave, tape can be used to create borders on pillows, slipcovers, draperies and upholstery. Patterns on tape can be geometric or embellished with beads; tapes featuring a Greek key pattern are currently popular for many applications. Decorative tape is a perfect choice for lining dust ruffles and bed skirts and can add interest to a Roman shade.
GIMP: Gimp is a flat, narrow braided trim, usually less than a half-inch wide, that is made from cotton, silk or worsted wool. It is commonly used to cover upholstery tacks or hide the raw edges of fabric, and can also embellish draperies, pillows and upholstered seat cushions. Gimp is often scalloped in shape. A galloon is a wider type of gimp trim that is elaborately woven and can be used to edge cornices and valances.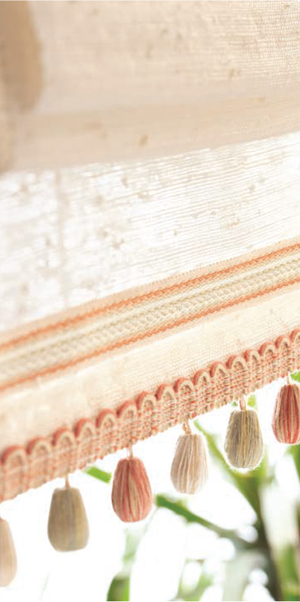 POMPONS: Pompons immediately add a dash of whimsy. They can liven up pillows and tablecloths with pops of contrasting color. Pompons are fun in nurseries on items that aren't choking hazards (such as out-of-reach window treatments) and perfect for children's rooms to border pillows, throws, window treatments and even mirrors.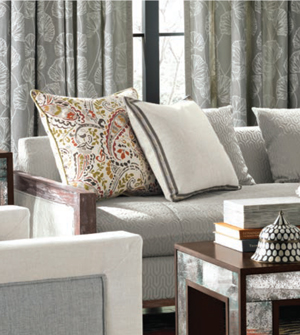 CORDS AND PIPING: Simple cords can add subtle accents to a minimalist interior. Cords are used in curtain tie-backs, chair skirt tie-backs, and as trim along the edge of upholstered furniture. It is also commonly used to trim upholstered headboards for visual interest. Piping is simply cord that's covered with fabric; it is used to decorate pillows, slip covers and curtain tie-backs. Contrasting piping can make a bold statement.
An interior designer or decorator can help you choose the right trim for your home and often has access to manufacturers not available at retail. Trim can also be purchased locally at budget-friendly prices at fabric and craft stores. ✦
16th-century France, CORDS, design, fringe, GIMP, piping, POMPONS, TAPE, tassels, textile embellishments, traditional interiors