Take a Seat | How To Choose the Right Bar Stool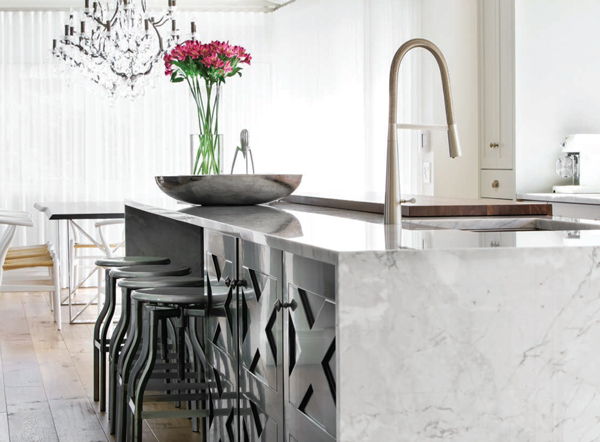 Anyone perched atop a stool in the early days of the Roman Empire would have been dubbed "low class." Back in those days, chair style represented social order. Thrones were reserved for royalty, while simple stools were left for lowly peasants. Thank goodness times have changed. Anyone and everyone can enjoy a comfy stool cozied up to a kitchen bar or counter. That's not to say, though, that stools are just a place to rest your rump. When stool shopping, it will serve you well to consider comfort, practicality and style.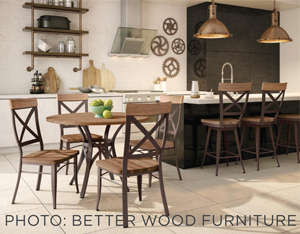 Obviously, a comfortable experience is a must. Manager Jen Rorer of Better Wood Furniture shares a few insights on comfort considerations. "We typically ask customers how often they're going to be using their stools," she says. If the stools are replacing traditional dining-style seating and will also serve other uses like working or lounging, she recommends stools with a solid back. While some are curved, others are equipped with straight lines. Choices range from barely-there low-rise, to quite a bit of upright back coverage. On the other hand, in an open concept kitchen, a low back or backless option can be more convenient, as it allows for simple tucking under an island.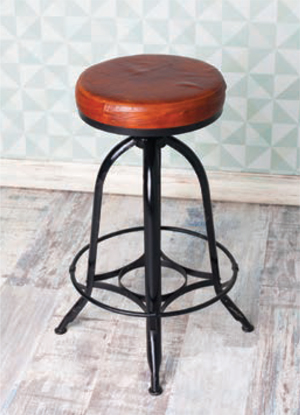 And what about cushioned options? "Obviously, a cushion seat is more comfortable," Rorer says. "There are a number of vinyl options that families often select as it's easier to clean up any spills. For customers who prefer the fabric option, we recommend Scotchgarding. Not all stools are available with a wood seat, but the ones that are and are chosen by a customer often complement the floors or cabinets nicely."
When shopping for your ideal bar and counter stools, a few expert measuring tips will go a long way. Save time and effort by doing your homework and preparing before purchasing.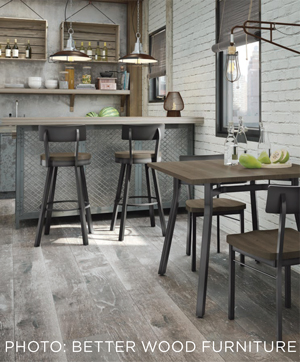 Corporate Display Coordinator/Buyer for Grand Home Furnishings Jill Truitt has observed that many people don't know what size they need (i.e., counter, 24 inches, or bar, 30 inches, which refers to seat height from the floor). Additionally, customers need to consider how many stools they need. "Odd numbers look better, but the whole family does not have to sit at the counter or bar. Kids may need to wait until they get bigger," Truitt advises.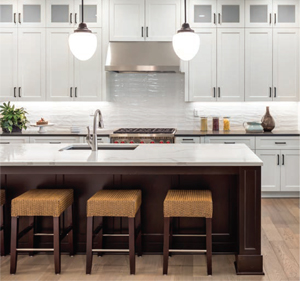 Another important consideration is the amount of room available based on the size and shape of the island. Rorer recommends allowing at least 21 inches between each stool, and says you can mix up the styles too. "For example, if a customer has a 4-foot island and an opening on either side with just two people living in the home, they could purchase two stools with backs and have a simple saddle stool on each end for when company comes over. We've had several customers do this," she says.
Pragmatic matters aside, those in the market for bar stools should consider emotional appeals. Close your eyes and imagine a living space in which every object makes you feel a sense of joy or peace. In your dream house, what do your stools look like? What colors, materials and styles make you feel giddy?
Clarify how these stools will affect the line of sight. Truitt advises choosing a backless stool or one that is low-rise with a decent amount of space in the back to keep an open feel when an island seating area is located right in the middle of a kitchen.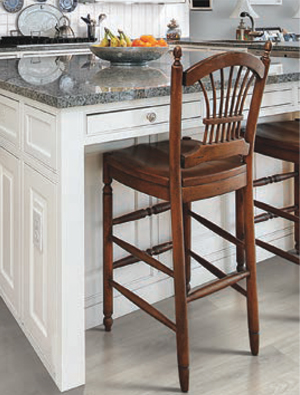 Truitt also offers up some questions to ask yourself when choosing aesthetics. "What style are you looking for: farmhouse, modern, traditional, rustic? Then, do you want wood, metal, a mix of the two, chrome, acrylic, and solid or fabric [covered] seat?"
For fun fabrics, Rorer highlights the many possibilities. "There is a multitude of bright colors and fun patterns. Customers also get to choose their metal finish and sometimes will use a white, for example, to brighten things up. Our wooden stools can come unfinished or (in) a variety of paints or stains."
One final thought from Truitt is to have fun. She says bar stools can be "a less expensive way to add your pop of color and personality to your kitchen."
When it comes to your bar and counter stools, why not sit like a peasant while you feel like a queen? ✦
backless stool, bar stool, counter stools, cushions, design, kitchen stool, low-rise back, seat height