Pave the Way to a Great Impression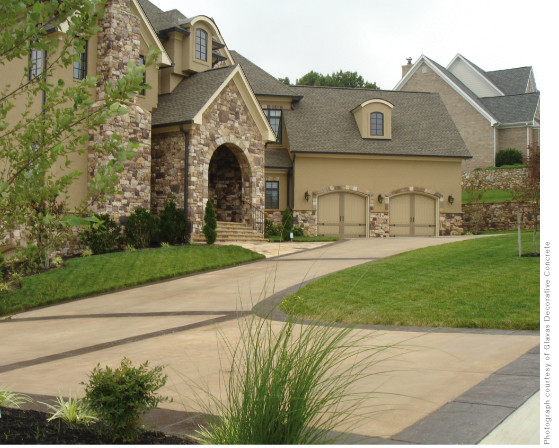 Concrete is the workhorse of our exterior spaces—durable, solid, and reliable for patios, driveways, walkways and more. But its plain appearance can detract from the overall beauty of our homes. If you've always wanted to complement your house with a brick driveway or cobblestone walkway, but were afraid these home improvements could be cost-prohibitive, you may have been right—until now. Whether you want to transform a patio with a textured stamped concrete pattern or just add a splash of color to the concrete area around a swimming pool, there are economical ways to add true curb appeal to your home.


Making a Concrete Decision
Concrete areas around the home can be aesthetically altered to meet homeowner needs or artistic visions. Local companies like Unique Impressions and Glavas Decorative Concrete offer sprayed, stamped, stained and stenciled concrete options. Oftentimes, the technique a homeowner chooses is dependent upon how the outdoor space is being used. For example, sprayed concrete is a grout mix literally dispensed out of a spray gun onto existing concrete. Josh Carroll of Unique Impressions says this particular process provides a surface that is easy to clean and maintain. "It is much more cost-efficient if the homeowner has existing concrete," he says. "However, if you are pouring a new slab, then stamping is the way to go," Carroll said.
Nothing provides the texture that stamped concrete does, according to Carroll. In fact, 70 percent of Unique Expressions' business is called "capping," which is stamping concrete over existing concrete. This method runs at about $8 per square foot. Rhodney Tozier of Glavas Decorative Concrete says stamped concrete is commonly used on patios, sidewalks, driveways and pool decks. For those of us who need a little concrete education, Tozier offers, "Stamped concrete is the process of using rubber molds to create patters and textures in either new concrete or overlaid concrete that mimic stone, slate, tile and more."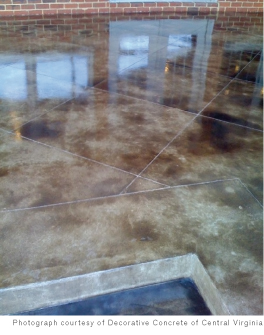 Stained concrete is achieved with a semi-transparent stain that can be applied to any concrete surface. It is most commonly applied on basement floors. According to Tozier, there are a few ways to stain concrete; the most popular of these methods are either acid staining or a water-based semi-transparent penetrating stain. "The look and condition of the concrete would determine which stain would work best for you," Tozier says. Concrete professionals can also score lines with a concrete saw, and add multiple colors to give the look of tile or travertine.
Stenciled concrete is a sprayed concrete overlay product that is applied over a paper stencil and can give a very realistic look of rock, brick, slate or tile. According to Tozier, stenciled concrete is simply the process of using a stencil to create a pattern in the concrete. Glavas Decorative Concrete offers about 15 patterns to choose from. "It can be used on existing concrete with an overlay, or can be used in new concrete with a color hardener," Tozier said. "It should take less than a week to complete from start to finish."
Costs vary from job to job, and location to location. Sprayed concrete is generally about $4-$5 per square foot, and the cost for stain is around $3 per square foot, but the price per square foot can rise if the existing concrete isn't in ready condition to accept the spray or stain, according to Tozier. Stamped and stenciled concrete both cost roughly $10 per square foot. For more information about decorative concrete options, visit www.glavasconcrete.com or www.uniqueimpressionsdecorativeconcrete.com.
Durable, practical, safe and sustainable: These concrete upgrades boast many qualities. Adding such outdoor "artwork" may be the key to making a grand entrance.