Plush Meets Perfect: How to Choose an Area Rug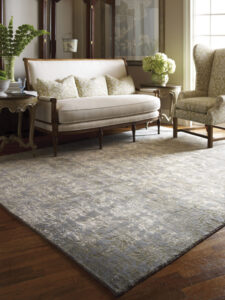 For several decades in the 20th century, wall-to-wall carpeting was the modern standard of luxury and comfort for most homes. Many of us have lived in a home featuring powder blue Saxony, avocado shag, or beige Berber at one point or another. But with the return of hardwood floors—along with the rise of tile, cork, and concrete alternatives—area rugs have once again become a key design element. Aesthetically, they anchor your furniture, define a space and set the tone of the room. Practically, they provide warmth, soften acoustics and protect the floor from wear and tear.
If you've been eyeing an outdated or worn-out area rug for a while now, chances are you're still trying to figure out what you want next, and what will work in your space. With so many options out there, where do you start? Here, some local experts weigh in with a few tips to help you find
the right rug for your space.

Measure Your Space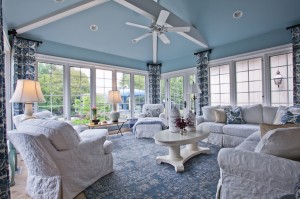 Let's begin with size. Always measure your room before shopping! The traditional guideline is to leave about 12 inches of exposed floor around the perimeter of your room. Elaine Stevenson,  president of Elaine Stevenson Interiors, says size depends on how you're using the area rug and in what room. She explains, "For a custom cut-and-bound rug, I like to leave a 12-inch border of floor showing. But for something like an Oriental rug in a family room, I'll place the front legs of the furniture on the rug." Other applications, like the dining room, might call for different requirements. Valeta Pittman, owner of Halifax Fine Furnishings, says the ideal rug size for a dining room should be one that extends at least two feet from the table. "The legs of the chairs should sit comfortably on the rug, even when pulled out for people to sit," she says. For bedrooms, Pittman likes to place a rug horizontally under the bed, positioning it so that most of the rug is exposed around the sides of the bed. Stevenson notes that, unless the client specifically wants the floor to show, she often uses a custom-cut, room-sized rug for bedrooms because "it fits a bedroom better, and makes it cozier."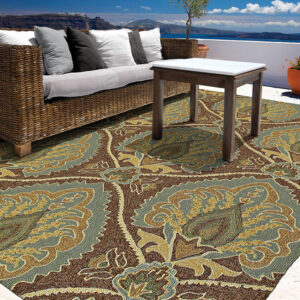 Consider Color and Pattern
The most obvious feature of an area rug can also be the trickiest for many shoppers. More than anything else, color and pattern can establish the feeling of a space, and there are many factors to consider when making this choice. Designer Gary Sexton, of Reid's Fine Furnishings, suggests choosing an area rug that contrasts with your floor color. Another tip he suggests is to "use it to complement the focal point of the room."
How the rug will be used affects the color and pattern you choose as well. Stevenson notes, "For busy families, consider using a darker color, as it will hide stains and dirt better, as will a rug with a bold pattern." When shopping, Pittman advises bringing fabrics, paint colors, and even a photo of the room with you. She says, "In general, larger-scale florals and graphic prints look best with smaller-patterned rugs. And conversely, soft pastel and neutral furniture will enjoy the company of a bold rug design."
In today's market, a wide range of choices abound. According to Andrea Reid Waide, owner of Reid's Fine Furnishings, subtle patterns and tone-on-tone contemporary designs are popular with her clientele. Pittman says that, although the market has shifted to softer, muted colors, she's still seeing strong interest in "bold, saturated color" and Oriental rugs in updated colors and narrow borders. Stevenson has noticed plenty of colorful, geometric patterns, both in flat weaves and in softer, plushy pile. In other words, there's a rug for every taste.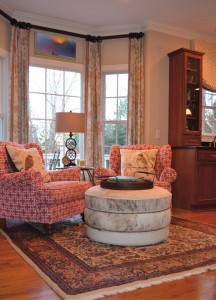 Find Your Fiber
Speaking of weave and pile, it's important to know what a rug is made of and whether it will fit both your lifestyle and your space. For example, a natural-fiber rug like jute or sisal can look terrific in a living area, imparting a clean, modern feel and wonderful texture, but would you enjoy it in your bedroom, where it's the first thing your bare toes touch when you get out of bed in the morning? Also, how much traffic does your space get? Do you have children, or pets? If so, durability and ease of care will need to be considered. Flat weave rugs, with their dense construction, handle wear and tear better than pile, and are easier to keep clean. A high pile rug will be soft to sit on and give your room a cozy, luxurious feel, but will show footprints and might be better suited for a less-traveled area. Rugs that are constructed with loop fibers (like Berber) are not a good choice if they will be in contact with things that snag, such as pets' claws or many children's toys.
Consider too, the dreaded stain factor. Although many modern fibers are treated with a stain protectant, Waide says, "Natural fibers, such as jute and sisal, are not as resistant." Wool is naturally stain resistant and cleans better than plant-based fibers, plus it handles high traffic well. If you are considering a synthetic, Stevenson points out that nylon is especially cleanable. Synthetics have their own set of drawbacks, however. Pittman cautions that viscose (also know as rayon) rugs, sometimes marketed as artificial silk or "silkette," have weak fibers that tend to break with age. She also points out, "Cleaning is next to impossible because water causes the fibers to disintegrate."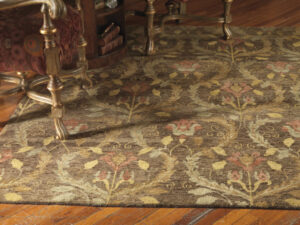 If you decide on a flat weave rug, kilims and dhurries—with their colorful, geometric motifs—have become increasingly popular in recent years, and are an affordable alternative to the always-classic Oriental rug.
You can certainly research fiber and materials online to help inform your decision, but purchasing a rug online can get tricky; colors represented online aren't necessarily true, and the three-dimensional aspects of the rug—the weave and density—are best experienced by touch. Also, returning a large area rug through the mail can be a chore compared to the convenience of shopping locally. Pittman makes a case for shopping locally: "I would expect that most local businesses are very competitive with online outlets." Stevenson says that if you decide to purchase online, try ordering in a small size first, which is more easily returned if it doesn't suit your needs.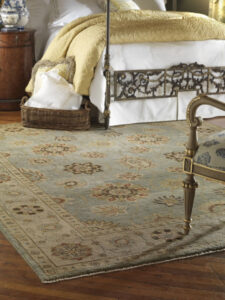 Determine Your Budget
Last but by no means least, your budget will usually help to narrow down the field considerably. Are you looking for something affordable to get you through a few seasons, or a timeless piece to enjoy for years? A hand-knotted Oriental rug is an investment piece, and it's not uncommon for designers to purchase such a rug first and choose furniture to match. Hand-woven and wool rugs are naturally pricier, while machine-made synthetic alternatives are easier on the wallet and a great way to enjoy trends without overspending.
Once you've made your decision, Stevenson reminds us of a detail we might be tempted to overlook: a rug pad. "Flat weaves generally require a pad, though a large rug anchored by furniture may not. Likewise, a heavier Oriental rug may be fine without one," she says. Sexton suggests using "a light rug pad with an open weave, which will let the rug breathe."
Use these parameters to help you narrow down the field, but ultimately, don't buy something you won't enjoy looking at and feeling beneath your feet. If you buy what you love, it's hard to go wrong.
Area Rugs, Fine Furnishings, Loop Fibers, Natural fibers, oriental rugs, Rug fibers