Bright Bold And Beautiful: Home Addition Boasts Comfort and Color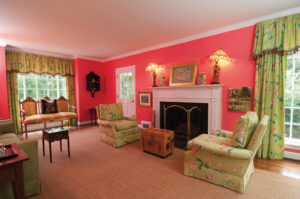 Meredith and John Draper's home shines amid the collection of stately older homes on Sewell Lane in Roanoke. Its white brick exterior broadcasts taste and traditional style. The only hint to what lies behind the front door is the door itself. Painted in Pittsburgh Paint "Milano Red," it alludes to the home's bright, bold and beautiful interior. And this is exactly how Meredith Draper planned it.
Roanoke is home for both Meredith and John. They grew up here, went to school here, and met and married here in the Star City. The couple spent 10 years away from the area, and when an opportunity came to transfer back home, the Draper family was elated. The move came just in time for Meredith and John's three young children to enjoy their grandparents who still lived in the Roanoke area.
The family first settled in South Roanoke, but once the children reached high school age, Meredith and John yearned for the home of their dreams. After searching Roanoke, the couple found the perfect home in Southwest City. "The neighborhood drew us to this house," says Meredith.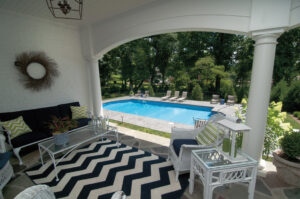 Sewell Lane is a cul-de-sac hidden amidst a busy section of town. And despite its location just minutes from downtown, it remains wooded and private—a country setting. It is obvious why the original homeowner chose this location to build his vacation home. In the early 1900s, Ernest Fishburn purchased the land and built a log home as a holiday retreat. Ultimately, the family rebuilt a new home that they named Annesfad, and moved to this estate to live year round. In time Fishburn allowed friends to purchase lots from the original tract. Today it remains a small neighborhood, with no two homes alike or even similar in architectural detail.
The Sewell Lane home was the perfect choice for the Drapers. "It had good bones," says Meredith. "When we walked in we saw its potential. I knew this had possibilities. We call it our hidden little gem." Meredith has an eye for design and could envision the changes that were necessary to make the home to their liking. The Drapers wanted a first-floor master bedroom, a big den, a large kitchen and a swimming pool. This would involve adding on to the back of the house. Because of the expansive back yard, there was plenty of room for an addition.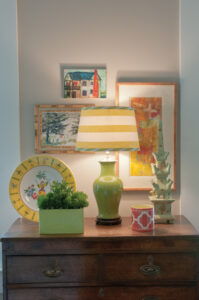 Immediately after the Draper family moved to their new home, they began renovations. They hired the Alam Design Group and Family Builders, LLC for the project. Architect Hussain Alam was responsible for both the design and construction of the addition.
Meredith explains that the couple learned many lessons from the renovation of their previous home. "We discovered how we could do this better," she says. And with this experience, the Drapers could not have been more pleased. As a design and build firm, Alam Design Group and Family Builders remained involved every step of the way. "I wanted the addition to appear like it had always been here. I did not want it to look like an addition," says Meredith. "The way [Alam] tied in the addition with the old section is wonderful. I can't say enough good things about him."
Hussain Alam has a passion for creating beautiful architecture and a clear understanding of how best to achieve it. Alam added 1800 square feet of space while maintaining the details of the original charming home.
Meredith used her huge collection of clippings and notes that she gathered over the years for inspiration for her kitchen. "With this house, I knew this would be it. This was my only chance to get exactly what I wanted in a house. This is the last house we will do," she says. She teamed up with her mother, Cindy Smith, who is talented in home design—skilled at pulling things together and selecting just the right piece. Clearly Meredith has inherited Cindy's abilities.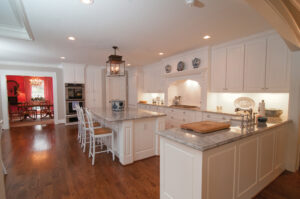 The original kitchen was what Alam describes as a small galley kitchen. Under his direction they removed a full bath and large closet to open up the room to become a spacious area. White Vermont granite countertops contrast with the all-white cabinetry and a porcelain farm sink. Originally Meredith planned on using white marble; however, the contractor was concerned that marble would not hold up as well as granite. With its grey background and white veining, the white Vermont granite suggests marble and provides the effect that Meredith wanted for her kitchen. Meredith points out that while white cabinetry may no longer be the hottest ticket in kitchen design, she chose it for its clean, fresh look. As she explains, "I do what I like." The kitchen is large and includes an alcove set apart from the workspace for an eating area. This roomy niche is large enough for a table and seating. Above the table, cattle and chickens graze together in a large painting depicting a rural farm scene. On a trip to North Carolina, Meredith discovered this painting at a Greensboro consignment shop. "When I saw it I knew it was the perfect piece to complement this area," she says.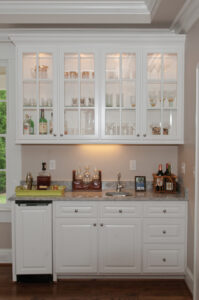 Meredith's style tends toward eclectic, so mother and daughter enjoyed hitting consignment stores and antique shops, driving all over in search of just the right treasures to use in the house. "We find things we like, bring them home and then put them all together," says Meredith. Everything does not need to match. "I just pick what I like and make it work," she explains.
A decorative shelf and chest, purchased separately, have joined forces to become the perfect kitchen hutch. Here Meredith exhibits one of her treasured collections of blue and white china and tiny animal figurines. She is never afraid to blend items of varying quality. "I mix the really good with other things that are not so great," she says. Small animal heads made of resin hang on the walls, giving Meredith the eclectic look she wanted.
The kitchen leads into the family room where a coffered ceiling separates the two rooms and maintains an air of spaciousness typical of an open floor plan. A corner wet bar makes entertaining easy. French doors leading to the gardens, patio and pool area create good flow when the house is packed with guests.
Meredith and her family thoroughly enjoy their entire home, and the patio, pool and garden areas are no exception. While late winter may be too early to spend much time outdoors, the hint of azaleas and dogwoods soon to bloom foretell many hours to be spent in this luxurious outdoor space.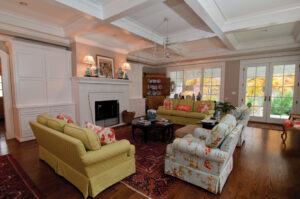 Back in the family room, Meredith is not shy about using color and mixing different prints. "I love color and I am not afraid to use it. If you don't like color, you will not like my house," she laughs. With her mother's help, prints and patterns in a variety of hues all effectively mingle. Contrasting coral and lime green pillows adorn the couch, and a collection of colorful ginger jars and more blue and white china add vibrancy to an already bright room.
Above the couch is an imaginative collage by Mary Boxley Bullington. Another piece of artwork, this one created by Meredith's young daughter, hangs in a corner of the room. "I just loved it, so I had it framed," says Meredith.
The remaining portion of the addition includes the master bedroom suite accessible by a back hallway. An Oriental carpet runs its length and along the expansive wall hangs an elongated Oriental screen. "I brought this piece from our other house and had a hard time finding a place where it would fit," says Meredith. The delicate colors of pink, silver and green provide a spot of unexpected beauty in an otherwise casual location—an interesting contrast and an unforeseen delight.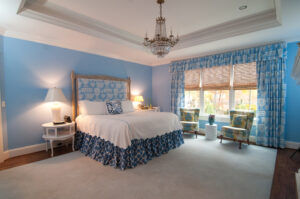 Painted Pittsburgh Paint "Viva la Bleu," the master bedroom is magnificent. "This is my favorite room of the house," exclaims Meredith. The room overlooks the pool and back gardens, offering a respite from a busy day. With a fireplace, crystal chandelier and a bed adorned with a monogrammed spread and flowing bed skirt, the room is a declaration of fine taste. Lamps and other ceramic ware by Richmond artist Dana Gibson bring even more color into the room. The connecting bath is bedecked with white marble and the same distinctive "Viva La Bleu" walls. A chandelier, spacious walk-in shower, and soaking tub create the aura of a spa.
The dining room, living room and entry foyer are original to the home and remain structurally unchanged. With Meredith's choice of wall colors and décor, they are stunning. Both the living room and dining room are painted Pittsburgh Paint "Florida Pink." While it might have taken nerves of steel to choose this shade, the result is spectacular. Meredith has carried out her color scheme in such a way that the rooms flow like waves. Amazingly, her lime green floral draperies, brought from a previous residence, fit as if they were customized for this room.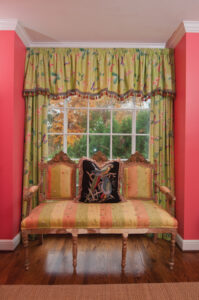 The living room is filled with furniture finds and family pieces. An ornate bench, one of her mother's discoveries, was Meredith's Christmas gift one year. This piece has moved from house to house and room to room. In this house it has found the perfect spot under a window. Upholstered in muted shades of coral and green and highlighted with a needlepoint pillow of brightly feathered parrots, this bench conveys the essence of this house. It is formal yet whimsical, and a very pleasant place to sit.
Artwork abounds in every room and runs the gamut from contemporary to traditional. Artists Susie Whiteside and Courtney Cronin combined forces to paint an abstract landscape that hangs above the sofa. Meredith's mom discovered this piece and immediately phoned her daughter. "You have to come over here and see this," she said at the time. "It is made for your living room." With its myriad colors, it literally lights up the room. Art hangs in unexpected spots, some at eye level and others at waist level. "I don't follow rules and I do things I like," says Meredith.
A corner cupboard, one of the very first pieces of furniture the couple ever purchased, fits in nicely and has a great deal of sentimental value. The original hardwood floors are carpeted with grass rugs, purchased at Green Front years ago. Despite their age, they have maintained their appearance. "They wear like iron," says Meredith. "You cannot harm them."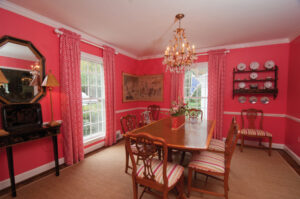 With an Oriental theme, the dining room presents a very formal picture. Meredith's great aunt's table and chairs are the centerpiece, with the crystal chandelier brought from the Drapers' previous home hanging above. "I grew up eating on this table," recalls Meredith. When she discovered a series of artworks on silk in an antique store, she knew they would be perfect hanging in this room. And once they were reframed, they were. A white chair rail and coral draperies, the exact shade of the walls, finish the room. Meredith describes painting the walls first and then setting out with the formidable task of finding matching draperies. Luckily, she did.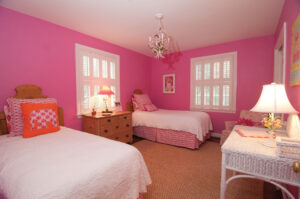 The center hall (painted a shade of…pink!) features a large enough area where guests can be greeted and coats collected. An open staircase projects an airy effect. Along the wall of the upper level of the stairwell is another large screen featuring an Oriental theme, this one depicting cherry blossoms in bloom. Upstairs is the kids' domain, with three bedrooms, a bath, and a guest room—also painted pink.
Fortunately for the Drapers, Meredith has an eye for good design. "I like what I like and decorate our home for us," she says. Since color is so important, it is everywhere in the Draper home. While Meredith's choices are indeed bright and bold, the effect is spectacular, taking an otherwise stately, traditional home to the dazzling end of the spectrum.
Alam Design Group, Family Builders LLC, French Doors, Ginger Jars, Hardwood Floors, Mary Boxley Bullington, Ornate Bench, Pittsburgh Paing, White Vermont Granite