Fantasy Islands: The Tide has Changed on the Function and Form of Kitchen Islands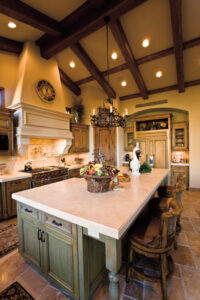 "Island." Close your eyes and the mere mention of it calls to mind the image of a luxurious expanse, distinct from the rest of its surroundings—a destination.
Oh yes, the lure of the islands is real, and kitchen islands are one of the most popular elements in kitchens today. Used for cooking, dining and even homework—the kitchen island might just be the hottest spot in the entire house.
Lee Ann Carter of Carter's Cabinet Shop says the idea of having a central work table in a kitchen isn't new, but when the popular "open floor plan" made the kitchen become an official part of a home's entertaining space, homeowners began to see their kitchens as a room that was equally worthy of both function and style. "The kitchen has become the new family room—and kitchen islands are a great way to delineate the work area from the living area," says Carter.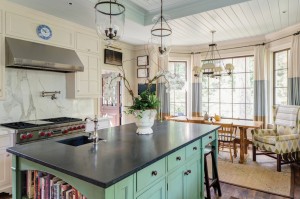 She notes that when kitchen islands first came on the scene, there was a trend of putting the cooktop and all its related under-counter pot and pan storage in the island. "The island cooktop was an extension of the kitchen's work triangle—detached from the perimeter, giving cooks a little more room to maneuver in the kitchen," Carter explains. However, she says that many homeowners now prefer that their kitchen sinks and dishwashers be placed in the island instead, since so much time in the kitchen is spent on cooking prep and clean up. "Homeowners don't want their backs turned to everyone, they want to be a part of the action," she explains.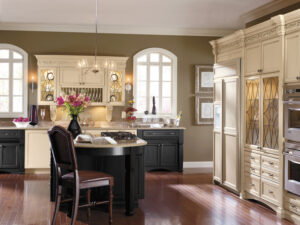 So, when homeowners relocate their cooktops to the perimeter of the kitchen and bring the kitchen sink to the island, they can solve several problems in the kitchen's workflow, with the added stylish result of gaining two focal points. The island itself becomes a focal point, especially with attractive pendants hanging over it; and a decorative canopy and backsplash installed over the range become another appealing view to highlight the kitchen.
Steve Morris of Classical Design, Inc. says that he, too, receives many customer requests to install a sink in the kitchen island. He says, "I recommend installing the dishwasher next to the sink, and including a drawer for kitchen towels and a pullout trash center so home cooks have everything they need, all in one place."
Morris says the apron front (or "farmhouse" sink) is a look that many homeowners request since that timeless, vintage aesthetic continues to be popular in kitchens today. But, Morris adds, "I receive just as many requests for under-mount sinks, which highlight the curved contours of the sink bowl and make counter cleanup a breeze."
Lowering the Bar
At one time, two-tiered islands were popular, with an upper countertop installed for barstool-height dining. Homeowners liked having the visual shield that the upper level provided between the living room and the kitchen, but the issue with this design was that, in most kitchens, this dual surface arrangement dipped too far into the already-crowded prep space around the cooktop. Homeowners were left with very little usable counter space around their cooktops and a long, skinny shelf that wasn't very comfortable for dining. Because of lessons learned in those early open-kitchen designs, most new kitchen islands now feature a single-level work surface.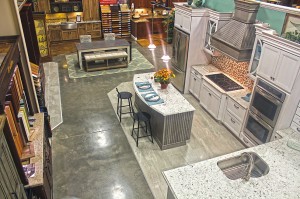 John Eggleston of Spectrum Stone Designs says this new, single-level layout has made the kitchen island more versatile. "Islands are the main attraction in the kitchen and we expect a lot out of them. They're extra prep space, an eat-in kitchen, a buffet and a wet bar during a party, and a place for the kids do their homework while dinner's being cooked," he says.
In short, homeowners really like the clean lines of an uninterrupted countertop because it's so versatile.
Eggleston says that he sometimes does island replacements in lieu of full-blown kitchen renovations. He says, "For most homeowners, redoing a kitchen is a once-in-a-lifetime project. So, maybe they got it almost right the first time, but later learned their kitchen could work even better, if only they had a different island."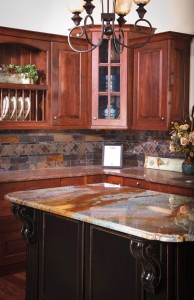 Leaving No Stone Unturned
Sometimes, Eggleston says, all it takes to update the island is a new countertop. He says, "The island can become a pivotal design piece in the kitchen and the greater room that it's a part of. The details make the island stand apart."
He says that granite is still the most popular kind of countertop, with manmade solid-surface quartz-based materials like Cambria and Silestone requested almost
as often.
But, Eggleston also says he has recently seen an upsurge in requests for butcher block, soapstone and even marble—natural surface materials, used in kitchens of antiquity, that are known to be far more delicate than the easy-care granite and quartz. Perhaps it's simply a case of "what's old is new again."
He says, "Maybe it's the throwback to history that some TV shows and movies are making so popular these days, but one of the prettiest kitchen surface combinations that I've done recently is soapstone on the perimeter and marble on the island. People aren't so worried anymore about babying their countertops and having perfect kitchens. They like the patina that comes from a lived-in, well-used kitchen."
The Lived-In Look
Lee Ann Carter agrees that homeowners are favoring a vintage look, that kitchen cabinets are also influenced by the trend, and that customers want details added to their islands to give them the look of one-of-a-kind antique, freestanding furniture. She says, "Embellishments like turned legs, under-counter corbels, fancy feet, carvings and moldings add visual interest to islands and give them a custom look."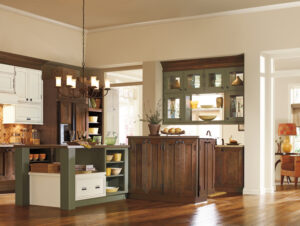 Both Carter and Morris say that another element of this vintage, homey style is painted, mismatched cabinets. Carter explains, "One way the mismatched look might be achieved is by painting the cabinets around the perimeter of the kitchen in a creamy color and pairing them with an island that's made of stained wood, like cherry or walnut." Or, she suggests that you could keep all of the cabinetry the same and do a different countertop surface material on the island.
Eggleston says that tactile details on the island countertop surfaces also add to the mismatched effect. He says, "Honed, or chiseled, rocky finishes along the edges are increasingly popular. We can also give the countertop a finish that looks and feels just like leather—it just adds a softer, matte finish to contrast all those hard, shiny surfaces on the appliances and the other countertops."
Morris advises that if your floor plan is open or the kitchen is very large, you might consider adding contrast and visual interest in subtle ways. "Using darker and lighter variations of the same base tones on the perimeter and the island is one way to do it, or even by making complementary changes in the paint finish from a shiny surface to matte," he suggests. Morris says a monochromatic look is versatile and will stand the test of time. He says, "It's a look that works especially well in large spaces, because when the space is large, you want to see subtle differences, not necessarily a strong contrast, to better blend into the rest of the surroundings."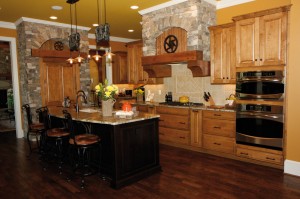 Thinking Outside "The Box"
Eggleston also says that most homeowners don't want "big rectangles" in their kitchens anymore. Whether he's doing a complete island replacement or replacing and upgrading an island countertop, he says he often adds rounded countertops for the seating area at the extension of the island, both to provide a designated dining spot and to help transition the island into the family room's décor. He says that homeowners like being able to use standard-height stools and kitchen chairs at these extensions on their new multi-use, single-level islands.
With most new kitchen islands offering even more than just a site for meal prep, cleanup and casual dining, many homeowners are installing conveniences like refrigerator drawers for kids' snacks, recycling centers and even pet feeding stations
in their islands.
Since many cooks now search recipes on their digital tablets instead of cookbooks, they no longer need the bookshelves that were once a standard island feature. However, homeowners now need an abundance of electrical outlets, thanks to all their handheld electronic devices. To meet this new demand, many homeowners are requesting drawers outfitted with multi-outlet power strips so they can charge all their electronic devices under the counter, where they'll be safe from kitchen spills and splashes.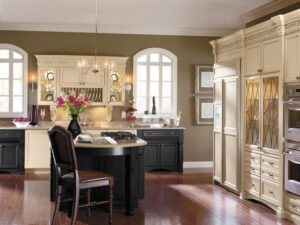 The Continental Divide
Eggleston says that a few years ago in the kitchen design industry, there was a running joke that kitchen islands had grown into continents. But he says recently he's seen the pendulum swing in the other direction, as many homeowners want smaller, more compact and efficient kitchens.
He observes, "People are really practical these days. They're cooking and entertaining at home and what they want the most is for their homes to be flexible, practical and functional."
With that "bigger isn't always better" idea in mind, Carter says that islands don't have to be huge to be useful. She says that small butcher blocks are making a comeback, and that some homeowners are even requesting their kitchen island to be mounted on casters so they can keep the island in the room when they need the worktop and roll it out of the way when they want the open space.
There's an ideal kitchen design for everyone and many can accommodate a kitchen island. Kitchen islands aren't one-size-fits-all features; they can be customized to suit your needs and fit any style of home décor.
The kitchen island is the center of activity—how you spend your time there is entirely up to you.
Capps Home Building, countertops, Flexible Kitchen Island, kitchen design, Soapstone, Spectrum Stone Design, The Cabinet Gallery