Pillow Talk | Feather Your Nest with Fun, Fluffy Pillows
Cooler days and the bright colors of autumn are on their way. The change of season can awaken an instinct to revert to our den-making, nest-lining, burrow-building roots by spiffing up our homes for the cooler days ahead. We might organize the pantry or linen cupboards. Dust away those late-season cobwebs that appear in corners and porches overnight. Repurpose a room whose occupant has flown the nest. Maybe you're ready to tackle a big project before the holiday season.

Or maybe you just want something fun and easy to freshen things up. In that case, pillows are one of the best ways to quickly "cozify" a space. It's a small change that can have a big impact on your furniture and your room. The four "F"s—fabric, finishes, fill and form—are all important considerations when looking for the right fit. Knowing your options will ensure you get the look you want.
Fabric
Throw pillows are the perfect place to have fun with fabric. Wool is a sturdy fiber that is used in a range of finishes, from raw, nubbly weaves, to chunky cable knit, to fine needlepoint. Velvet and chenille offer lush looks and cuddly feels that add richness to a space. Washable cotton and linen provide casual comfort and are perfect for busy areas. When choosing a fabric, think about how you'll be using it. Crewel is gorgeous, but might not be the right fit for nap time on the den sofa.

Finishes
Edges, trim and closures all affect a pillow's style and intended function.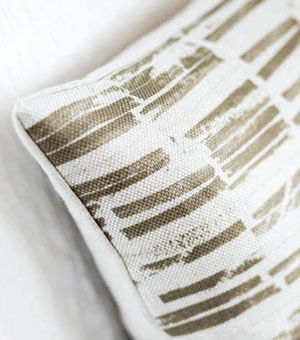 A knife edge is a simple seam which produces crisp edges and corners, well-suited to the tailored looks that you might find on a sofa or club chair. Welted is similar to a knife edge, but the seam is finished with piping or braiding. It's also a tailored look, but the added visual interest of contrasting piping can make it more of a focal point in decor.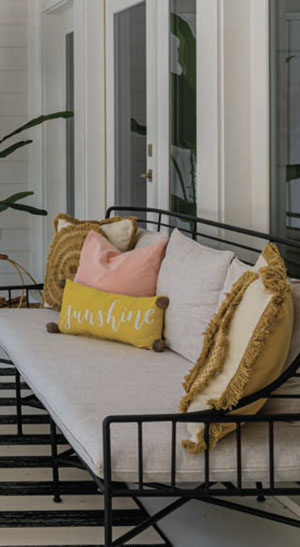 A flange edge has a strip of fabric surrounding the seam, generally a couple of inches wide. It's often seen on bed shams, where it adds an elegant finish. Scallop edges are a feminine variation on the flange, often paired with matelassé fabric. Scallop-edge matelassé shams provide subtle texture and a classic, welcoming look in a bedroom.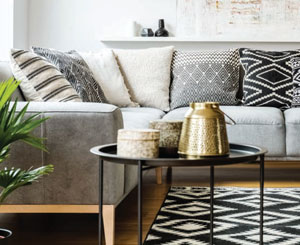 Box edges give pillows a square shape. They are usually seen in seat and back cushions, but are also used for floor pillows and certain bed pillow styles.
In addition to piping and flange edges, fringe, tassels and pompoms can take plain pillows to the next level. Using a contrasting material, such as natural fiber, metallic thread, or leather or suede cording, adds a custom look, though it can limit your cleaning options.
An envelope closure, which features two overlapping flaps of fabric, is used for bed shams and some throw pillows. It's easy to remove for cleaning, and works best on light- to mid-weight fabrics. Since this type of pillow is not reversible, it can be an opportunity to showcase a potentially limited or costly fabric. Envelope closures are sometimes finished with buttons or fabric ties for decoration.
Medium- to heavyweight pillow fabrics might have a zipper closure, either along the back or hidden in the bottom seam, which allows both sides of the pillow to be used.
Fill
Down fill is the gold standard for pillows. This soft underlayer of bird feathers (generally goose, but sometimes duck or swan) makes for plump, lightweight, lofty pillows. Hungarian goose down, which features large pure-white clusters, is considered to be the finest down variety. When shopping for down pillows, pay attention to fill power. The higher the fill power, the larger the down cluster, which means more loft. Fill power ranges from about 550 to over 800 for high-quality goose down.
Down/feather blends are a more affordable, medium-weight option. They tend to hold their shape longer than pure down, but feather quills can poke through thin fabrics over time, so don't use feathers in a sleeping pillow. Look for the ratio of feathers to down—75/25 is going to be softer and more expensive than 95/5.
Down alternative fill is made from polyester microfibers—not to be confused with the "polyfill" found in stiff, inexpensive pillows, which soon breaks down and looks lumpy. Down alternative pillows are described as having a "silkier" feel compared to the airiness of pure down and the "scrunchiness" of down/feather blends.
When choosing an insert for a pillow cover, the insert should be one or two inches larger than the cover, so that the finished effect is firm instead of floppy. This can be a bit tricky though; some inserts which say "20 by 20" may actually already be sized up and referring to the intended cover instead of the actual pillow dimensions. Read any label or description carefully before purchasing.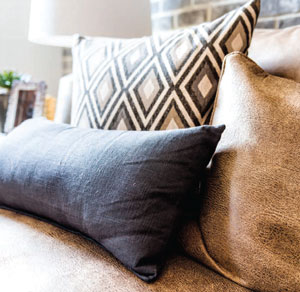 Form
Square throw pillows used on sofas and chairs might be anywhere from 16 by 16 to 24 by 24 inches. On a sofa, square pillows work well as a stand-alone pair, or as a base behind smaller round or rectangular pillows.
Standard lumbar pillows are about 14 by 22 inches, but can run much larger. The standard size works well as an accent in a pillow grouping, whereas a large lumbar is meant to be a statement piece centered on a sofa, large chair, or bed.
Round pillows, often tufted and smocked, have been making a comeback, particularly in velvet and boho fabrics. They're fun in a pillow grouping, and look especially good on an accent chair.
If using a single pillow on a chair, or a pair of pillows on a sofa, make a statement. A high-impact style or pattern will add much more value than a plain neutral in this instance. When grouping throw pillows, go for a mix of scale and pattern. For example, a large square pillow, smaller square, and lumbar might feature one textured solid, one small-scale pattern, and one large-scale pattern. You might visually tie them all together by color, making sure that the solid pillow picks up an accent shade in one of the prints.
Floor pillows are useful for extra seating while reading, meditating, watching movies and playing games. They're also good for picnics and lawn parties, and for building a pillow fort! They are typically large and firm, often with a box edge for extra support, and can be covered in anything from chenille to exotic embroidery to antique rug textiles.
If you have a window bench in a breakfast nook, bedroom or library, maximize its charm with proper pillows. A two- to four-inch, box-edge seat pillow topped with several throw pillows for back support will make your alcove an appealing feature.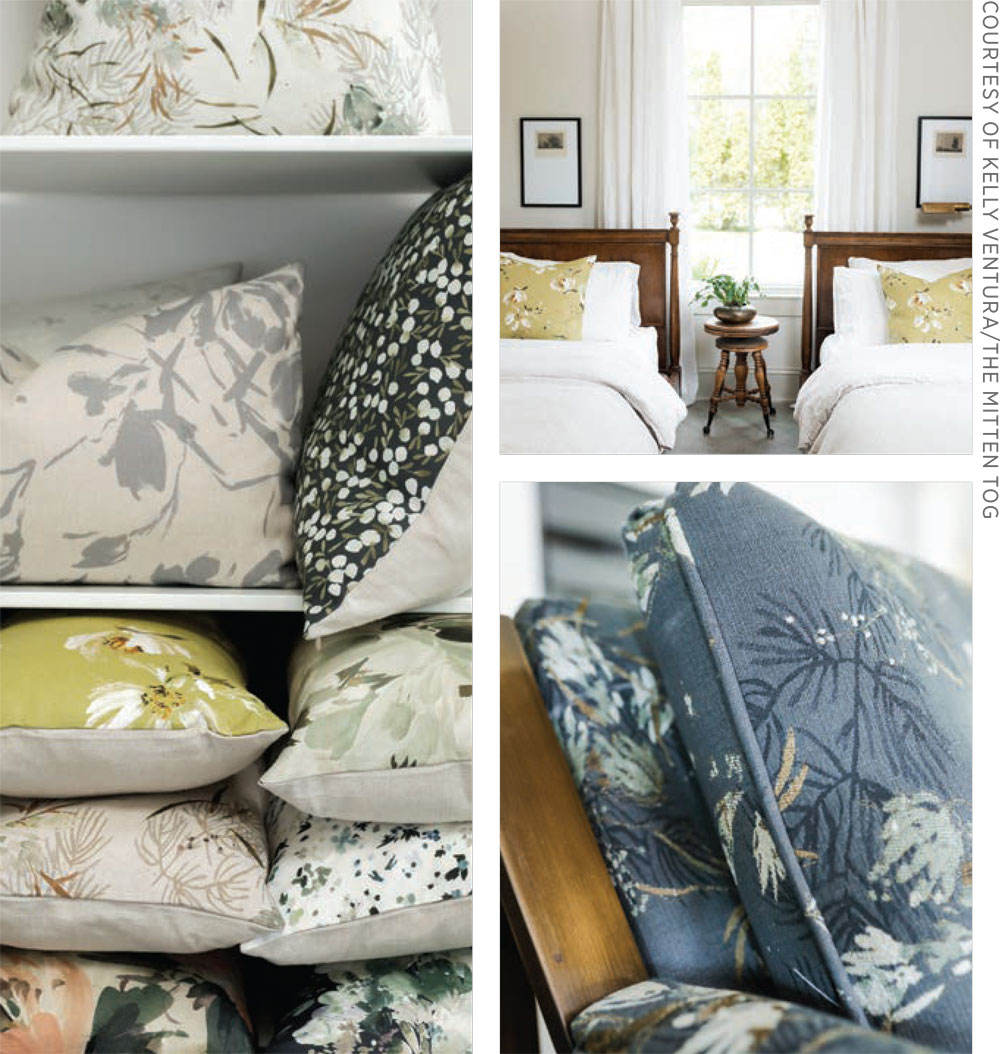 For a well-dressed bed, use Euro and bolster pillows for decorative effect. Euros are large square pillows (about 26 by 26 inches) often topped with shams. A cylindrical bolster is a lumbar pillow's more formal, traditional cousin. Place Euros up against the headboard—one on a twin bed, two on a full or queen, and three on a king—then add your standard bed pillows, and finish with decorative pillows in different shapes and sizes. A bolster is placed front and center in the arrangement.
Custom pillows
Perhaps you can't find the pillow you're envisioning, or you've found a beautiful fabric sample at a store, or you want to repurpose an antique fabric into a pillow. An interior designer can help you with a pillow project, sourcing specialty fabrics and product lines. They also offer the added advantage of their style expertise and fabric knowledge.
If you already know exactly what you want but aren't a seamstress, you can find one either locally or online. Local upholstery shops and fabric shops may have someone on site or can give you a referral. Tailors, clothing alteration services, and even dry cleaners are also possible sources.
What's in style
Design insiders think that bright fabrics and bold prints will influence post-pandemic decor trends, as people who've spent months at home feel the urge to splash out on easy, cheerful updates. Animal prints, particularly jungle animals, are popular, as are "grandmillennial" chinoiserie florals. Retro color block motifs, sometimes in contrasting fabrics, are also a hit.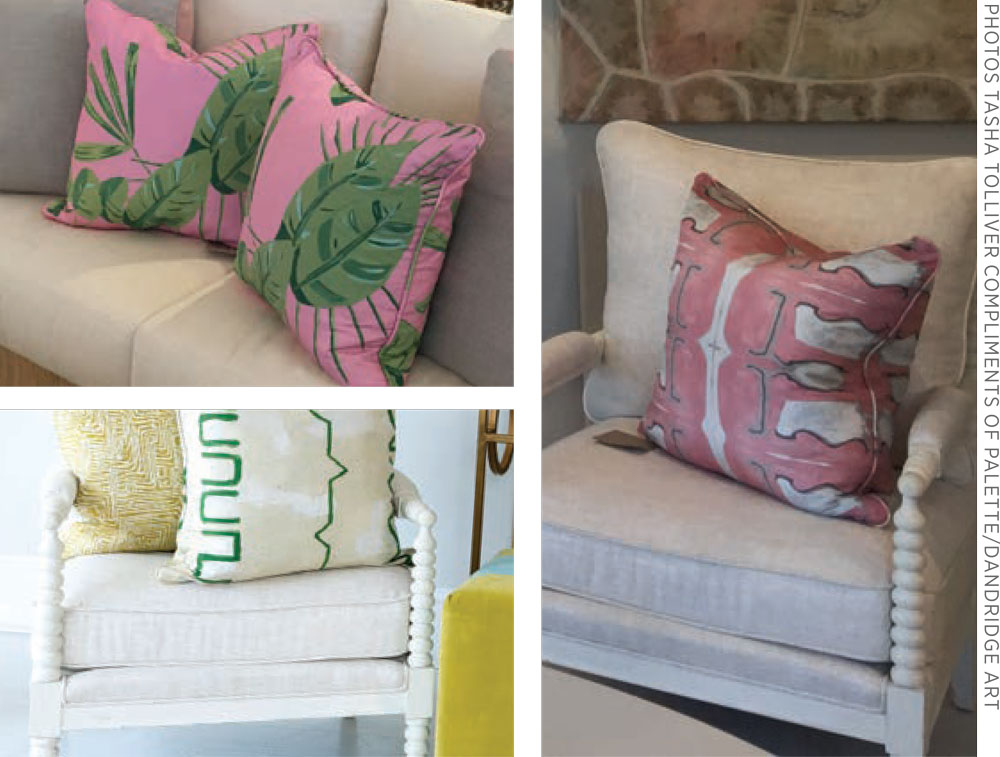 Antique, hand-printed, and hand-knotted global textiles can make one-of-a-kind pillows. Think mudcloth from Mali, batik from Indonesia, ikat from India, Mexican otomi cloth, or Turkish kilims. Etsy is a terrific online marketplace for textiles; you can even source vintage scarves and saris for fabrics. Also look for fair trade-certified shops, which offer living wages, safer working conditions, and ethically sourced materials for the small-scale tradespeople whose products they sell.
Some artists and designers are featuring their graphic prints on home decor items like throw pillows. They may have their own website, or sell through Etsy and other online boutiques.
This fall, get your home in fine feather with custom pillows. It's an easy, gratifying way to make a seasonal update in your home's spaces. On a sofa or an accent chair, in a window nook or in the bedroom, pillows are a low-stress, low-commitment update that allows you to have fun mixing shapes, sizes, and patterns. ✦
antique, Box Edges, Chenille, cotton, Down Fill, Down/Feather Blends, Envelope Closure, fabric, Fill, finishes, Flange Edge, Floor Pillows, Form, fringe, Hand-Knotted, Hand-Printed, Knife Edge, linen, Pillow, piping, Polyester Microfibers, Pompoms, Square, Standard Lumbar, tassels, Velvet, Wool rug