Perfect Pillows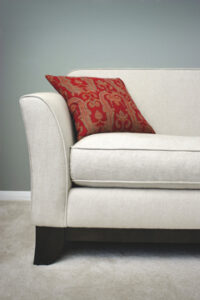 In eighth grade, the girls in my middle school were required to take one year of Home Economics. The course was cleverly divided into two sections: cooking and baking the first semester, followed by sewing the second semester. Our teacher, Mrs. Blythe, (who wore a flour-dusted apron to match her flour-dusted hair) taught us to make all sorts of delicious goodies; the leftover brownies I handed out after class only increased my popularity index.
When second semester rolled around, however, the bloom was off the proverbial Home Ec rose as we prepared to undertake the onerous task of learning how to sew. Our final assignment was to craft a throw pillow; I chose a heart-shaped pattern with pale blue calico fabric accented with little pink flowers that would have made Laura Ingalls proud. Based on the pictures on the front of the pattern envelope, this creation was going to look swell on my bed. The fragile blue and pink colors would add some visual interest to my white candlewick bedspread, and the heart shape itself was emblematic of all my unrequited crushes.
But once the whispery pattern paper was out of the package and the mathematics of measuring, cutting, and threading the sewing machine needle loomed ahead of me, a debilitating mix of self-doubt and distraction rendered me useless to complete the project. While I scurried off to watch "The A Team," my sainted mother picked up the pieces of my broken/unformed heart and completed the assignment. My heart-shaped pillow had a place of pride on my bed for years to come.
Happily, I have never had to repeat this failed sewing experiment. The scads of stores and local talent for creating this decorating staple are abundant, which leaves me to do the imagining and dreaming, rather than the actual work. As the darling of a decorated room, the throw pillow is a veritable jack-of-all trades wrapped in all sorts of beautiful packaging.
Throw pillows provide a little bit of function and a whole lot of punch to a decorating theme. Certainly, a plump pillow on a sofa makes the seating experience that much more comfortable, but a throw pillow can also add drama, excitement and a unique aesthetic to the room. Throw pillows are commonly used to tie in color accents within a room, often drawing on the colors in window treatments, walls or area rugs. However, Diane Poff, of Diane Poff Interiors LLC, contends that the very pillow itself can be the inspiration for an entire room. "We can just as easily be captivated by the dynamic color or beautiful design of a particular pillow as we are by a favorite painting or piece of furniture," she says.
When deciding which fabric to use for a pillow, the possibilities are endless: silk, leather, microfiber, microsuede, suede, cotton, linen, hemp and almost any other fabric can be used to make a pillow.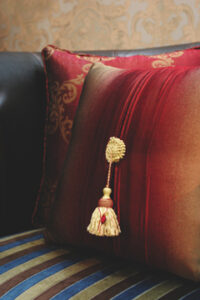 The Anatomy of a Pillow
Pillows may be filled with a synthetic filling, a combination of down and goose feathers, or down (the lightest, fluffiest, most expensive feathers). While down is certainly the softest and most luxurious, it tends to lose its shape with frequent use. Synthetics hold their shape, but are stiff and unyielding. Perhaps the best of all worlds is the feather-down blend, which holds its shape, stays soft, and is moderately priced.
The least expensive option is to buy a ready-made pillow that is stuffed with polyester fiber fill (commonly known as "poly"). Such pillows do not have a removable inside form, so you lose the ability to swap covers. A more expensive choice is to buy a pillow that has an insert made of a down and feather blend. Also available is a down-like poly fill that is hypoallergenic.
The most luxurious choice of all is the pillow with an insert made of a down and feather combo, with down as the primary filler. As the percentage of down inside the pillow increases, so does the price, though it's not exorbitant. (A standard square insert made of down costs approximately $20.) The blend gives the pillow a soft, plump, decadent feeling. Most experts agree that a down blend feels plusher, is easier to fit into the fabric case, and frankly, just looks better.
Experts also recommend that if the pillow you are purchasing contains down, you should be sure that it is encased in down-proof ticking. Ticking is a type of fabric that can be used as a seal. Feel the pillow; if it's prickly, it's not down-proof. What you are feeling are the quills of the goose feathers poking through.
Zippers, envelope-style closures and ties allow you to remove the pillow cover from the insert for easy cleaning. While zippers are hidden near the seam, envelope closures on the back of the pillow as well as ties can be made of decorative elements and become an integral part of the design.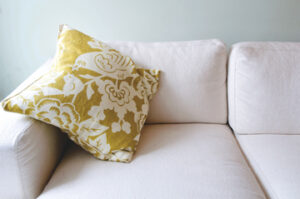 Pillows also come in many shapes and sizes to suit your tastes. Consider the following:
SQUARE: Mix up a few different sizes with this versatile shape. The most common sizes range between 18 and 22 inches.
RECTANGLE: The elongated proportions of a rectangular pillow are stylish at a sofa's midpoint, flanked by groupings of square pillows.
BOX: Depth and dimension give a standard square throw pillow more structure.
ROUND: A circular pillow tends to have a retro look and plays well against a squared-off seat and back.
ROUND BOX: A round pillow with a few inches of thickness gives dimension to the basic round pillow.
BOLSTER: Use these accents on both ends of a couch like armrests, or on a bed.
FLOOR PILLOWS: (32″–36″ square) A family favorite, especially in children's rooms. They provide both form and function in a room, as well as a playful element.
All the Pretty Details
Lizi and David Gilkeson of The French Thistle approach pillow-making with palpable excitement. Lizi's degree in fine arts and extensive study of sculpture and textiles give her a unique perspective that she puts to work when designing a pillow. She attests to constantly experimenting with different fabrics, shapes and sizes, and combining fabric with buttons, trim, and other embellishments to create a unique product.
Cindy Podeschi and Joanie Johnston, of Hullabaloo Interior Design in Roanoke, also think outside the box when it comes to their pillows, playing with different colors, textures and trims to keep the end result interesting. Some of the trims that are most frequently used include:
ROPE: Use rope trim to add texture and color to the edge of a pillow.
RIBBON: Use ribbon to accentuate the shape of a pillow.
POM-POMS: The ultimate in playfulness! Dancing pom-poms are a sweet touch to a pillow, especially one used in a child's room.
TASSELS: This type of trim brings a sense of movement and style to a final product, but can get caught easily. (Cats are especially drawn to this swingy stuff!)
FRINGE: Loop fringe provides the perfect upscale complement to a pillow.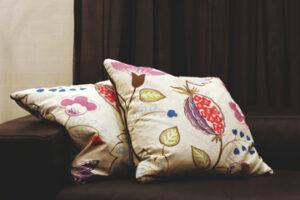 The Versatility of a Pillow
Throw pillows are a perfect vehicle through which you can convey your personality, family tradition, or simply showcase a beautiful piece of fabric without monopolizing your entire decorating scheme. Use a throw pillow as an accent piece, much like you would a painting or objet d'art. Pillows can also inject a touch of whimsy: Think of the cheeky little pillows that have quotations on them, such as, "If you have nothing nice to say then come sit by me" (Alice Roosevelt Longworth) or "Women are like wine…they get better with age" and the like. Placing throw pillows with saucy sayings or unusual graphics (how about a photo of your dog?) is a noninvasive way to infuse a little humor. Some of The French Thistle's more whimsical creations include an orchid and bird motif bolster, as well as an ultra-girly pink polka-dot pillow covered with bows, and animal print pillows.
Consider using unexpected fabrics and items to craft into throw pillows, such as a child's dress, Dad's old sweater, a vintage napkin or tablecloth, an afghan, scarves, vintage grain sacks, rugs or tapestry. This type of pillow works especially well in a less formal area, such as a child's room or family room. Using loved items is a great way to recycle and keep a bit of family tradition alive. Any upholsterer, seamstress or decorator with a commercial-grade sewing machine can probably accommodate such a request.
Needlepoint is a centuries-old handcraft that may be used to create gorgeous, opulent-looking pillows. Typically, the needlepoint appears on just one side of the pillow, while a coordinating and often less-expensive fabric serves as the other side.
Using a throw pillow as an accent is also the perfect opportunity to splurge on that sumptuous fabric you've been eyeing. As most throw pillows only require a fraction of the fabric yardage than a larger project like draperies or upholstery, you may be more likely to treat yourself to the very expensive fabric that you love for two accent pillows. Hullaballo's Podeschi and Johnston heartily endorse this concept. They love to use pillows from luxe and natural fabrics that "feel good to touch." Podeschi adds, "Make sure you use them. What good are beautiful accessories if you don't use them?" Indeed.
There's nothing quite like a quick and easy swapping of throw pillows to usher in a new season or holiday. One local homeowner's overall neutral palette (think taupe and ivory) provides a soothing background for her accessories. This spring, she will add pops of fresh color with her lime green throw pillows, candle holders, ceramics and vases. Come autumn, she'll store the lime green accents to make way for the richer hues of chocolate and orange. Likewise, a cheery Christmas-themed pillow amid a collection of other throw pillows is as much a part of December décor as the Christmas tree. In general, pillows made of linen or chintz provide a lighter look for spring and summer months, while velvet, chenille or corduroy work well for fall and winter.
Diane Poff is a big fan of this easy update. She recommends using the existing insert of your pillow, and replacing the outer casing with fresh, new fabric. By adding fringe, grosgrain ribbon or fabric left over from other projects to trim the pillow, you have instant change.
Keep your eyes open to the myriad possibilities that throw pillows offer to your overall home decor. Retail stores, websites and custom-made products by local talent will provide your room with just the flourish it needs.