Bring-Along Perfect Potluck Fare Salads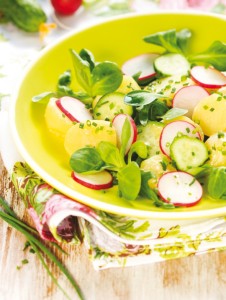 Is it just my competitive nature, or is this everyone's scenario? At every potluck, I watch to see if my contribution is "selling." It's true validation when mine is the first empty dish, but I'll take anywhere in the top couple of empty dishes as a positive vote. And if more than one person asks for the recipe, it's a definite hit!
Certainly this summer, you'll be asked to bring a dish to a party. (My mother would say that you should insist on bringing something!) And it's likely to be a side dish. "Just bring a salad" used to seem like a simple assignment back in the days of iceberg lettuce with tomato and cucumbers. Now, it could mean almost anything: pasta, vegetables, grains—the sky's the limit! Of course you could go with an old standard, like potato salad or macaroni salad, but surely someone else will bring that. Think of something seasonal and a bit more unusual.
Cooking seasonally is the most popular trend right now, and exactly the mindset we should all have in the summer when scrumptious ingredients are ours for the taking. Things that are ripe in the summer are going to be the most flavorful, the most colorful, and the easiest to get. By midsummer, even though tomatoes in my garden may not be ripe, the first tomatoes are already available at the farmer's market. A perfect salad to celebrate perfectly ripe tomatoes is panzanella, an Italian bread salad. Put your own spin on the salad by using an assortment of multicolored heirloom tomatoes and soft burrata cheese instead of the usual fresh mozzarella. Tear and toast or grill the bread, and toss in at the last minute, along with some fresh herbs and a little vinegar and oil. Add some beans or additional greens like arugula to "green it up."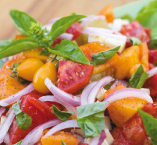 Use the same techniques to put your own spin on other salads. Instead of using pasta, try another grain, like farro, quinoa, barley or wheatberries. Instead of grain, use beans, like the colorful heirloom beans available, or chickpeas. Or take a familiar flavor combination, like succotash, or bacon, lettuce and tomatoes, and turn it into a salad…get the idea?
One of my favorite summer treats is an al fresco cookout—on the dock at the lake, or down by the ocean. There are many limitations for this kind of cookout, however, like the difficulty of making the salad ahead, or the lack of refrigeration that may affect the recipe you choose. Some salads get better as they sit, but there are definitely salads that don't. One technique to keep the salad crisp and lively is to take each of the items in a separate container, and toss it on site. I find it's easier to layer the ingredients from heaviest to lightest (consider wet items, like chopped tomatoes, as the lowest level), then dress and toss at the last minute.
When someone asks, "Can you bring a salad?", answer with a resounding yes! Consider what's in season, and use the variety of textures and colors available to make your salad delicious—and the first to disappear from the table!
French Lentils with Grilled Vegetables, Arugula and Feta with Walnut Vinaigrette
(serves eight)


This salad is a great take-along, and can easily be turned into an entrée salad with the addition of grilled salmon or chicken. If you won't be serving it immediately, layer the lentils, then vegetables, then arugula in the bowl, and take the dressing in a separate container. Toss them together when it's time to eat. I like French green lentils; they have a nuttier taste, and a better texture for salads. The vegetables can be grilled ahead (like when you're grilling dinner the night before). Just make sure that the vegetables are allowed to cool, and store in one layer, as they tend to turn to mush in a large pile.
3 cups French du Puy (green) lentils
2 teaspoons salt
½ cup red wine vinegar
4 tablespoons lemon juice
2 tablespoons Dijon mustard
1 cup salad oil
1 cup walnut oil
Salt and pepper to taste
2 Japanese eggplants, sliced lengthwise into ½-inch slices
1 medium yellow squash, sliced lengthwise into ½-inch slices
1 medium zucchini, sliced lengthwise into ½-inch slices
1 small red onion, ends discarded and sliced into ½-inch slices
8 ounces feta cheese
4 ounces arugula
Light the grill and oil the grate. Let the grill preheat.
Place the lentils in a large stock pot, cover with 3 quarts of water and add 2 teaspoons of salt. Bring to a boil, then reduce heat, maintaining a simmer, and cook until tender but firm, about 30-35 minutes.
While the lentils are cooking, prepare the vinaigrette. Whisk vinegar, lemon juice and Dijon in a bowl. Add oils and whisk vigorously. Add salt and pepper to taste.
Drain the lentils well, and put them in a large bowl. Pour ¾ cup of vinaigrette over, and stir. Set aside to cool.
Place vegetable slices on grill over medium heat and cook, turning halfway, until well marked and starting to soften, about five minutes per side. Remove, and when cool enough to handle, cut into bite-sized pieces.
When the vegetables and the lentils have come to room temperature, toss them together. Just before serving, add feta, arugula and ½ cup walnut vinaigrette, and toss to combine.
Roasted Fingerling Potato and Sugar Snap Salad
(serves eight)
Roasting the potatoes gives them a nice texture, and the addition of bright green sugar snap peas adds color and crunch. Be sure to toss the peas in just before serving, as the acid in the vinaigrette will dull their bright color.
2 ½ pounds fingerling potatoes, or any other new potato
3 tablespoons olive oil
Salt and pepper to taste
1 tablespoon chopped shallots
2
/
3
cup olive oil
Zest and juice of 1 lemon
Chives to taste, chopped
1 ½ cups shredded Parmesan cheese
1 pound sugar snap peas, blanched in boiling water for 30 seconds, then refreshed in ice water and drained
Preheat oven to 400. Cut potatoes lengthwise, then in half if too large for bite-sized pieces. Toss with olive oil, sprinkle with salt and pepper, and spread in an even layer on a cookie sheet. Roast in the oven for 30 to 35 minutes, until light brown and slightly crisp. Toss with shallots and set aside to come to room temperature.
In a large bowl, whisk together remaining olive oil, lemon zest and lemon juice until well blended. Add potatoes, chives, and Parmesan cheese, and toss to combine. Taste and adjust seasoning. Just before serving, add sugar snap peas, and toss again.