When Life Gives You Leftovers
Leftovers doesn't have to be a dirty word. In fact, I call them "love-overs," because you get to love the food all over again!
This is the best time of year in our refrigerator. Between Thanksgiving and multiple Christmas dinners, and maybe even a romantic Valentine's meal in the new year, it's the time when our fridge often goes dark, because the bowl of leftover stuffing just happens to be covering the appliance's puny light bulb.
The season of abundant meals has been my tradition. Every holiday since I was a kid, the picture is this: my mother in the kitchen, making the grand feast—turkey and ham, mashed potatoes and sweet potato pie, stuffing, green bean casserole, corn, homemade gravy, rolls and cornbread, and three different kinds of pie. While some years there might only be four or five of us to feed, she prepares enough food to serve three times as many. For this reason, neighbors and family dogs alike love her. And I'm confident I'm not the only one whose mother overdoes it a bit. I'm sure the "drill" at your house is much the same.
So, where does it all go? (I often wonder that as I'm eating my third helping.) Inevitably, the next week or so is filled with cold turkey sandwiches, reheated mashed potatoes and three-day old stuffing. But turning leftovers into something else, something delicious, is how I learned to cook in the first place. So, in this time of year with extra presents and good cheer, I give you the gift that keeps on giving: how to creatively transform your holiday leftovers into another impressive meal. After all, what could be better than finding a use for leftover turkey, mashed potatoes and cranberry sauce? Here's how to turn those leftovers into what I like to call "love-overs."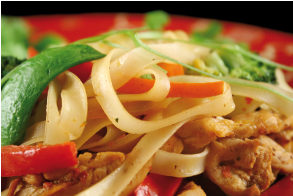 Leftover Turkey?
Turkey Noodle Stir-Fry
9 ounces fresh Asian egg noodles
1 tablespoon vegetable oil
1 tablespoon sesame oil
2 tablespoons minced garlic
2 tablespoons minced ginger
1 cup sliced red bell pepper
2 cups quartered mushrooms
8 ounces snow peas
2 cups cubed cooked turkey or rotisserie chicken
3/4 cup reduced-sodium chicken broth
3 tablespoons reduced-sodium soy sauce
1/4 cup sliced green onions
1 1/2 teaspoons toasted sesame seeds
Cook noodles according to package directions; drain and spread out on a serving platter. Heat oils in a large wok or frying pan over high heat. Add garlic, ginger, bell pepper, mushrooms, and snow peas and cook until fragrant and peas are bright green, about 4 minutes. Add turkey, broth, and soy sauce and cook, stirring once, until mixture is hot, about 3 minutes. Pour over noodles and sprinkle with onions and sesame seeds. Serves 4.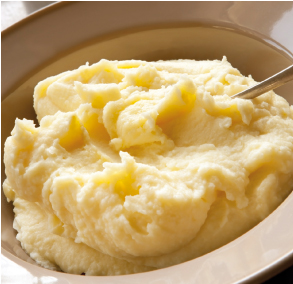 Leftover mashed potatoes?
Queen's Puff (A tribute to "bangers and mash")
2 tablespoons vegetable oil, divided
About 3 cups mashed potatoes
12 ounces breakfast sausage links
5 ounces baby spinach leaves
12 large eggs
1/3 cup flour
1 teaspoon baking powder
3/4 teaspoon kosher salt
2 teaspoons chopped fresh thyme leaves
1/4 cup chopped green onions
1 cup shredded cheddar cheese
Heat oven to 375 degrees with a rack in the upper third of the oven. Oil a 9 x 13 -inch baking dish with 1 tablespoon of oil. Drop 1/2-cup scoops of mashed potatoes into dish, spaced about 2 inches apart.
Heat remaining 1 tablespoon of oil in a large frying pan over high heat. Cook sausage, turning often, until golden brown, about 5 minutes. Scatter cooked sausage in pan, laying over and between potato mounds. Add spinach to frying pan and wilt, stirring occasionally, about 1 minute. Sprinkle spinach over sausage.
Whisk eggs together in a large bowl until broken up. Whisk in flour, baking powder, salt, thyme, and onions. Pour mixture over sausage and potatoes. Sprinkle cheese on top. Bake until potatoes are bubbling, 20 to 25 minutes. Serves 8 to 10.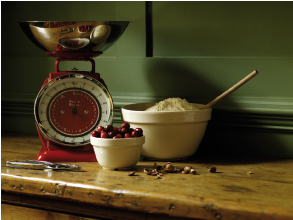 Leftover Cranberries?
Cranberry Thumbprint Cookies
About 2/3 cup cranberry sauce, drained
1 cup unsalted butter
3/4 cup packed light brown sugar
1 teaspoon vanilla extract
2 1/2 cups flour
3/4 teaspoon ground cinnamon
3/4 teaspoon ground allspice
Pinch of salt
3/4 cup pecan pieces
Heat oven to 350 degrees. Whirl sauce in a food processor until smooth, about 30 seconds; set aside. Beat butter and sugar together in the bowl of a standing mixer or with a hand mixer until smooth. Stir in vanilla extract. Add flour, spices, and salt, then mix on low speed until blended, scraping bowl as needed. Stir in pecans.
Form dough into 1 1/2-inch balls and place 1 inch apart on a greased baking sheet. Use your thumb to press a well into center of each cookie. Spoon about 3/4 teaspoon cranberry sauce into each well. Bake cookies until light golden brown,12 to 15 minutes. Let cool completely on baking sheet. Yields 24 cookies.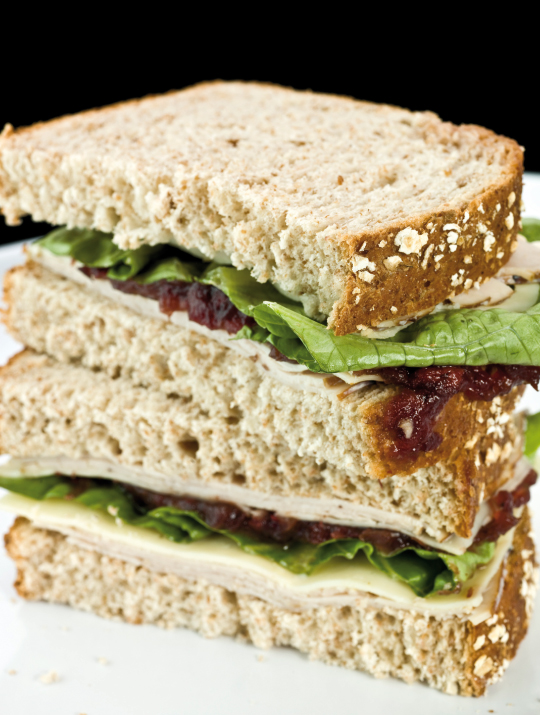 A New Take on the Turkey Sandwich:
Turkey Sandwiches with Shallots, Cranberries and Blue Cheese
2 tablespoons olive oil
10 shallots, peeled and thinly sliced
3/4 teaspoon salt, plus more to taste
5 tablespoons soft blue cheese
1/3 cup mayonnaise
4 crusty sandwich rolls, such as ciabatta, sliced in half and toasted
1/2 cup cranberry sauce (any kind)
8 slices cooked turkey breast (about 1/4 in. thick)
4 leaves romaine lettuce
Heat oil in a small frying pan over medium heat. Add shallots and salt, stir, reduce heat to medium-low, and cover. Cook, stirring occasionally, until shallots are soft and browned, about 15 minutes (if shallots appear to be browning too quickly, reduce heat to low). Taste shallots and add more salt if necessary.
Meanwhile, in a small bowl, stir together blue cheese and mayonnaise until smooth. Spread top half of each roll with cranberry sauce. Generously spread bottom halves with blue-cheese mayonnaise and layer with turkey slices (at least 2 per sandwich), lettuce and cooked shallots. Top with other bread halves.
Serves 4.