Open-Air Rooms | Live Your Best Life from the Inside Out
Those of us who call Virginia home are lucky to live in a place where we can thoroughly enjoy the outdoors for three full seasons—or all four if the winter proves mild. Combine our great climate with a continuous quest for less screen time, and the idea of an indoor/outdoor room becomes even more appealing. After all, when was the last time you thought you needed less fresh air?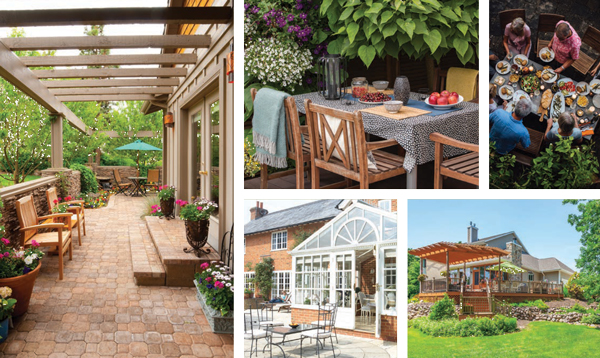 While we all love a screened-in porch or a sunroom, another option is an indoor-outdoor room—the creation of a covered space outside that seamlessly blends interior and exterior living. A great open-air room offers the best in both: fresh air, scenic views and creature comforts galore.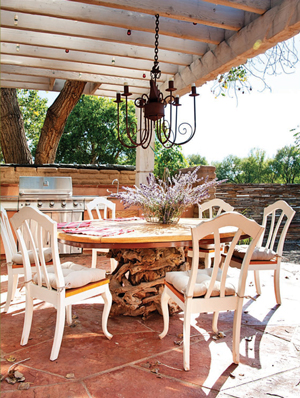 The concept isn't entirely new. Frank Lloyd Wright, whose signature style famously blurred the lines between the outdoors and the indoors, explained it best: "We have no longer an outside and an inside as two separate things. Now the outside may come inside, and the inside may and does go outside. They are of each other. Form and function thus become one in design and execution if the nature of materials and method and purpose are all in unison."
If the words of that iconic architect speak to you, here's how you can create a beautiful balance of bringing the outdoors in and the indoors out.
---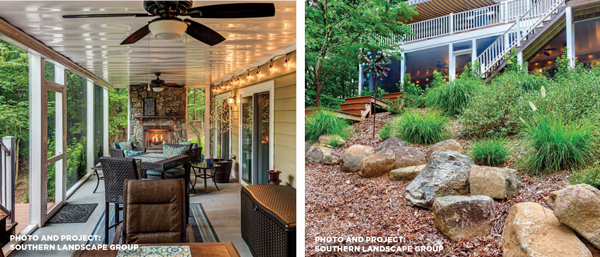 With a desire and vision for an indoor-outdoor room with water views, the homeowners of this Smith Mountain Lake home transformed this once unused space under the deck into a peaceful retreat. Two sets of sliding doors make it easy to access this cozy hideaway equipped with a fireplace, comfortable seating and ambient lighting.
---
Open up the possibilities
If you're interested in adding an openair room to your home, you'll need to determine where this room can go. Are you going to create this new space from scratch? You might not need to if you have a place you can retrofit and turn into the plein-air room of your dreams. Start by sizing up your assets and evaluating which interior rooms are adjacent to your back or side yard. This might be the kitchen, dining room, or living room. Maybe you have a few large, lovely windows that look out onto plenty of backyard space. If you already have a patio or deck, you might want to repurpose it into a covered space to maximize enjoyment. If you have space outside your home that won't eat into the rest of your yard or garden, you can likely create an outdoor room.
To start, you'll need a level space, but if you're building the room from the ground up, you may need to consult with a professional landscaper or contractor to ensure a proper foundation. Whether this is going to be a DIY pursuit or whether you're hiring a contractor, be sure that you've obtained the proper permits and permissions necessary to begin your project. From ceramic tile and brick pavers to poured concrete or artificial grass (which has come a long way since the 1980s), options abound. The ideal flooring will be solid, weatherproof, and help continue that seamless connection between indoor and outdoor spaces. If possible, choose natural materials that speak to the surrounding landscape.
---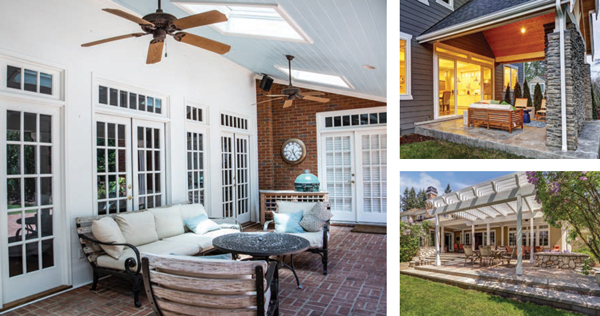 WHETHER YOU'RE CREATING A PERSONAL OASIS, AN AL FRESCO DINING EXPERIENCE, OR AN OUTDOOR FAMILY ROOM, THINK ABOUT THE WAYS IN WHICH YOU'LL MOST OFTEN USE THIS SPACE. WITH THAT IN MIND, OUTFIT YOUR SPACE WITH DESIGN THAT'S BOTH FUNCTIONAL AND BEAUTIFUL
---
As you consider what needs to go underfoot, don't forget about what needs to go overhead.
A covering of some kind is important in these kinds of rooms; they offer refuge from rain and shade from the blistering sun. Not only will a roof extend the concept of indoors to the outdoors, but it will also help define this space. The question, then, is what will work best as a roof or partial roof? You might be able to extend the roof of your home over the designated space, and if that's a possibility for you, then consider adding skylights. Skylights are wonderful way to connect to the outdoors, maintain shelter, and bring in natural light. However, extending the roof might not be the most practical choice for your home. In that case, a canopy or retractable awning can provide adequate overhead protection from the elements.
---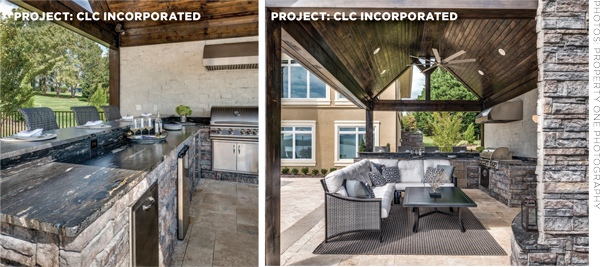 This space allows the homeowners to enjoy the great outdoors while surrounded by the comforts of home: protection from the elements, comfortable seating, a cozy fireplace, a large-screen television and overhead lighting. A ceiling fan keeps things cool during hotter months. An outdoor kitchen and bar means no trips inside to refill the appetizer platter during the big game or movie night.
---
You'll need an entrance and exit, and one of the best ways to link your interior to the outdoors is with glass. You may want to install windows (or enlarge existing windows) to help you maximize garden views. On the other hand, you could replace your current windows with sliding doors or swinging French doors. To really up the wow factor in your design, consider glass bifold doors. NanaDoors is one company that specializes in such operable glass doors (think sliding or frameless glass walls). If your outdoor view is nothing short of breathtaking, then why not ask your contractor if an around-the-corner window would be feasible? Remember, the goal here is to increase your view and access to the outdoors, and the larger the view, the more connected you'll feel to the outdoors. Whatever option you choose will be determined by your home's architecture, your budget and your vision. A great contractor will be able to help point you to the best choices for your home.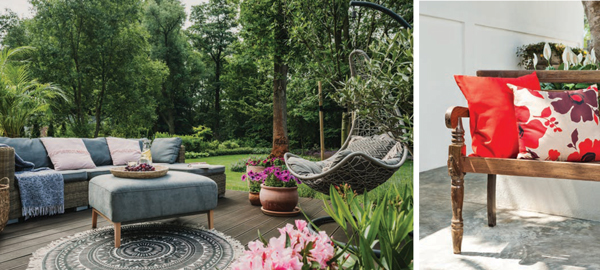 Create a beautiful, cohesive design
When it comes to setting up an indooroutdoor room, the key word is seamless, and carrying the look of your interior design into your outdoor design will help create a cohesive connection. Choose similar or complementary materials, trim colors, and other accents that will make it seem as if this room has always been a part of your home. You might even be able to use the same flooring in your outdoor room that you use in the adjacent room if the flooring is practical for outdoor use (like certain kinds of tile). Today's outdoor area rugs are a far cry from the plastic camping rugs of yesterday, so you can easily find an indoor-outdoor rug that can work well in both spaces (Dash & Albert is a go-to for rugs that can withstand the elements). The idea here is to make it feel like the living you do inside can take place similarly in the out-of-doors, as if one room blends into the next.
Every room requires comfortable seating, and this one is no different. There are so many great furnishings on the market, from wrought iron and wicker to furnishings upholstered in weather-resistant fabric like Sunbrella. But before you go shopping for new outdoor furniture, visualize how you and your family will use this space. Do you love the idea of dining al fresco three seasons of the year? Then you'll need a large dining table that can withstand the weather. You might even entertain visions of an outdoor kitchen complete with a built-in grill and bar. With a few swivel stools at the counter, you'll feel like you're vacationing at a resort every time you step into the space.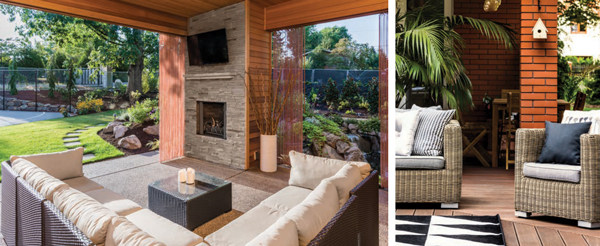 On the other hand, maybe your family wants to enjoy some plein-air entertaining and host the big game on the big screen while enjoying breezes and sunsets. In this scenario, you'll want some kind of cozy sectional, an outdoor TV (yes, they make them now!), and a place on which you'll mount that TV. You might simply want to feel more connected to the natural world and prefer simple furnishings, a café table, and outdoor lighting for you to read, relax, and while the time away. Whether you're creating a personal oasis, an al fresco dining experience, or an outdoor family room, think about the ways in which you'll most often use this space. With that in mind, outfit your space with design that's both functional and beautiful. If the room is as comfortable as it is lovely, you'll be tempted to spend your days and nights here. Speaking of comfort, don't forget heating elements so that you can enjoy this room in the chilly days of fall or even during a mild winter. Larger hardware stores carry safe outdoor heaters. Sometimes called patio heaters, you can choose from electric or gas heaters, chimineas, or fire pits. Along the same lines, be sure to install a few overhead fans, which will feel like a lifesaver during Virginia's hot and humid summer days.
---


This Lynchburg indoor-outdoor lounge is quite different from its earlier life as an unused patio with a worn-down pergola. The homeowners modified this space into a screened-in outdoor living room that opens onto a patio complete with a chiminea, water feature and dining area. By adding a fireplace, the family can enjoy using this room even when the temperatures dip.
---
Soft lighting is a must-have for any indoor-outdoor room. After all, you'll want to enjoy this space long after the sun goes down. Lanterns come in a wide variety of sizes and colors, and you can move them around easily if needed. Carriage lamps and basic deck lighting are traditional choices, and you can't go wrong with candles flickering in hurricane glasses for ambience and charm. Outdoor chandeliers and weather-proof table lamps are also attractive lighting options.
If you are one of the lucky ones with green thumbs and have a gorgeous garden or yard, then you may have very little to do in the decorating department. And whether you've cultivated prize-winning landscapes or not, you'll still want to incorporate touches like accent pillows, throw blankets, string lights, garden stools, or bar carts.
By transforming your home and creating an indoor-outdoor room, you can take full advantage of Virginia living and trade screen time for sunsets, busyness for breezes, and four walls for the great outdoors. ✦


al fresco, canopy, Frank Lloyd Wright, indoor-outdoor room, Open-Air Rooms, partial roof, retractable awning, skylights