1, 2, 3 Times! | Multiseason Foliage and Flora in the Garden
Just as there are four seasons to the year, there are four seasons to gardening—each season featuring plants with unique characteristics to make them stand out in the landscape. The brilliantly colored foliage combined with the ripening fruits and berries of autumn make for one last display of color before the more austere landscape of winter settles in. Then bare, deciduous trees fade into the background, their skeletons taking up less space in the landscape, while evergreens fill it out, taking center stage. Spring, the time of rebirth in the garden, brings something new every day. And then, there is summer, which relies on interesting foliage and plants that bloom repeatedly in the hotter months to make the garden a colorful and exciting destination.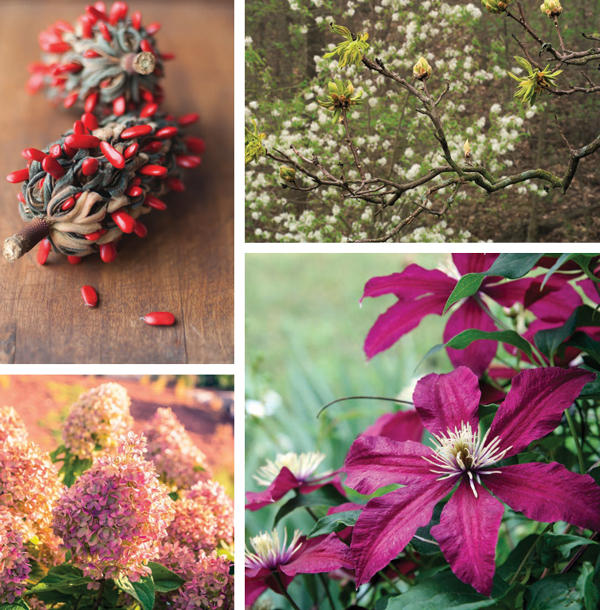 Thankfully, there are many plants that are up to the task of offering a show-stopping quality in more than one season to make your garden an inviting place all year through. With just a little bit of planning, you can create a garden that, once established, offers year-round interest.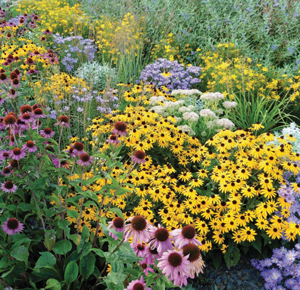 Start with flowers
When adding color to your yard, a good starting point is always flowers. While many of us spend our fall putting in spring-blooming bulbs, there are a number of other perennials that can also be planted that bloom and rebloom, providing months of color. There are the summer garden standbys: yarrow, coneflowers, rudbeckia, dianthus, astilbe, Russian sage, lilies, pincushion flowers, salvia, sedum and bee balm, which will bloom all summer once planted. These perennials either hold their bloom for months on end or bloom several times throughout the season with just a wee bit of attention on your part. A mid-summer fertilizing with a low nitrogen food combined with deadheading of spent blooms encourages these plants to continue their show while also attracting butterflies and other pollinators.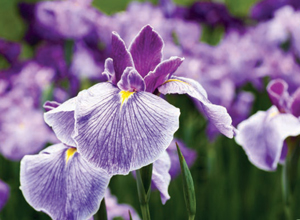 There are also other plants, like irises, that come in varieties that bloom multiple times through the season when properly cared for. While the reblooming iris fall under a variety of labels (including rebloomers, cycle rebloomers, repeaters and all-season rebloomers), most will produce a second bloom with deadheading and adequate water and fertilizing. The majority of these rebloomers are bearded iris, but other types, like Siberian and Japanese iris are also known to offer this feature. Some of the more popular types of reblooming bearded iris include the yellow Harvest of Memory and the blue Sugar Blues. More information on the right reblooming iris for your garden can be found through your local garden center or your favorite mail-order catalog.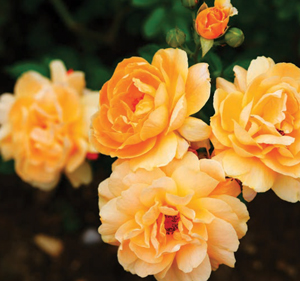 While some old fashioned and climbing roses will only bloom once a year, many more varieties of roses will continue to bloom throughout the summer with diligent deadheading, fertilizing and watering. You'll want to stop this practice toward the end of August to help your roses prepare for the coming winter, but a few carefully chosen cultivars will add color to your garden all summer long.
Clematis is another perennial with some varieties blooming throughout the summer. Available in both vining and non-vining cultivars, there are clematis that require hard pruning to rebloom, like Gypsy Queen, and varieties that require light pruning, like Madame Edouard Andre. Then there are some like Ramona, that needs hardly any attention to all. Just let her go and she'll produce 6 to 8-inch sky blue flowers all summer long.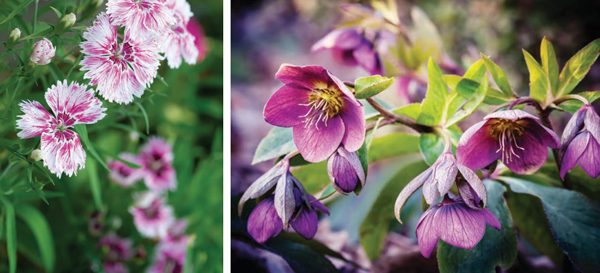 There are also winter-blooming hellebores that burst forth with much appreciated color in late winter, their blooms remaining attractive well into late spring, while their foliage remains green and attractive all year long. These shade-loving plants are worth a small area in your garden as the first blooms to herald the coming spring.



Consider trees and shrubs
Beyond flowers, there is a whole world of trees and shrubs that add garden interest throughout the year as well. There are trees we equate with the coming of spring—particularly the dogwood, native to Virginia, that offers spring flowers, summer shade and fall color. Spicebushes and fothergilla are both native shrubs that bloom in the spring while offering color in the fall. Spicebush, a native understory plant, has small yellow-greenish blooms before everything else leafs out, attracting early pollinators with leaves that turn yellow in the fall. Fothergilla, sometimes known as witch alder, is relative of witch hazel. A hardy low-growing, low-maintenance shrub, fothergilla has fragrant brush-like blooms in early spring before leafing out in shades of blue and green. Come fall, fothergilla takes on hues that range from golden yellow to bright oranges and intense reds. Once the leaves are shed, their zigzag branches continue to add interest to your landscape throughout winter.
While many hydrangeas offer color throughout the summer season, oakleaf hydrangeas are one of the few to offer fall color with their foliage. A native of the region, oakleaf hydrangeas are not as fickle as their colorful cultivated counterparts, being mostly unattractive to passing hungry deer while being able to withstand late cold snaps, droughts and other issues that plague other varieties of hydrangeas. Oakleaf hydrangea leaves turn beautiful shades of red, bronze and burgundy in the fall before dropping off to reveal a peeling bark that highlights a dark brown layer underneath. This peeling is normal for oakleaf hydrangeas, adding some texture to the winter garden.
With over 150 species of viburnum, many of which are native, it can be hard to choose just one. In general, viburnum have lovely, often fragrant spring blooms, attractive foliage that turns brilliant shades in the fall, and colorful fruit that attracts birds and other wildlife. Many types of viburnum can adapt to various growing conditions and while they do best in full sun, they'll also take partial shade. Among the varieties that do well in this area are the arrowwood, nannyberry and mapleleaf. All three boast white flowers in the spring (with the mapleleaf veering towards yellow), fall fruit in shades of green to red to blue-black, and colorful fall foliage. The mapleleaf, pink to deep purple in the fall, can grow up to 6 feet tall and 4 feet wide, while the arrowwood, with its yellow to orange fall foliage, can grow to 10 feet tall and wide. Nannyberries, which can be maintained as a small tree, can grow up to 15 feet tall, sport shades of burgundy in fall, offsetting dark blue berries.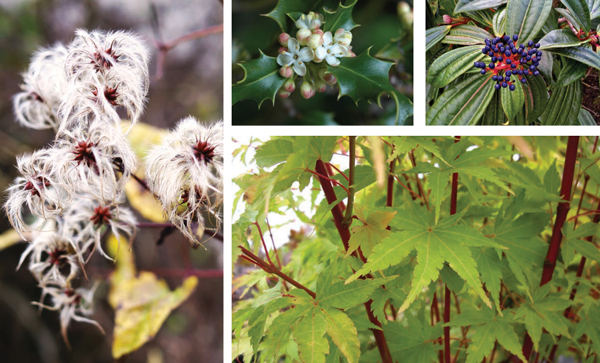 Trees also provide colorful multiseasonal foliage and offer interesting shapes or colorful skeletons during the winter months. One example is the shagbark hickory. Named for the peeling appearance of its bark, the shagbark hickory is an excellent shade tree that also produces edible nuts for both humans and wildlife. The coral bark maple, an ornamental tree with lime green leaves in spring and bright fall colors, creates a pop of color in the winter garden with the colorful bark from whence it gets its name.
Not to be overlooked for what they offer to the year-round garden are evergreens. There are hollies, whose berries keep birds and other wildlife fed all winter, as well as the stalwart Southern magnolia. Native to the area and beloved by many, the Southern magnolia is a hardy evergreen that is resistant to many pests and diseases while offering fragrant blooms throughout the summer months before those blooms turn into seed pods, with red seeds popping out in contrast to sturdy dark green leaves. There are also the edible native plants that lend more than just spring blooms and fall color to your garden throughout the year, like elderberries, mulberries, serviceberries and pawpaws.
Beyond natives, there are a number of other interesting plants for the garden that offer color multiple times a year, like Josee and Boomerang lilacs or Encore azaleas, blooming in both spring and fall. Gardeners are drawn to native plants because, once adapted to the landscape, they are easy to care for, but there is an argument to be made for adding a few non-native cultivars that do well in our growing zone. Be careful to avoid plants that seem to do well but are considered invasive, like nandina. While it's generally easy to care for, it spreads easily by root and its berries are toxic to birds.
Gardens are an outdoor extension of our home. Creating a garden that's attractive and appealing all year is achievable for even the most beginning gardener with a little know-how and planning. ✦
astilbe, Bee Balm, Clematis, climbing roses, Coneflowers, cycle rebloomers, deciduous, Dianthus, Evergreens, Flora, flowers, Foliage, Fothergilla, hydrangeas, irises, lilies, Perennials, pincushion flowers, rebloomers, repeaters, rudbeckia, Russian sage, salvia, sedum, shagbark hickory, shrubs, Spicebushes, trees, viburnum, yarrow