Autumn Al Fresco | Dishes to Warm Up Cool Evenings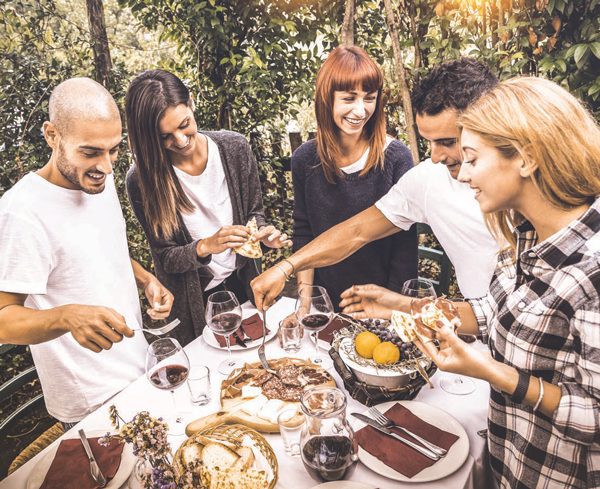 Many of us are dining al fresco these days. The heat and pop-up thunderstorms of summer have faded, which makes dining outdoors more predictable and enjoyable. Fall dinner parties can be an unexpected seasonal delight, including appetizers and a cocktail near a fire pit, or dining in front of an outdoor fireplace. A pretty quilt or a burlap runner on a picnic table with lanterns or votive candles creates a rustic, comforting ambiance. Keep a basket of cozy throws nearby if the temperature drops while your guests linger over dessert and coffee.
Cool evenings give rise to cravings for warm food with the essential fall flavors of pears, apples, earthy herbs and spices, and roasted vegetables. A lot of flavors and great textures are packed into these company-worthy recipes, although you can easily make them on a weeknight for your family as well. This menu is simple and makeahead, so you can be a relaxed host and enjoy your own dinner party.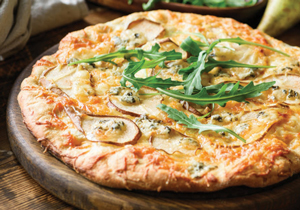 Pear Pizza (8 servings)
Not your typical pizza, this is a delightful appetizer with pears and cinnamon amongst creamy Brie and salty Parmesan. It's a starter, so you just want to whet the appetite with great flavor, not serve a heavy, filling pizza. Sometimes I add prosciutto and caramelized onions, but use a light hand distributing toppings. This is a true crowd pleaser!
1 thin Boboli pizza crust
Olive oil for drizzling
2 tablespoons butter
1 teaspoon dried or 1 tablespoon fresh thyme
1–2 pears, peeled and sliced
8 oz. Brie cheese, most of the rind removed, and cubed
2 tablespoons brown sugar
1 teaspoon cinnamon (I just use the shaker top and sprinkle it lightly over all)
1/2 cup chopped, roasted pecans
1/2 cup shredded or grated Parmesan cheese
Salt and pepper
Arugula, optional
Brush crust with olive oil and set aside. Sauté pears in butter and thyme until soft, about 5 minutes. Cool slightly. Place pears evenly over pizza crust. Scatter Brie, brown sugar, cinnamon, pecans and Parmesan. Add a little salt (remember, the Parmesan is salty already) and freshly ground black pepper. You can place the ready-to-bake pizza in the refrigerator at this point so it's ready to bake right before your guests arrive.
Remove pizza from the refrigerator. Preheat oven to 450 (or 500 if your oven gets that hot). If you have a pizza stone, put it in the oven before you turn it on. If you don't have a pizza stone, place pizza on a baking sheet. Bake for 10–15 minutes or until crust is crisp and cheese is melty and beginning to brown.
Top with a bit of arugula for some freshness and color, if desired. I usually use a pizza cutter and cut into thin, pie-shaped wedges or squares. Serve immediately.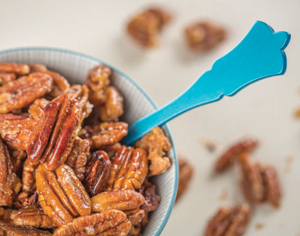 Spiced Roasted Nuts (makes 2 cups)
A delicious nibble that goes well with a cocktail or elevates a basic salad, these roasted nuts pack some sweet heat.
Spray olive oil
2 cups pecan halves
1/4 cup brown sugar, firmly packed
1/4 cup melted butter
4 teaspoons Mexican hot pepper sauce (Cholula is our favorite)
1 teaspoon salt
1/2 teaspoon pepper
Preheat oven to 350 degrees. Lightly spray olive oil on a baking sheet. Mix all other ingredients and spread on the pan in one layer. Bake 10 minutes until lightly toasted, stirring after 5 minutes. Cool and store in an airtight container.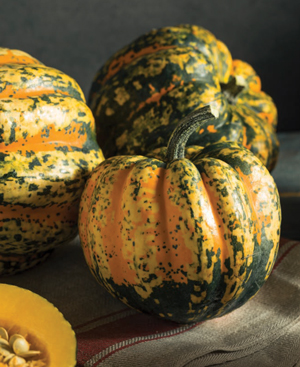 Stuffed Acorn Squash (serves 4)
Roasted, caramelized acorn squash is stuffed with slightly spicy sausage, savory vegetables, toothsome farro and sweet apple along with salty Parmesan cheese and crunchy, toasted almonds. Protein, vegetables and carbs are all included, so there's no need for a side dish unless you want to throw together a simple green salad, dressed with oil and vinegar and topped with Spiced Roasted Nuts.
2 acorn squash
2 tablespoons butter
1 cup farro
1 pound sausage (I like Jimmy Dean's Hot sausage but use what you like)
1 onion, chopped
2 stalks celery, chopped
1 carrot, chopped
1–2 unpeeled apples, chopped small
1 teaspoon dried or 1 tablespoon chopped, fresh parsley
1 teaspoon dried or 1 tablespoon chopped, fresh sage
Salt and pepper, to taste
1/4 cup slivered, toasted almonds
1/2 cup grated or shredded Parmesan cheese, divided
With a sharp knife, cut the acorn squash in half and scoop out the seeds. Place squash skin side down on a sheet pan and place 1/2 tablespoon butter in each half. Bake for 1 hour or until the squash is soft and caramelized.
Cook 1 cup farro according to directions on the package. Drain.
Meanwhile, cook the sausage in a skillet over medium heat, stirring frequently and breaking up large pieces, until browned through. Transfer sausage with a slotted spoon to a large bowl leaving about a tablespoon of grease in the pan to saute the vegetables.
Saute onion, celery and carrot until soft. Add the apple, parsley, sage, salt and pepper and continue cooking for two minutes. Transfer vegetable mixture to the bowl with the sausage. Stir in the cooked farro, slivered almonds, and 1/4 cup of the Parmesan.
Once the squash is cooked, stuff each half with the sausage mixture and sprinkle with remaining Parmesan. Depending on the size of your squash you might have leftover stuffing. That is not a bad thing, as the stuffing is delicious on its own or atop some sautéed greens.
At this point, you can cover and refrigerate the stuffed squash if you are making this ahead. When ready to eat, remove stuffed squash from the refrigerator and preheat oven to 400 degrees. Bake for 20–25 minutes or until the cheese starts to brown and the squash is heated through.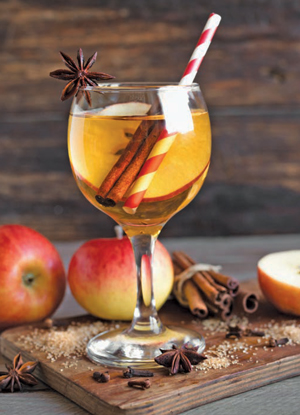 Apple Pie Martini (serves 1)
Pear and apple dry hard ciders are some of my favorite libations to enjoy in the fall. However, if you want a fancier drink that celebrates the season's fabulous flavors, this is a tasty combination of vanilla, cinnamon and apple cider, perfect for fall get-togethers (or to enjoy with your significant other in front of the fireplace).
1 1/2 ounces vanilla liqueur
1 ounce vodka
2 ounces apple cider
1 teaspoon ground cinnamon
Dash of lime juice
Apple slice, optional
Cinnamon stick, optional
Pour ingredients into a cocktail shaker filled with ice. Shake well. Strain into a chilled cocktail glass. Garnish with a thin apple slice and cinnamon stick if desired. ✦
al fresco, Apple Pie Martini, Fall dinner parties, Pear Pizza, Spiced Roasted Nuts, Stuffed Acorn Squash