Modern Love | A Midcentury Modern Home Finds New Life in the 21st Century
Photography by Kathryn Feldmann
Walking by the empty stone house in spring 2019, Joe and Nina Sweeney, a Roanoke couple with renovation experience, commented that it was ripe with potential. Only blocks away from their Roanoke home, the house had sat empty for many years, a faded "For Sale" sign in the overgrown front yard. Even in its run-down state, something about the 1950's era ranch-style home built from sand-colored stone called out to them. "Each time we walked by, I'd say, 'Someone needs to love that house,'" Nina says. "It had such great bones."
Both Joe and Nina grew up in close-knit families in Roanoke and attended Roanoke Catholic, where they were high school sweethearts. Joe pursued a career in education while Nina went to medical school and trained as a family practice physician. The couple returned to Roanoke in 1999, after Nina's medical training, because they wanted to raise their children near their families. By 2019, when they were walking by the old house, Joe and Nina's two kids were almost grown. They were thinking about the possibility of downsizing to a manageable-sized house that they could enjoy into their retirement. Perhaps this house was the place. The Sweeneys had restored a couple of other homes over the years, so they felt that they knew what they were getting into. They already had connections with several local builders and subcontractors and had the design vision to see what the house could be if it was restored.
---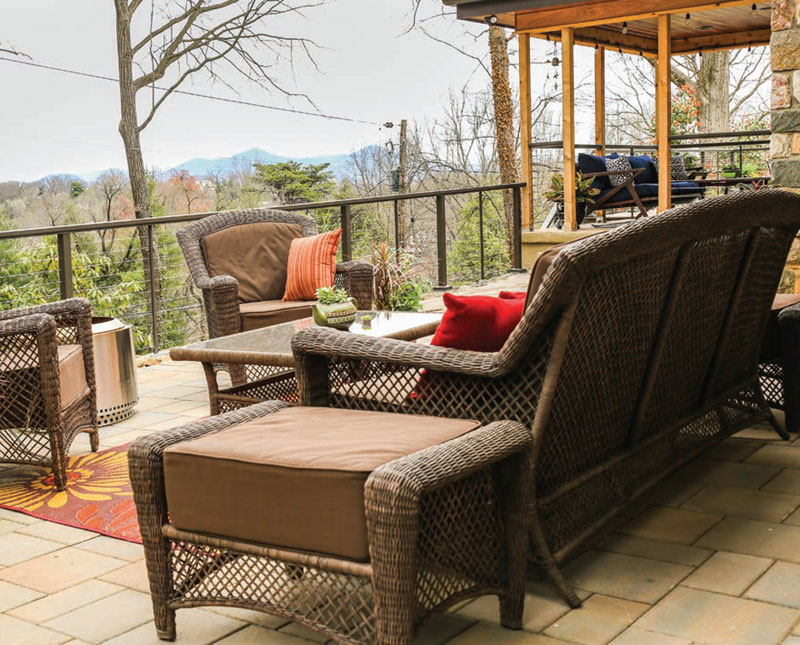 WHEN THEY FIRST THOUGHT OF PURCHASING THE HOME, JOE AND NINA SPECULATED THAT THE OVERGROWN PLACE MIGHT, IF UNCOVERED, HAVE A MOUNTAIN VIEW. SURE ENOUGH, AS THEY WORKED TO CLEAR DECADES OF OVERGROWTH, THEY HAVE OPENED UP SOME PRETTY AMAZING VIEWS.
---
The Sweeneys bought the house in July 2019 and began a complete, to-the-studs renovation. It was such a big job that Joe retired from the classroom to manage the project. "I stopped teaching when we bought the house," says Joe. "I was ready for a new challenge … and boy did I get it." The vintage home, it turns out, needed a lot.
Over the course of the next year, and with the help of a cadre of subcontractors, friends, and even family members, the house was restored: all new windows, doors and HVAC, new bathrooms and plumbing, updated electrical work, and complete reframing of the inside including the ceiling. The Sweeneys called in longtime friend (and fellow coach at Roanoke Catholic) Bob Price of RL Price Construction
Working alongside these men and absorbing their know-how, Joe poured footers for an extension of the garage, replaced a rotten exterior wall, removed all but two of the interior plaster walls and installed a skylight over what would become the new open-concept kitchen/dining area/ living room. Brother-in-law Bob Flynn with Royal Construction along with Kenny Meador helped install the wood plank ceiling, door trim, and deck railing, while Jeff Smith from J and S Carpentry installed all new soffits, windows and doors. Nina, Joe and the kids worked for weeks to stain all the interior doors, a project so big that any friend or extended family member that happened to drop by found themselves with a paintbrush in hand. "It was definitely one of those projects that took a village," laughs Nina. "We were blessed to have such talented craftsmen and willing family and friends." Joe, always handy, was having a whole new education in home construction.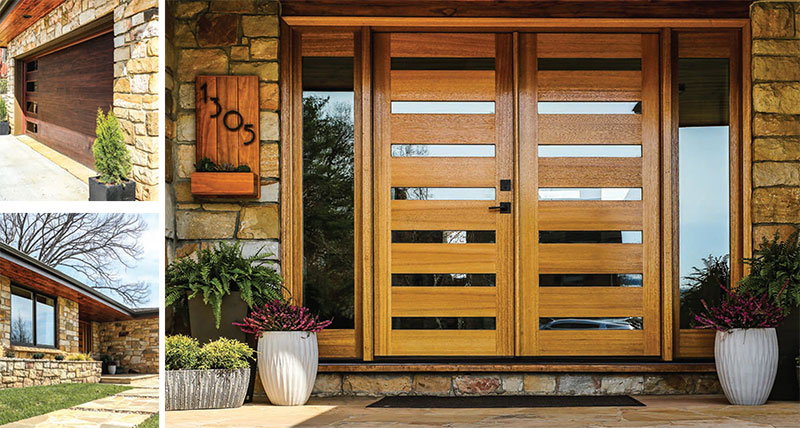 Today the home's façade has been rejuvenated without changing the unique midcentury features that initially drew the couple to it in the first place. A new walkway of sand-colored stone leads to a gracious hand-stained double front door. "Josh Leffell [owner of Perfection Masonry] is pretty much a genius," says Joe. "Not only did he redo the driveway and build a new walkway, but he also reconstructed a retaining wall along the left side of the house. All of it looks so well blended that you'd never know what was or wasn't original just looking at it."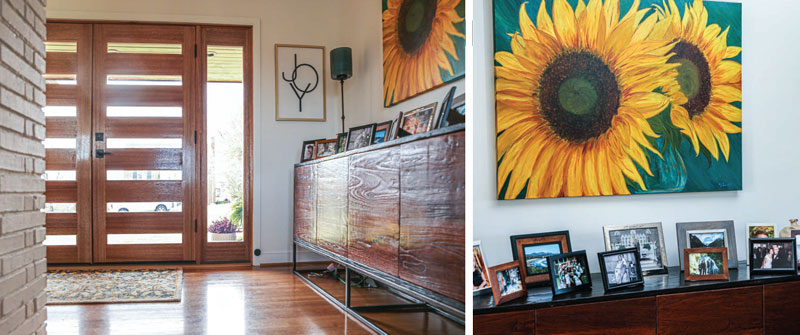 The wooden front doors, selected by Nina at Capps Building Supply, have a vintage midcentury feel. The rectangular windowpanes and sidelights flood the home's entry with light. Inside is a large oil painting of sunflowers by local artist Ann Janney-Schultz, commissioned by Nina. "I knew I wanted something large in this space and I love sunflowers," she says. "I'm fortunate that Ann is a good friend and agreed to do this. It's perfect." The dark wooden credenza is one of many pieces in the home that Nina found at Black Dog Salvage.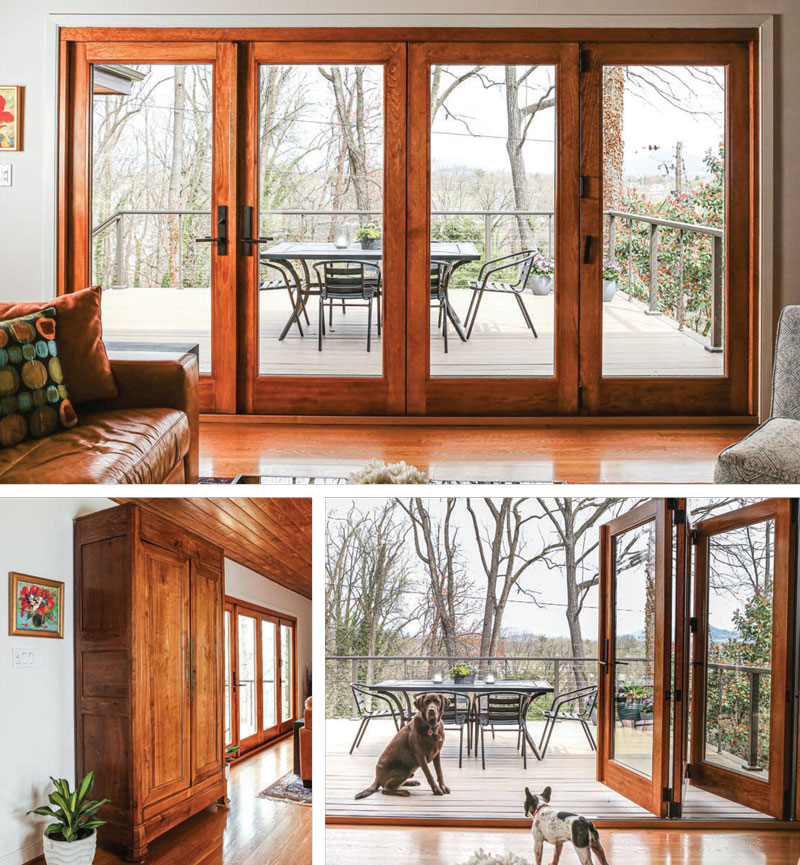 Initially the home was a veritable warren of small, tight spaces, dark rooms and a postage-stamp-sized kitchen. Nina and Joe's vision of an open and airy floorplan now features few walls and large windows that take advantage of the home's beautiful views and abundant natural light.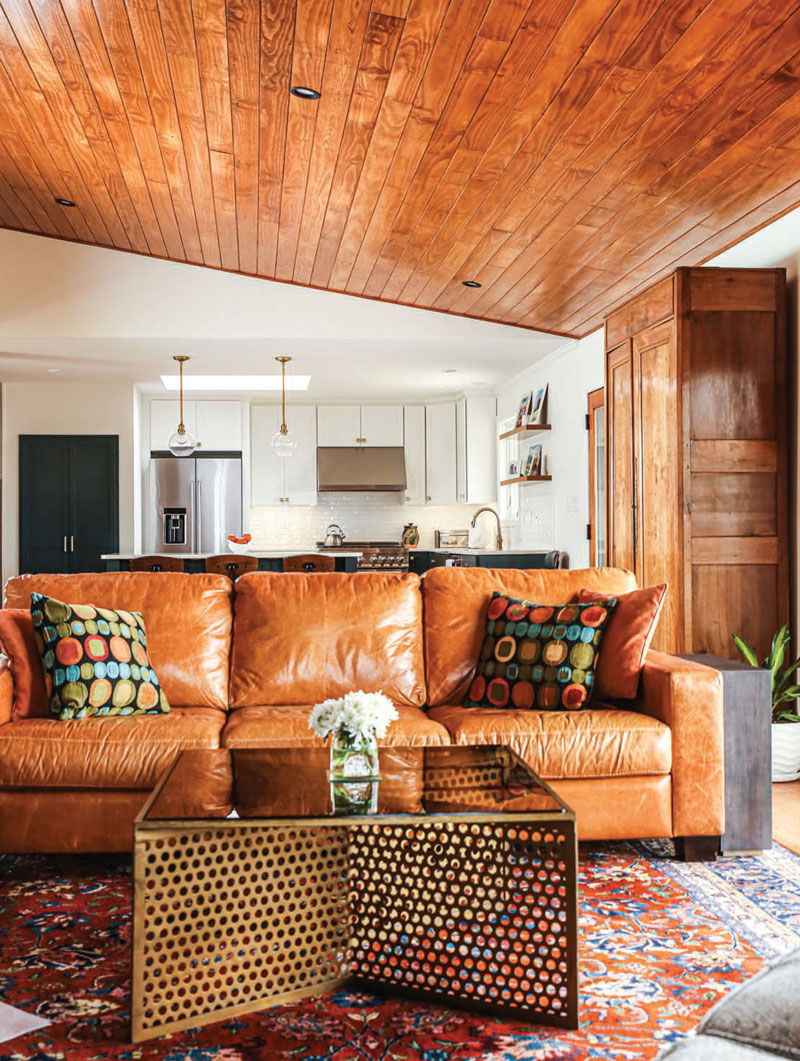 The entire length of the house is now wide open, from the kitchen through to the living room, and beyond into Joe's office alcove. "We knew we wanted things to feel open, but once we did it was just this long expanse of white ceiling and walls," says Joe. "It was really Nina who thought of the wood ceiling as a way to warm up the whole space." In fact, the large windows that stretch nearly the entire length of the living room open accordion-style to the outdoors—truly a home in the trees. The stained ceiling was another project that would eventually involve the whole family. "Nina, me, the kids—even friends and family who came by to visit—ended up staining boards," laughs Joe. The group project paid off. The wood in the ceiling and wood floors, and furniture, such as the giant antique armoire—a find from a trip to North Carolina—warm the entire living area.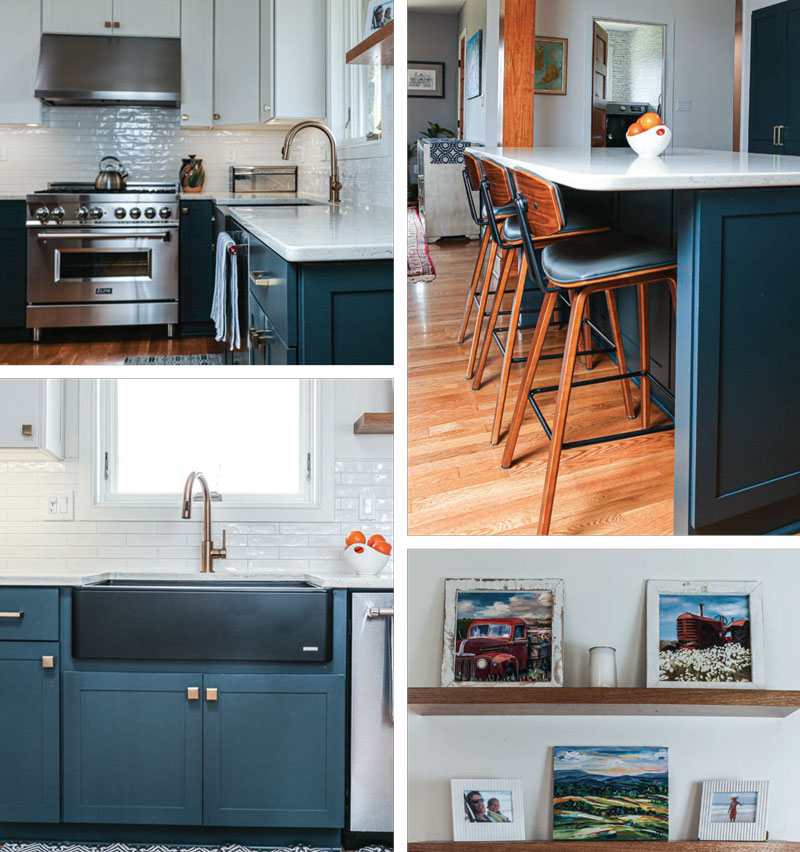 The kitchen, once small and dark, has been brightened with the addition of a skylight. Bob Price's top electrician, "Bim" Gardner spent weekends rewiring the kitchen and the entire house. Nina worked with Keith Whitt and his team at ProSource of Roanoke to choose navy blue cabinetry with classic white quartz countertops and a glossy subway tile backsplash installed by Keith's son Nick. Floating wood shelves house family photos and artwork, including a pastoral Maria Driscoll with colors echoing the deep blues of the cabinets. The island seating boasts comfortable stools with low-profile backs with 1950's flair, and soft leather seats.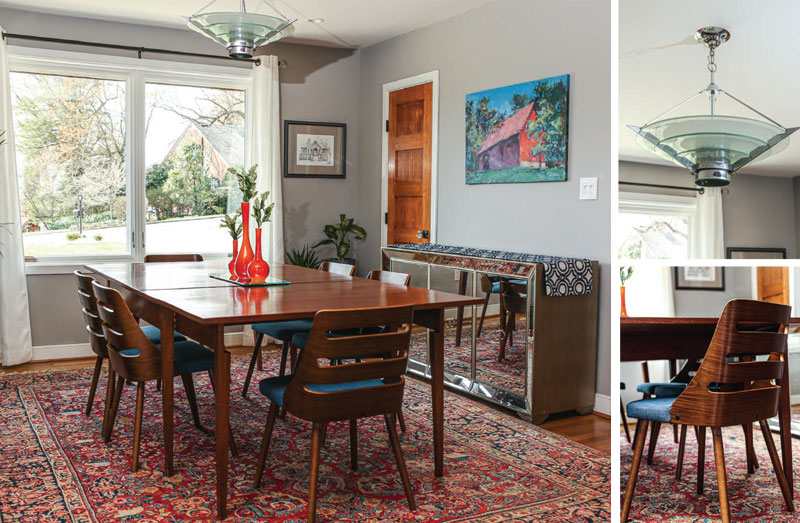 Nina and Joe sacrificed one of the home's bedrooms to give the home a dining room area off the kitchen. Here the Sweeneys have a treasured custom-made dining room suite: chairs, table and sideboard that once belonged to Nina's large family when she was growing up. The circular glass and chrome light fixture that hangs above came from Black Dog. Above the mirrored buffet hangs a colorful oil by Greg Osterhaus that Nina found at The Little Gallery, fortuitously, on her birthday. The artist happened to be in attendance that day, and Greg and Nina made a happy discovery. "Greg Osterhaus was actually in my brother's class growing up, and once we made the connection, he wrote me a happy birthday message on the back," says Nina.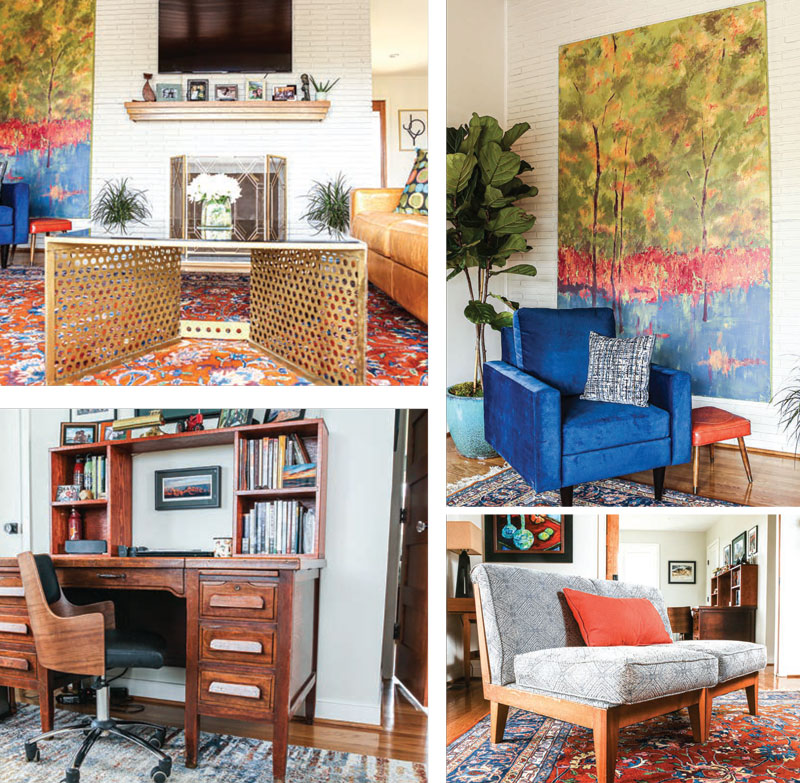 The home's generous living room has the original brick fireplace surround, now painted white and retrofitted for gas logs. A leather couch and midcentury armless settee keep the retro vibe going. "I found that [settee] on the side of the road down in Wrightsville Beach," says Nina. "I hauled it home and my mother-in-law recovered the cushions for me." Her other favorite finds in the room are a large oil painting of flowers by Bridget DeCicco, and the giant painting hung alongside the fireplace. This painting, which stretches nearly from floor to ceiling, started its life as a set piece in a high school theatre production and somehow made its way into Black Dog Salvage, where the Sweeneys spotted it. "We had just looked at the house when we saw this painting, and Nina said, 'If we get that house, I have to have that painting!'" Joe recalls. "So the very day we signed the papers, I went down to Black Dog and bought it." The predominant colors are dark blue and orange—entirely appropriate, jokes Nina, for the home of a University of Virginia alum.
Through a set of sliding doors is Joe's office, decorated in soothing blue and gray tones. The desk is a find from the Sweeneys' years in Colorado where Nina did her residency. The office enjoys beautiful mountain views, and for days when the view isn't enough, Joe has framed photographs of many of the places he has visited in nearly 25 years as a guide for students exploring some of the country's national parks from the Caribbean to the Grand Canyon.
One of the things that Joe and Nina appreciated about the home when they first saw it was its firstfloor primary bedroom. This space, the Sweeneys reason, will stand them in good stead as they look ahead to retirement. The bedroom, like the rest of the house, is a blend of old and new; original hardwood floors and new hand-stained doors lend warmth, and beneath a new triple window, a fabulous midcentury bed with a shelf headboard once belonged to Nina's parents. They've kept decor simple and streamlined in keeping with the architecture, except for the vivid blues and purples in the photograph of Provençal lavender fields taken by renowned photographer and Roanoke native Robert Hale. Nina is a self-proclaimed Francophile, and Joe bought the photograph for her for Christmas.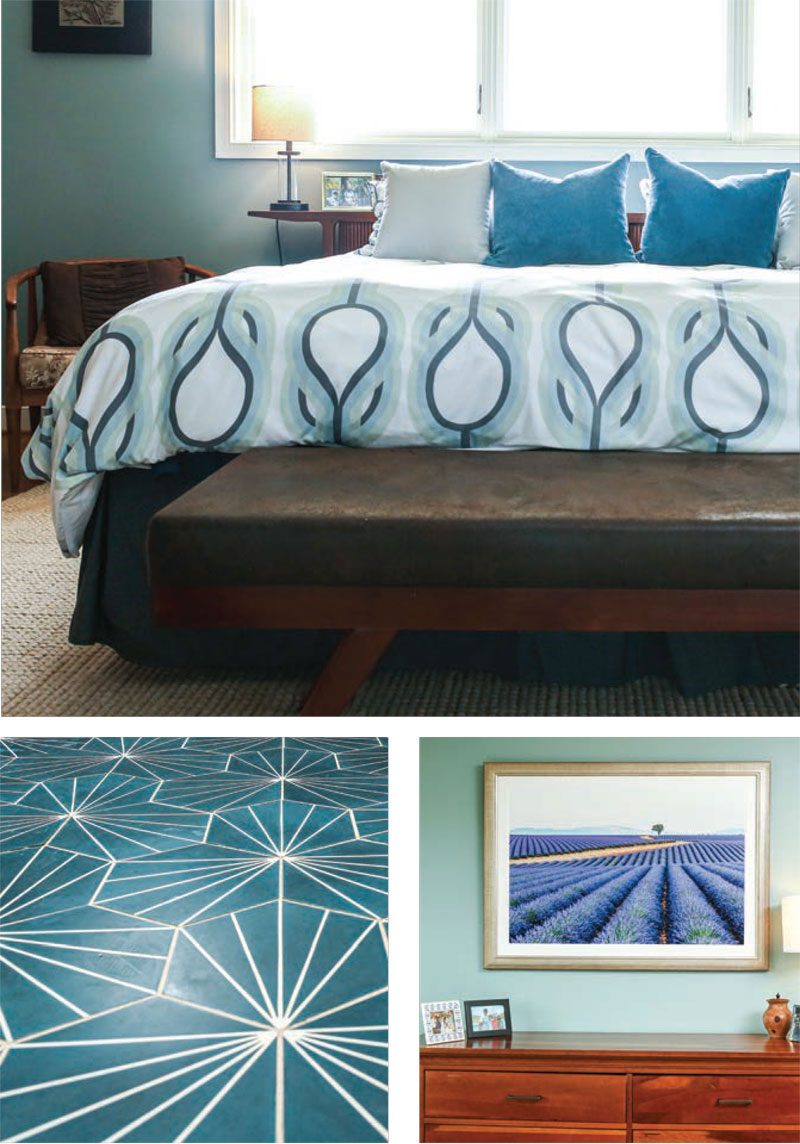 The adjoining bathroom is tiled in blue hexagonal tiles that Nina spotted online and instantly fell in love with. "I had to track them down from the manufacturer in Valencia, Spain but they were worth it," she says. She ordered enough for the primary bath as well as the landing coming in from the garage. Nick Whitt did the tile installation in addition to seamlessly blending brand new hardwoods with existing hardwoods in the kitchen and laundry room/half bath. "It was Nina's sense of design that dictated putting the tiles in this pattern," says Joe, with a touch of pride. "There are many ways to lay this tile pattern, and this one seemed so perfect for the age and style of this home." The result—interlocking starbursts—is unique and utterly showstopping, with a fun, futuristic feel. The Sweeneys kept the rest of the bath more subdued: softly weathered wooden cabinetry under the double sinks, sleek hardware, white subway tile, and a large stepin shower with glass doors. Hanging just inside the door, where they can see it every day, is a panorama photograph of Wrightsville Beach, where the family has a beach house.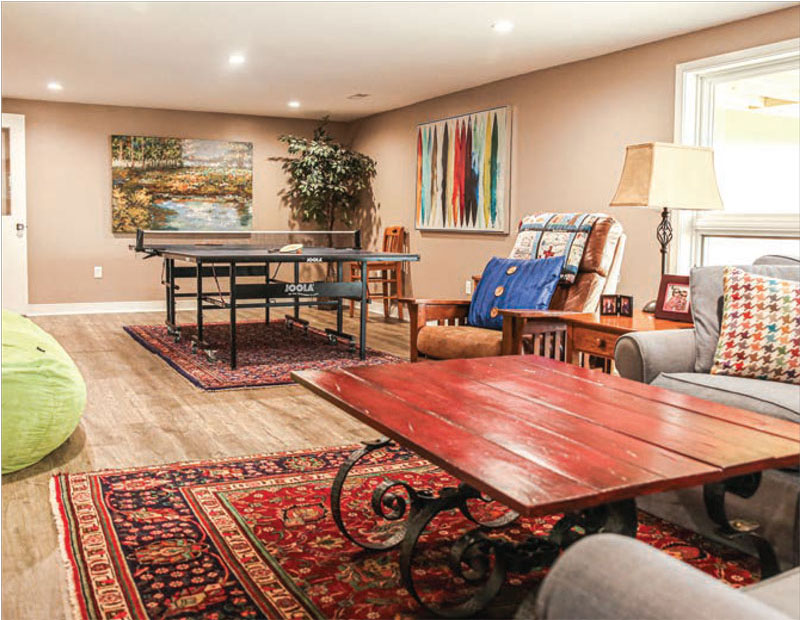 The house boasts a large walk-out basement, home to bedrooms for both Sweeney children. There is a large open living area between the bedrooms, which provides a comfy hang-out place for teenagers and young adults, complete with flatscreen TV and ping-pong table. Because the home is built into a hillside, there are ample windows and doors to let in light and enjoy views of the wooded lot and mountains beyond. Joe installed the interlocking laminate flooring, and is understandably proud of the crisp and clean way this "basement" turned out. It gives the kids space of their own and also provides storage for his extensive collection of outdoor equipment.
When they first thought of purchasing the home, Joe and Nina speculated that the overgrown place might, if uncovered, have a mountain view. Sure enough, as they worked to clear decades of overgrowth, they have opened up some pretty amazing views. Some of the clearing was done by Jay's Tree Service, and some of the clearing was done by the Sweeneys themselves. "Bob Price has been very generous with loaning us lots of equipment and we love it out here now," says Joe. The home's original screened porch has been updated with new wooden furniture in Nina's signature navy, with a navy geometric outdoor rug. "We actually decided not to put screens back up when we were restoring the porch," Nina says. "We found we just loved having it completely open." The open-air portion of the porch hosts a large dining table where the Sweeneys can enjoy meals under the stars.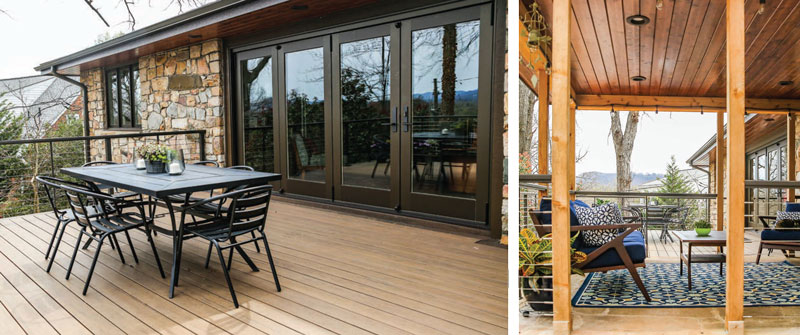 From the porch, it's a few steps down to a large flagstone patio, laid by Andrew Kellinger of Appalachian Landscaping. The patio features another comfortable seating arrangement and a grilling area. The Sweeneys look forward to entertaining friends and family in their inviting outdoor areas— especially as so many of them made significant contributions to this renovation.
It turns out that the once-deserted stone house really was just waiting for the right family to appreciate its aesthetic and put the time and effort into restoring it into a much-loved family home. The many friends and family who had a hand in the restoration make the finished product all the sweeter. It's a stoneand- mortar testament to the love of friends and family. "It took so much work, but when we drive up to the house and look in, we fall in love with it all over again," says Nina. "I'm beyond thankful for my amazing husband and his year of hard work on this house. He made my design ideas a reality and I thank him every day for our beautiful home." ✦
1950's era ranch-style, hand-stained double front door, Midcentury Modern Home, quartz countertops, sand-colored stone, skylight, subway tile backsplash. hardwood floors, walk-out basement