Make a Splash With a Fantasy Pool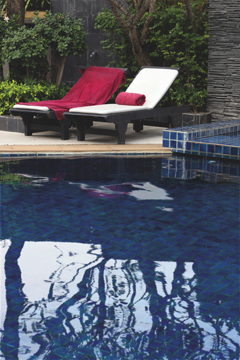 Water is a source of Both life and comfort; it invokes all the senses with its natural delights. Because of these inherent qualities, there is nothing quite like a water source to enhance the landscape. Swimming pools are one way for homeowners to bring the aesthetics of water close at hand. And today's pools are a far cry from yesterday's aqua-colored rectangular holes sunk into the backyard.
Create the Pool of Your Dreams
Imagine floating in a tropical paradise with waterfalls, reflecting pools and lush landscaping with islands, rock formations and other natural features. Fantasy pools are just that. These pools are works of art, incorporating a variety of elements that can reflect the personalities and lifestyles of individual homeowners.
When creating fantasy pools, appearance is important. There are several options that a good pool contractor can offer to make the pool area a true asset to the property. Jason Vaughan, who owns National Pools with his wife Ginnie, points out that there is simply no end to the variety of pools available today. In choosing the right design, however, it is important that the shape of the pool fits the style of the house. "Ultimately, the pool and house should appear as if they were both built together," he says.
Ginnie Vaughan stresses the importance of hiring a landscape architect to work on your pool project. Landscaping provides privacy, adds elegance and creates an air of serenity as an escape from hectic everyday life. Landscaping also helps the pool area blend in with its surroundings. A landscape professional can be a real help with the design of the entire pool area, helping you visualize the "big picture," including elements like location, shape and support buildings.
Pool specialists recommend that homeowners check their finances before considering a pool. If a homeowner wants to install an in-ground pool with the hope of increasing the value of the property, costs can be high. The old adage "you get what you pay for" is true here. A fantasy pool can easily run $100,000 or more once the patio, decking, fencing and support structures are installed and landscaping is completed.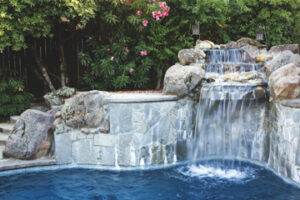 Cool Trends in Pools
Over the years, pool styles have changed from large pools with small patios and decks, to today's fantasy pools that are shallower and lack diving areas, water slides and handrails. Anything that might impede the view or surrounding scenery is often omitted. Fire pits and water sprays are increasingly commonplace. There is also a trend to design pools to look more natural. Beach entries, where the deck or patio slopes gradually down into the water to create a beach effect, are popular. Waterfalls and large boulders placed strategically in and around the pool are more over-the-top features included in today's pools. Vanishing edges or infinity pools are also the latest rage. Here water is filled to the top edge of the pool, streams over the edge and circulates back into the water system. Each addition, making the pool more attractive, adds extra costs.
A relatively new design feature is a "lazy river." According to Donnie Shaver of Spas & Pools of Virginia, "Kids absolutely love them!" Designed like a trail running through the property, a lazy river allows people to swim or float downstream in their own backyard. Shaver plans to include one in his own personal pool, which will go around the entire circumference of the pool.
Assess Your Needs, Lifestyle
Jason Vaughan explains that the first step in pool planning is to consider the fundamental use of the pool. This "drives the shape and affects the overall size of the pool," he says. It will also help the contractor understand what type of pool will fit a family's individual needs. Is the pool for recreation? Will it be a place for children to play and families to keep cool in the summer? Recreational pools need not be very deep. Using the pool for exercise? A lap pool needs to be long enough to allow swimmers room for a sufficient number of strokes before reversing directions. It need only be 3.5 feet deep and not very wide. For water aerobics, the pool must be deep enough to tread water without touching the sides or bottom of the pool. A swim spa or endless pool is another exercise option. Here the pool has a built-in water current that is powerful enough for a swimmer to swim against it and literally tread water in place, similar to the way a treadmill works for runners.
Pools which include diving boards must be built according to safe diving specifications developed by the National Pool and Spa Institute. The pool must be at least nine or ten feet deep, and this depth must extend out at least twelve feet in front of the board.
Many homeowners plan to use their pools for entertaining. If this is the case, the pool should be close to the house with easy access to the kitchen and changing areas. Or an outdoor kitchen and pool house can be included as part of the pool design.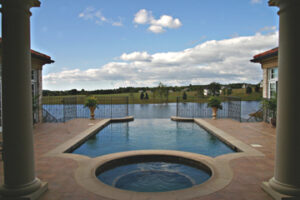 Constructing a Fantasy Pool
Today's pools are manufactured from concrete (gunite and shotcrete), vinyl and fiberglass. It is important to understand the benefits of each, and decide which product is right for you. Jason Vaughan points out that gunite, which his company uses exclusively, enables him to form any shape imaginable. Gunite and shotcrete both use a concrete mixture which is sprayed directly onto the pool form. They differ in the way the ingredients are mixed, but when applied correctly, the results are the same. These pools have a permanence and easily last for many years. An added advantage is the ease with which they can be replastered and renovated.
At Aquarius Pools, owned by Jerry Green, a variety of products are used to construct their pools. According to Green, each product has its benefits. Vinyl offers low maintenance and many shapes, but concrete is probably the most popular in high-end pools. If
built correctly, they are the most long-lasting.
Gunite pools, according to Shaver, can be made into any shape imaginable. Jeff Gordon even has one the shape of a race car! "We can come out and create a heart if you want us to," says Shaver.
Maintenance Matters
Be sure to factor maintenance into the pool equation. Green stresses that maintenance is important, but it may be easier than you think. "Today's pools have drastically changed," he says. They literally take care of themselves. Over-the-top pools feature automatic cleaning equipment that use water, electricity and chemicals to ensure that the pool water remains constantly clean and usable.
Ginnie Vaughan points out that while there are many new features on the market to help maintain a pool, it is still important to keep an eye on it, no matter how automatic the system is. She also stresses the importance of using high-quality chemicals. There are differences in the various chemical products available in the market. Read the ingredients and compare chemicals purchased at discount stores to be sure that they are comparable to those purchased through a pool supply store. To cut down on expenses, pool owners sometimes turn filters off. This is a big mistake. Filters are designed to perform best when they run constantly. By cutting corners to keep maintenance expenses down, more problems may develop, causing additional expenses down the road.
More Practical Considerations
While homeowners' policies cover most accidents and events around the home, be sure to check with your insurance agent about your coverage before starting any construction project. It is also important to consider your local building codes. Constructing a pool will require a permit, and most communities have specific requirements concerning pools, including proper fencing and other safety features.
Another expense that may not be figured into the equation is water. How will you fill the pool? Options include well water, municipal water or water trucked onto the site. Some pools must be filled immediately and require a large amount of water at one time. In this case, water must be brought in. If water will be taken from a municipal system, let the authorities know. Sometimes the cost of water will be waived if it is used to fill a pool.
When planning a pool construction project, give yourself time to do some research. Talk to professionals and carefully select a contractor. Just like food in the hands of a talented chef can be transformed into a culinary event, water in the hands of the right person can be used to create something of both beauty and comfort. Consider the following when searching for the right professional: Is the firm licensed and insured? How many years has the company been in business? Check on their reputation. Talk to people who love their pool. Whom did they use? Would they recommend them?
Be honest with yourself. Are you and your family the pool type? Do you like the out-of-doors and enjoy the sun? When you are at the beach, do you chose the pool over the ocean? If your answers are yes to all these questions, a pool may be the perfect addition to your home landscape.

Additional Resources
• Aquatech.com
Association of Elite Pool Builders
Take their dream pool survey to help prepare a wish list for your perfect
dream pool.
• APSP.org
Association of Pool and Spa Professionals
Click on "consumers" for information on choosing a professional, design ideas, maintenance tips and safety issues.
aquarius pools, fantasy pool, National Pools, pool maintenance, spas & pools of virginia