Segmental Retaining Walls: Add Pizzazz to Residential Landscaping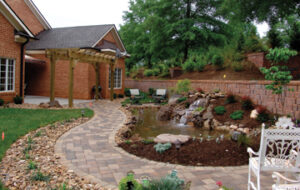 Once limited to use in commercial applications, today's new segmental retaining walls (SRW) can enhance residential landscape, create a special outdoor living area, and greatly increase curb appeal.
In fact, thanks to ever-increasing options for segmental retaining walls, their use in residential landscaping has exploded. The popularity of the outdoor living lifestyle owes much of its appeal to the versatility of SRW block. No longer the drab commercial workhorse, residential segmental walls are available in blended colors, distressed faces and multisized units. Features such as stairs, seat walls, outdoor kitchens and fire pits have brought the humble unit from sturdy landscaping block to a creative landscaping tool that makes a statement. These items not only add to your everyday enjoyment of your home, but increase your home's value by creating usable living environments today's homebuyers want.
If you are considering hiring someone for a residential segmental retaining wall project, there are a few key areas to address prior to beginning: choosing an installer, obtaining the required permits and selecting the proper materials.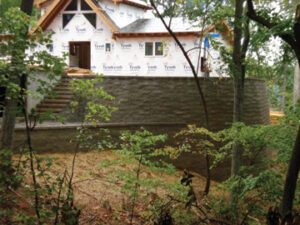 Choosing An Installer
It is critically important to use installers who have been certified by the National Concrete Masonry Association (NCMA) and have worked on projects similar to yours. Prior to moving forward with contractors, view their SRW certification letter from NCMA, review their project photos, and call references. Beyond that, ask questions specific to your needs and the land you are working on. Good contractors will be quick to answer direct questions, and even supply several alternatives to overcome your project's obstacles.
Obtaining Required Permits
Permits may or may not be required for your work. If you are hiring a contractor, confirm permit acquisition responsibility and fees prior to signing a contract. Generally, permits are required on retaining walls taller than four feet in Virginia. It is best to confirm the exact requirements in your location as rules can vary by locality. Taller, larger projects may require a geotechnical plan; there are several geotechnical engineers in our area that can supply this service.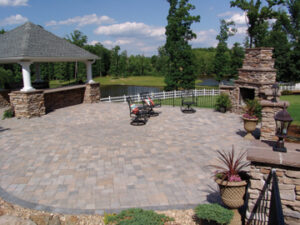 Selecting Required SRW Materials
Material selection can be fun, giving you the opportunity to express your style and creativity. The addition of a segmental retaining wall, outdoor living feature or just a simple SRW seat wall can improve the enjoyment you receive from your home. To brainstorm ideas for your yard, review as many project photos as you can from local installers. These idea-generating design models give you a better perspective of how products look once they are installed and can spur vision for your project.

There are a wide variety of products that can be used for your SRW materials. Most SRW units have a "built-in batter." This means the units set back with each course, usually about an inch per layer. These are preferable on projects with radius turns, because the set back allows for the block to move from a straight line into a curve and not visibly protrude outward. Vertical walls work great for incorporating features like an outdoor kitchen, stairs within the SRW, seat walls, and for double-sided walls or fencing applications. Some wall systems allow for transition from set back to vertical. Check with your supplier or installer about this prior to selecting any materials.
Blended colors, aged faces and multiple sizes in a wall are popular facial features for SRWs. With improved aesthetics comes increased cost. Visually superior products cost more to produce and more to buy. But when you look at the total price for a project, the improved visual appeal of the higher-end products may not add as much to the final cost as you would think. The added appeal will benefit you while you enjoy your project and may pay dividends when you sell your home.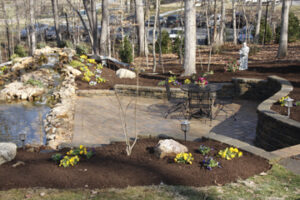 Basic Installation Steps and Tools
Successfully completing your project depends on starting the job properly. The initial step is to dig a proper footer and fill it to a depth of six inches with compacted stone. It needs to be deep enough to fully bury one course of SRW block; thus the footer will be at least twelve inches deep. Additionally, the footer needs to be at least two feet wide to allow for the one-foot depth of a typical SRW block and six inches in front and behind the units. This method encapsulates the units, creating a solid connection to the earth. It is also important to start at the lowest point and move up from there.
Next, clean drainage gravel must be placed behind the SRW units. This will allow moisture to pass from the retained native soils to a four-inch drainage collection tube. The perforated plastic tube is placed behind the wall at the bottom of the drainage gravel. The tube will collect and distribute the water that, if not addressed, could cause the walls to bulge and become deformed.
While this is a very basic description of materials and installation, it's important to understand that all sites are different and may require other materials to do the job. Compaction equipment, levels, string line and excavation tools also may be needed to finish the job.
Incorporating a segmental retaining wall into your landscaping or outdoor living project can give you and your family hours of enjoyment. The added living area or additional flat usable space are often sought by buyers of both new and existing homes. SRW and outdoor living features can be wise investments that may pay dividends when you sell. More people today want to enjoy a home for its livability, lifestyle accessibility and curb appeal rather than bulk square footage. So get creative with segmental retaining walls and make a bold statement with your next landscaping or outdoor living project.
Mike Mosley is the director of architectural products for Boxley Block. Mike is one of only three instructors in Virginia accredited to teach and certify segmental retaining wall installers though the National Concrete Masonry Association.