Magnificent Magnolias | Turn On the Southern Charm in Your Yard
When it comes to the most popular flowering trees of the South, there's nothing that tops the magnolia. This landscape staple has it all: good looks with its glossy leaves, colorful, cupped blooms, and a pleasant, sweet fragrance that lulls you into summertime.
There are now more than 200 species of magnolia, according to Magnolia Society International. Some are evergreen and others are deciduous. While most people rave over the trees' iconic flowers and use them for ornamentation, they also make great shade trees, shrubs or hedges.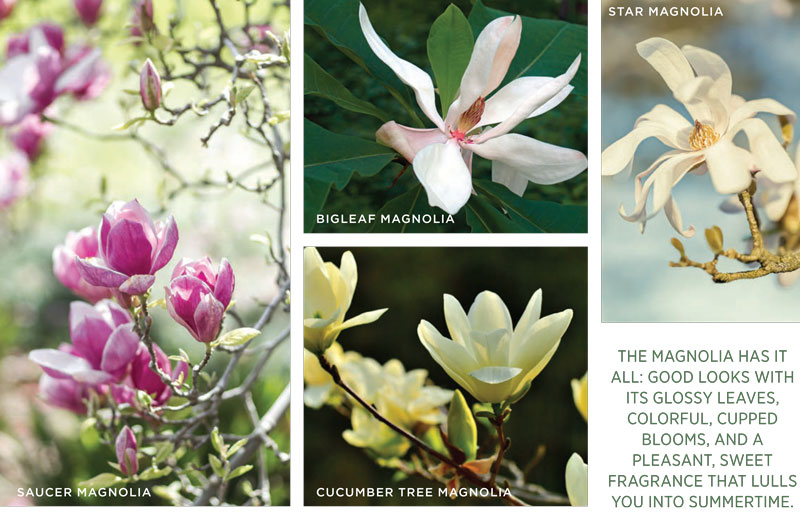 If you've never explored the magnolia plant family, the word magnolia may only conjure images of large, creamy-white blossoms in flower arrangements, or of leathery, deep green leaves that deck the halls and many a fireplace mantel over the holidays.
Yes, you would be picturing the Southern Magnolia, the quintessential southern big-blooming tree. This large-and-in-charge native evergreen is often the center of attention in a yard or park. Depending on the cultivar, it can grow from 20 to up to 80 feet tall (30 to 40 feet is more common for Central Virginia). The tree takes a pyramid shape as it grows.
The Southern Magnolia is certainly the showstopper of the magnolia family, claiming the title of state flower of Louisiana and Mississippi. But many people may not know that 100 cultivars of the Southern Magnolia have shared the stage. One is Bracken's Brown Beauty, a nod to the rusty copper-colored underside of its leaves. It is favored for its dense, compact growth and cold hardiness. If you're a sucker for big, classic magnolia blooms but have a smaller garden, there are space-conscious varieties too, such as Saint Mary or Little Gem Dwarf.
To plant a Southern Magnolia, the Virginia Cooperative Extension recommends selecting a site with wind protection (a more wooded area or the corner of a back yard) and a spot with good soil drainage and plenty of room for the plant to develop and spread. Patience is needed, too, as it can take up to five years or more for blooms to appear.
Caring for the tree is not intensive. Pests aren't attracted to its tough, rubbery leaves, and that includes deer. However, with the tree shedding its leaves over a long period of time, and the leaves taking much longer to decompose than other leaves, expect to do some cleanup throughout the year; rake them closer to the trunk to hide the leaf litter and use as mulch.
THE SOUTHERN MAGNOLIA CAN LIVE WELL OVER 100 YEARS IF THE CONDITIONS ARE RIGHT. A TREE PLANTED BY ANDREW JACKSON IN 1828 AT THE WHITE HOUSE LIVED FOR 190 YEARS. IT WAS CUT DOWN IN 2017 DUE TO DECAY.
Branching out
Beyond the familiar Southern Magnolia is a whole other magnolia world with a vast array of blossoms that promise to dazzle.
Star Magnolia: Like the Southern Magnolia, this variety also features a white flower, but with layers of narrow petals that flair out, resembling a starburst. Native to Japan, this deciduous tree is a favorite because it is cold hardy and can bloom when it is still small. It will ultimately reach 15 feet tall or more.
Saucer Magnolia: These trees probably caught your eye in the spring. At first glance, you may have thought, "There are tulips growing on that tree." (Or at least that's what my kids said on a walk around the neighborhood). If so, you're right. Its common name is actually "tulip tree" and its blooms are look-alike tulips, coming in white and hues of pink and purple. According to Magnolia Society International, flowers range from 3 to 12 inches in diameter, and some cultivars will surprise you by producing flowers randomly throughout the summer and fall. The flowers, with their alluring perfume—most describe it as a lemony scent—open before the foliage comes. Sometimes you'll see one color on the outside of the bloom and another color inside.
"The Girls" Magnolias: Some special magnolia hybrids from U.S. National Arboretum have made their way to garden centers. An eight-plant selection given all girls' names resulted after a cross with the lily magnolia (a popular miniature variety with purple or pink flowers that look like lilies) and the Star Magnolia. The most common are "Jane," "Ann," and "Susan," and they're known for blooming up to one whole month later than their parents, escaping frost's wrath and extending their show throughout the summer. Flowers display a variety of colors, from reddishpurple to pink and white. These hybrids require little maintenance and have become a perfect fit for the average-size garden.
Cucumber Tree and Bigleaf: These varieties would fit into the more "oddball" category, perhaps better known for their leaves than their blooms like most magnolias are. The Cucumber Tree is one of the most cold-hardy types of magnolias, with greenish-yellow blooms shaped like tulips and fruit shaped somewhat like a cucumber. They are most known for their ability to show off some fall color; their leaves turn gold. Popular varieties are "Elizabeth" and "Yellow Lantern." The Bigleaf Magnolia can put on a spectacle with leaves growing up to 32 inches long and 12 inches wide. The leaves are bright green on the top but silver/grey underneath, making for a neat effect when the branches sway in the wind. Its ivory-colored blooms have a reddish tint at the base and grow from May to July. "Palmberg" is a popular cultivar. ✦
"The Girls" Magnolias, Bracken's Brown Beauty, Cucumber Tree and Bigleaf, flowering trees, magnolias, Saucer Magnolia, Southern Magnolia, Star Magnolia