In the Throw of It | A Bevy of Blankets to Keep Everyone Comfortable this Season
As temperatures begin to fall, the blankets and throws found in your home can take on greater meaning. While these accessories can be overlooked, they are a great way to brighten a room, update a space, add visual interest and texture, and keep everyone comfortable on chilly days.
Meredith Draper, owner of Ivy's at Piccadilly Square in Roanoke, says there's a great range of options when it comes to throws for your home. There are differences between a decorative throw and a comfort throw, with decorative throws typically more delicate than those used for snuggling. A comfort throw is all about warmth and texture, two qualities that can be highly subjective, given the user.
"It depends on how you live," Draper notes. "You can purchase a little fleece throw at Walmart or spend thousands on a designer throw."
But that doesn't mean you have to sacrifice look and feel, Draper says. Many throws can be laundered at home – just check the label before purchasing – and make great gifts for weddings, new homes and graduations. For that special touch, Draper recommends adding a monogram, which elevates a practical gift into something truly special.
Ashley Lawson, owner of the French Farmhouse, said throws and pillows are an affordable way to update any room.
"This season is all about adding interest and texture by mixing and matching prints and patterns. So long to the days of matchy-matchy everything and using all solid colored neutral colors in a space," she says. "At the French Farmhouse we love our neutrals, but adding in patterns, prints and some deeper earthy colors are very on trend."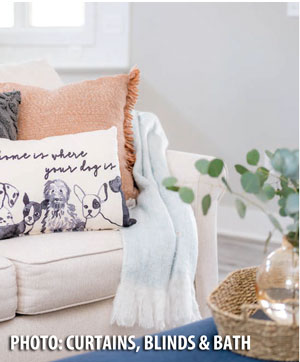 Moody colors such as dark green, black, warm beige, burgundy, taupe, deep oranges, mustard yellow, brown and even navy help to add depth, especially in winter. These colors paired with prints, such as stripes, windowpane, plaid and floral, make an ideal throw.
"It is advisable to always choose a fabric that is comfortable, even if only bought for decorative purposes. So avoid anything that is itchy or irritating to the skin. Marrying function and style should always be the goal when shopping for any item in your home," Lawson adds.
As with other home accessories, styles and tastes change. Draper says faux fur and 100 percent wool blankets are two once-desirable options that have fallen from favor.
Throws made from breathable fabrics – such as classic cotton or new, eco-friendly bamboo – are versatile as well as practical, since they can accommodate temperature swings. One hundred percent cotton blankets can be exquisitely soft, depending on the finish, and withstand regular, at-home washing and drying. Bamboo, a relatively new option, has its own pluses, including the fact that it's sustainably sourced.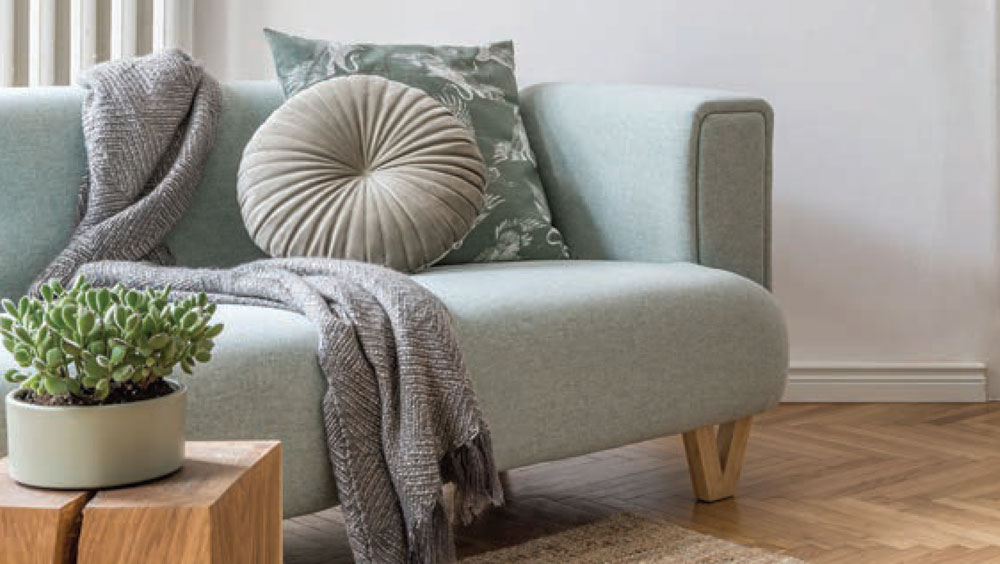 ---
COZY TIPS FOR THROWS
Remember the rule of three: Style your sofa with a throw and two pillows or two throws and three pillows.

Display throws on furniture, a wooden ladder, a basket or rolled into spirals on a bookcase.

Complement your setting by mixing and matching textures and colors.

Instead of neatly folding, drape your throws to invite guests to enjoy your space.

Choose something you love!
---
"[Bamboo blankets] regulate body temperature and will keep you warm without making you sweat," Draper says. But, she warns, a bamboo throw has to be cleaned with greater care: gentle machine wash and line-dry or a dryer set on air dry, with no heat.
For families with children or pets, it's wise to have blankets on hand that can take the wear and tear of regular use. Throws with looser weaves are more susceptible to holes from fingers, toys or pet claws and also tend to be lighter in weight than densely woven options.
"Blankets that have a really loose weave are more decorative than functional," Draper says. For a really heavy option, try a weighted blanket, which is often used on beds for a restful sleep, but can also be found in smaller sizes for sofas and chairs. "Those are very personal; some people love them," Draper says.
When it comes to when to clean a throw, consider a common-sense approach: Does it look dirty? Is it getting a lot of use? Is it a popular sleep cushion for a pet? When there's a lot of traffic, whether human or animal, you'll want to make sure you're laundering those blankets regularly. If the home is quieter, less so.
"When [all our children] were home, if I was doing a load of laundry, one of those [blankets] was going in," Draper says. "The wear and tear depends on how much you use them. There's no general rule of thumb." ✦
blankets, Cashmere Blends, Comfort Throw, Decorative Throw, Easy-To-Style Patterns, functionality, neutral palette, Soft Wool, Texture, throws