Home Away from Home | Mother-Daughter Design Duo Transform Ancestral Home
Photography by Kathryn Feldmann
In a small community off the Blue Ridge Parkway, a treasured property holds generations of memories for Roanoke interior designer Elaine Stephenson and her family. Built in the late 1800s by Elaine's great-grandfather as a part of a summer golfing community, the cottage provided a restful mountain environment to escape the heat and humidity in the days before air conditioning. For more than 100 years and five generations, the family has gathered to enjoy the cooler temperatures, outdoor activities, and fellowship with family and friends.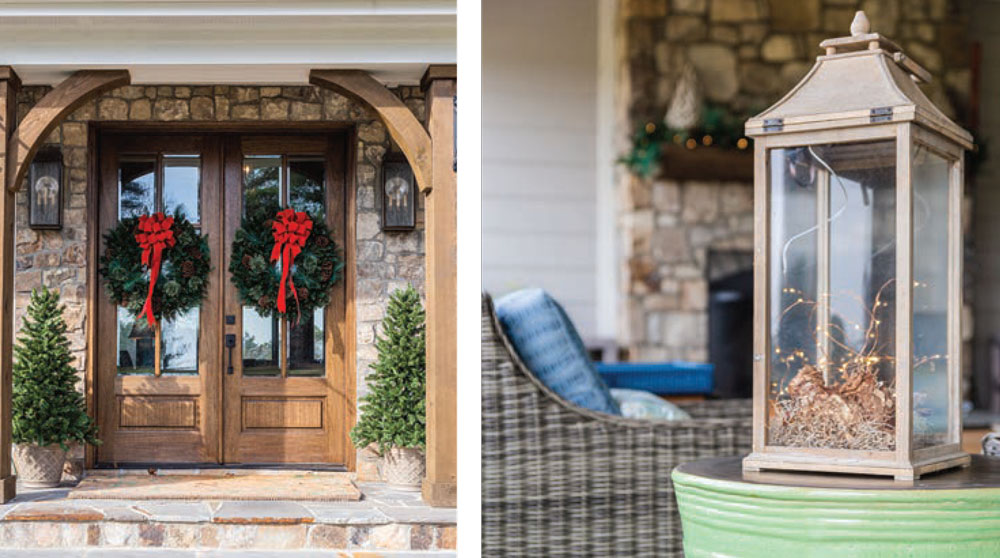 Now owned by Elaine and her husband Bill and their adult children, Will and Seely, the ancestral summer home has been completely rebuilt and redesigned with contemporary living in mind.
"We planned this project for five years," explains Elaine, "The original house was showing its age and the design did not have an easy flow. It was definitely time to modernize."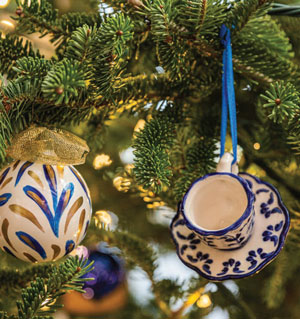 Camp Nanny Pearl
Working together with her daughter Seely, who is also an interior designer, with her mother's firm, but works in Raleigh, and with Wishon and Carter Builders of Yadkinville, N.C., they managed to capture the charm of the old summer place affectionately known as "Camp Nanny Pearl" after Elaine's mother, while bringing modern conveniences, sound design, and a thoughtful repurposing of the many antiques that were part of the original summer home.
From the stone foundation, cement board and poplar bark shingle siding, to the standing seam metal roofing, the home is designed to last generations with minimal care. Construction on the 5,000-square-foot home took 17 months, and the finished product was completed in June 2020. The timing was perfect as it turns out.
"We really were so very fortunate," says Elaine, "because we finished just as COVID was getting started. We sidestepped a lot of building headaches that came after, plus we had a place to go when everything shut down."
Their children, Will and Seely and their spouses welcomed new babies during this time, so Elaine and Bill found themselves with a triple blessing: two new grandchildren and a "new" vacation home.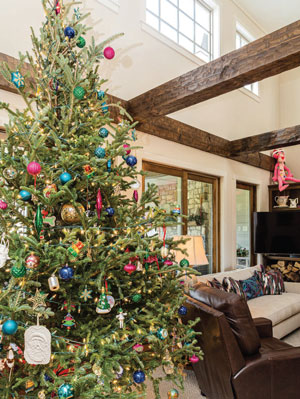 A holiday escape
The mountain home is a holiday escape where the Stephensons gather to celebrate the holidays. The oak double doors with three-quarter panels of mullioned glass, display large wreaths and are flanked by topiaries festooned with twinkle lights that set the scene for joyful family celebration. The entry is a bright and welcoming space, with an heirloom braided rug, and a ceiling of whitewashed tongue and groove pine that Seely suggested to create visual interest.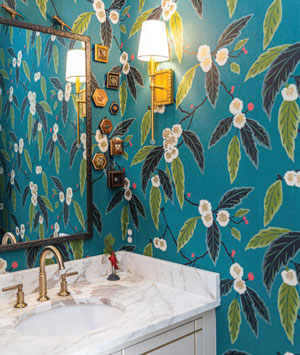 The powder room, which conveniently opens off the entry, is wallpapered in an arresting teal botanical by Harlequin Wallpapers, and the custom quartzite topped vanity with gold inlay was designed by Seely and brought to life through the artistry of Phil Horton of Horton's Cabinetry. In fact, the custom cabinetry throughout the home was crafted by Horton. "Phil is one of the best cabinet makers I've ever worked with. He did an amazing job," says Elaine. The gem tones of the powder room are enhanced by the warm brass tone fixtures, mirror, hand-rubbed brass sconces and Elaine's collection of tiny, framed Trace Mayer Museum Bees.
With its wall of windows showcasing stunning views of the 16th hole of the golf course below, it's no surprise to find that the cozy great room is where the family spends most of its time. It's a room that exudes a refined warmth, with soaring ceilings, roughhewn beams, and a commanding stone fireplace.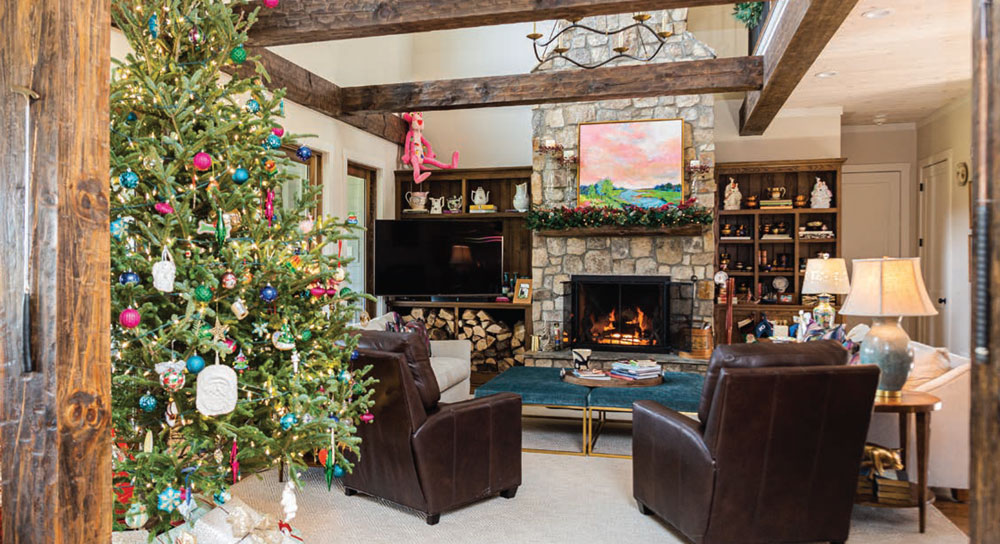 "My husband was really invested in the beams and the stone fireplace," Elaine explains with a note of pride, "We love having the raised hearth, it is the cozy center of the home." She also credits Bill with designing the efficient firewood storage in the custom wormy oak built-ins on either side of the fireplace and for sourcing the beautiful reclaimed mixed hardwood flooring found on the main level of the home.
The iron and brass chandelier was chosen from the Visual Comfort line by Elaine and Seely. "Seely and I had so much fun choosing lighting together," says Elaine. "We knew we needed something big in that high ceiling, and we both loved this one."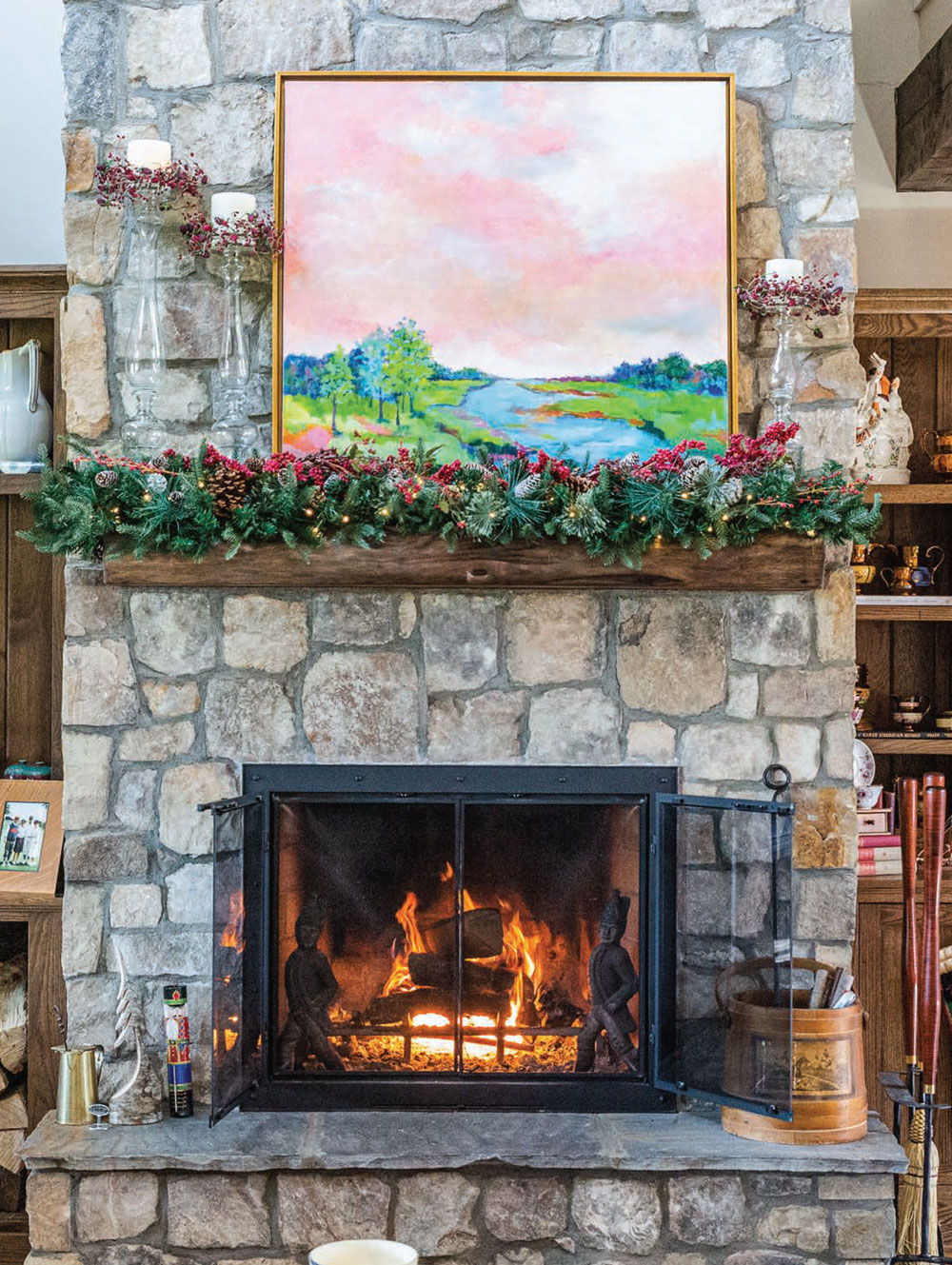 Above the fireplace mantle, decorated with seasonal greens, red berries and large pillar candles is a commissioned oil painting by Roanoke artist Courtney Cronin. The 12-foot Christmas tree was purchased from Sweet Providence Farm in Floyd, Va., and is hung with family decorations…plus a few extras. "It's the biggest tree we've ever had," Elaine reflects, "I had to augment our decorations a bit because it looked a little sparse! I love the colors of the new ornaments."
Perched above the warm holiday scene is a large stuffed Pink Panther. "Oh yes, the Pink Panther," laughs Elaine, "Bill won him in a raffle years and years ago, and ever since he's been a focal point of our holidays. He's a family favorite."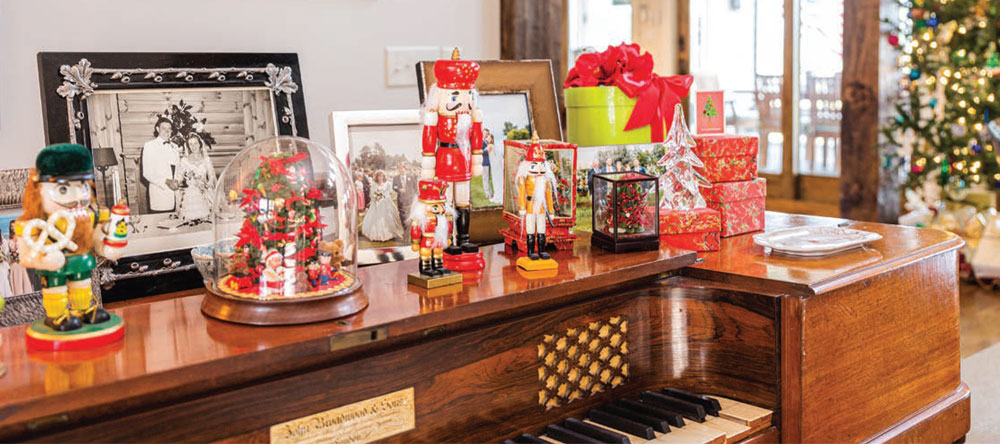 Elaine kept most the home's original furnishings, and she and Seely worked together to find ways to use their family heirlooms in the new space. The old spinet piano for example, belonged to Elaine's grandmother. Its size, surface, and location make it the perfect place to display three generations of family wedding photos (Elaine, Bill, and both of their children were married in this picturesque location), as well as a charming collection of nutcrackers and miniature Christmas trees.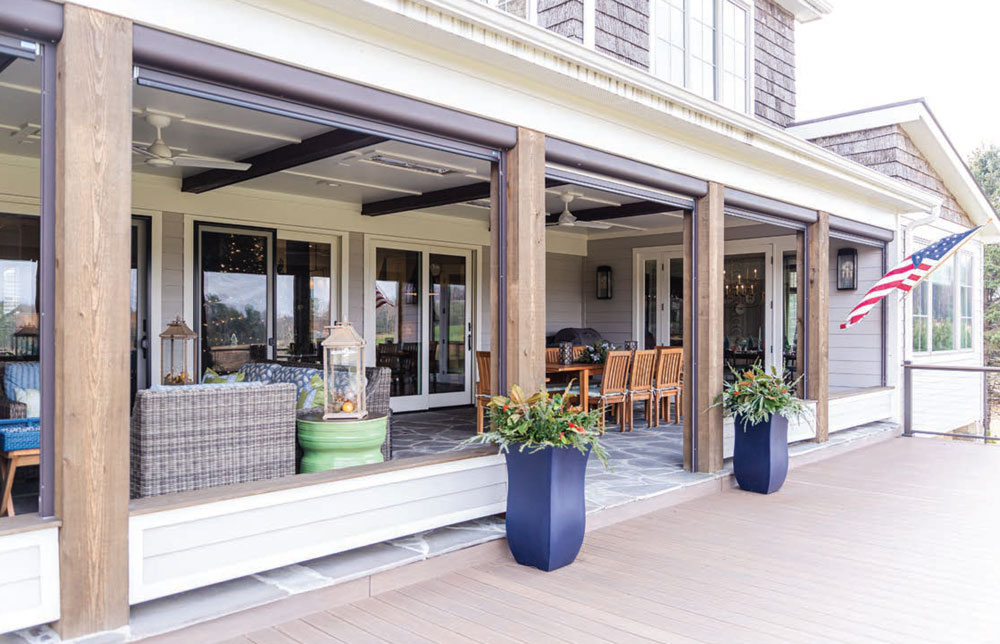 A welcoming space
From the breakfast area, sliding doors open onto a large, covered porch and open deck. Built using composite material decking, with bluestone flooring, the space feels like another room of the house. It's a welcoming space, and thanks to built-in ceiling heaters and remote-control shades, it can be enjoyed year-round. Bahnson Gray, a family friend and woodworker at Bear Creek Woodworks custom built the pecky cypress coffee table. Beyond, a stone fireplace, adorned with seasonal greens and glass lanterns filled with succulents and tiny fiberoptic lights bring the holidays outdoors.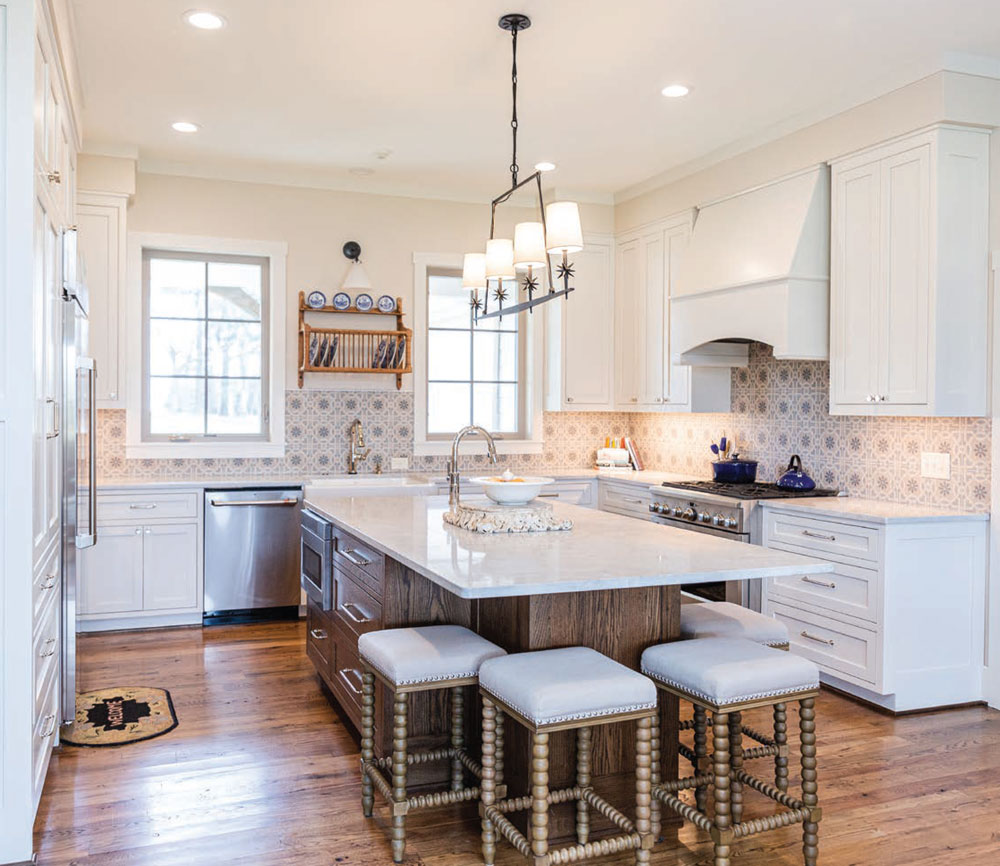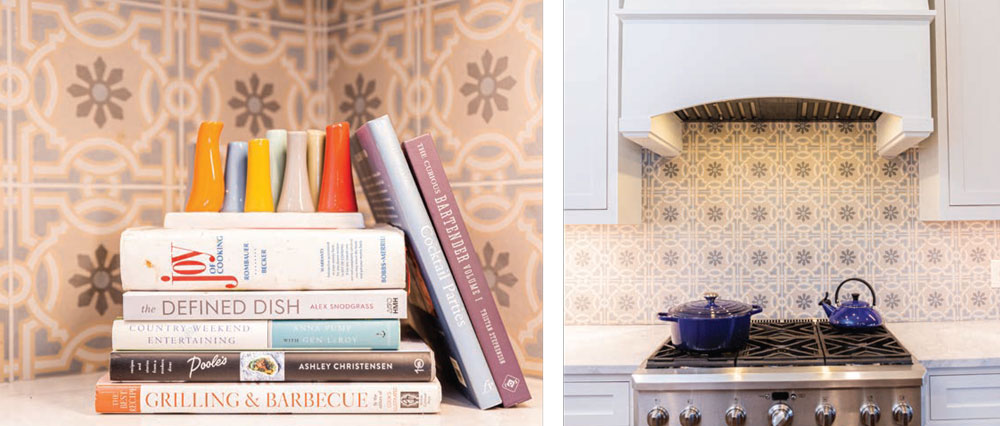 Perhaps the biggest transformation occurred in the kitchen: once cramped and antiquated, the kitchen is a bright space that opens to the great room. "The old summer home was never designed to do much cooking," recalls Elaine, "and this new space is fabulous to work with family and friends." Cabinets, "a nice mix of drawers and doors," according to Elaine, are painted in Benjamin Moore's Classic Gray, and the counters are dolomite, a stone in the quartzite family. A large central island made from wormy oak, provides ample space for prepping meals, as well as eating them, at the four counter height stools.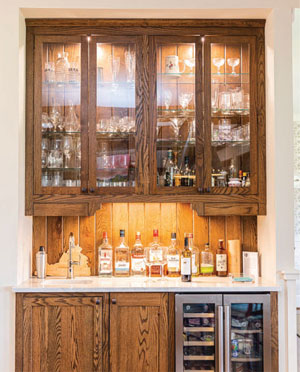 Between the windows and above the porcelain apron sink hangs an antique plate rack that belonged to Elaine's parents. The backsplash, in 12×12 cement tiles, purchased from ProSource in Roanoke, is reminiscent of Appalachian quilts. "I love those tiles," Elaine says, "in fact, once I found them, I used them as inspiration for designing the whole kitchen." The light fixture, also from Visual Comfort, is an example of this. Elaine loved the linear look and the pattern of Moravian Stars, which echoed her tile pattern.
The mudroom/laundry off the kitchen was designed especially for the family's Labrador Retrievers. Cabinets hide away food and supplies, with an ingenious niche underneath for food bowls and dog beds.
In the airy dining room, Elaine and Seely chose a blue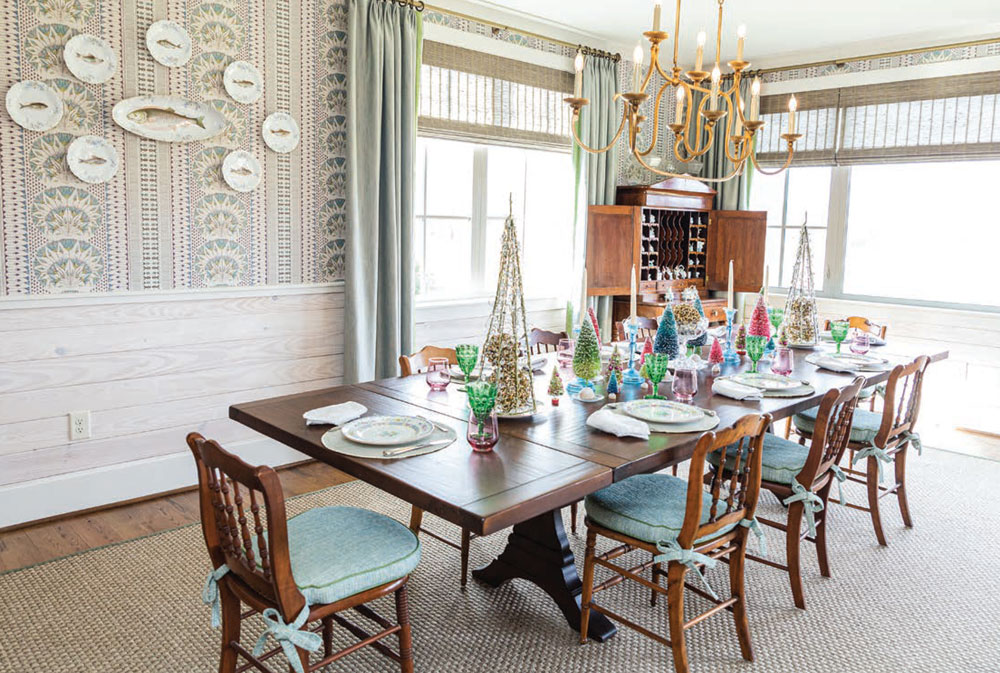 Late 1800s, Summer Golfing Community, Cottage, Mountain Environment, The Ancestral Summer Home, 5,000-Square-Foot, Holiday Escape, Oak Double Doors, Stone Fireplace, Breakfast Area, Bluestone Flooring, Porcelain Apron Sink, Mudroom/Laundry, Patterned Wallpaper,
by Anna French for above the whitewashed pine wainscoting, and a simple twill-banded jute rug. Large windows on three sides of the room are dressed in sky blue Pindler and Pindler curtains with contrasting green bands. Arranged on the walls and furniture, Elaine's mother's precious Limoges fish patterned china enjoys pride of place. The room boasts a custom dining table that seats 14, which Elaine and her parents designed and commissioned from Carolina Farm Tables.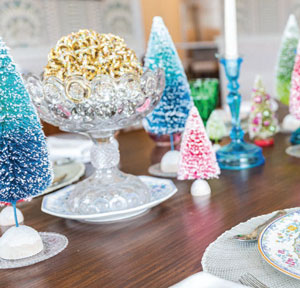 For the holidays, Elaine enjoys dressing the table festively in the jewel tones of Estelle Colored Glass goblets. The sideboard and corner cabinets were also original to the home, and with such a wealth of furnishings at her disposal (not to mention a growing family), Elaine designed this large room to comfortably accommodate these heirlooms. In the corner stands an antique lawyer's desk that belonged to Elaine's grandmother, which displays whimsical antique "patch boxes," the Victorian era's answer to makeup concealer.

Restful rooms
By adding square footage to the home, Elaine and Seely were able to redesign the sleeping arrangements to better suit their family and visiting guests. The home now has five comfortable bedrooms with ensuite baths. In addition to Elaine and Bill's ground floor suite, there are two additional upstairs suites flanking an extra sitting area.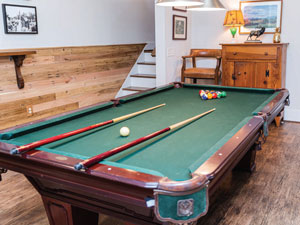 Upstairs, Elaine and Seely created a perfect nursery with a crib, changing table, and rocking chair — a cozy home away from home for visiting grandbabies. On the home's lower level, are two additional bedrooms and two baths, sitting area and pool table.
The ground floor primary suite give Bill and Elaine a space to call their own. The primary bath is wallpapered in a green Nina Campbell patterned wallpaper, and features a custom-designed vanity with a quartz countertop, Visual Comfort sconces, and a Pottery Barn tilt mirror. The towels throughout the home are monogrammed CNP for "Camp Nanny Pearl."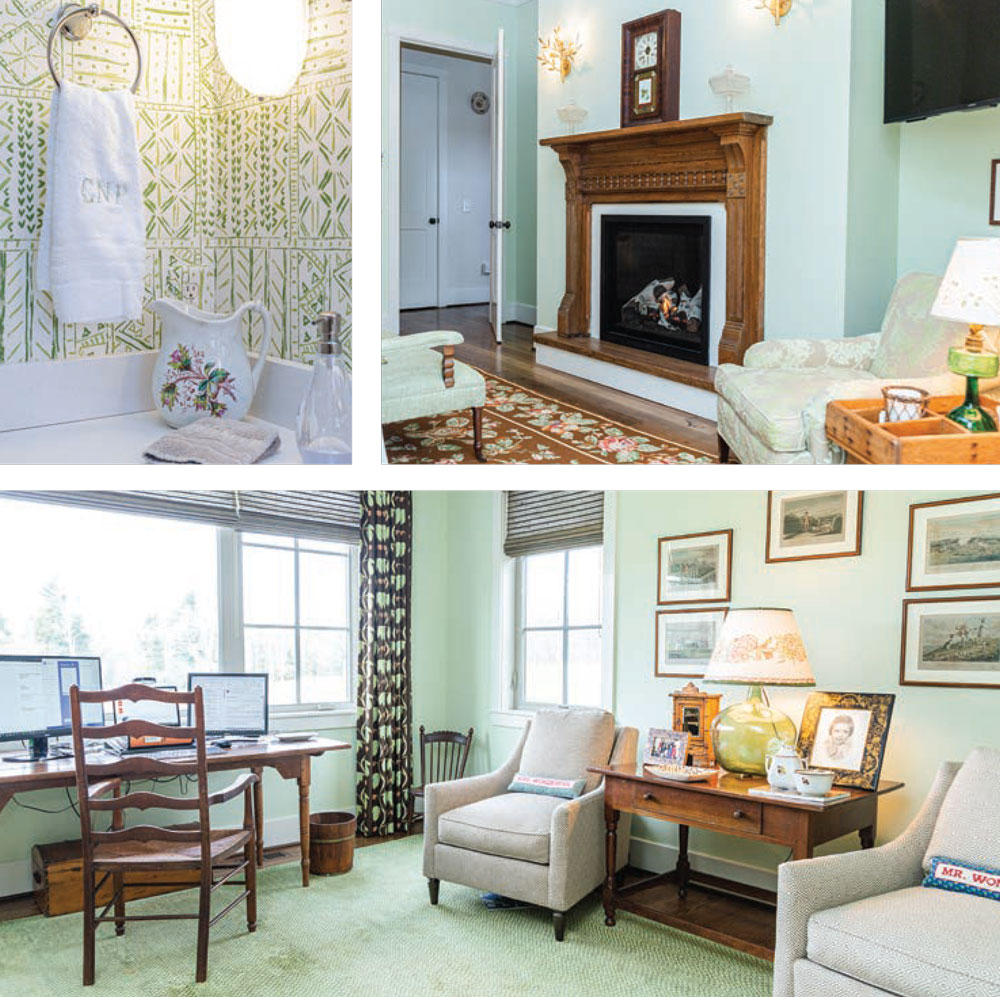 Elaine makes great use of her heirloom furniture. The upholstered chair, "sugar stand" side tables and the bench at the foot of the bed, blend seamlessly with the custom designed upholstered headboard in green Thibaut fabric, with coordinating pillow shams and bed skirt. "I really do love green," explains Elaine, "It's both happy and restful." In addition to the furnishings of the original cottage, Elaine saved the mantle and repurposed it for the fireplace in the primary bedroom, complete with the original mantle clock. The bedroom opens, via sliding barn-style door, into a large home office with fabulous mountain views.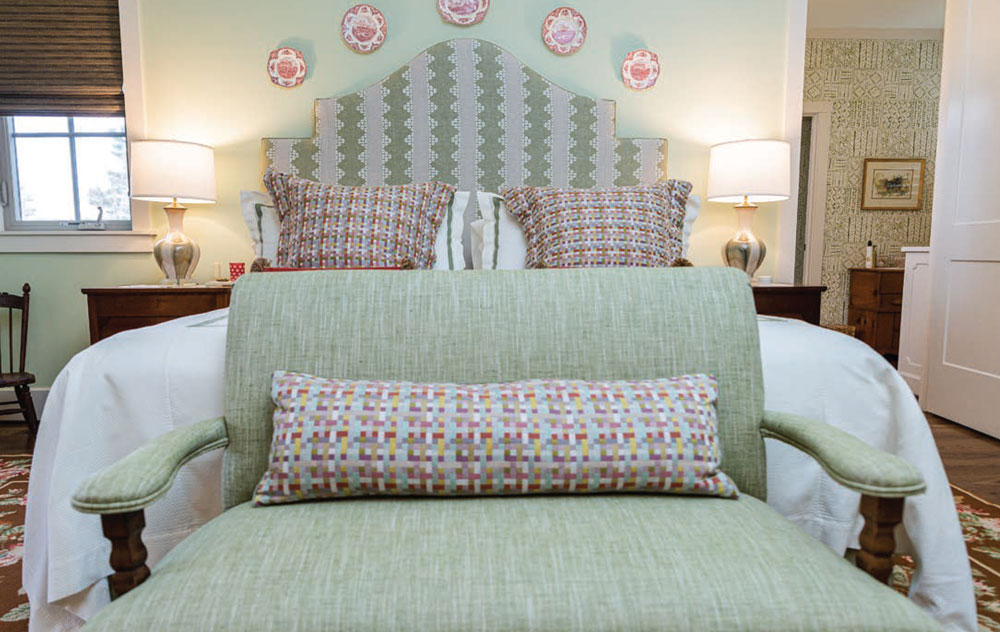 "Camp Nanny Pearl" has been a place of rest and relaxation for more than a century. For Elaine Stephenson and her family and friends, it's also where the joys of family are magnified by the history of generations past. "It meant so much to work on this project with my insightful daughter," says Elaine, "I could not have achieved the end result without her." Through their combined design talent, Elaine and Seely have lovingly recreated the space so that it will live on to be cherished by future generations. ✦
Bluestone Flooring, Breakfast Area, Cottage, Holiday Escape, Late 1800s, Mountain Environment, Mudroom/Laundry, Oak Double Doors, Patterned Wallpaper, Porcelain Apron Sink, stone fireplace, The Ancestral Summer Home