History Lovers' Haven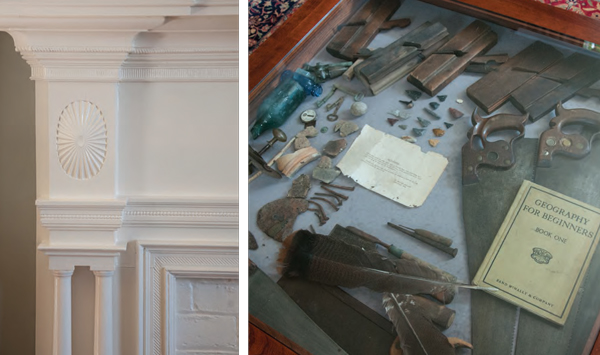 Photography by Kevin Hurley
In the year 1820, a prosperous settler named John Gray purchased a large plot of land south of the bustling frontier town of Fincastle. Gray, who later became the sheriff of Botetourt County, planned a home atop a nearby mountain where he and his family could enjoy the panoramic mountain views. The home, Prospect Hill, a federal-style home with an impressive two-story portico, was completed in 1837. Two hundred years later, it still stands gracefully on its ridge above the town of Fincastle. Honored on the National Register of Historic Places, and listed in the Virginia Landmark Commission, Prospect Hill is owned and cared for by Valerie Lucas and her family.
PROSPECT HILL HAS WATCHED FROM ITS HILLSIDE AS SOUTHWESTERN VIRGINIA HAS WEATHERED THE BETTER PART OF TWO CENTURIES, AND HAS SURVIVED INTO THE 21ST CENTURY, THANKS TO THE LOVE AND CARE OF VALERIE AND RON LUCAS AND THEIR FAMILY.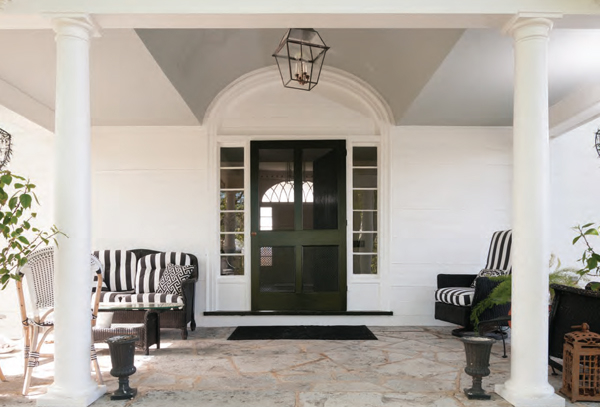 Valerie and her late husband Ron purchased the home nearly 20 years ago. "We bought the place at an auction," Valerie says, gesturing to the front yard. "They set up the auction right out there." Valerie and her husband Ron, owner of local building company R.L. Lucas Construction, had grown restless in their new construction home and were looking for a new project. They'd gone to the auction that day, back in September 2001, because they were interested in purchasing a 50-acre parcel of land where they could build a new home that would enable Ron to exercise his skill as a builder, allow space for gardens and orchards that both dreamed about, and give them room for their pets. As they milled around at the auction, along with other interested bidders, the auctioneer, a family friend, suggested they would stand a better chance if they submitted a bid that included the aging structure of Prospect Hill. Valerie and Ron looked over the property. It had been partially renovated, with two wings added to provide an indoor kitchen, an extra bedroom, and upstairs bathrooms and closets, back in the late 1930s, but the house needed a lot of TLC. Valerie recalls, "Ron just looked at me, and I thought, 'Oh my God … We just built a house, and we've only lived in it for four years!' But what I said was, 'If you want to do this, I will support you.'" An hour later, Ron and Valerie were the owners of the acreage they were originally seeking, an additional 40 acres adjoining, and a large historic house in need of extensive renovation.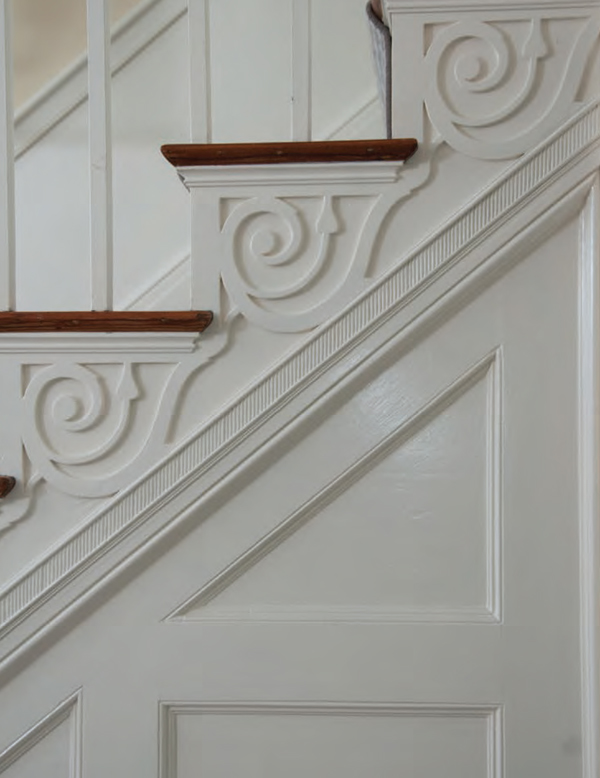 Renovations began on the home in early 2002. It took Ron and his crew six months, working every day. Valerie came over each afternoon after she finished her run as a rural mail carrier. Over the course of the renovations, they shored up or replaced whole walls, replaced all the windows (except the large transoms over the doors and at the landing), updated all the plumbing, electricity and HVAC, and renovated bathrooms and the kitchen. They also added crown molding. "The house had some beautiful original wainscoting and fireplace details, and it's such a grand place, we were actually surprised there wasn't crown molding. We just felt the house needed it," Valerie says. The carved dogwood flowers over the front door are a detail that Ron found in a millwork catalog, and felt that they just belonged in this historic Virginia home.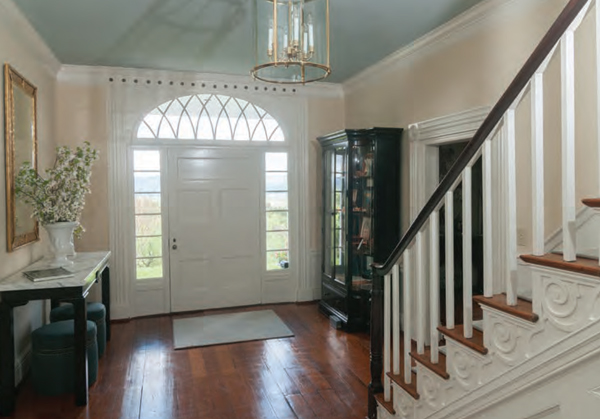 The home has extra-wide doors and an imposing arched transom window over both the first and second floor exterior doors to the portico that must have cost John Gray dearly back in the day. A traditional central hallway of generous size stretches from the front door to the back, with a large carved staircase ascending to the second floor. Nothing is recorded about the original craftsmen of this home. John Gray was a slave owner, and Valerie thinks it is possible that some of the building might have been done by enslaved craftsmen. However Ron's historical research indicates that there was a succession of itinerant homebuilders constructing homes in the area at the time. Valerie suspects that Prospect Hill was probably designed and built in large part by one of those because of similarities in style, trim, and layout she's noted between her home and other historic homes in the area. Details, such as the fan-shaped transom, carved fireplaces, or the trompe l'oeil painting on the original wainscoting in the living room, are a testament to the skill of these craftsmen, whoever they were.
The front hall is dominated by a large antique oil painting of George Washington, who spent some time in Botetourt County in his younger years. Valerie's sister, interior designer Gloria Jean Miles, found the painting at an antique shop in Richmond. A local evaluation has since found it to be an original, over 100 years old, and likely one of the many portraits commissioned of the first president for America's centennial celebrations in 1876. Alongside the painting are several mementos of Ron's favorite hobby: history and historical research of the area.
There's a pen and ink map of Botetourt County, photographs of Prospect Hill from the early part of the 20th century, and others of another historic Fincastle home, Solitude, that Ron's company renovated exhaustively over a decade ago.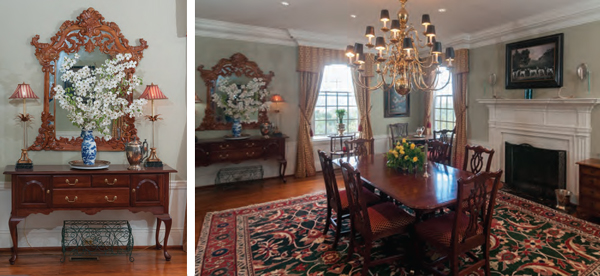 According to Valerie, the dining room and living room of the home are mostly original. Both sport 11-foot ceilings, fireplaces with original mantels and surrounds, and windows that are practically floor to ceiling. The windows capture the expansive views available in every direction, making it obvious how Prospect Hill got its name. Some of the heart pine flooring in the dining room had to be replaced, but in the rest of the house it is intact and in remarkably good shape. Valerie sees to the floor upkeep herself. "There's a lot this 70-year-old can do," she laughs. "I'm just not a fan of polyurethane in old houses. It doesn't last. You have to strip it and do it again. I choose to do it myself." To condition, protect, and keep the mellow shine of the home's flooring, Valerie has her very own formula: She wipes on a rustic maple stain, then puts English bowling alley wax over the stain, buffing the whole thing out with an antique buffer. "It makes a big difference," Valerie says. She recalls that her son Jason Lucas, who learned the building trade at his father's knee and now runs the family enterprise, came by amidst Valerie's floor restoration project. "He asked, 'What'd you do to these floors, Mom?'" Valerie recalls. "So I told him. There was a long pause, and then he finally said, 'Looks good.' That is very high praise from a builder!"
Valerie and Ron chose mostly antiques to furnish the home in a manner suitable to its age and style. Valerie credits design help from both her sister Gloria Jean and her daughter Mandeline Hentzel, also an interior designer. The window treatments were created by Richmond area specialist Annie Johnston, known for such projects as the Governor's Mansion and the Greenbrier. "They were an expensive project for us," says Valerie. "But they've been hanging for 16 years, and they still look great; they'll probably be hanging for many more years. I'm not one who wants to redo things over and over. I just want it done so I can be outside enjoying the farm."



In front of the fireplace in the living room is a glass-top table that houses a collection of artifacts collected by Ron and Valerie mostly from around the property. Under the glass lie arrowheads, pottery shards, a musket ball, nails and assorted tools and implements. The collection also includes a typed notice for the women students of Swarthmore College to get signed permission from their parents to ride in cars. "We found that in the dining room, stuck in behind the fireplace," says Valerie. "It was probably from the family who lived here and renovated the place in the 30s."
That 1930s renovation, which added a wing to each side of the original house, gave the owners a ground floor bedroom and bath on one side of the structure, a large wing for a kitchen, laundry and powder room on the other. All of these functions would have been located in outbuildings when it was originally built. Valerie is particularly proud of the dog-patterned wallpaper that livens the powder room. "Well, you can tell we are dog people," says Valerie, her hands frequently straying down to pat the heads of the hounds, Timber and Lolo, who follow her everywhere. "So when my daughter found this wallpaper in New York, and it even looked like our dogs, well, I just had to have it!"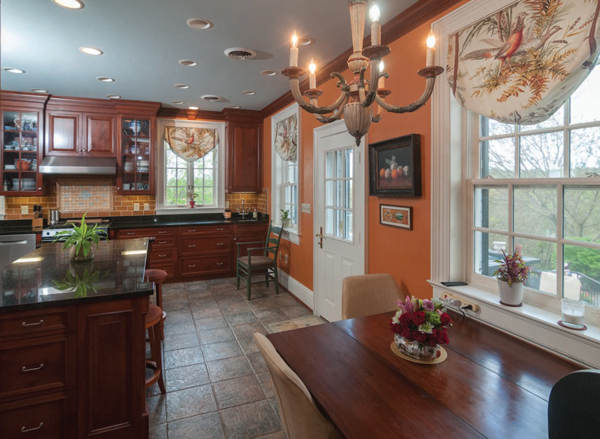 The large eat-in kitchen features a custom banquette and warm wood cabinets. According to Valerie, Ron carefully designed the whole layout himself and the couple used Carter's Cabinets to build it. "Ron pointed out that we really live in our kitchen," recalls Valerie, "so he wanted the space to be warm and inviting, but also extremely functional." She points out the thoughtful way the cooking area is separated from the rest of the kitchen by a breakfast bar, ensuring the cook doesn't have to complete for space. Valerie's favorite thing in the kitchen is the terra cotta-hued backsplash which picks up the colors of the pheasant-print window treatments. "I had already picked that fabric for the windows, and it took me forever to find the right backsplash," says Valerie. "The minute I saw those tiles, I knew they were right."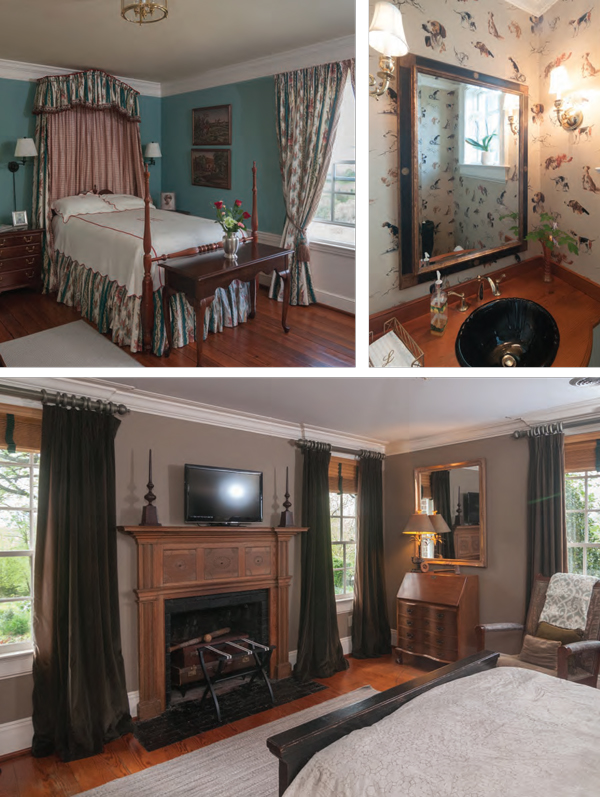 The home has three bedrooms, two upstairs and one on the ground floor. All bedrooms have been renovated to include large closets and en suite bathrooms. Valerie and her sister have enjoyed decorating the rooms with lively colors and prints. The upstairs bedrooms have elaborate half-tester beds incorporating coordinating fabrics chosen to complement each room. The blue room has a custom-embroidered coverlet and pillow shams, the initials PH worked in deep red on a creamy background. "When my sister and I first showed the embroidered bedding to Ron, he got the most confused look on his face," Valerie says. "He wondered aloud if it was the initials of a rival high school, perhaps? My sister and I just about died laughing. 'Ron!' I said, 'It's for Prospect Hill!' I never let him live that one down!"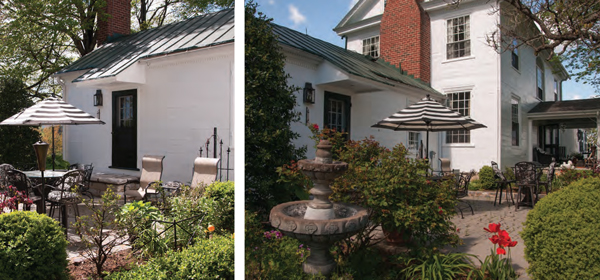 Outside, the home is ready for another growing season. Green lawn stretches down to small vistas: a grouping of stone benches, a relaxing hammock, a planter spilling spring flowers, the graceful arms of old lilacs. Meandering gravel pathways wrap around the house, delineating beds and marking out garden "rooms": a dining area with a grill, a covered porch perfect for lazy summer evenings sipping lemonade, an area designated for bulbs planted around a iron bird bath. Valerie's son and grandsons help with the many outdoor chores like mowing, mulching and planting, but Valerie does a lot of the work herself. "When we bought this place, the whole yard was grown up with briars and bushes. You couldn't even walk out here," Valerie says. "There was a fence that came around the house only and they mowed inside of that. The rest was just wild. Ron and I spent years reclaiming the land. I actually like this work." Fortunately, they both enjoyed working outside, slowly cultivating their hillside with boxwoods, bulbs and flowering bushes that enhanced the exterior of their home. This past year brought the decimation of dozens of old boxwoods that were planted over a century ago as foundation plantings, but fell victim to the boxwood blight that has ravaged boxwoods across Virginia. "It's so sad! I'm still working on ideas for what to put in their place," says Valerie. "It's just such a shame to lose all those bushes."
The covered porch with its comfortable furniture is Valerie's favorite outdoor spot. The black and white cushions were inspired from a project that her daughter Mandeline was working on for a family in Connecticut. Valerie saw pictures and loved the classic feel of the crisp black and white fabrics and immediately ordered the fabric for her own porch cushions. Valerie and her family and friends enjoy sitting out there on summer afternoons. "We rarely need to turn on A/C up here," she says. "It pretty much stays comfortable up on this hill. Any breezes there are, we're going to get them."
Touring Prospect Hill with Valerie and hearing all the love and work that she and Ron put into transforming what was once a declining historic home into an updated and carefully preserved family home, it seems as though the couple are still putting their own touches on this magnificent landmark. Their personalities seem to be woven into the very fabric of the place.
Over the past several years, Valerie has thought long and hard about whether she wants to keep up with everything at Prospect Hill without Ron. She's even gone so far as to entertain putting the place on the market, but each time, something has held her back. "The truth is, I could never live anywhere else," she says. "Our memories are here, but so is my family. Having my son and his family living on the property has been what saved me." Ron lives on in every room of Prospect Hill, his painstaking restoration of each room, his chosen colors, furniture and lighting, and especially in his love of history. Valerie indicates two large binders full of photos and history Ron collected of their unique property. "This was what he loved the most," she says.



Prospect Hill has watched from its hillside as southwestern Virginia has weathered the better part of two centuries, and has survived into the 21st century, thanks to the love and care of Valerie and Ron Lucas and their family. "This is a property that needs to be shared," says Valerie. "It is a tangible piece of history. It's what Ron loved about it and what I love about it. I see myself as its caretaker and I feel fortunate that I get to enjoy it too." ✦
Fincastle, George Washington, National Register of Historic Places, PROSPECT HILL, Virginia Landmark Commission