Historical home is host to modern fun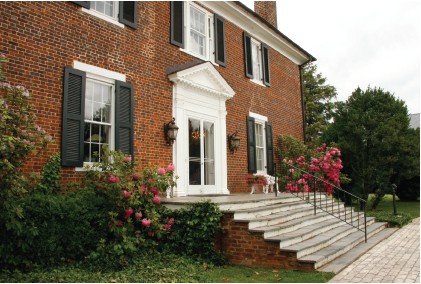 By Patricia C Held
Celebrations seem to be a part of the history of Lochwood Hall. According to owner Tom Beach, there were costume parties, elaborate dinner parties, dances, and other fancy gatherings throughout its long and storied past. "They entertained a lot in this house. We meet people all the time who say that they used to come here," he says.
The tradition of grand festivities continues. "We have big get-togethers," says Annette Beach. In fact, on the day the couple graciously gave Central Virginia HOME a tour, they were preparing for a barbecue birthday celebration for a large group of family members that very evening, and a wedding for sixty the following day!
What's in a Name
Ownership of the land surrounding Lochwood Hall can be traced back to the earliest days of Bedford County history. In fact, Lochwood Hall was declared a Virginia Historical Landmark in 1965. The property was part of a 2000-acre land grant from King George II to Colonel William Calloway in the 18th century. When William Leftwich took possession of the land as its second owner, he built a classic manor home. The simple design included four equal-sized rooms. At this point in Lochwood's history, the home had no name.
Benjamin Wilkes made major changes when he purchased the estate in the mid-19th century. Wilkes was a prosperous farmer
who operated several mills on his property. He expanded the home and named it "Carlotta" in honor of the wife of Emperor Maximillian of Mexico.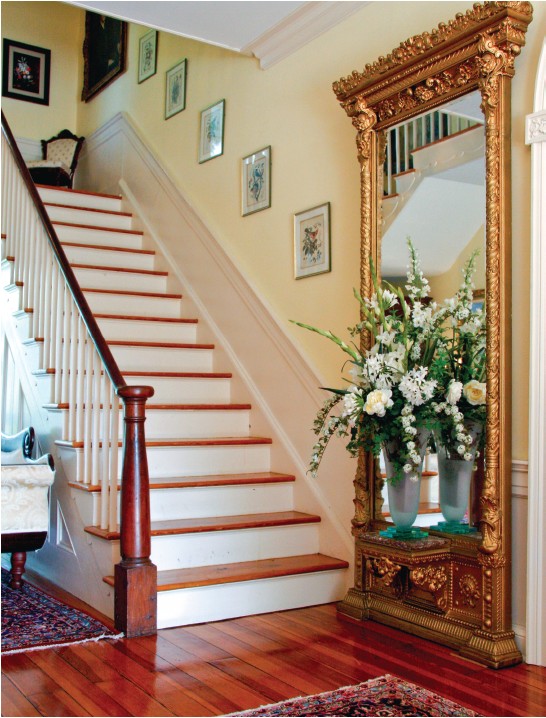 In the early 1900s, the property exchanged hands again and was renamed "Holly Hall" after two sentry holly trees that towered over the home. One of these hollies still graces the front lawn.
This house of many names finally became "Lochwood Hall" when Sallie Campbell Johnston Byrd purchased it in 1934. Byrd was the widow of a prominent New York City neurosurgeon, Dr. Charles Wise Byrd. Originally from the area, Sallie Byrd wanted to return home. In fact, so important were her Virginia roots that when she was due to deliver a child, she traveled from New York to Virginia to insure her daughter be Virginian by birth!
"Sallie Byrd did a lot here," says Tom Beach. "She came in and revived it." Byrd did major reconstruction on the home and added a columned veranda at the back, facing a glorious view of the Peaks of Otter. Electric service and plumbing were also installed. She renamed her refurbished home Lochwood after a family ancestral home in Scotland.
Sallie Byrd was quite a force within her own family as well as within the community. It was at her insistence that her daughter Jacqueline traveled to Hollywood to try out for the lead in "Gone With the Wind". When Jacqueline married Edward Shank, the newly married couple settled into Lochwood with Sallie Byrd. The family staged many grand parties here. Described as "glamorous" by local residents who attended them, the setting lent itself to an elegant event.
Following the death of Sallie Byrd and then Jacqueline, Edward Shank eventually remarried and his new wife, Nancy, modernized the home, and brought life into its darkened interiors with her furnishings and decorations. Also known for her lovely parties, Lochwood's Nancy Shank epitomized Southern hospitality.
Historic Touches Blend
with Modern Comfort
Over the two decades that the Beaches have lived here, they have painstakingly maintained and renovated the home both inside and out. Lochwood features foot-thick walls, recessed windows, high ceilings, elaborate fan-shaped arches over the doorways, original pine floors, and paneled walls. Four double chimneys provide every room with a fireplace. Every corner of this great old home exudes charm and warmth.
Today's elegant front entrance was actually a side entrance long ago. Visitors walk into an enormous hallway which was added in the renovation of 1850 by Benjamin Wilkes. The addition includes four more rooms on the north end of the house—two downstairs and two upstairs.
These large rooms accommodate massive furnishings. Since the Beaches enjoy collecting antiques and regularly attend auctions and estate sales, they have amassed quite a collection of lovely pieces that fit well into their home. "We try to purchase things for the house that go with the style here," says Annette. An antique gun cabinet stands sentry in the main hall; life-sized portraits of previous owners grace the staircase walls, and a stunning portrait of Annette hangs in the first-floor hall.
Indeed, interesting collections and special finds acquired on the couple's travels abound at every turn in the home. A beautiful chandelier of Murano glass hangs in the main hallway, discovered on one of their trips to Venice. A corner cabinet in the hall displays an assortment of martini glasses that Tom has collected from all over the world. While he enjoys assembling the collection, he quips, "I use them as well!"
Both the dining room and library are part of the original home. These rooms are furnished with pieces that reflect the Beaches' taste for old, historic styles. The dining room still
features the original front door and lock. This entrance, which was once the front of the home, echoes the elegance of days gone by, when carriages brought guests up to the front porch. Dentil molding and columns greet guests as they arrive.
Original mantels add a sense of history to each room. The owners discovered painted wallpaper murals depicting Roman scenes in the dining room; instead of tearing them down, the Beaches highlighted the murals with frames. Annette discovered and purchased the banquet-sized dining room table and chairs in New Orleans; a magnificent sideboard is another auction find.
The parlor is now the library, housing bookcases and comfortable chairs. It provides a lovely place to relax and settle in for an evening of reading in front of the fireplace. Lochwood's
"resident ghost" is supposedly a constant presence in this room. According to Tom, "Someone has actually seen him!" He adds, "We have had a few things happen here… My dog would come in and look directly at something that wasn't there. And I have heard his footsteps."
The house is truly steeped in legend as well as recorded history. During General Hunter's raid on Bedford County in 1864, his men took possession of the house, then called Carlotta, and confiscated food and cattle to feed his troops. According to Tom, "There is a lot of crazy history associated with this house." Legend says that gypsies camped here at some point, and when the "queen" of the gypsies died, they disposed of her jewelry in the nearby Big Otter River.
The original kitchen, like many early kitchens, was in a separate building. The present kitchen was remodeled in 1999 by the Beach family, keeping the original cabinets and slate floors. Granite
countertops and modern appliances were added and the fireplace was restored with gas logs.
A special highlight of the home is the music room. If it can play a tune, it can be found here! There is an 1870 grand piano and a player piano in working condition. Victrolas, an Edison music box and an ornate bird cage are part of the decor. No birds inhabit the cage now, but signs of birds are everywhere. "I am a bird watcher. It is my number-one hobby," says Tom. On one wall hangs an ornate tapestry. Tom says he's always liked tapestries, and found this one on a trip. It was so large, "No one else knew what to do with it," he explains. "Fortunately this house is big and the rooms are tall and wide."
Upstairs are four large corner bedrooms with windows on two walls. All are furnished with large-scale furniture including armoires for storage. The master bedroom features a beautiful late-1800s bed which also hails from New Orleans.
Presently the upstairs bedrooms all share one full bath. The Beaches' next project will be to build a great room downstairs connecting with the new garage. Upstairs they plan to add a master bedroom suite with a master bath.
As with many older homes, there is always a list ranging from simple maintenance tasks to large-scale renovations. "Every year we have a major project," explains Annette. One year was the stamped concrete circular driveway, another was renovating the stone walls. According to Annette, "We have lots of imperfections here, and we know it. It just takes time."
The couple just completed a garage addition with additional living space, which took a year and a half to complete. With the help of general contractor Glenn White, they created a wonderful area that not only provides a convenient place for their automobiles, but also a workout room downstairs and an elaborate entertainment center upstairs, which the couple laughingly calls "the man's room." Here the "boys" come to play poker until the wee hours of the morning. Though the Beaches had no plans for such an elaborate addition, they credit Chip Wood of Home Theater Installations with helping to inspire the design. When Wood came to fix a speaker in the main house,
Tom took him over to see the plans for the garage. Ninety minutes later, they had a master plan for Tom's playroom! In addition to a full kitchen, the room has large comfortable chairs, couches, a huge poker table and a big screen television. The walls are faux painted by local artist Caroline Mahoney.
Here too Tom showcases his special finds. The walls are lined with large game mounts taken on past safaris, and he also displays his North Carolina face jug collection. These southern Appalachian pottery jugs were made supposedly to scare children away from the moonshine inside. Children were told they would look like the pots if they drank the contents.
"This is a great room," explains Annette. "We can have all kinds of entertainment over here, and I can walk away and clean up later." A balcony off the upstairs "playroom" provides a comfortable place for entertaining and offers a spectacular view of the surrounding mountains.
Visit Lochwood Hall on any given day and you'll see that it truly is the perfect spot for parties, festivities and everyday fun. Throughout its long history, Lochwood Hall has served its owners and guests well, and continues to embody Southern history and hospitality.