Stake Your Claim on the Right Fence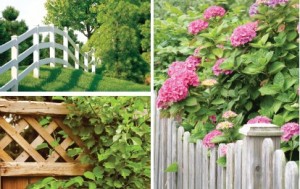 By Mitzi Bible
Custom Design
"A fence can enhance the look of a house by complementing the home with style and color if you pick the right design," says skilled ironworker Travis Nichols, of Nichols Welding in Rocky Mount and Smith Mountain Lake.
Gone are the days when you had one style and one product to choose from. Nichols' business, for example, prides itself on its "one-of-a-kind features such as curves, designs, twists, leaves and flowers that will set your project apart." Designs are personalized to fit a specific taste: traditional or modern, functional or elegant, Nichols explains.
"It's all custom made. We can makewhatever the customer wants," Nichols says. "We also supply a premade fence in several different designs to choose from." It's important to choose a design that works with the rest of your home and landscape, he says.
"I think it is important to have the fence 'disappear,' so to speak. There are several ways to achieve this; one is by color, the second is by design. Nobody wants their home to look like a prison," he says. "The fence should not take away from the home; it should compliment the home as well. The design possibilities are endless."
While the designs may vary, Nichols says the single best product for a longlasting fence is metal. "The most popular type of fence is to have something that is going to last, that won't rust, fade, chip or look bad over time."
His fencing material—metal with a zinc-enriched primer followed by a polyester powder-coat finish for both rust- and fade-resistance—is virtually maintenance-free. Wood Still Works New technology and new  pressure treatment methods have made standard wood fences more durable than ever before. Wood continues to be the most practical and economical choice for a post-and-rail fence, according to the American Fence Association (AFA). It is also an environmentally sound option.
"People use it simply because it looks natural, and you can do more with it; you can leave it or paint it and stain it," says Kenny Chattin of Larry Chattin & Sons in Goodview. The company has done every fencing job imaginable—from a dog pen in a small backyard to tall privacy fences to 20,000 feet of post-and-rail fence on a farm.
And, compared to metal or vinyl, he agrees wood is the least expensive option —a big draw for homeowners who have large distances to cover. The key to making wood fences last longer? Choose the right post and the right post installation from the beginning, AFA warns. Because posts are inserted in the ground, they are more likely to rot than the rest of the fence. For example, cedar posts will rot if set in concrete and should be placed directly into the posthole, the association says. Pressure-treated pine posts are ideal because they resist rotting and can be set in concrete. Perhaps an even sturdier option, though, is using steel and metal posts; post and bracket systems are available that can be hidden so the fence still looks like it is entirely made of wood.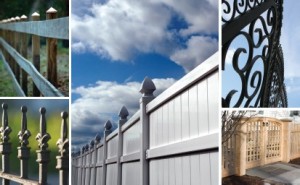 The life of a wood fence can also be extended by treating it with a water repellent solution to resist warping and protect against insect damage. And it's always a good idea to finish it off with stain or paint, which helps seal the wood.
Victory In Vinyl
Perhaps the latest trend in fencing—not available a half-century ago—is vinyl. The durable material used on many of the newly constructed homes in the area can be seen in everything from a safety fence around a pool to an ornamental garden fence.
According to AFA, vinyl is built to last: "Vinyl remains strong, even in extreme weather climates, and will withstand high impact levels. The weatherability benefits ensure even coloring over the years and resistance to the physical implications of aging."
Vinyl fences come in many different colors, including white, gray and tan, and some companies offer wood tones and a wood-grain look.
Its most attractive feature, however, is its longevity. Resistant to rot and never in need of painting, vinyl (unlike other fencing options) often comes with extensive warranties, with some manufacturers offering lifetime warranties.
Whatever material you choose, a fence can add ease, comfort and value to your home and your life, so investigate your options and choose carefully.
OTHER FENCING
CON SIDE RATIONS
Contact your local building authority to check on code regulations before starting any project, especially pool fences and privacy fences.
Contact Miss Utility (dial 811), a service which locates underground utility lines, before installing a fence yourself. (This is important not only for your safety, but to help prevent power outages or service interruption in the neighborhood.)
Consult your homeowner association for rules to follow.
The American Fence Association provides an online consumer's guide (www.americanfenceassociation.com) with explanations on the wide variety of fence styles, materials and uses for fences available today.