Home Office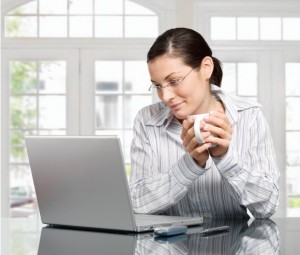 By Ashley Blanchard
The afternoon light is spilling through the window while I sip hot tea and check email from my white sofa—a luxurious oasis in a house with two young boys. I look up to admire my bookshelves that are neatly arranged with books, fabriccovered storage boxes and magazine files—and I pat myself on the back: a new year's resolution for 2009 complete! I have all the essentials in my home office: a file cabinet, ample work surface, chair, computer and printer—but what makes me want to work here? Frankly, I enjoy spending time in it because it's both beautiful and functional.
The inspiration for decorating my own office was a Parsons chair I found fifteen years ago in Atlanta that still looks like new—a stunning focal point in a delightful mix of Granny Smith and avocado green florals on a white linen background. Coordinating pinch-pleated drapery panels generously puddle on the floor, and fringed pillows give a visual punch to the neutral walls, table and sofa.
The room also holds many treasures—the first painting I ever purchased in New York City, a family picture from Disney World, an antique lamp, framed prints from my trip to China, a needlepoint pillow from my matron-of-honor, a painted wall hanging from my youngest son's preschool days and little pieces of paper that say "Mommy I Love You."
Rather than using a traditional desk, I opted for a large painted table, so I can really spread out when I am working. I have beautiful, decorative file folders that I keep in an upright organizer on my work surface so they are at my finger tips and make for a quick clean up. My file cabinet with the printer on top is tucked into the corner, virtually out of sight. This mix creates, for me, an atmosphere of
business and inspiration.
Blending Purpose with Pretty
The home office should be a comfortable space that both reflects your personal style and is conducive to getting work done; it should be just as special as the rest of your home. Your home office can serve as anything from a place of full-time employment, a space for managing your
household, or something in-between. Offices in the home usually evolve over time and can easily turn into a "design don't." Mismatched furniture or inconvenient spaces are often the culprits. Did you turn the living room that you never use into an office, and now every time you walk through the front door you close your eyes against an unsightly tangle of technology? How about the spare bedroom that serves as your office but you hate to clean up for guests?
Whether you are creating a new space or upgrading the one you already have, there are several elements to consider. If your work is overtaking your kitchen island or dining room table, it is time to carve out a separate space. Ideally, dedicating a separate room is the best solution. However, there are other options. The most ideal office is a separate room where you can get far away from the
chaos. However, if it is a shared space or you have children, its location might need to be more central.
Before I had a separate office, I purchased a beautiful computer armoire for my living room. While sleep experts recommend keeping your office out of your bedroom, you could create a separate
room-within-a-room using a beautiful folding screen. If you like being in or near the kitchen, having a custom desk with shelving and cabinets built is a perfect solution. Some newer homes include
office nooks adjacent to the kitchen which allow for privacy and convenience. Clearing out a closet and installing shelves and a working surface is another option. Once you decide on your space, you only need several key ingredients: a desk or clear surface space, chair, computer, lighting, and filing system. And of course, just like in the other rooms in your home, you will want to add your own
personal touches to make the space your own. Ultimately, an office in your home should help make your busy life easier and more productive, and be a place where you enjoy spending time.
Home Office Essentials
Furniture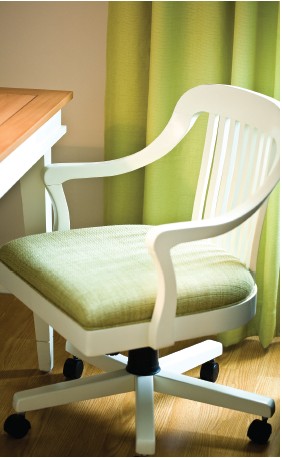 The great part about creating or updating a home office is that furniture manufacturers are increasingly offering a variety of attractive options for desks and storage. Traditional and contemporary styles as well as a variety of finishes can get you the look and feel you want to achieve.
Think about how you work. If you like to spread out yourfiles and papers, a petite, space-saving secretary won't cut it, but might work beautifully if all you need is your laptop. A table can serve as a desk, too.
Your chair is of critical importance. If your chair is not comfortable, you will not want to work in your home office. Although you might find a beautiful chair, you need to make sure that it allows your body to feel relaxed, not strained. An adjustable ergonomic office chair is ideal, but often does not fit the look of your home. These chairs are designed for people spending over five hours a day in a chair. If you're working
from home, you may be less likely to sit in one place for long periods of time as you might be throwing in a load of laundry, making a sales call, or carpooling children.
A few tips to keep in mind when considering a chair: Both feet should rest flat on the floor and your knees should be at a 90-degree angle. The chair should provide lumbar support or a pillow can be used for your lower back. Your elbows shouldrest comfortably in an armchair. Your arms should be at a 90-degree angle when resting your hands on the table surface.
Storage is an important part of your home office suite as well. Ideally you want filing cabinets that can hold all of your paperwork, and there are many attractive options beyond the old metal filing cabinets. A credenza-type cabinet offers more surface space which might be at a premium in a home office. If you want your files to be out of sight, purchase a wheeled box you can store in a closet, or a file box with a handle to make stowing away easy. There are many attractive options available—leather with handles that resemble a tote bag, fabric covered, wicker and more. You might even consider a small storage ottoman to hold your files.
Technical Considerations
Make sure you have adequate electrical and cable outlets where you need them. There are many ways to organize all those unsightly cords using cord organizers and covers. Once you have
everything set up, consider taping cords to the back or side of your desk—out of sight. If you use a laptop computer to save space, consider an extra power cord which allows you to use your laptop in various locations, without undoing the careful work you put in to hiding that cord.
Lighting Overhead lighting and task lighting should be incorporated into the work setting. You should also consider the natural light of your home when choosing your work space. You might like your desk by the window or in the front of the house depending on the morning and afternoon lighting. If you tend to get distracted, you might want to face your chair away from the window! The
key here is to know what you like, and how you work best.
Personal Touches
A home office should be inspirational and energizing. Add objects to reflect your personality and your life to make your space more inviting. These might include family pictures, artifacts from travels, sports paraphernalia or positive quotations that get you going. Framing children's artwork or pictures from calendars are inexpensive ways to spice up your walls. Have funchoosing colors and accents for your office. Maybe your house is neutral, but you can make this space more whimsical.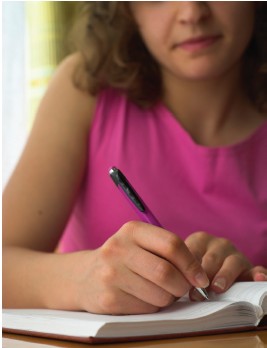 Getting and Staying Organized
Even if your office is outfitted with the essentials, it won't beuseful or a place you want to spend time if it's not organized. Even if you don't have a particular reason to keep it tidy—like visits from clients and managers—don't fall into the trap of accumulating mounds of papers and mess. Keep up on your filing and use these accents to stay organized.
Bulletin Boards
Taking advantage of wall space can help make your work area seem more spacious. In addition, helpful reminders or project goals can be displayed. Cover your bulletin board in fabric to give your space more impact. You can frame a bulletin board or use a chalkboard instead. Ballard Designs is a great online sourcefor decorative bulletin boards.
Wall Mount Files
These are a must for taming the ingoing and outgoing mail. You can find them in a number of decorative styles to match your office décor.
Baskets
There are many sizes and shapes of baskets available. Try to identify your exact storage needs, so that you can purchase enough to achieve an organized, uniform look. My favorite
home office purchase was two large wicker boxes with lids that I stacked to create an end table by the sofa in my office. One contains a hanging file of infrequently used information, and one
holds magazines.
Magazine Holders
Magazines are my weakness, so I have a lot of magazine holders!If you find some you like, buy multiples, so you can ensure a uniform look among your storage as your collections wax
and wane. In addition to holding magazines, they are great for organizing large projects or items that aren't easily filed. The holders come in plastic, cardboard, fabric and more. Online
retailer Exposures.com carries them in a variety of colors.
Paper
Even in this age of electronics, an office cannot be truly paperless. However, little pieces of paper such as business cards and receipts can be scanned in programs such as Neat Receipts.
Be ruthless about tossing outdated materials and information that can easily be found online.
You can quickly update your office with pretty file folders or accessories like a decorative cup for holding pens or a newly framed print. The popular Vera Bradley line offers a collection of office accessories in attractive prints. Instead of writing little notes with Post-its or a memo pad, try keeping them in a single spiral notebook that is so pretty you can leave it on your desk.
Your home office can be functional and fabulous. Create the most favorable working environment with a space you love. Your hardest decision should be whether to get out of your pajamas or not!