Historic Garden Day | Preview Homes on Tour in Fincastle
Each spring visitors are welcomed to some of the most beautiful homes, gardens and historic landmarks across the state during the Garden Club of Virginia's Historic Garden Week. This year's Roanoke tour, to be held Saturday, April 30, features properties in historic Fincastle. The driving tour includes five private homes and gardens, including Santillane, the cover property on this year's Historic Garden Week Guidebook. Designated as a Lewis and Clark community with ties to both Andrew Lewis and William Clark, Fincastle became the county seat in 1772 when Botetourt County stretched all the way to the Mississippi River. Fincastle boasts multiple buildings dating to the 18th and 19th centuries. It is also the location of Fincastle Presbyterian Church, a restoration project of the Garden Club of Virginia. For more information and to purchase tickets, visit vagardenweek.org.
---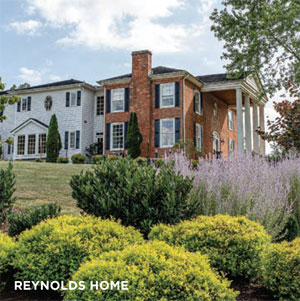 The Reynolds Home, 1789 Gravel Hill Road. Kaye Reynolds Lowe and Alan Harper Lowe, owners.
The Reynolds Home, built in 1839, is a Federal-style farmhouse situated on 10 acres of pastoral landscape. Purchased by William and Electra Reynolds in 1882, it has been occupied by five generations of the Reynolds family. The original brick structure consists of a central hall flanked by large rooms on each level. An addition at the rear of the home was completed in 2005. The front foyer includes a vintage Italian rosewood hall table and a custom Chobi rug. The formal living and dining rooms feature intricately patterned Persian carpets in rich hues of blue, red and white. Other furnishings of note include a George III Welsh dresser, an English mahogany bow front chest of drawers (c. 1800) and a French gilt cushion mirror (c. 1880).
---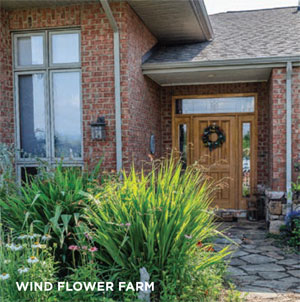 Wind Flower Farm, 185 Wild Rose Way. Lissy Runyon Merenda and Dan Merenda, owners.
A Frank Lloyd Wright-style prairie home, Wind Flower Farm rests atop a 25-acre mountain plateau in Botetourt County. Built in 2003, the home's design brings the outdoors in with vistas from every room. In this open-concept floor plan, tall ceilings and glass windows provide a 280-degree view of the Blue Ridge Mountains. Frank Lloyd Wright features include stained glass fixtures and overhang roofing. Furnishings of interest include a 1700s antique breakfront, a Shenandoah Valley pie safe, two New Hampshire cedar captain's chests, a Bucket Ben from Pennsylvania, and an apple-picking ladder, which now displays a quilt collection. The primary bedroom contains numerous antiques including a carved mahogany tester bed, walnut highboy, cherry blanket chest and Sheraton bureau. Other bedrooms display additional period pieces including a cannonball rope bed, a tiger-maple canopy bed, and a Victorian curly-maple desk. A Currier and Ives needlepoint over the great room mantel and needlepoint art displayed throughout the home, as well as soapstone carvings and Alaskan artworks are special features, as are prints in the hallways by a local artist. Outside, there is a potting shed and a pergola, as well as vegetable and flower cutting gardens.
---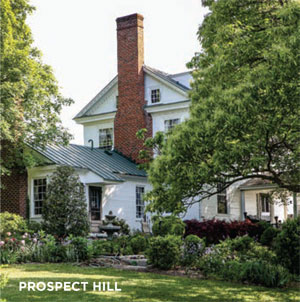 Prospect Hill, 420 South Church Street.Valerie Lucas, owner.
Built high on a hill just south of Fincastle in 1818 by John Gray, Prospect Hill was originally called Gray's Folly. Each window of the home frames views of the town and the mountains. Constructed in the traditional board-sided Federal style, it was added to the National Register of Historic Places in 1979 as one of only two houses in Virginia built with those specific architectural characteristics. On both levels of the home, the front and rear windows and doors are perfectly aligned. This design is a nod to the classical lines of Federal architecture, and also an important engineering feature, allowing breezes to circulate through the entire house. In 1930, the McDowell family added a back porch and west wing, and replastered much of the house. They were able to repair and retain the original white pine floors in the dining room. In 2001, the late Ron Lucas and his wife purchased the home. Valerie continues to renovate and modernize it. Note the restored hand-carved interior woodwork, as well as a mantel with a horizontal sunburst design and vertically carved sunburst panels.
---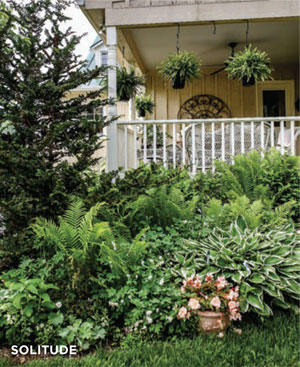 Solitude, 108 Main Street. Charlotte and Robert Hagan, owners.
This Federal-style house, circa 1820, with gingerbread detailing is located in the heart of downtown Fincastle. Ron Lucas and his son, Jason, completed an extensive renovation and modernization of it in 2005, which preserved and repaired the original heart-pine floors and detailed hand-carved moldings. That year, it was purchased by the current owners, who have since added significant work to the grounds over the past 15 years. The gardens include heirloom peonies, multiple perennial beds and extensive hardscaping integrated into the landscape design, including a lap pool. During the garden renovation the owners discovered blue glass medicinal jars, animal bones and gigantic molars buried in the soil. The interior boasts an impressive grouping of American, English and Italian ceramics and porcelain, as well as a collection of work by Rockwood artists. Several paintings by well-known regional artists are complemented by pieces from the Ogunquit School. The home is filled with hand-crafted furniture personalized by Jake Cress. A piece of special note is the large carved bed he custom made referencing Mrs. Hagan's love of flowers and gardening.
---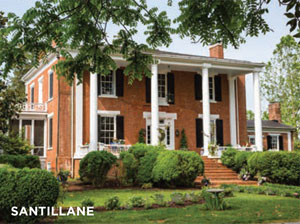 Santillane, 99 Housman Street. Angela and John Sengson, owners.
One of the most distinguished homes in Botetourt County, Santillane, circa 1795, is listed on the National Register of Historic Places for its architectural design and connection to the Lewis and Clark Expedition. This Georgian brick home occupies 24 acres on a commanding hill outside of Fincastle. The tract on which the house stands was purchased by Col. George Hancock in 1795. His daughter, Judith, married Gen. William Clark, the famous pioneer and co-leader of the American West Lewis and Clark Expedition. The property's historical grounds boast mountain views and lovely gardens offset by mature white oak, chestnut and magnolia trees. The home's kitchen wing and smokehouse were part of the original dwelling. The present two-story home dates from the 1830s. It features five chimneys and 10 original fireplaces; eight remain in use today. Original interior metal latches with brass knobs carry the seal of England. Previously, this property was a special events venue as well as a bed and breakfast. It has now been returned to a private residence. The owners enjoy a love of gardening and are in the midst of revitalizing the grounds. The interior features a collection of original art by Edouard Cortes, Harold Little (a local artist), and various 18th-century portraits. ✦
18th and 19th centuries, Federal architecture, Federal-style farmhouse, Frank Lloyd Wright-style prairie home, Garden Club of Virginia's Historic Garden Week, Georgian brick, gingerbread detailing, historic Fincastle, Historic Garden Week Guidebook, Lewis and Clark community, Roanoke tour, Santillane