Prairie Style | "Gingko Cottage" in The Preserve at Two Ford
Photography by Kathryn Feldmann
In 2020, Andrea and Bill Waide, busy Roanoke business owners, decided they were ready for a change. They loved their charming, English Cottage-style home, but between its many steps and large, labor-intensive yard, they were considering alternatives. Looking ahead to their retirement years, both could foresee difficulties with their beloved cottage. "I think we both felt like it was a good idea to be proactive, to make a move before we needed to move," says Andrea. "Plus, it was fun to think about a totally different type of house."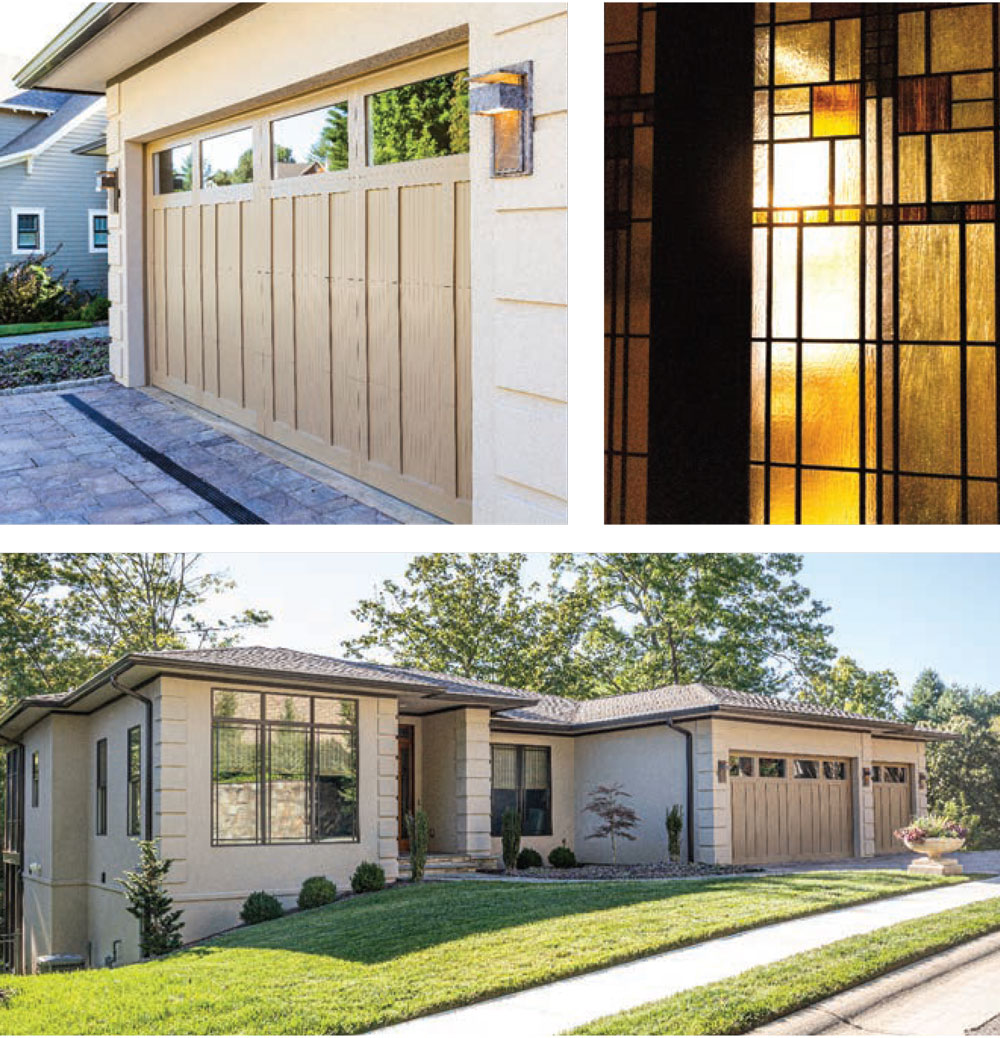 So, as a departure, the couple decided to build with Suzi and Brent Fortenberry of Bench Mark Builders, who were developing a community of Arts and Crafts homes in Southwestern Roanoke County called The Preserve at Two Ford. The Waides, who own Reid's Fine Furnishings in Grandin Village, which is the area's distributor of Stickley Furniture, appreciate the simple lines of the Arts and Crafts style in both furnishings and architecture. In fact, they are such fans of Frank Lloyd Wright's architectural style known as "Prairie style," which grew off the earlier Arts and Crafts movement, that they've made it a point to visit and tour some of his most notable houses across the country. "Once we heard that the home was going to be located on 'Stickley Lane,' we felt like it was a sign," recalls Andrea.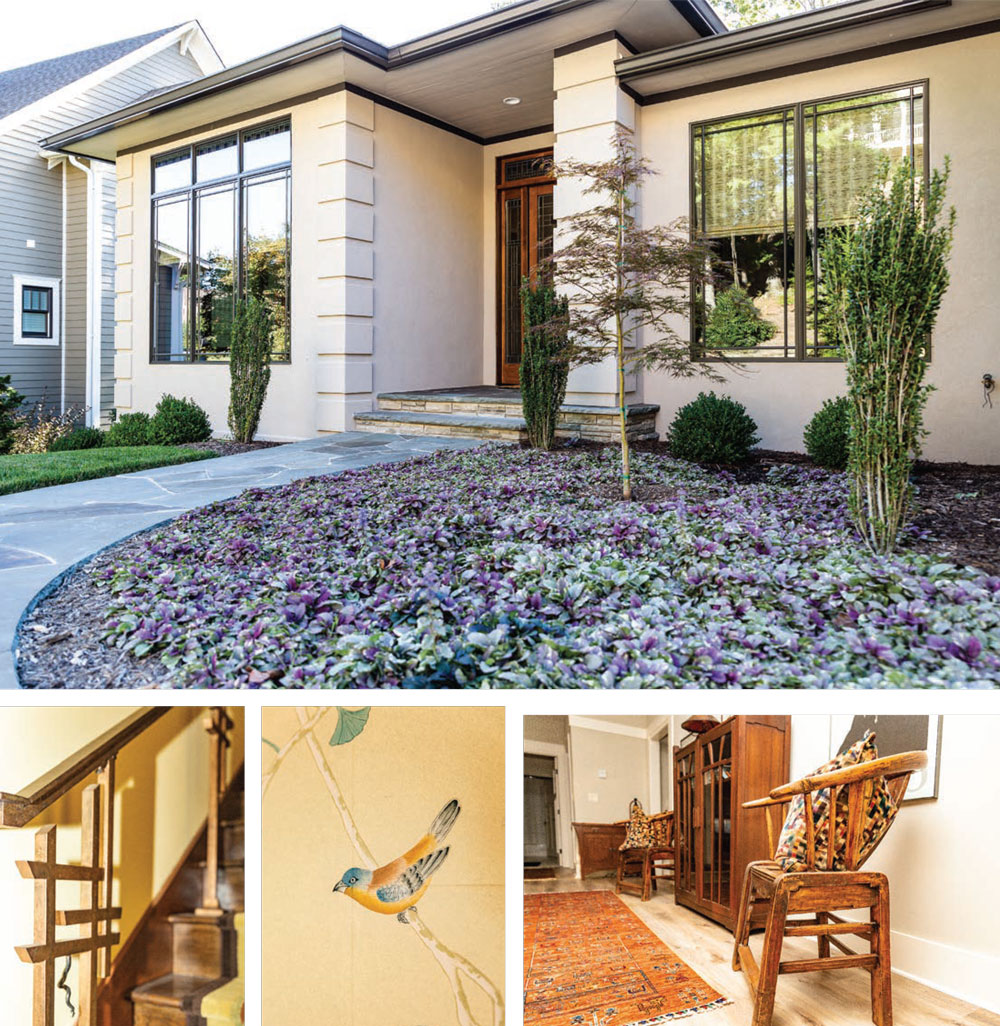 The building process took 14 months to complete. "It was actually a fun process. We explained to the Fortenberrys what we wanted: that we envisioned a Frank Lloyd Wright-style home where we could live on a single level," says Andrea. "They showed us their version, we amended certain things … We cycled through that process several times. It took a lot of work to get it right." Frank Lloyd Wright's Prairie style, which gets its name from the Midwestern states where it originated in the early 20th century, embodies the Arts and Crafts appreciation of preindustrial handcrafts and adapts it to the expansive horizontal lines of the American prairie.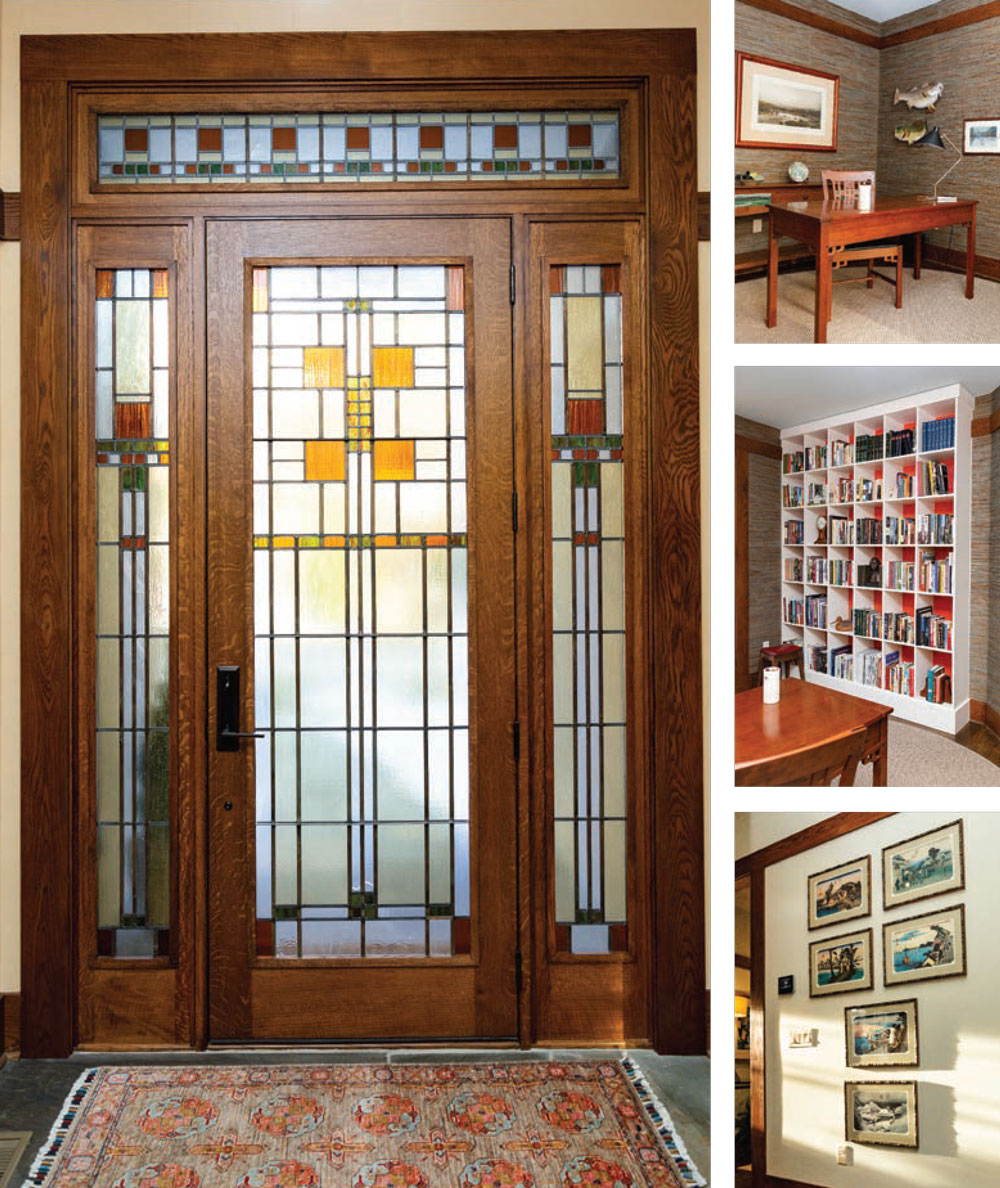 Frank Lloyd Wright designed his works to look as if they had sprung up organically, using lots of low, horizontal lines and plenty of glass. The Waides' home embodies many of these features: It has a low-pitched roof, and its exterior stucco is painted to blend in with the low-maintenance surrounding lot, with a slate walkway and stone paver driveway leading to the three-car garage. At the home's front door and front window are custom-made stained-glass panels made by glazier Amanda Donley from Woolwine, Virginia. "When they put those windows in, I cried," says Andrea. "The way they look when you pull up after is dark is really special. It looked exactly like I was hoping it would."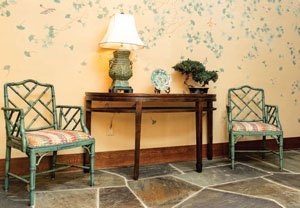 The entry has characteristic wood "banding," thick horizontal wood trim typical of Prairie style, as well as natural bluestone flooring, and hand-painted wallpaper by Paul Montgomery in a pattern of blue gingko leaves. Each home in the neighborhood has its own name, and the Waides' is called "Gingko Cottage," so Andrea felt the paper was especially apt. Interior designer Lynn Warren came out of retirement to help the Waides with the design for their home, and sourced the wallpaper. According to Andrea, Frank Lloyd Wright often used Asian motifs in his design, and she enjoys looking for ways to pay homage to this motif in her own home.
A small hallway leading to the bedrooms showcases six Asian woodblock prints custom-framed in bamboo by Original Frameworks. Warren also helped source the textured grass cloth wallcovering in Bill's adjacent office and advised on the room's arrangement, a comfortable office with trout and pheasant taxidermy on the wall, built-in bookcases and a Stickley Collector's Edition console table.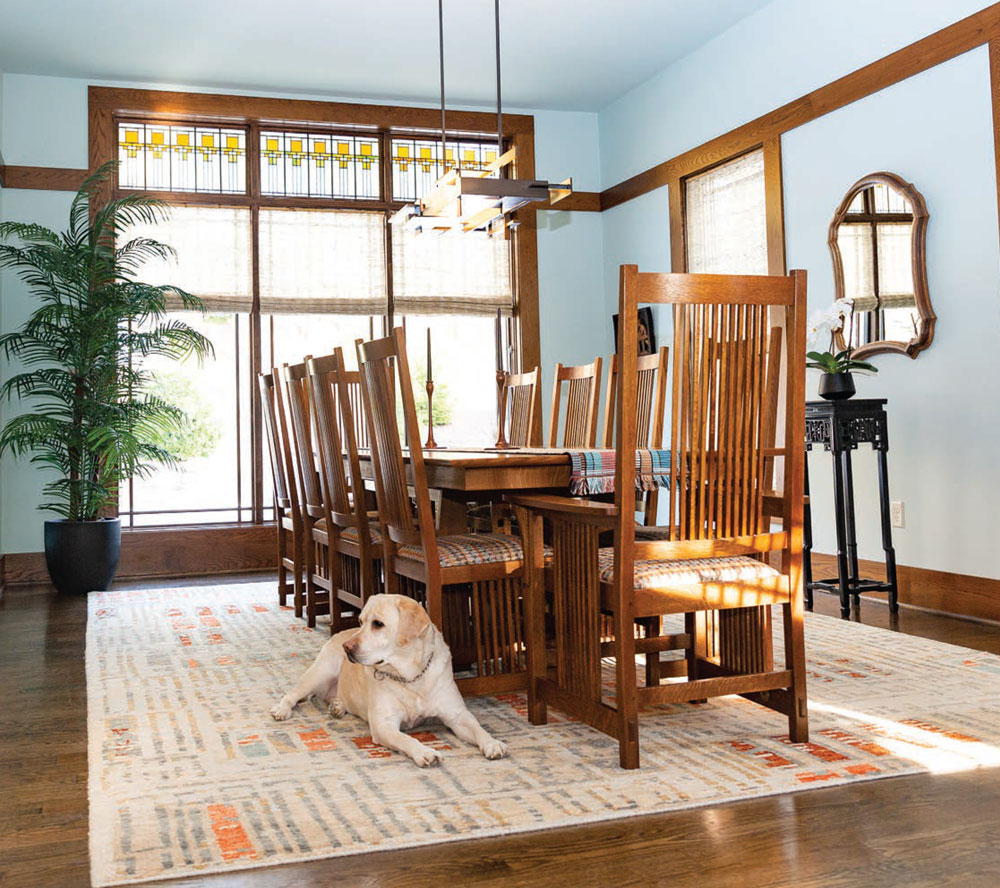 The entry opens onto the large open kitchen and dining room area. The dining room itself is dominated by an oak Stickley table and ten chairs.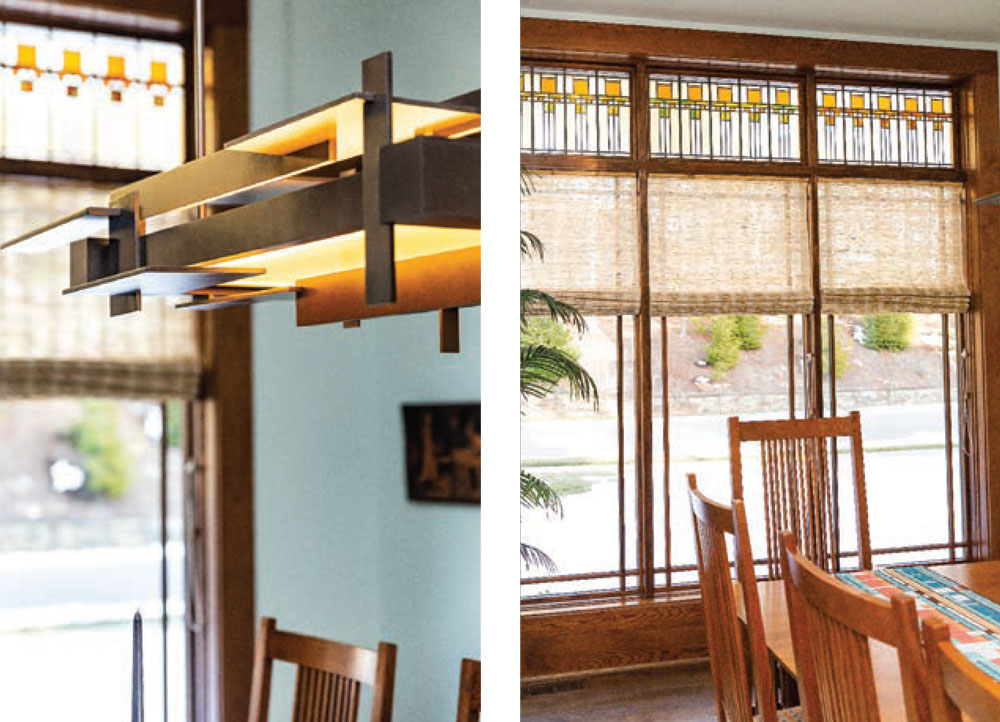 The light fixture is a custom design in wood by Crenshaw Lighting out of Floyd, and was inspired by Frank Lloyd Wright's home, Falling Waters. "I feel that lighting, whether overhead, or table lamps, is essentially illuminated art," says Andrea. "You can have cheaper lighting, sure. But why shouldn't it also be beautiful?" The light fixture is the perfect complement to another of Amanda Donley's sumptuous stained-glass transom windows at the end of the room. Beneath the table is a hand-knotted geometric rug from Nepal, which blends with the pattern on the chair seats and the handmade table runner that Andrea commissioned from local fiber artist Meridith Entingh.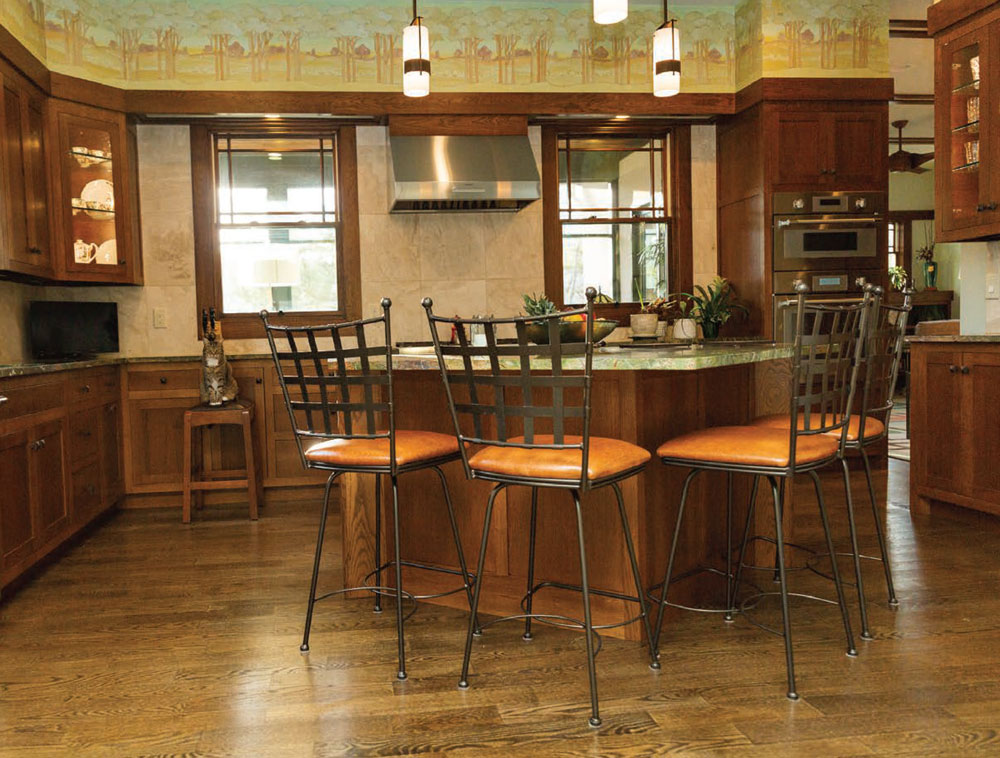 The open-concept kitchen beyond unites the Prairie style with modern conveniences. At the ceiling line is a hand-painted frieze by Amy Milberger, in a classic Arts and Crafts-style pattern of trees and undulating hills. Below are quarter-sawn oak cabinets that were designed and made in the Fortenberrys' workshop. "Quarter-sawn wood is the center of the actual oak log, the strongest part," explains Andrea, who knows a thing or two about hand-made furniture. "It's recognized by the lack of knots and its distinctive grain. It's also the type of cut most often used by Stickley Furniture Company." Even the wrought-iron cabinet and drawer pulls are a classic Arts and Crafts design. Andrea, an accomplished cook, loves the large workspace and the views out over the backyard. The honed "Rainforest" marble countertops in earthy shades of green and brown perfectly match the Charleston Forge counter stools. In a glass corner cabinet, Andrea displays a set of heirloom Noritake china that her father, a merchant marine, sent back to his family in 1952.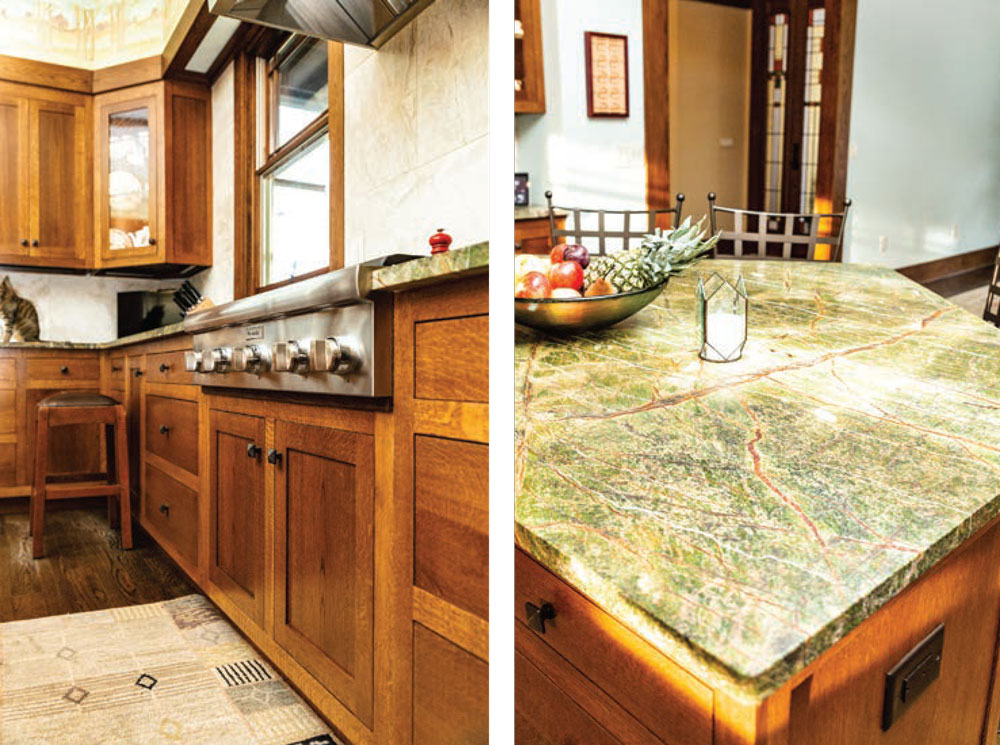 The living room of Gingko Cottage manages to combine color and texture in a way that feels natural and true to the home's style. Andrea explains that the custom-ordered rug was love at first sight. Lynn Warren chose both the design and the yarn colors in relaxing shades of gold, green and salmon on a cream background. The salmon-colored sofa, however, took some convincing. "I love the earth tones with hints of teal and salmon, but when Lynn chose this color for the sofa, I balked," she says. "I thought it was just too much color, so I ordered a more neutral sofa only to find that once I got it in here, the room really needed that salmon-colored sofa!"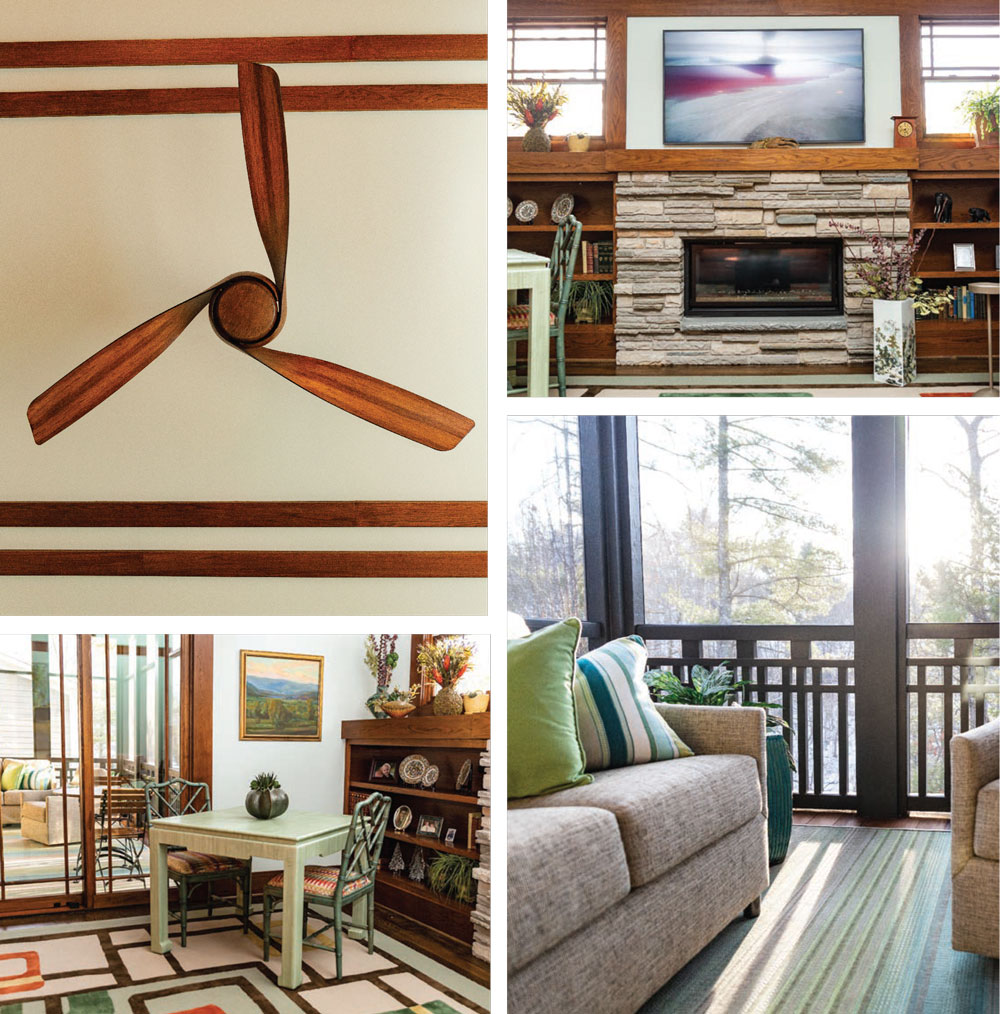 Being the area's Stickley dealer has been an advantage to finding just the right balance of furnishings in the style that complements this period reproduction home. The coffee table is a hand-forged sculpture by Dave Wertz of A Metal Soul, and the celadon-hued game table is made from durable lacquered raffia with matching bamboo chairs. The Arts and Crafts touches abound in this room: wooden banding, a carved wooden ceiling fan, a stacked-stone fireplace in the Frank Lloyd Wright style with black tempered-glass crystals in lieu of gas logs flanked by oak shelves. The back of the room is a row of three built-in pantries enclosed in custom Arts and Crafts-style doors. Large sliding doors open to a delightful screened porch where Andrea and Bill spend most of their time when the temperatures allow. The porch fretwork was designed by Brent Fortenberry to mimic a Frank Lloyd Wright design.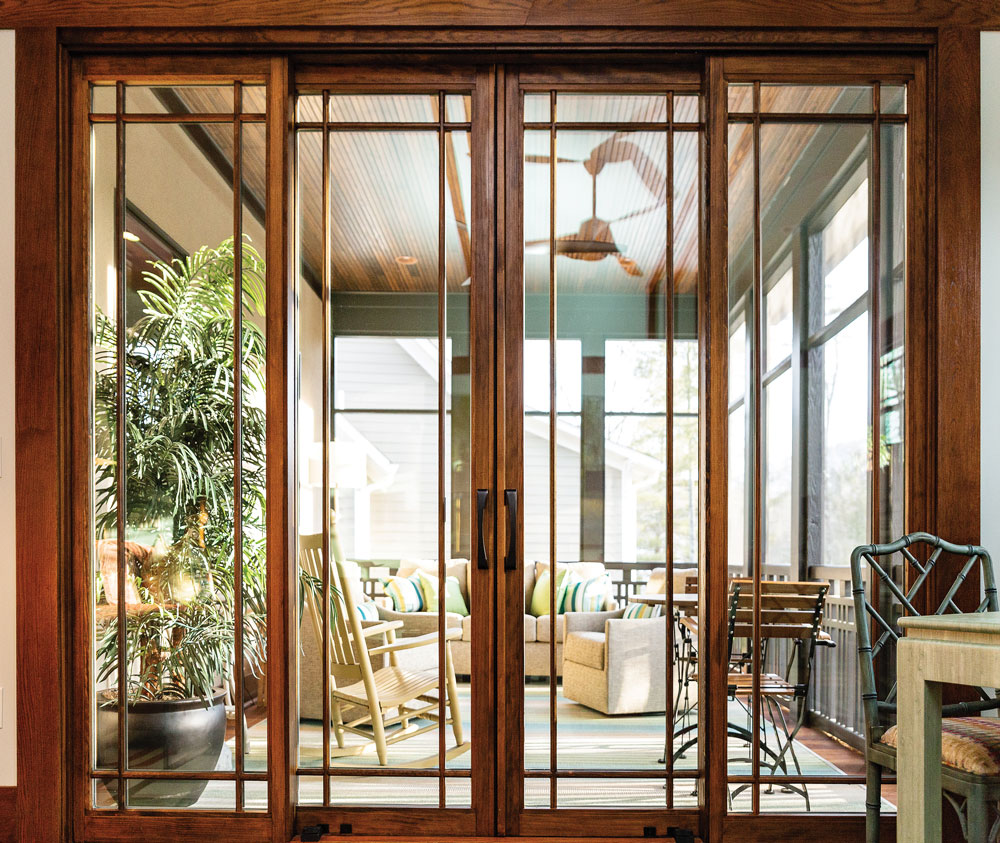 According to Andrea, the priority in designing Gingko Cottage was to give them the ability to live on a single floor, but the home does have a lower level with a second common room and two more bedrooms, and lots of storage—all of which suddenly came in handy shortly after they moved in. Andrea's son, daughter-in-law and granddaughter moved in with them for several months while house hunting in the area. "The space was such a blessing and worked perfectly for their family to live independently down there," Andrea says. "In fact, they enjoyed the house and the neighborhood so much that they ended up buying a house right around the corner!"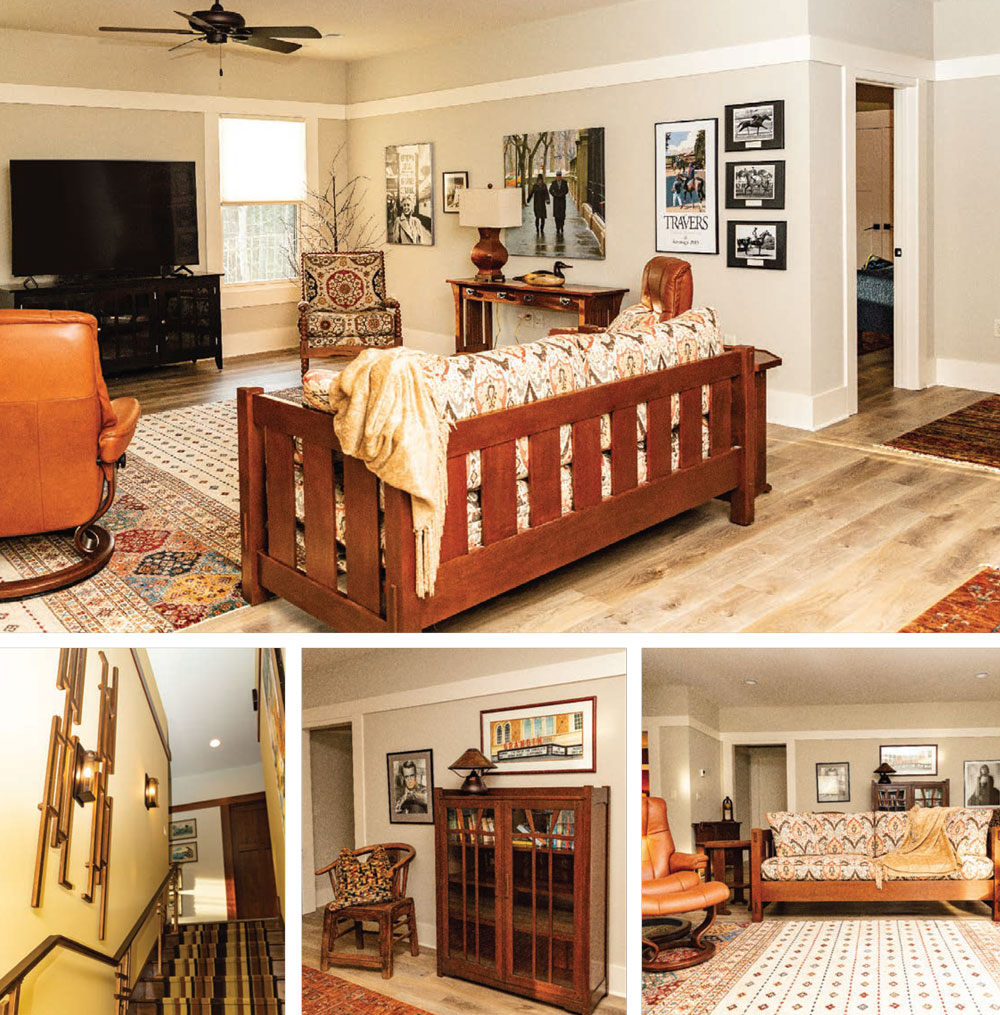 At the top of the steps hangs the Waides' favorite piece of art: a Walter Biggs oil, purchased from LinDor Arts, depicting a group of early 20th-century diners. "Bill and Lynn found this, and it's Bill's pride and joy," says Andrea. "We absolutely love it—the colors, the scene—it's perfect here." The stairs leading down to the home's lower level have custom wall hangings and a metal banister made by Dave Wertz on the right, and a large oil panel by Joni Pienkowski hanging on the left.

Below, a second family room opens to the home's back yard. Two unique bedrooms painted in lively hues delight family and guests alike. The first, the "Green Room," is outfitted with several of the more traditional pieces of furniture that Andrea saved from her Grandin cottage: a four-poster bed, a Sheridan sofa, two wingback chairs upholstered in red Hearst Castle fabric, and a red Oriental carpet. The second bedroom, the "Purple Room," is painted a vivid eggplant hue and contains two queen-sized beds. It's the favorite room of both of their granddaughters who love to stay over with their grandparents.
The additional lower level spaces are given over to storage: one for miscellaneous items such as holiday decorations, another for Bill's hunting gear, and still another for the home's systems— an impressive array of futuristic HVAC, electrics and plumbing. Bench Mark Builders construct "EarthCraft Certified" homes, which are designed and built to specific codes that reduce environmental impacts.
Sometimes change is good. If the past year or so seems tumultuous—selling a house, building a house, having family move in, all while running a business— Andrea and Bill Waide have still come through and accomplished what they'd set out to do: Relocate to a new home that would suit their needs at this stage of life and at the same time, challenge their imaginations and creativity. "No matter how much you plan, there are always places where you think: Darn, I should have done that differently," laughs Andrea. "But we love this home. It's great to have single-level living and still have great space for guests. It's a wonderful house and the perfect place for us." ✦
Arts and Crafts homes, EARLY 20TH CENTURY, Frank Lloyd Wright-style home, low-pitched roof, open-concept kitchen, quarter-sawn wood, single level, slate walkway, Southwestern Roanoke County, The Preserve at Two Ford