New Year, New Look: Restyle Your Mantel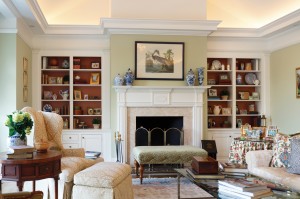 The holiday season is well behind us, and home and hearth are long swept bare of seasonal decorations. A lot of people can get a little blue when they look around after they "un-decorate" from the holidays, but I love the feeling of starting fresh in the new year. If these bare spaces bother you, you might be ready for a new look. An easy place to start without too much commitment could be your fireplace mantel—a blank canvas freshly swept of all holiday trimmings.
Even though decorating trends come and go, there are a few basic elements of design that remain constant when considering this space—one that is often the focal point of the room. Start with the wall over the mantel. This is the place for a statement piece such as original artwork, a clock or a mirror to anchor your arrangement. Now decide what your next layer will be. Consider height and balance of the accessories that you add. The Libra in me likes things balanced; if I have three candlesticks on one side of the mantel, you better believe I will have three on the other side. But you may love asymmetrical arrangements, and that works too. Try different items, different arrangements and even different color schemes. The great thing about styling your mantel is that it is easily changed; other than possibly your central statement piece, you don't need to make any hefty investments. If you need some post-holiday mantel inspiration, these tips might get you started.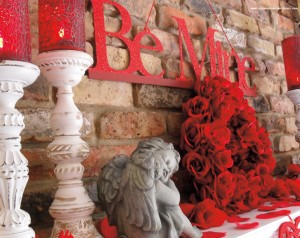 Repair Before You Restyle
The holidays can take a toll on your furniture and woodwork. While your mantel is bare, take time to do some damage control. Dried candle wax can discolor wood, so make sure to remove any residue from candles. Fill nail holes, dust crevices and check for places that need repair. Products to restore wood can make your mantel look new again and are relatively easy to use. You might even decide this is the year you stain that oak mantel a dark mahogany or paint it bright white. Whatever your design plans, starting with a clean surface is key.
Celebrate Something Different
Yes, Christmas is over, but that doesn't mean you have to banish your red candles. February gives us Valentine's Day, after all! Try framing black and white photos of you and your loved ones in silver frames. Group red candles in silver candle sticks among your photographs, or display some flowers in a silver or glass vase to add a fresh element. Whether it's over the top or super simple, this isn't a long-term commitment. Cupid makes an appearance in a couple of weeks, and then it will be time to change things up again.
March brings St. Patrick's Day, and even if you aren't a bit Irish, it's fun to celebrate the Celtic holiday. Small pots of shamrocks from at your local garden center give a nod to all things Irish without painting everything Kelly green. A simple arrangement of three or five (odd numbers work best) 6-inch pots down the center of your mantel is clean, fresh and festive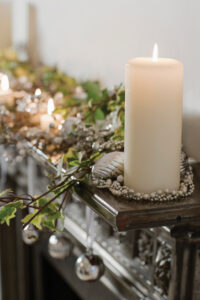 Turn It Back
Whether you are partial to Victorian, art deco or mid-century modern, chances are there is a flea market or second-hand store in your neighborhood full of inspiration. Pieces from the past add instant interest to any room—think candlesticks, decorative boxes, small ceramics and the like. Vintage colors can be incorporated with painted frames or candles—think turquoise and pink from the 50s. If you crave clean and simple lines, mid-century modern might be your kind of style. Typically, these mantels were spare with two or three accessories (usually wood or glass) strategically placed. Colors from that era were muted tones inspired from nature—burnt orange, teal, olive green—and work nicely with today's neutral color palettes.
Group Therapy
One item on a mantel looks lost, but grouping items instantly makes a statement. Look around your house. More than three like pieces can be considered a collection, so think about what you have that might work as a "grouping." Look through your kitchen cabinets or storage areas for inspiration. The shells you brought back from the beach would look beautiful in clear vases filled with sand. Group them with wooden candle sticks and white candles for some instant warmth on a winter day. Maybe you have several pieces of hobnail milk glass stashed on the top shelf of your pantry. Pull all the pieces out and play around with an arrangement, placing some of them on a cake pedestal or small stack of books for varying heights. If you are fortunate enough to have inherited your great grandmother's teapot collection, several might look beautiful on your mantel and may instantly become a conversation starter, too.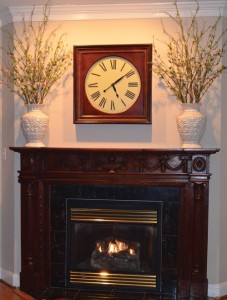 Bring the Outdoors In
If freshening up your décor has you stumped, take a cue from nature. Go for a walk, and don't forget a basket and some pruning shears. Gather things as you go; pick up stray pine cones, acorns or twigs, and prune some branches off your evergreens—holly, magnolia, or aucuba make great clippings. Once inside lay everything out on your kitchen table. Gather similar vases or clear glass apothecary jars and start filling them with your finds. The juxtaposition between smooth glass and wood elements can become a beautiful natural theme.
The new year offers a fresh start for many things, including your home décor. Why not start with your fireplace? It may just be the inspiration you need for other projects, too. Now…what about that guest bedroom?
candle sticks, decorating trends, fireplace mantal, Mantle decor, Mantle repairs