Fresh Eye Lends New Life to Family Home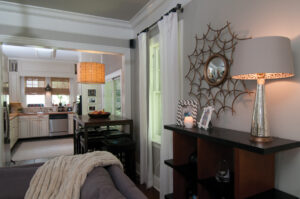 Imagining a bright, open and comfortable home ideal for family and friends was just up Jessica Durham's alley. As an interior designer, she focuses on fresh and innovative design. So it was natural for her to transform the 1970s-style interior of the couple's home into a contemporary, family-friendly living space.
"We never thought we would come back to this area," says Jessica, as she explained how they found themselves back in husband Hunter's hometown of Roanoke. Jessica grew up in Abingdon, and after college and marriage, the young couple moved all over the country. Hunter was in the military and they relocated often.
A job offer brought the couple home. Six years ago, the Durhams found a house conveniently located to town and good schools. They could walk their children to the nearby Crystal Springs Elementary School. And while the house is situated on Avenham Avenue, it is sited just far enough off the road to afford privacy.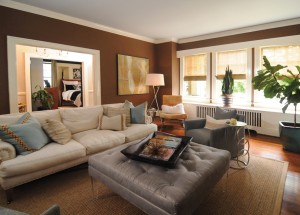 When they first looked for a home, they knew they wanted to be in South Roanoke. "We loved this neighborhood," says Jessica. "We kept looking at this house. The lines were great." The bungalow-style cottage was constructed in the 1920s, and had a unique contemporary design for that era. Its high ceilings and extra-large rooms were extraordinary. "But it only had three bedrooms. We needed more space," she says. Jessica kept mulling over different floor plans, trying to come up with a strategy. "I kept thinking at night, 'How can we make this work?'" Then she realized, the house has three living rooms. Why not make one of these spaces into a master bedroom? With that settled, the house was perfect for the young family and they made the purchase.
"People who looked at this house just could not see the vision," says Jessica. With dingy paneling and heavy draperies, the house originally was dark and dated. With Jessica's experienced eye combined with her mom Lori Noonkester's talents, they knew they could make this house work for Jessica's family. The mother/daughter team owns Magnolia in Roanoke and a sister store in Abingdon, working together on projects and often trading inventory and ideas.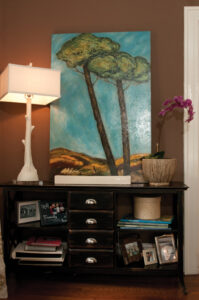 At both her home and at Magnolia, Jessica describes her style as eclectic. She is always on the hunt for new and different looks, and carries a variety of inventory at her store including furniture, pillows, gift items and local art. She explains, "My whole point is to have unique furnishings that no one else carries around here." She also does interior design consulting, working with both commercial and residential customers.
The Durham home has evolved into a showplace for Jessica's style. She notes that because her store has limited display space, she sees her home as an extension of what Magnolia can offer. "People come into my home, see my style and love it," says Jessica. Her home is an effective way to exhibit additional furnishings and art that reflect her eclectic flair.
Jessica consigned her interior design talents into her new home. The home's entrance, with its landscaped brick walkway, leads to an inviting front porch. Ferns, a black wicker rocker, brightly colored pillows and a boldly striped white and green rug forecast the fresh look of the Durham home interior.
"It was very seventies in here," says Jessica, describing her home's interior when they first moved in. Previous owners completed some renovations, including restoring the hardwood floors and installing air conditioning and a new kitchen. But everything else was dated and there was much to be done.
Luckily, with Jessica's design talents and the help of her contractor father, work began immediately. Rooms received fresh coats of paint and a new look with contemporary furniture.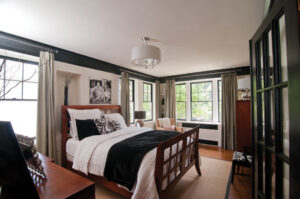 A front living room was converted into the master suite. "It is kind of quirky to have a master bedroom in the front of the house. Perhaps it is not ideal for everyone, but it works for us," says Jessica. Multi-pane French doors lead to the contemporary room. Neutral walls sharply contrast with black molding and trim. Several large windows envelop the corner walls. Jessica prefers drapery over shades; the flowing draperies here can be drawn easily for privacy, but she often chooses to keep them open to allow light to enter.
Above the bed is a large black and white family photograph shot by Jennifer Alexander. A Katrina Bell portrait in sepia tones hangs on the opposite wall.
An adjoining closet, now gutted, awaits transformation into a master bath. While the Durhams have been in the house for six years, the renovations remain a work in progress. The children and Jessica's business come first, and while the Durhams have many plans for the house, they are not in a rush. The couple hopes to install the master bath sometime soon, but this is not an immediate priority.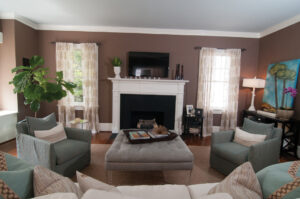 While much of Jessica's home is modern, an occasional piece has more traditional lines. "I like a lot of different styles," she says. For example, some of her pieces are from family. A small hall table that once was in her husband's family home is now in their hall. Jessica says that she can't part with this sentimental piece even though her style is more contemporary.
Live plants and a traditional fireplace complement the chocolate-brown living room walls, white upholstered couch and pale aqua swivel chairs and ottoman. Jessica says that she decided to paint the room brown five years ago and she still likes it. It is a large, comfortable room, and with the addition of the wide-screen television over the fireplace, the family uses it more than ever. At one point they only gathered here for holidays, but now it is one of the busier rooms in the house. More formal than the den, the living room has become a great place to entertain. A sisal rug made by Merida, an American-based company specializing in high-end natural fiber rugs, covers a large portion of the floor. A Lee Industries recliner and a contemporary floor lamp provide a cozy reading corner.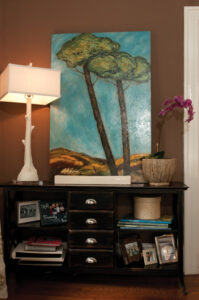 Thoughtfully hung on the walls throughout the house are the works from some of Jessica's favorite artists, including pieces by Mary Boxley Bullington, a Roanoke artist known for her collages. Katrina Bell, Diane Patton, and Jessica's mother-in-law Betty Durham are also among her favorites. "Art is huge for me," says Jessica. "It can transform a house. I like interesting artwork in every room."
The living room opens directly into the formal dining room. And while this room is probably used more for entertaining and dinner parties, the feeling here remains casual. There is a spontaneity about each area that provides a relaxed atmosphere. "A lot of my clients have these formal rooms. With young kids we want to make our home comfortable and welcoming," she says. Jessica's style steps away from this formality.
Jessica and her mother applied a faux finish to the walls in the dining room to give them a coppery gold glaze. According to Jessica it was quite a long and involved process including applying glazes and coats of polyurethane. The result provides just a touch of fashionable elegance. The dining room table, too, makes a statement. Jessica wanted an extra-large table using reclaimed wood, and turned to a company called Urban Evolutions to custom-make it for her. The Durhams' table is made from four-inch-thick planks of reclaimed pine set on a heavy-duty iron base.
Jessica located the perfect chandelier to hang above the table. Created by Arteriors Lighting, this fixed chandelier features a ring affixed with lights. "I have changed the lighting in here three times," says Jessica. "This is really different." To complement the rustic table are simple Cisco Brothers chairs with natural fiber slipcovers and a natural fiber rug.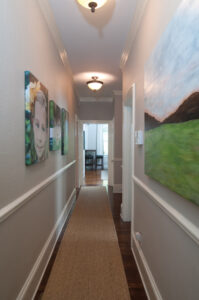 A long and narrow hallway extends from one end of the house to the other. Jessica uses this area as another palette for displaying art. This time she chose to showcase a series of candid life-sized color photographs of each of her children, also taken by Jennifer Alexander. Jessica notes that she struggled with this hall, leaving it blank for some time. Then the perfect solution came with these photographs.
Another downstairs bedroom serves as a guest room. Jessica devised an interesting treatment for the wall behind the bed. A series of white wooden panes crisscross over a wall painted slate grey. An intricately carved heirloom bed, painted black, stands out against the wall. An old metal reclaimed table serves as a desk, and the floor is decorated with a grey cowhide rug. For the final touch, Jessica hung a lantern light fixture from the ceiling, providing an air of contemporary elegance.
"We live back in this space," said Jessica, referring to a den at the end of the long hall. Actually it is the first room the couple redid and it has been redone since. Bookcases, an oversized fireplace, a large-screen television, a comfortable sofa, overstuffed pillows and cozy throws make this room a magnet for the family. The focal point is a large contemporary abstract painting by Charlotte artist Sherri Morris Barrett, known for her "plein air" style and use of color and light. Barrett's piece illuminates the room. While the den was dark and dated when the Durhams moved in, this piece as well as painting the paneling helped the room come alive.
The den adjoins a small kitchen. The kitchen had been redone by the home's previous occupants. Since it meets the demands of her family, Jessica considers this a low priority on the renovation schedule. A waist-high table serves as a counter until dinner time when Jessica pulls it out. Space limitations make this dual-purpose table an asset in the tiny kitchen space.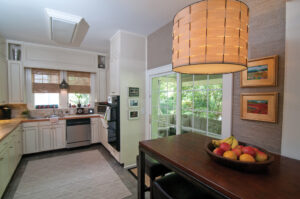 From the kitchen, a patio sliding door leads to a balcony overlooking the family's back yard. The gardens remain a project in the works. There are plans to add landscaping, but these will stay on the backburner. For now it serves as a play area for the children and provides easy access to a private alley that runs through the neighborhood.
The second level of the home is all about the children. Along the stairs are framed family photographs. A playroom plus a large closet area are located at the top of the stairs and offer ideal storage for all of the children's things. Two bedrooms and a full bath make up the children's suite. Their sons' room is ideally suited for two young boys with its heavy wooden furniture constructed from reclaimed bleachers. Their daughter's room is decorated with hand-painted flowers on the walls and an elegant desk, which also serves as a vanity.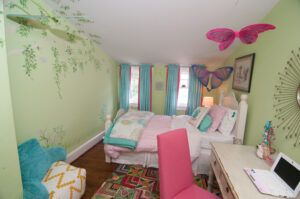 Jessica's goal with her home was to make it livable for her family, but also a canvas for her clients. "I can only carry so much at the store," explains Jessica. "But I can invite people to see other pieces here. Our house is a reflection of my business." The Durham home is so much more than a showcase for Jessica's considerable talent, remaining a comfortable place for family and a welcoming stop for friends.
Art Decor, Chocolate Brown Walls, Cisco Brothers Chairs, Faux Finish, Fiber Rugs, Multi-pane French Doors