Grills and Thrills: Cook Year-Round with New Choices in Luxury Equipment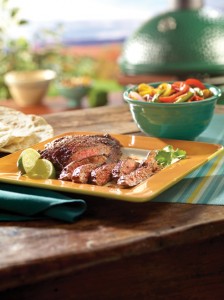 Cooking out is a staple of American life that can be counted on to bring together family, friends and community for a meal, camaraderie and memory making. Like most traditions, though, backyard dining has evolved over time…and it continues to do so, as outdoor cooking equipment has grown in both its functionality and its sophistication.
Just as charcoal pits once gave way to gas grills on wheels, a new breed of rugged but luxurious cookware is now making its way onto patios, decks and docks, injecting new life into the backyard cookout. These tools include Italian brick wood-fired pizza ovens, stand-alone smokers, Kamado grills and professional built-in gas grills outfitted with rotisserie motors, warming ovens and multiple side burners, along with all the requisite prep and cleanup necessities.
Now, if you believed that these high-end tools were staples in the architecturally designed and mason-installed outdoor kitchens of the rich and famous, you'd have been right—at least until about two years ago. It was then that prices on these appliances started to drop, making them more affordable for the larger population.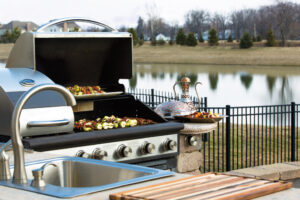 And just in time: According to the 2014 State of the Industry Report released by the American Hearth, Patio and Barbecue Association, Americans increasingly want to cook out not just during the summer months, but throughout the year, with Thanksgiving, New Year's, Super Bowl Sunday and Easter among the most popular days for a feast cooked in the backyard. And nearly half of grill owners see their outdoor grilling area as a functional cooking area of their home.
"We definitely see more and more people looking to cook, eat and entertain outside as much as possible, and as that trend has taken hold, manufacturers are coming out with professional-grade products that are in a wider range of price points," explains Sarah Burns, showroom manager for Ferguson Bath, Kitchen and Lighting Gallery in Roanoke. "So even if you don't have a multi-million dollar home or a $60,000 budget, you can still have the professional outdoor grilling and entertaining experience."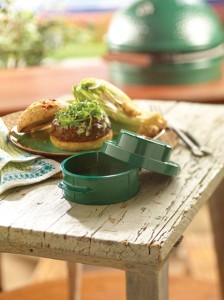 Think It Through
If your to-do list has always included a plan to do more outdoor entertaining, it might be tempting to run out and grab the latest smoker or pick up an upgrade to that five-year-old grill that takes too long to start and cooks unevenly.
Keep in mind, however, that professional outdoor equipment is an investment for the long haul. Unlike commodity products sold off the shelves of big box stores, professional grills and other outdoor cooking tools are built for the more serious outdoor chef, and built to last. They provide more innovative, reliable and high-quality cooking functionality and performance than lesser-priced grills, and use durable, outdoor-rated materials like stainless steel, cast brass and ceramic that come with lifetime warranties. For this reason, you should plan to put in as much research rigor and planning as you would when investing in any other major home appliance.
"Grills and smokers and other tools are not one-size-fits-all products," says Mike Koon, Ferguson's appliance manager in Roanoke. He recommends that you—in consultation with any other outdoor chefs in the family—first take time to percolate over the following considerations: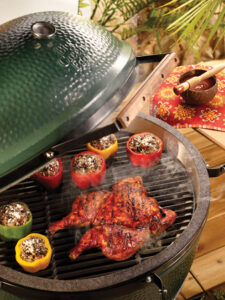 ■ What kind of cook are you? With professional outdoor equipment, no culinary style is off-limits, so allow yourself to dream beyond the typical backyard menu of hot dogs and barbecued ribs. Ask yourself: What kinds of dishes do I really like and want to serve? With today's options, you can bake, fry, boil, broil, grill, blacken, smoke and rotisserie almost any kind of meat, fish, shellfish, vegetables, fruits, stews and even desserts—so take time to match your cooking preferences with outdoor appliance functionality.
■ What kind of entertainer are you? Do you routinely host 100+ people or just your extended family and a few neighbors? With outdoor cooking equipment, size does matter, especially if you want to serve to everyone at once rather than in shifts. For this reason, capacity and cook surface area should be key considerations when choosing any cooking appliance. Another factor: How often do you cook and when? This will help you decide whether to go with built-in or freestanding equipment that can be transported to other locations.
■ What's the flow? Think through how your guests naturally mingle in relation to your cooking and serving preferences, as well as your seating layout and the local elements (like wind patterns and shady spots in your backyard). What types of cooking do you plan on doing, and where and how will you prep and serve food? All of these questions are especially important if you're leaning toward investing in a built-in grill, a pizza oven or permanent serving and cleaning stations.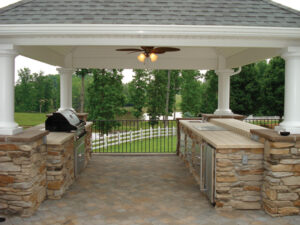 The Grill's the Thing
The grill has been—and always will be—the heart of the outdoor cooking experience. Thus, a decision to upgrade to a ceramic Kamado grill like the Big Green Egg or a professional gas grill pretty much guarantees you an ongoing return on your investment. The payoff? Great food for years to come.
Let's start with the Kamado grill, which is based on the coal- and wood-fired ovens and stoves used in Japan for the last few thousand years. Though relatively small in size, it will turn out some big flavors at your next outdoor celebration.
Priced anywhere from $500 to $4,000, these unique outdoor appliances are typically made from ceramic or natural stone materials, which allows chefs to achieve the very high and very low temperatures needed to both grill and smoke meats and vegetables. The Kamado grill brings real versatility and efficiency to the outdoor chef, providing an easy ability to whip up everything from breakfast and dinner entrees to appetizers and desserts. Its small, round form also means you can easily load it up into the SUV and take it on the road for beach parties and tailgating.
Though different Kamado grill products might look a lot alike, you'll find variations among the growing options on the market. The Big Green Egg is the most famous—and most popular—product available, thanks to its relatively low price, durability and range of sizes, including one large enough to cook an extra-tubby turkey at Thanksgiving. However, other manufacturers have recently chimed in with some real innovation. For instance, Primo now offers an oval-shaped Kamado grill with a dividable firebox that allows outdoor chefs to double up and perform both direct and indirect cooking. Other products stand out for unique materials, heavy-duty construction and some useful extras like side tables, electric starter systems, wheel carts and removable ash catchers.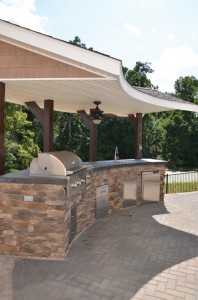 Then, of course, there's the professional gas grill, powered by natural gas or propane, which can be purchased as a built-in or stand-alone model. An investment starts at around $2,500 and rises from there based on the cook surface and the number of burners involved, and how many other cooking functions and features you need.
You should buy as much grill as your budget allows, says Koon, but even if your budget is tight, you won't go wrong if you stick with this product class. Just like choosing between a BMW and a Mercedes-Benz, you're still going to get luxury value even if you ultimately go with a model at the lower end of the price spectrum.
"Even the less expensive professional grills are going to give you a cooking performance and a durability that is
way superior to any commodity grill," explains Koon.
That's because these grills allow you the ability to fire up, fine-tune and maintain your grill's power as needed to deliver a perfectly-cooked and perfectly- timed meal. Heat zone separators allow you to isolate cooking zones so you can cook different foods at the same time without burning or undercooking your items. Temperatures have enough range that they can be turned down low enough to gently grill fruits and vegetables but high enough to sear a large roast and
lock in its juices before switching to a slow roast.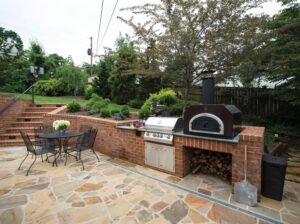 And most high-end gas grills come with specialized briquettes, sometimes referred to as "flame-tamers," that distribute heat evenly across the grill, improve safety and enhance food flavoring. "You can set your grill at a medium-low temperature, grill 30 burgers at a time, and never get the first flame-up," Koon says. "And your temperatures are very consistent, from one end to the other across the grill, so you don't have hot spots and cold spots."
Professional gas grills also offer the little extra utilities that can make a big difference in the cooking experience. As an example, professional gas grills made by Lynx, a leading manufacturer, come standard with halogen grill-surface lights so you don't have to bring out the flashlight to see your food; a "hot surface" ignition switch that relies on a hot element positioned directly above the burner port to ignite the burner quickly, easily and safely; and cast brass burners that maintain their cooking temperature even if a cold breeze suddenly kicks up.
From this foundation, power grillers can start to add specialized cooking capabilities. You can get extra burners, including those with a high-enough BTU output for cooking large pots of steamed crabs or wintertime stews. Many professional grills will also come with a varying-sized smoker box, as well as ovens or fire-grilling drawers that enable you to bake bread, pizza and desserts such as cakes and cookies. Other options include an internal motorized rotisserie bar for slow-roasting chicken, flat surfaces for cooking scrambled eggs, pancakes and grilled vegetables, and warming racks that allow you to keep food hot and ready to serve while you mingle with guests.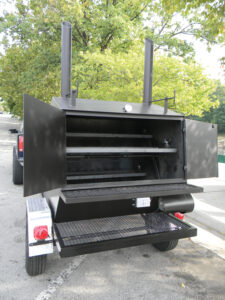 Smokin' Good!
The fine art of "smoking," a slow-cooking process with its own unique flavoring, has become so popular that it's really become a culture all to itself, according to Koon. "Some people nowadays like to smoke more than grill, so they are willing to invest more heavily in large capacity, stand-alone smokers, which allow them to cook different cuts of meats, like briskets, shoulders, loins and other meats," he says. "You can get a smoke box within your professional grill, but if you are routinely cooking for large crowds of people and you're trying to get large volumes of
food out at the same time, then a stand-alone smoker is optimal."
Products are differentiated by a lot more than just size, however. Higher-quality smokers can cost anywhere from
$400 to $10,000 and come with different power options, including wood, charcoal, propane, wood pellets and electricity. Some come with wheels and are portable, while others are too heavy (weighing up to 500 pounds) to move anywhere. The serious smoker, Koon says, will likely opt for an appliance
with multiple shelves so they can cook different meats at the same time.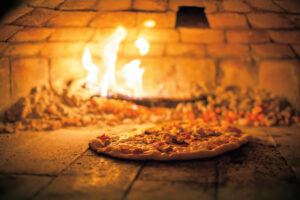 Pizza on the Patio
Feeling more in the mood for pizza than smoked pork? You can still keep the party outside, thanks to a rekindled interest in baking with wood-fired outdoor pizza ovens.
Koon notes that he is working with a customer who recently imported a $20,000 brick-lined, real-deal pizza oven from Italy, but you don't have to reach that deep into your wallet to enjoy an Old World, lawn-side pizza experience.
As backyard baking grows in popularity, "a lot of manufacturers are coming out with ovens that are smaller and more affordable but still have the brick lining and the high temperatures and functionality you get from the higher-end pizza ovens," says Burns.
These ovens can be found for anywhere from $2,500 to $6,500. However, by relying on brick, ceramic or more modern alternative insulation materials, they can still achieve the very high hearth and dome temperatures needed to bake the perfect pizza—not to mention bread, roasts, fish, potatoes and vegetables. What's more, the pizza oven's ability to retain heat long after the pizza is done makes it a great source for cooking side orders of soups, stews and beans.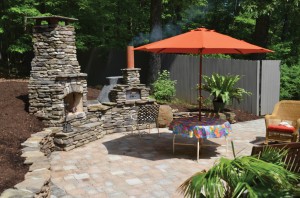 Outdoor Kitchens in a Box
You can enhance your outdoor cooking capabilities with piecemeal purchases based on your personal preferences and budgets. However, if you've long aspired to have a nicely designed, integrated outdoor kitchen, your dream has arrived…ready to assemble out of a box.
Lynx just introduced its new Sedona line of turnkey outdoor kitchens. These products are available in varying sizes, but they all feature a professional grill and an outdoor-rated refrigerator built into a freestanding island. The island comes in a choice of finishes and colors and includes a wraparound area large enough to be used for seating or serving areas. The product also features outdoor-rated electrical outlets and USB charging ports.
"For less than $10,000 and less than half a day of installation time, you've got a functional outdoor kitchen that looks very custom and that can be fully enjoyed," Burns says, noting that the product comes with all the required ventilation, lighting, plumbing, gas and electrical hookups.
This type of setup isn't for everyone. Those who have specialized cooking preferences or entertain for large crowds will still look to other products, but for those who want to enjoy basic outdoor entertaining throughout the year, this outdoor kitchen in a box offers quite a lot of bang for the buck, says Burns. Moreover, because it's actually installed into the basic infrastructure of the house, the price can be absorbed in an original mortgage or refinance.
"It really comes down to choice, and we're seeing so much of it right now," she says. "The more people want to cook and entertain outdoors, the more they're going to find high-quality products that meet their preferences and their budgets. There's a little something available for everyone."
Built in Grill, Kamado grill, Outdoor Kitchen, Outside Pizza Oven, Professional Gas Grill, Smokers