Charity Home Tour Showcases Diverse Styles of Architecture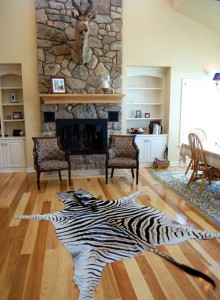 The Smith Mountain Lake Charity Home Tour welcomes guests to eight beautiful and unique lakeside residences on Columbus Day weekend, Friday, October 10 through Sunday, October 12. The 2014 tour celebrates diversity in lakeside living, ranging from a comfy cottage to a 9,000-square-foot stately home. "This year's tour showcases large and small homes, brand new and remodeled homes," says Denise Tuttle, executive chair for the Charity Home Tour. "We're excited to offer tour visitors many great ideas for decorating and landscaping, as well as a look at lake-living lifestyles."
Now in its 24th year, the SML Charity Home Tour has become the most well-known, highly regarded and widely attended fundraiser in the lake area, with cumulative donations to local charities totaling more than $3.7 million. Proceeds from this year's tour will again benefit eight area charities. Visitors can access all of the homes by car or by boat.
Advance purchase discount tickets are available for $20 at a variety of ticket outlets or online. During the event, $25 tickets are available at any of the tour homes or the SML Visitors' Center. Purchase E-tickets and learn more at smlcharityhometour.com. Enjoy a sneak peek here, then spend a relaxing day at the lake!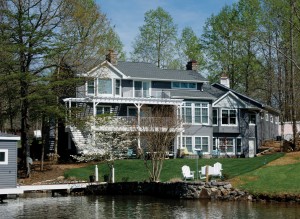 VAN DYKE HOME
The Van Dyke home looks brand new, but it's actually a remodeled 26-year-old house with many new features. Besides adding a master suite wing and updating the kitchen, guest bedroom, downstairs entertainment area and garage, Paul and Nancy Stanley Van Dyke also replaced decks,
siding and hardwood flooring. Of special interest are artifacts from the two years they lived in South Africa. Displayed in the living room are masks, a zebra rug and a mounted kudu head above the fireplace. Downstairs, a home theater doubles as a guest bedroom, with a Murphy bed cleverly concealed behind a faux cabinet. The downstairs entertainment area flows easily to a patio with an outdoor kitchen and fire-pit.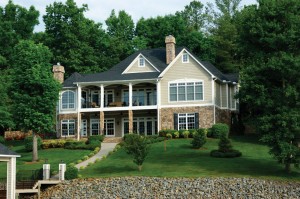 OLIVER HOME
The Oliver home with its matching boathouse sits above the Blackwater River's main channel with a wide view of the lake and distant Smith Mountain. Empty adjoining lots give this residence a delightful sense of privacy. Mark and Jacqueline Oliver's 5,000-square-foot home has three bedrooms, plus an office and a stone-fronted fireplace and bar on each level. Interesting items include a driftwood sculpture, Harley Davidson art, rounded curio cabinet and old whiskey barrel. A huge wall unit provides display and storage space for the spacious downstairs family room.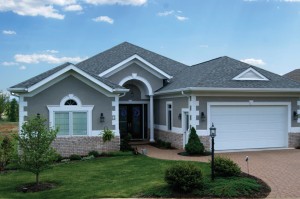 MASSA HOME
The Massa home in Montego Bay offers a lake view and feels expansive and guest-friendly with open-concept living, dining, kitchen and seating areas, bedecked with columns. Pat and Donna Massa have placed family antiques throughout their home, including marble-topped accent tables, an 1800s dining table, buffet, corner cabinet, lamps, pie safe, dough box, trunks and Granddad's walnut tailor's bench, now a bar. Collections on display include Rose Medallion china, Delft tobacco jars, Dickens houses, Cat's Meow miniature houses, birth plates, Santas and Dolton dolls.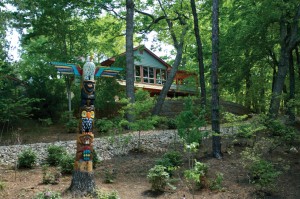 DIEDERICH HOME
The Diederich home was originally a tiny cabin retreat for Charlie and his late wife Bonnie. Now doubled in size to 1,800 square feet, this Arts and Crafts gem has been totally renovated with a new floor plan, wood doors, windows and stylish design elements. In the front of the home, a long paver driveway and path passes a pond with rock walls and a waterfall, and leads to a raised, pergola-covered outdoor dining deck. A stone patio with fire-pit and rhododendron-planted woods grace the sloping backyard to the lake. Look for several outdoor wood sculptures, including two herons, a 20-foot totem pole and a 10-foot bear. An amazing "before and after!"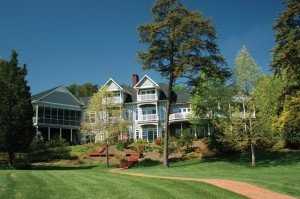 WETHEREL HOME
The Wetherel home in Contentment Island has Nantucket-style cedar siding and sits in a landscaped, park-like setting. Bob and Pat Wetherel's 8,800-square-foot home has many interesting features reflecting 1920s style: medallion ceilings, antique light fixtures, retro tile work, dark wood trim, brick under foot from Roanoke streets and antique doors from old homes in Covington, Roanoke, and Boston. Many porches, with lovely views of the lake, adorn the rear exterior of the four-bedroom home. Three fireplaces—one, double sided—and a theater room are other special features of this special home.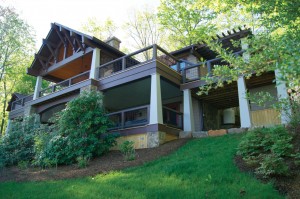 MUNN HOME
The Munn home on Betty's Creek underwent extensive renovations plus an addition to satisfy Jeff and Diane's requirements when they decided it would become their retirement home. Their architect's Craftsman "Luxe Lodge" design includes a fully integrated master suite and exercise room. Beautiful beams, wood doors, trim and railings complement the home's style throughout. Huge boulders stabilize the sloping ground on both sides of this home. A new dock also matches the style of the home.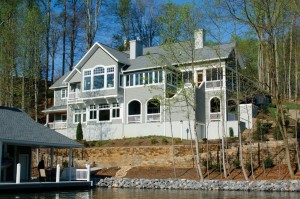 MOONAN HOME
The Moonan home features lots of intimate spaces in this Cape Cod cottage-style home. It features a great room with huge overhead beams, massive stone fireplace, big windows and pretty white trim everywhere. George and Michele, both widowed, found love again and combined their households when they built this home to accommodate her treasures, George's French antique furniture and mementos honoring their former spouses. A very steep driveway leads to the front of the house.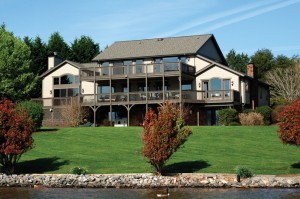 BROWNELL/SHAW HOME
The Brownell/Shaw home demonstrates how a creative couple can update a 5,000-square-foot house while keeping the original footprint. Keith Brownell and Jennifer Shaw had the interior gutted, rearranged and modernized to add functionality and flow with a spectacular great room and gourmet kitchen. Unique stone fireplaces, earthy colors and natural wood details reflect the Arts and Crafts style. A Charles Rennie Mackintosh "Glasgow Rose" embedded in a window in the entryway pays homage to the family's Scottish heritage. There is a gentle walk to the dock.
Smith Mountain Lake Fundraiser, Smith Mountain Lake Homes, SML Charity Tour, SML Visitor's Center